For Pokemon Go users, catching Pokemon outdoors with partners is an absolute delight. However, due to various factors such as weather restrictions, playing Pokemon Go outdoors is sometimes not possible. Fortunately, you can change your GPS location through the Pokemon go location spoofer so that you can capture sprites in various areas at home.
It is worth noting that the VPN tool does not change your GPS location, only the IP address on web. But, if you use a VPN and Pokemon Go spoofer at the same time, this will go a long way in keeping your account safe. After all, some spoofers have already been banned.
The Best Pokemon Go Spoofer for iOS and Android
If are are looking for the best Pokemon Go spoofer, iToolab AnyGo is a recommendable one. This location spoofer can help you fake GPS location in Pokemon Go in 3 steps. You can also simulate GPS movement natually, such as customizing the walking speed, zipping on the distance, and jump mode. Besides, this Pokemon Go Spoofer doesn't require jailbreak iPhone or root Android devices and the cooldown timer will be displayed when you have finished teleporting to a location. This feature will almost prevent your account from being at risk. You can download AnyGo – Pokemon Go Spoofer free here.
Spoof Pokemon Go location in minutes
Step 1. Pokemon Go Spoofer Download and Install
Download and Install AnyGo on your computer through the above download button. Launch it and click on Start button.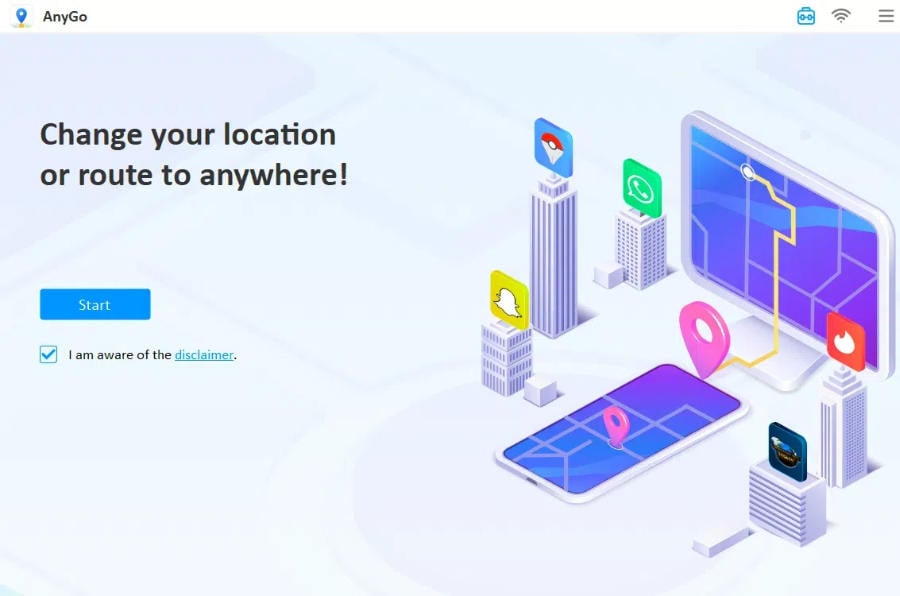 Step 2. Start Spoofing Pokemon Go Location
Afterward, press the Teleport button, which is present in the upper-right corner of the screen. There, provide where you want to jump into the Search Bar and click Search.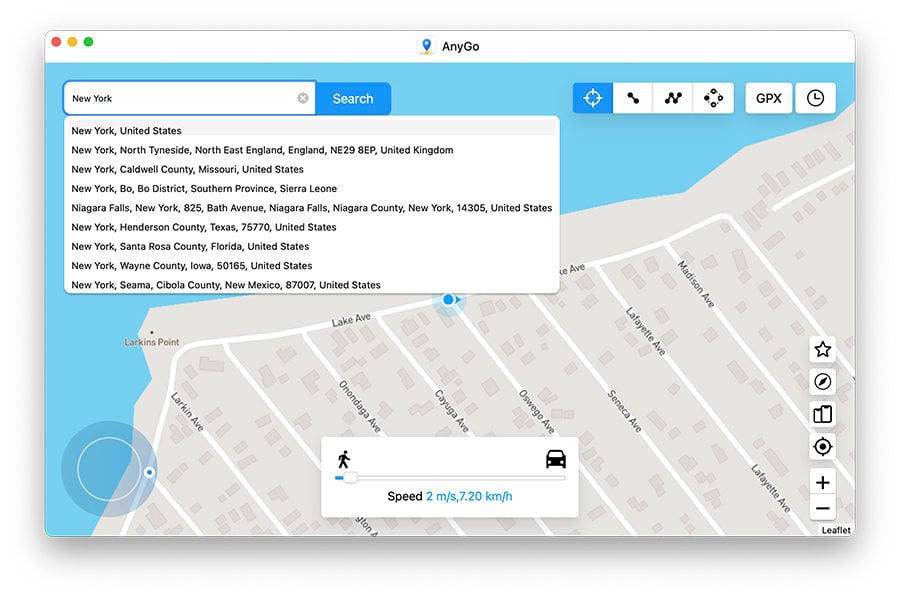 Step 3. Spoof Pokemon Go Location Success
iToolab AnyGo will display the entered location on the map. To finally teleport your device there to play Pokemon Go, click on Go.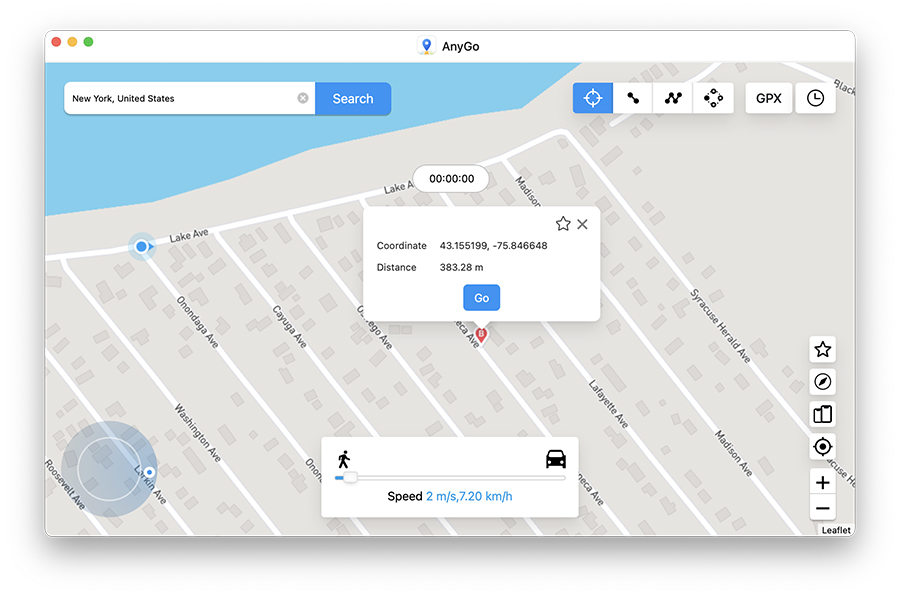 Now, your Pokemon Go GPS location will be located to the fake location. The Pokemon around this area can be found now. If you are looking for a specific Pokemon with a GPX file, you can just import GPS file to iToolab AnyGo and this Pokemon Go spoofer will complete the specified route to help you catch the Pokemon! Know more details by watching video here:
If you are looking for an app that can be downloaded on your iPhone or Android, here are some Pokemon Go spoofing apps you can also try. The following apps can be downloaded on Google Store.
Pokemon Go Spoofer APK: Fake GPS Go Location Spoofer
What if you are an Android user and still want to fake your location to unlock several inaccessible Pokemon Go features? Well, I have good news for you as you can instantly install the Fake GPS GO Location Spoofer app on your device from the Play Store and quickly change your position to anywhere in the world. However, you must enable the Developer Options and the Debugging Mode on your device to make this app work. Beyond that, this Pokemon Go spoofer for Android is fairly simple to access your location of choice!
🙂 Pros:
Available on the Google Play Store.
🙁 Cons:
Only accessible on Android devices.
Set up process is long.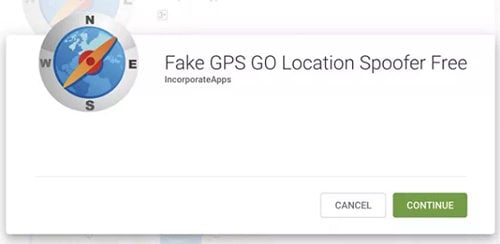 Also Read: Top 5 Pokémon Go Spoofing Apps for iOS Devices
Pokemon Go Spoofer App for iOS and Android: iPogo
If you are looking for more options to spoof Pokemon Go location for iPhone/iPad using your Windows PC, then my fifth recommendation is just the right tool you are looking for! iPogo offers the means for you to manually change your in-game position, but with a device that has jailbreak protocol implemented. Besides that, this service is quite simple to manage and offers plenty of features to play the game for free.
🙂 Pros:
🙁 Cons:
Overpriced.
Jailbreak needed.
Your account could be blocked.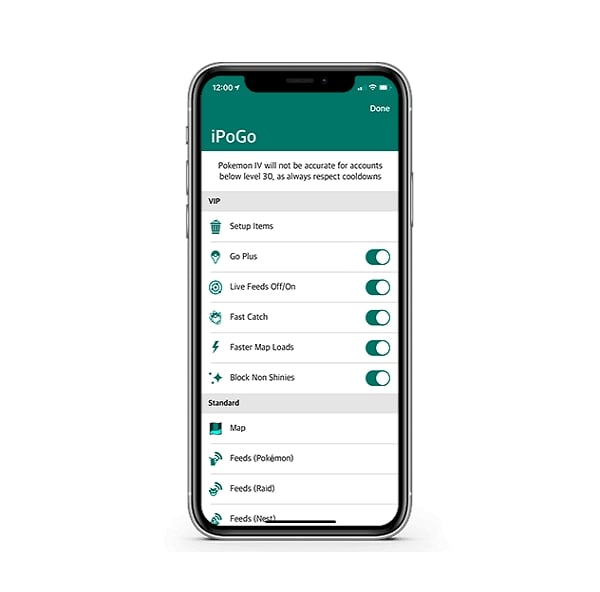 Free Pokemon Go Spoofing App: TUTU App (Not Safe)
The Tutu app is a third-party platform that is a hub for users to access premium games and applications without charge. In the beginning, it was launched for the Chinese market but has now evolved into a global service since the introduction of its English version.
Besides, The masterminds behind Tutu accessed the entire map details of Pokemon Go, pointing you straight to the whereabouts of the rare Shiny and Dark Pokemon. Similar to other spoofers, you can select any location to play the game.
🙂 Pros:
🙁 Cons:
Not well-known.
Requires jailbeak device.
It might cause your account to get banned by Niantic.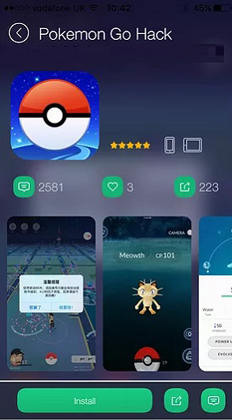 Free Pokemon Go Spoofing App: Relocate (iOS Only)
Relocate is a free Pokemon Go spoofer that will let you change your iPhone/iPad location with the assistance of a fake GPS interface to trick apps like Pokemon Go into thinking you're somewhere else. Moreover, this would give you unobstructed access to rare & exciting Pokemon, ample opportunity to hatch eggs, and visit Gyms/PokeStops in an area you wouldn't have imagined seeing. However, there is one issue with this app it only works on devices that have been jailbroken.
🙂 Pros:
Free and easy.
Can access any location on the map.
🙁 Cons:
It doesn't work with jailbreak.
This could result in your account getting banned.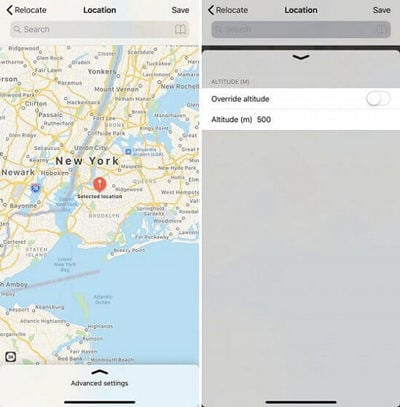 Frequently Asked Questions of Pokemon Go Spoofer
Q1: Can you get banned for being a spoofer in Pokemon Go?
Generally speaking, if you use a Pokemon Go spoofer that doesn't provide you with a countdown to the cooldown, you're likely to get your account banned due to frequent use of location teleportation. iToolab AnyGo can help you with this problem very well.
Q2: Can you still spoof in Pokemon Go 2023?
Yes, you can still spoof Pokemon Go location in 2023. In this article we have introduced 5 tools for iOS and Android devices, and you can use them without worry. But you must understand their advantages and disadvantages.
Q3: Where can I download Pokemon Go ++?
You can download Pokemon Go ++ at Google Play Store. This Pokemon Go Spoofer is also a good solution to fake GPS location in Pokemon Go with simple steps.
Summary
We've listed all the useful Pokemon Go spoofers for you. No matter you are using iPhone and Android, you can always find a best one here. However, the free Pokemon Go spoofers are not recommended by us. As there is a high risk that you will get your account banned. So, choose the safest one is the best choice! Don't miss iToolab AnyGo to play Pokemon Go with more fun!