iPhone 5S was one of the first mainstream and only the second smartphone to rock a fingerprint sensor. Since then, iPhone fingerprint unlock has become one of Apple's signature features, and most users were accustomed to unlocking their phone with a press of their finger. But with the release of the iPhone X, Apple moved away from the fingerprint unlock for a more convenient face-unlock feature.
Part 1. Rumors about Under-Display Touch ID on iPhone
There is no official statement from Apple, but according to Ming Chi Kuo, a famous market analyst and an Apple leaker, iPhone Fingerprint Unlock will be available sometime in late 2024/25, as the upcoming iPhone 14 series is unlikely to come with this feature. He predicts that Apple will prioritize Face ID with a mask on iPhone for a better biometrics solution before moving mack to the fingerprint sensor.
Part 2. Why iPhone 13/12/11/XR Fingerprint Unlock is Unavailable
With the global pandemic and most people wearing masks, face unlock became an inconvenience, and users wanted to get their fingerprints unlock back. But Apple, in their quest to make an all-screen iPhone with no bezel, did not include any Fingerprint Unlock in their premium phones, including the iPhone 13/12/11/XR series. You can still get an iPhone fingerprint to unlock on lower-end devices like SE, but when the industry is moving towards an all-display device, a fingerprint sensor at the bottom takes up unnecessary space and is a huge inconvenience. Plus, traditional fingerprint sensors are slow and less reliable than the current biometric solution found on iPhones. /p>
Some may argue that the in-display fingerprint sensor used in many newer android devices does not take up any space as it's inside the display and is both fast and reliable. But Apple argues that the tech is still in its development phase and still not reliable enough to be used in the iPhone.
Part 3. How to Set Up Touch ID(Fingerprint) on Apple Device
Apple has not completely moved away from its fingerprint sensors, and many Apple devices still use them. By default, the option is not turned on, and you have to set up your device and put in your fingerprint to set everything up. Here is a brief overview of turning it on on different apple devices.
iPhone/iPad
If you are using an iPad or an older iPhone, they are most likely to come with a built-in fingerprint sensor. Follow the steps below to set it up:
Note: Make sure that both the fingerprint sensor and your finger are dry and do not have any residue like oil or sweat.
Step 1: Tap Settings > Touch ID & Passcode, then enter your passcode.
Step 2: Tap Add a Fingerprint, and you see a screen which will ask you to place your finger.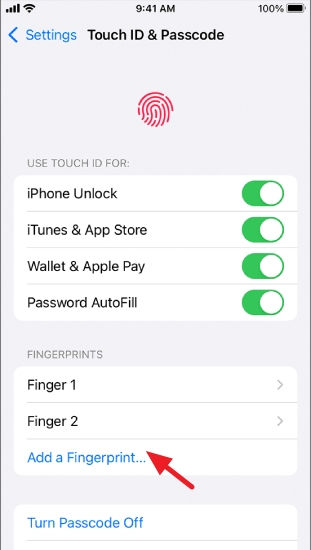 Step 3: Hold your device as you normally would when touching the Touch ID sensor and Touch the Touch ID sensor with your finger.
Note: DO NOT press; place your finger gently so the device can begin recognizing your fingerprint.
Step 4: Hold your finger there until you feel a quick vibration or until you're asked to lift your finger.
Step 5: Continue to lift and rest your finger slowly, making minor adjustments to train the sensor to recognize your fingerprint.
Step 6: Once completed, the next screen will ask you to adjust your grip.
The next screen asks you to adjust your grip. Hold your device as you normally would when unlocking it, and touch the Touch ID sensor with the outer areas of your fingertip instead of the center portion that you scanned first.
Mac
Setting up a fingerprint is really simple if you are on the newer MacBooks and your keyboard has a fingerprint sensor. You can use it to unlock your Mac, authorize purchases from the iTunes or App Store, and make purchases on the web using Apple Pay. You can also use Touch ID to sign in to some third-party apps. Here is how you can do it.
Note: Before you start, make sure that both the fingerprint sensor and your finger are dry and do not have any residue like oil or sweat on them.
Step 1: On your MacBook, press on the Apple menu logo on the top left of the screen. Then select System Preferences, then click Touch ID.
Step 2: Click "Add Fingerprint," a prompt will ask you to enter your password.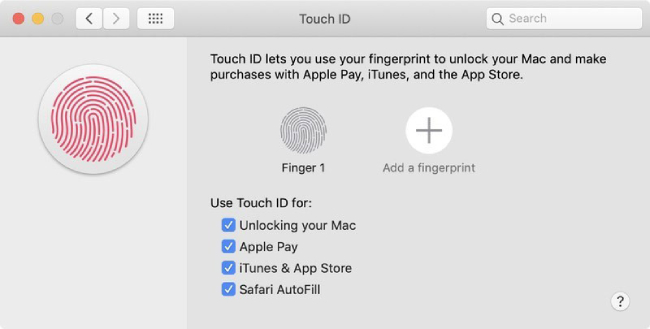 Step 3: Follow the on-screen instruction and place your finger gently so the device can begin recognizing your fingerprint. Step 4: Make adjustments to train the sensor, and once completed, press on done.
Part 4: How to Unlock iPhone/iPad/iPod touch without Touch ID
Touch ID offers top of the line security with the convenience of unlocking devices instantly. But there are several scenarios where touch ID may stop working altogether. You may forget the passcode on IOS devices which is required after a reboot, your Touch ID can malfunction, or you may even break your screen, making the fingerprint sensor unresponsive. In such a situation, your device will be stuck on the lock screen, and you will be unable to perform any task.
So, if you have faced such a situation, don't panic because using the iToolab – UnlockGo, you can open any lock on your ios device in just 4 simple steps. Here's how you can do it.
Step 1. Download UnlockGo and launch. On the main interface, you will find all the available options, then select "Unlock Screen Password".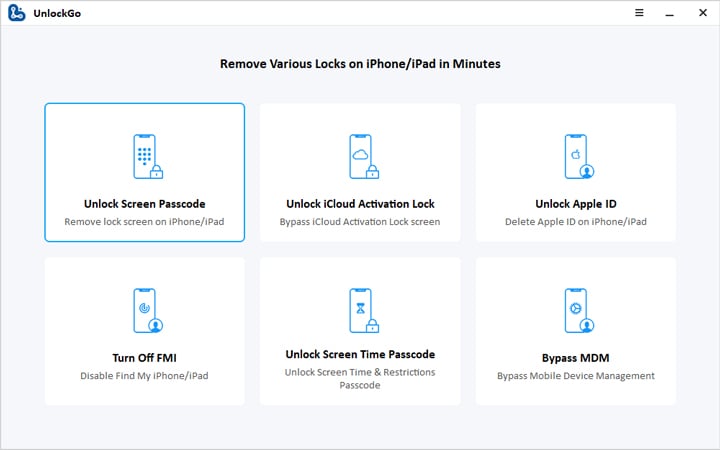 Connect your phone with a computer which has Unlockgo installed. Unlock your device screen and tap "Trust" on your iPhone.
Note: In case your iPhone/iPad isn't recognized by your computer, put your device into "Recovery Mode" or "DFU Mode" by following the instructions below so that it can be detected.
Step 2: The program starts to download the latest firmware available for your device. If you have installed the ipsw file before, you can import from your computer directly.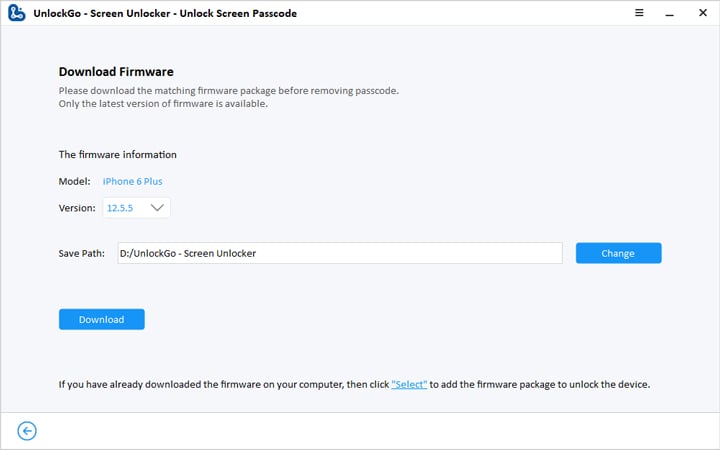 Step 3: Once you have downloaded the necessary firmware, you can begin removing your iPhone password by selecting "Start Unlock".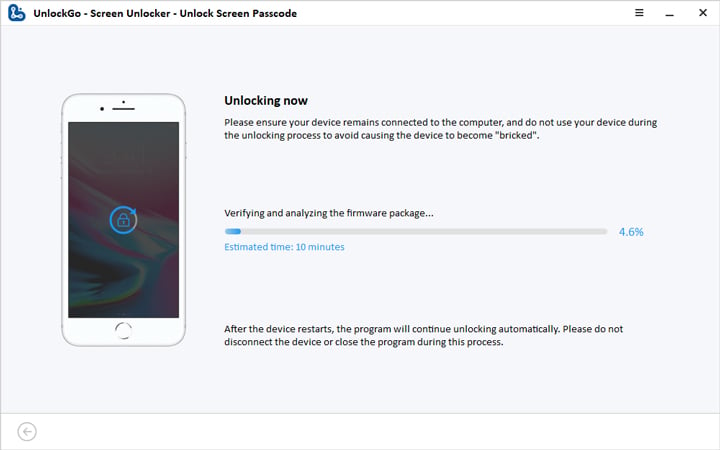 All Explained!
After you read this blog, the Touch ID and fingerprint things are all clear here. Most of you might still expect that iPhone will release new models with built-in fingerprint screens. More, if you happen to have Touch ID issues, why not try UnlockGo to help you out?