I can't download anything on the app store it keeps saying verification is required when I do it it just goes back and asks the same thing. How do I fix this problem?

— From Apple Community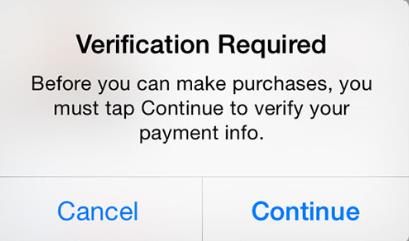 If you're an iPhone user, you may have encountered the frustrating App Store "Verification Required" message when trying to download or update apps on your device.
We understand your frustration, and we're here to help you resolve this issue. In this article, we'll provide you with effective solutions to get rid of the App Store verification required problem when downloading free apps.
But before we go for the solutions, let's first explore why this issue occurs on your iPhone. Understanding the root cause is essential to finding a lasting solution.
So, let's get started to fix it.
Part 1: Why Does Your App Store Say Verification Required?
The App Store "Verification Required" popup on your iPhone or iPad often comes up from a glitch in your Apple ID's payment method.
It happens when your payment method encounters an error, your device has never made a purchase (paid or free), or there's an outstanding unpaid balance on your account.
The primary culprit behind the "Verification Required" message is usually an invalid or problematic credit card. The good news is, that resolving this issue is more straightforward than you might think.
You can update your payment details, switch to a valid payment card, or even remove the current card and select 'None' as your payment method. These steps can get things back on track.
Part 2: How to Fix Verification Required Error on App Store?
Now you are all clear with the reason for the App Store Verification Required error, It's time to check out the best possible reasons to fix this culprit, so hang up till the end to get maximum value.
Solution 1: Change Payment Method
To fix the App Store requires verification issue, you need to change your Apple ID payment method. You can either use a valid payment method or choose not to have any payment details linked to your Apple ID and App Store.
In this case, let's go with the second option, which is simpler.
1. Open your Settings app and tap on your name at the top.
2. Tap on "iTunes & App Store". Then tap on Apple ID – View Apple ID.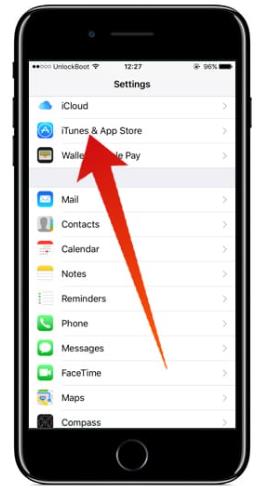 Note: For iOS 15 or later, tap "Media & Purchases" first, and then select "View Account".
3. Locate "Manage Payments" and tap it.
Note: You'll see your current payment method listed. If there are any issues with it, like incorrect information or an expired date, tap on it to update the details. If not, move to the next step.
4. Tap "Edit" at the top right, then hit the red minus icon, and confirm by tapping "Remove" in the pop-up.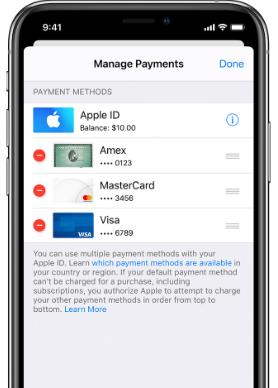 That's it! You've now removed your payment method from your Apple ID. Keep in mind that this means you won't be able to buy apps or subscriptions using this method anymore.
Solution 2: Check Unpaid Balance
When the "Verification Required" issue is due to an unpaid balance, follow these easy steps to check and settle your unpaid balance.
1. Begin by opening the "Settings" app on your iPhone. 
2. At the top corner of your screen, you'll see your Apple ID. Give it a tap.
3. Then, go to "iTunes & App Store". Tap on your Apple ID.
4. A notification will pop up; select "View Apple ID". You'll need to input your Apple ID passcode here.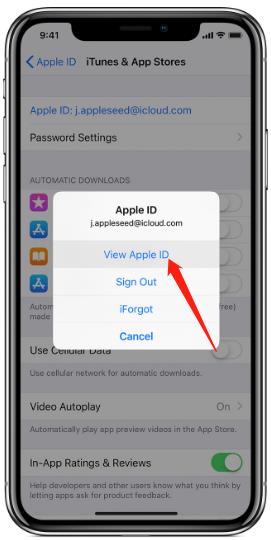 5. Scroll down and locate "Subscriptions". If there are any unpaid subscriptions, this is likely the reason for the "Verification Required" message when downloading apps.
6. Click on the unpaid subscription, make the payment, and follow the prompts to complete the process.
By following these steps, you'll settle any outstanding balances and your app downloads should proceed smoothly.
Solution 3: Don't Require Password for Purchase
Screen Time can indeed lead to the App Store Verification Required problem, which holds back app downloads and purchases.
Additionally, if your Apple ID is managed by a Family Sharing organizer, it might limit your ability to download apps, or the organizer's payment method could be problematic.
In such scenarios, our recommendation is to disable the password requirement in Restrictions.
Here's a step-by-step guide.
1. Launch the Settings app and navigate to Screen Time, tap on Content & Privacy Restrictions.
2. Select the "iTunes & App Store Purchase" option.
3. Within the Require Password section, check the box for Don't Require.
4. Right above that section, you'll find "In-app Purchases", tap on it and select "Allow".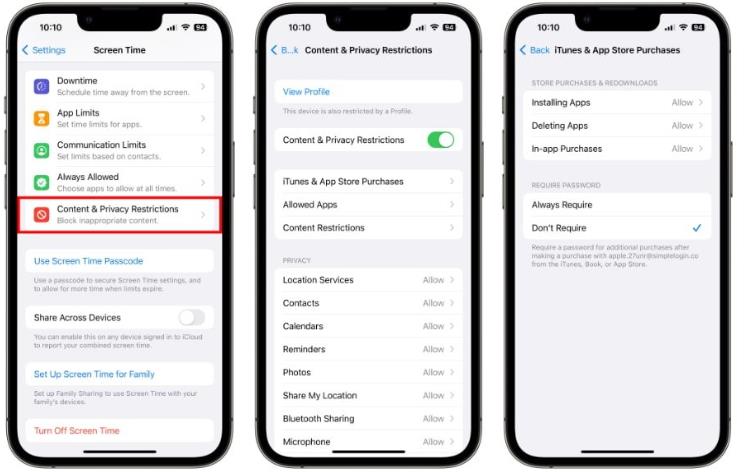 Part 3: How to Fix Verification Required Error on App Store without Apple ID?
In our previous methods, we explored how to resolve the App Store Verification Required loop on the App Store by adjusting settings and preferences tied to your Apple ID.
However, what if you've forgotten your Apple ID password and find yourself locked out of your account?
Fear not, because there's a powerful tool that can come to your rescue: iToolab UnlockGo iPhone Unlocker
UnlockGo iPhone Unlocker – Remove Apple ID in 1 Click
Remove or delete Apple ID without password.
It supports all iPhone/iPad/iPod touch running iOS 11.4 or later, including the latest iOS 17.
Fix 'Verification Failed' and 'Your Apple ID Has Been Disabled' issues.
After removal, you can still enjoy all iCloud and Apple ID services.
UnlockGo doesn't stop at just unlocking your Apple ID. It offers a suite of additional benefits, including:
Bypass iCloud activation lock without password on iPhone/iPad/iPod touch running iOS 12.0-16.6.
Unlock all iPhone screen locks, including 4/6 digit password, Face ID and Touch ID.
Bypass MDM lock without data loss.
UnlockGo iPhone Unlocker ensures you're never locked out of your Apple ID account, even when you've forgotten your password. Now let's see how it works.
Step 1 After installation, run UnlockGo iPhone Unlocker on your computer. Connect your iOS device to the compater and select "Unlock Apple ID".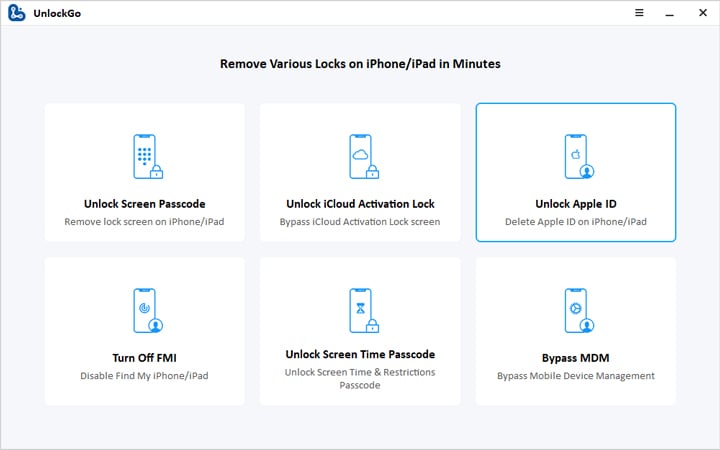 Step 2 You need to confirm that the lock screen and Two-Factor Authentication have been enabled on your device.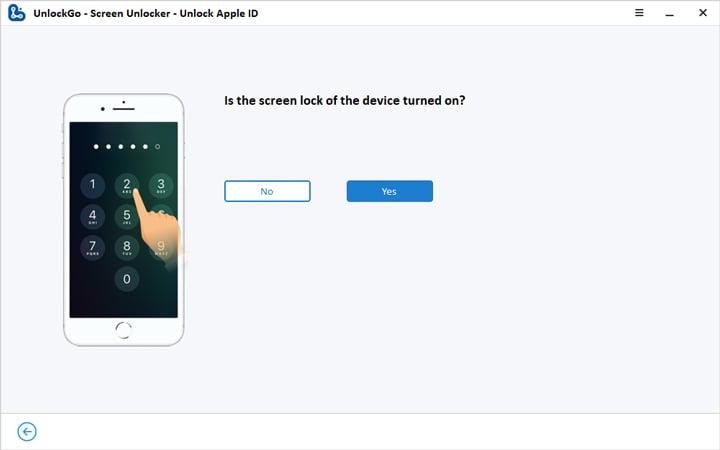 Step 3 Download a firmware package matching your iOS version. Once done, click "Unlock Now" to remove Apple ID from your device.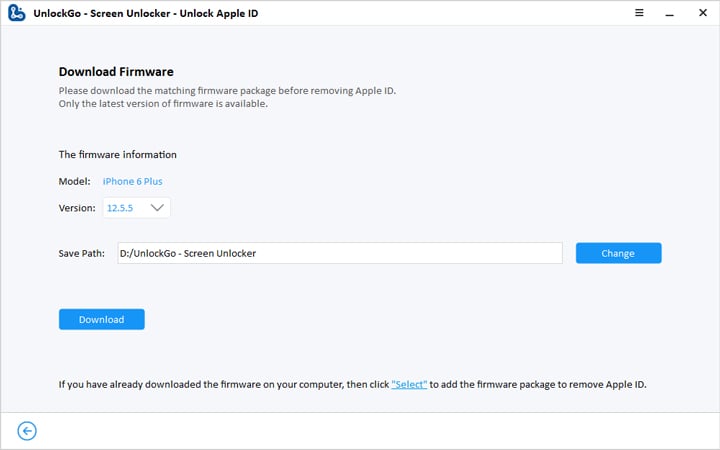 You will need to wait several minutes. Your iOS device will restart after removal. Then follow the instructions to set up your device.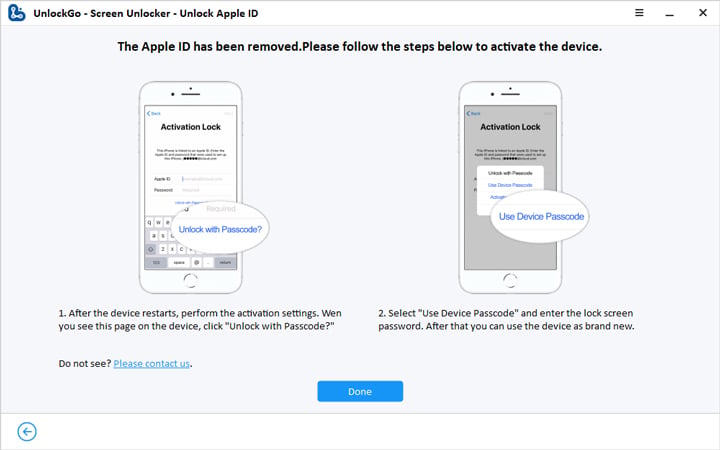 Finally, create a new Apple ID to enjoy all your device's features.
Wrapping Up
Here you have it! A comprehensive guide on eliminating the App Store "Verification Required" hurdle on your iOS device's App Store.
Be sure to explore these methods one by one until you discover the perfect solution for your specific situation. This article has not only tackled the 'why' behind this error but has also introduced a handy tool, iToolab UnlockGo iPhone Unlocker, capable of rescuing your iOS device in case you've forgotten your Apple ID password on iPhone, iPad, and iPod touch.