UnicTool LockEraser is a tool used to unlock your iPhone or iPad. You may probably use it or hear about it. Still, to know its actual capability and limitations, you would probably be browsing the internet and seeking an honest review that is not biased. Here we come, providing honest and unbiased reviews on various applications.
In this review, we have thoroughly reviewed it and discussed its pros & cons and its best alternative.
Part 1. What is UnicTool LockEraser?
A lot of unlocking tools appear recently, and UnicTool LockEraser is one of them. It is a desktop software that unlocks various locks on iOS devices, ranging from screen lock to iCloud Activation lock.
According to what I have researched for years, it is a common unlocking software and has not many similarities to any other. But, there are still some good points you can see. I will fully explain here:
1. Unlock Apple ID:This tool allows you to remove your old Apple ID from your iPhone if you forgot your password or acquired a used phone.
⛔ Weakness: If Find My iPhone is enabled, and iOS 11.4 above, your iPhone will get stuck on Activation Lock after Apple ID is removed.
2. Unlock iDevice Screen Passcode: It doesn't matter what kind of passcode you're using or how complex it is: Touch ID, Face ID, 4/6-digit passwords, personalized numerical codes, and custom alphanumeric passes.
⛔ Weakness: All your data will be wiped out. This is the same as the mainstream programs on the market.
3. Unlock iDevice Screen Time Passcode: This is typical for parents who wish to control the way their children use their devices. This program can help you remove screen time passcode with ease.
⛔ Weakness:The process will be a little complex if your iOS version is 11 and below.
4. Bypass MDM Lock: Many organizations and institutions have imposed restrictions on individuals' devices for various reasons. However, you may overcome these remote management limitations by UnicTool Unlocker, using your device without restriction, thus regaining complete control over it.
Part 2. Is UnicTool LockEraser Free?
It has three different packages separately for Windows and Mac, and you can take a look at here:
For Windows:
Monthly:$29.95
Yearly:$49.95
Lifetime:$59.95
For Mac:
Monthly:$29.95
Yearly:$49.95
Lifetime:$59.95
Then, how can I try it for free? It offers you to free download from official website and have a simple view about its interface and you need to pay for unlocking features.
Part 3. Is UnicTool LockEraser Safe & Legit?
I cannot assure you 100% safe. I have searched this software on Google and there is not much talking about it. The "Review" on the official website is only "1". I'm not saying it hasn't been tried by a lot of users, but is being recognized by users around the world.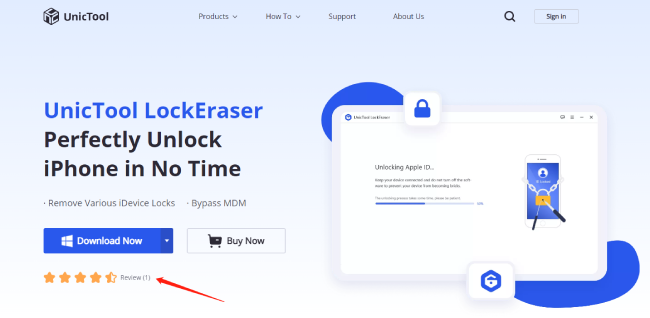 I've tested it and nothing abnormal situation happen. At least, it's safe to use.
Part 4. Pros and Cons: UnicTool LockEraser vs iToolab UnlockGo
iToolab UnlockGo is the best alternative to UnicTool LockEraser. It is also a third-party application that unlocks all types of iOS locks. When I say all types, I really mean it.
iToolab UnlockGohas been around for a couple of years and makes it outstanding compared to the similar iOS unlocking tool.
Comparison of UnicTool LockEraser and iToolab UnlockGo
Factors
iToolab UnlockGo
UniTool LockEraser
1. Function

Unlock Screen Passcode
Remove iCloud Activation Lock
Delete Apple ID
Turn Off Find My iPhone
Unlock Screen Time Passcode
Bypass MDM Lock

Unlock Apple ID
Unlock iDevice Screen Passcode
Unlock iDevice Screen Time Passcode
Bypass MDM Lock

2. Success rate
It has 4.8 rate stars from 5316 users
It has been rarely rated from its only officia website, and it can meet all the unlocking needs up to 70% according to my personal use.
3. Speed
15-20 minutes for a disabled iPhone 6S
25-30 minutes for a disabled iPhone 6S
4. Price

For Windows: Monthly:$35.95/Yearly:$39.95/Lifetime:$49.95
For Mac: Monthly:$39.95/Yearly:$49.95/Lifetime:$59.95

🔥🔥🔥

10% OFF Coupon Code: ITOOLABINST10

For Windows: Monthly:$29.95/ Yearly:$49.95/ Lifetime:$59.95
For Mac: Monthly:$29.95/ Yearly:$49.95/ Lifetime:$59.95

5. Download

Official Website
www.filehorse.com
macdownload.informer.com
unlockgo.soft32.com

Official Website
How to Use iToolab UnlockGo
Using iToolab UnlockGo is not rocket science. The interface of it is more obvious and easy to navigate for a new user. I have shown the process of how to remove the lock screen on the iPhone below to show you how to use iToolab UnlockGo and how easy is it to use it.
Step #1. Connect Your iPhone To Your Computer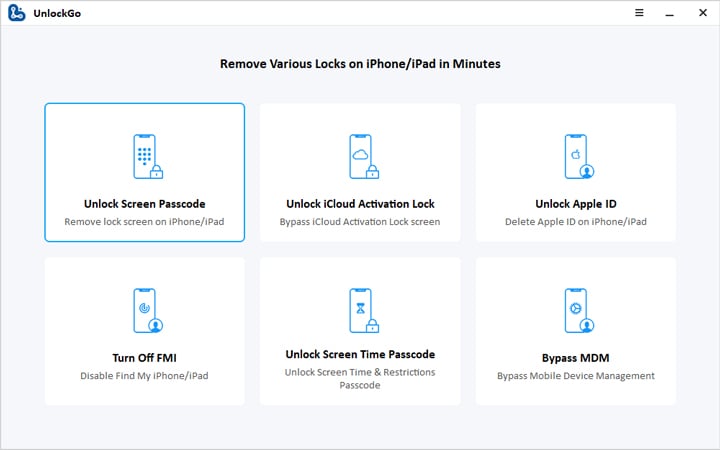 Step #2 . Download The Latest Firmware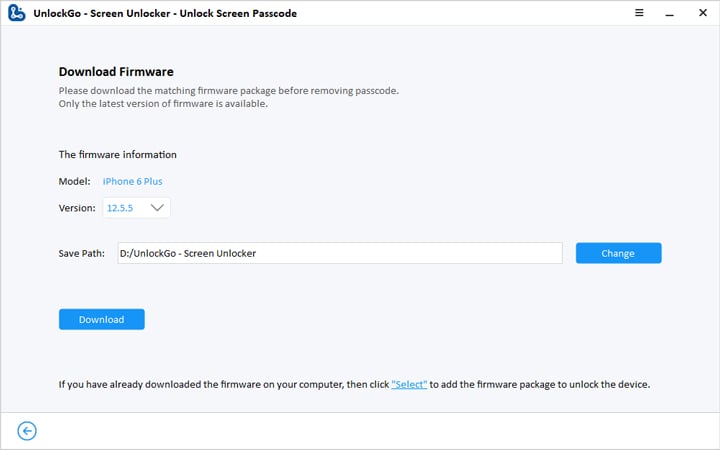 Step #3. Start The Unlocking Process. Wait until the process is finished.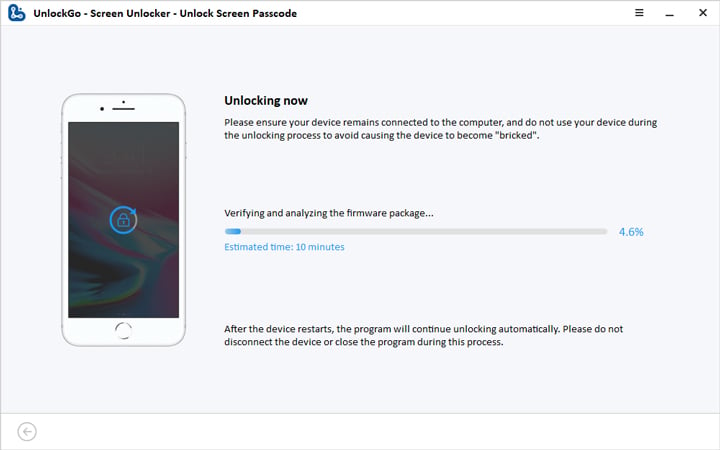 Editor's Suggestion
UnicTool LockEraser is indeed one of the best third-party iOS unlocking software that offers amazing features, but they are charging more than what they offer. I personally believe that iToolab UnlockGo might best suits your needs if you are looking for affordable one.
So, It would be pretty obvious by now, and I would also suggest you iToolab UnlockGo for providing more features, faster operations, and competitive packages.