I told my daughter that I can't add recovery contact after update iOS 15 but my other family members were able to set me up as a contact.
When I try and add a recovery contact it fails and goes back to the previous screen on both iOS and iPadOS 15.
As Apple released the official iOS 15 version, the most functional updated version ever, lots of Apple fans update their device to the new system. Some users said they can't add recovery contact after update to iOS 15. If you got the same issue, this article is for you.
What is an Account Recovery Contact on iPhone
Account recovery contact is a new function of iOS 15 and iPadOS 15 on iPhone, iPad and iPod touch, which can help you access your account once you forgot your Apple ID password or device passcode. It allows someone you trust, like a family member or a close friend, to verify your identity and help you regain access to your account and all of your data when you've been locked out.
The minimum requirements for adding a recovery contact
There are some requirements for setting up a recovery contact.
Your device must be running iOS 15, iPadOS 15 or later.
Two-factor authentication has been turned on.
You are required at least 13 years old.
Note: All your devices must be updated to the latest iOS, watchOS and macOS. If your old device can not be updated to iOS 15 or iPadOS 15, you need to log out iCloud.
How to Add a Recovery Contact on iOS 15
Step 1: Go to Setting > [your name] > Password & Security > Account Recovery.
Step 2: Tap Add Recovery Contact, you will be required to identify with Face ID or Touch ID.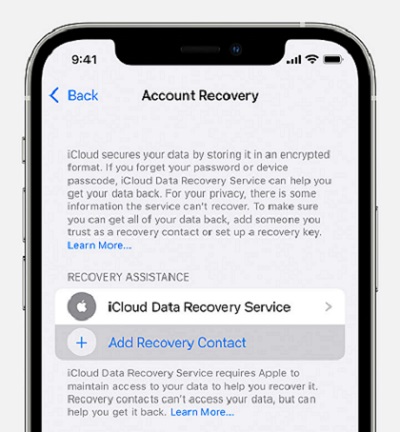 Step 3: Select a contact as your recovery contact. If they are your family member, they will be added automatically. Otherwise, they need to accept the request.
Step 4: After they accept your request, you will receive a message that they have been added as your recovery contact.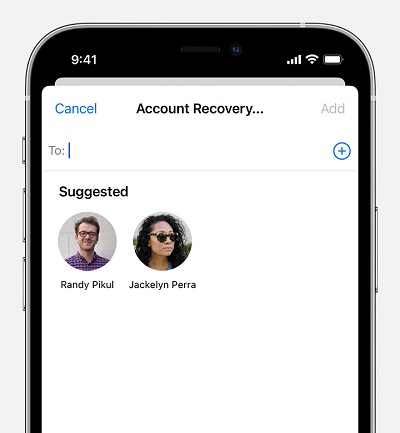 How to Fix Unable to Add Recovery Contact After Update iOS 15
Way 1: Make sure your device enables two-factor authentication
You can check it by following the steps below.
Step 1: Go to Setting > [your name] > Password & Security.
Step 2: Tap Two-Factor Authentication to turn it on.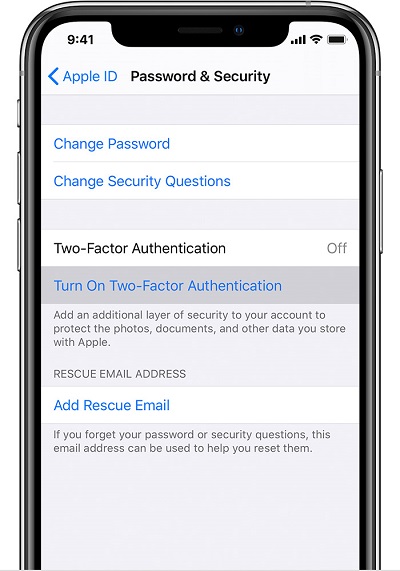 Step 3: Enter the phone number to receive verification codes.
Step 4: Enter the verification codes and set up two-factor authentication.
Way 2: Face ID works as normal
If your iPhone Face ID isn't working, please follow these steps.
To set up Face ID, go to Setting > Face ID & Passcode. Turn on the features you want to unlock with Face ID.

Check if there anything covering the TrueDepth camera.
Make sure your face is clean and covered by nothing.
Make sure that you're facing the TrueDepth camera.
If you have an appearance that look very different, you can add an alternate appearance to help Face ID still recognizes you.
Reset Face ID.
Restart your device and try to use Face ID again.
Apple support doesn't have a clear solution for this issue at this moment. If all the above settings are fine but still can't add recovery contact after update iOS 15, the only thing you can do is waiting.
Since Apple takes user data security very seriously. If you forget your password, or there's no recovery contact to help verify your identity, after you enter the wrong password over 5 times, your iPhone will be locked or disabled.
In this case, we highly recommend iToolab UnlockGo to remove various locks on iOS 15. UnlockGo is an all-in-one iOS unlock tools, which is able to unlock screen passcode, Apple ID, screen time passcode without password on iPhone.
Tips: How to unlock iPhone when recovery contact not working
It's almost automatic to fix iPhone unlocking problems with UnlockGo. Here step-by-step tutorial.
Step 1: Install and open UnlockGo, click "Unlock Screen Passcode".
Step 2: Connect your iPhone to the computer. When UnlockGo detects the device, click "Start".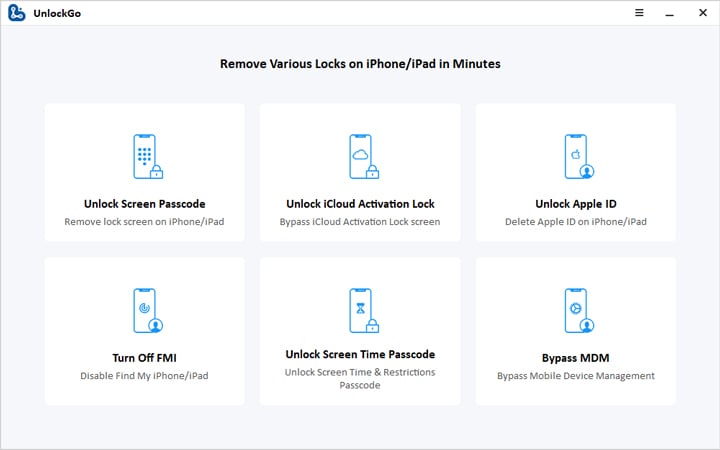 Step 3: Click "Download" to download and install the firmware on your iPhone.
Step 4: In just a few minutes, the firmware has been downloaded, then click "Unlock Now" to unlock your device without a password. Your device will reset automatically.
Conclusion
Before Apple release official solutions, hope these methods above help you fix iPhone unable to add recovery contact on iOS 15. If you've overcome the problem with other methods, please feel free to leave your comments below to help more users.