This article will attempt to determine if the XTools ultimate iCloud removal tool, a program designed to help you bypass iCloud Activation Lock actually works as advertised. By the end of this article, you should have all the information you need to decide if this is the right tool for you or not.
Let's start with an overview of this tool.
What Is iCloud XTools iCloud Unlock?
The iCloud XTools Ultimate Software is a program that can help you unlock an iCloud locked iOS device. It is promoted as the best solution for second-hand devices that are still connected to the previous owner's iCloud account.
The program's numerous promotional websites claim that it can unlock all iPhone models including iPhone 12 and all iPad models including iPad Pro.
It will also work on all versions of iOS from iOS 7 to iOS 14.2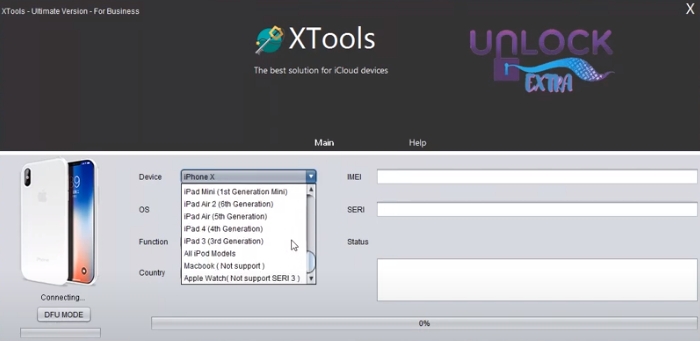 How to Use XTools iCloud Unlock Ultimate Version?
XTools iCloud Ultimate version is easy to use, just follow these steps:
Step 1: Install the program onto your computer and then open it. Sign in using the ID and password that you got when you downloaded the program.
Step 2: Select the device's model, iOS version, country, and then input the IMEI and serial numbers.
Step 3: Connect the device to the computer using USB cables.
Step 4: Click on "DFU mode" and then click "Start" to begin unlocking the device. When the process is complete, the device will be unlocked.
We advise against using XTools. While we were unable to test XTools, we found it on a number of scam lists. The main complaint is that users have been asked to pay over $80 for the service but their device was not unlocked.
Can I Trust XTools iCloud Ultimate?
You may be able to find online activation lock removal services that will work. But the truth is, it can be nearly impossible to tell if a service is a scam or not. This is because many of these tools will ask you to provide the device's IMEI number and pay for the service upfront. After payment, you can only hope that the device will be unlocked.
When looking for solutions to unlock an iCloud locked iOS device, you are bound to come across a wide range of solutions. Each tool as its own process, but they all have one thing in common: they are difficult to download.
The following are some of the iCloud Unlock tools that we testes:
iCloud Unlock Deluxe – Didn't Work for us or our Readers
We tested this software vert recently and it didn't work for both iPhone 6 running iOS 11.3 and the iPhone X running iOS 12.4.1. We thought that this tool may work on other versions of iOS, so we offered a download link to our readers and asked for their feedback. But it didn't work for any of our readers either.
GadgetWide iCloud Bypass Tool- Didn't Work for Us
To begin with, it is very difficult to find the official website for this tool. We were however able to get a download link for it and tested it. But it didn't work for the iPhone 5s running iOS 10.2, iPhone 6 running iOS 11.3, and iPhone plus running iOS 13.
Our readers also tested this program and found that it will work on devices running iOS 7 to iOS 9.
More Reviews of iCloud unlocking services:
iFinder 2021 Unlock iCloud Review
Best Alternative to iCloud XTools: iToolab UnlockGo Ultimate
There is no guarantee that XTools iCloud Ultimate will unlock the device. Therefore, if you would like a solution that is guaranteed to unlock the device, we recommend using iToolab UnlockGo. UnlockGo is easy to install and even easier to use, allowing you to unlock the device in minutes.
The following are its main features:
You can remove the iCloud Activation lock in just a few simple steps and without the Apple ID and password.
After the removal, you can enjoy all features except calls, cellular and iCloud.
It can also be used to remove the different types of passcodes from the device including the 6-digit code, the 4-digit code, Face ID, and Touch ID.
It is so easy to use you don't need any tech expertise to unlock the device.
Follow these simple steps to use this program to remove iCloud Activation Lock without Apple ID and Password:
Step 1: Install the program on to your computer and then open it.
Step 2: In the main window, click on "Remove iCloud Activation Lock" and the click "Start." Connect the iPhone to the computer using USB cables.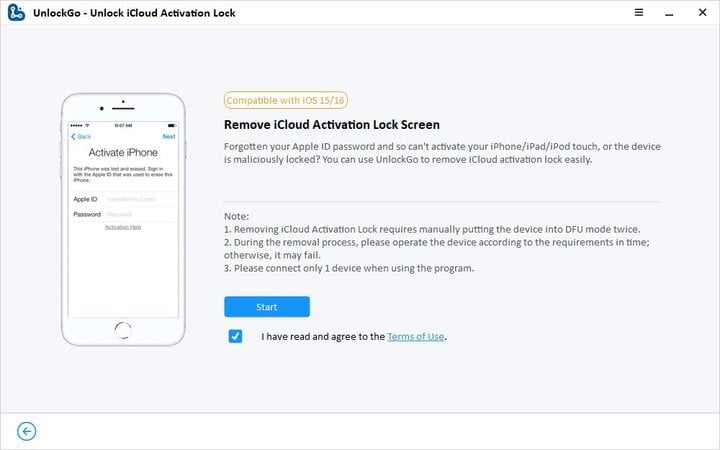 Step 3: The program will need to jailbreak the device in order to unlock it and it will automatically download the jailbreak package you need. Once the download is complete, click "Jailbreak" and then put the device in DFU mode.
Step 4: When the Jailbreak is complete, click "Remove" and UnlockGo will remove iCloud Activation Lock. You will then be able to easily access all apps and features on the device.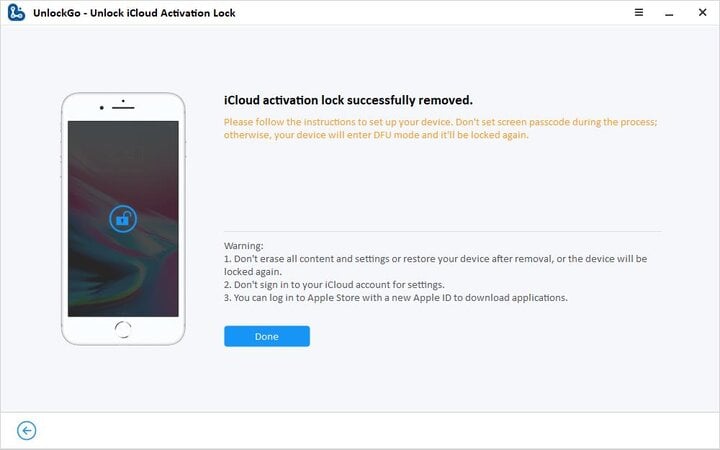 Pros and Cons of UnlockGo
Pros
It is very easy to use: you don't need any technical expertise to use this program.
You don't have to provide any extra information such an IMEI number or the device's passcode.
As soon as the device is unlocked, you will be able to sign in with a new Apple ID to log in to the App store.
It will also not be possible to track or erase the device remotely by the previous owner.
Cons
Once the device is unlocked certain features including calls, cellular and iCloud will be disabled.
Conclusion
Obviously, iToolab UnlockGo is the best alternative tools to XTools Unlock iCloud .
It supports iPhone 5S to iPhone 12 running iOS 14 and versions above. Detailed information can be acquired on the official product page. Try a bonus here – free download of iPhone iCloud Lock Bypass Tool.