I'm unable to verify my account on the new iPhone XR. I get a notification; Log in to another Apple and verify. I don't know where I need to go for verification.
Recently, a user posted the following question on the official Apple forum.
While evaluating the above-mentioned query, we came up with a helpful resource that can help you if you can't verify your Apple ID on your iPad. We'll be discussing several official methods to help you get through this. Furthermore, we'll be explaining a reliable third-party tool to unlock your Google account and verify it accordingly.
Why Can't I Verify My Apple ID
Are you wondering, "Why can't verify my Apple ID?" There can be a number of reasons for this. The main reason is that you might've enabled the Two-Factor Authentication for your Apple ID. Therefore, to log into your Apple ID, you'll need a verification code to log in and you need to log into your account on another device.
What to Do If You Can't Verify Apple ID on iPhone/iPad
This section is a guide for everyone wondering, "what to do if you can't verify your apple id?" We'll be discussing several methods to help in verifying your Apple ID. Make sure to perform all methods in sequence, one of them may work best in your case.
Fix 1. Try using Cellular Data
Most Apple services require a stable internet connection to work effectively. Therefore, if your iPhone doesn't have a stable internet connection then Apple services won't work on your phone. Similarly, when you receive the "Apple ID Verification Failed" error, try checking the internet connection on your device. Try changing your Wi-Fi internet connection with Cellular data to clear the verification error.
Fix 2. Resetting your time and date
Mostly, the time and date settings of your device result in verification errors. If you can't verify your Apple id email then try resetting your phone's time and date using the following steps:
Open the "Settings" on your iPhone.
Head to General and tap on the "Date & Time" option to continue.
Toggle on the "Set Automatically" option if it's turned off. The time and date of your iPhone will automatically reset.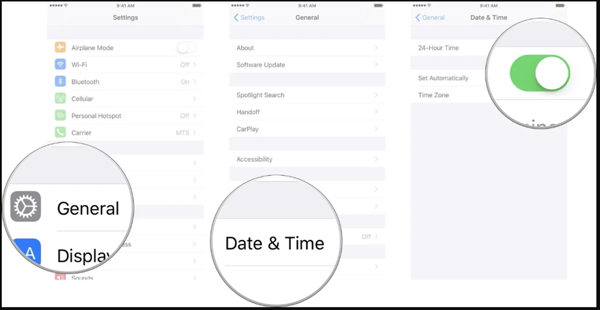 Fix 3. Using trued device to verify
You can also use another device with Apple ID signed in already to verify your device using the following steps:
Sign in and check your Apple ID on another iPhone.
Open the iPhone's settings and tap on the iCloud.
Tap on the Password & Security option and tap on the Generate Verification Code button.
Now, you can use the verification code on your iPhone with a locked Apple ID.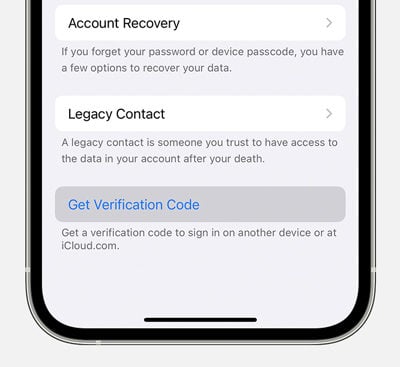 Fix 4. Sign out from iCloud and re-login
You can sign out and sign in again to resolve the verification error by performing the following easy steps:
Open the Settings and then head to [your name].
Scroll down to the end.
Tap on the Sign Out button, now enter the Apple ID and password for confirmation.
Click on the Sign-in button.
Fix 5. Recovery Apple ID with verified phone number
Enter iforgot.apple.com on browser.
Enter your Apple ID and phone number used with the Apple ID.
Then go to any Apple device which sign in this Apple account and reset the password following on-screen guiding.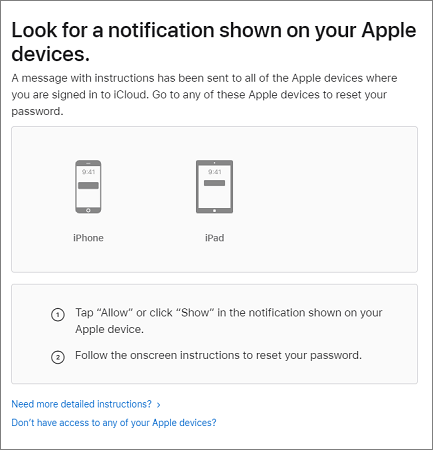 Note:
Sometimes Apple ID recovery key not working.
If you can't access any apple device, it might spends a few days to reset Apple ID via official supports. Before they do the job, verify yourself with codes on phone number and email.
Fix 6. Contacting Apple Support
Sometimes, no reason triggers a verification failed error. You may need to contact the Apple support team to know "I can't verify my apple id account". The Apple Advisor can help you find the exact reason for the above-mentioned error.
Fix 7. Check Apple system status
Often, the verification problem doesn't refer to something on your device. The problem can be triggered at Apple's end. Therefore, you need to check the System Page of Apple to know what services are currently available. The services with Green Dot are available. If you're accessing a service with Green Dot and still the problem exists then try any other method in this section.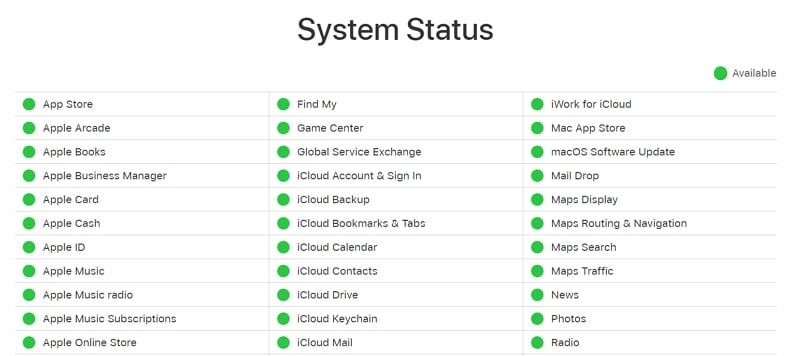 How to Remove Apple ID Can't be Verified on Used iPhone/iPad
If you purchase a refurbished iOS device, you will not be able to provide any identifying information to reset or unlock your Apple ID. Then you're still unable to verify your Apple ID by using the above ways. Now, you may consider removing Apple ID on your iOS devices. Here is an easy way to help you bypass Apple ID without password and 100% working, which is use iToolab UnlockGo. It's an pofessional iOS unlocker tool can help you remove various locks on iPhone and iPad. With only a few steps, you cna easily remove Apple ID. Let's check it out!
Video tutorial: remove Apple ID wihtout verification or password
Skip Apple ID verification with iToolab UnlockGo
Step 1: Download and install the iToolab UnlockGo on your PC. Launch it and select the Unlock Apple ID and onnect your iOS device to your computer. Now, select the Trust option on your iPhone.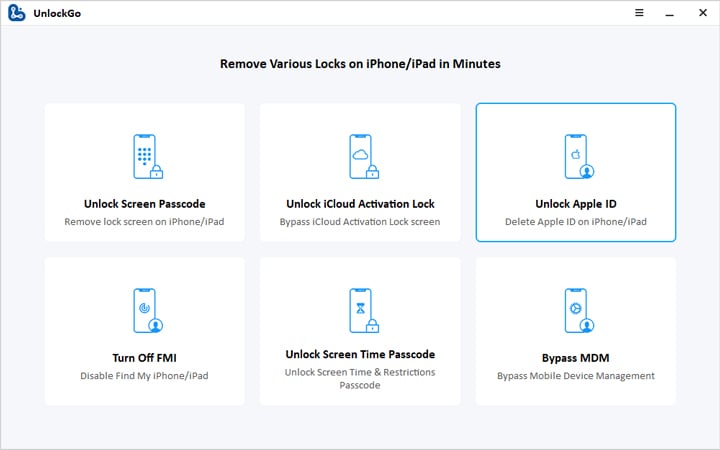 Step 2: Now, click "Unlock" button to move on. Next, you will need to unlock your iPhone screen lock and enable two-factor authentication on Settings.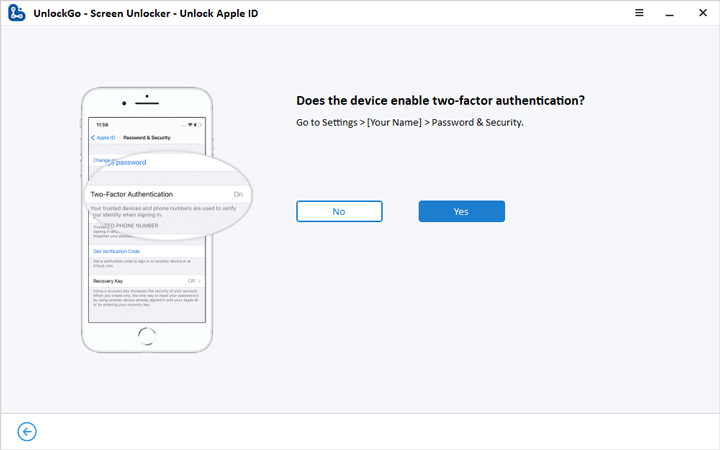 Step 3: Download firmware package in your computer by clicking "Download" button, once done click "Unlock Now" to start bypassing Apple ID.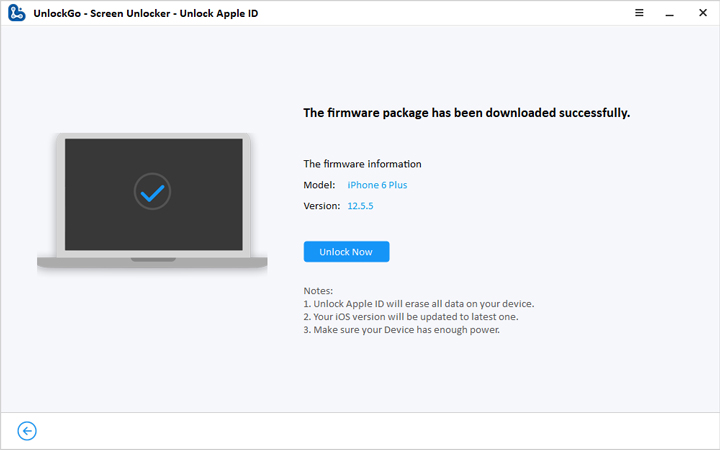 Step 4: The unlocking process will spend 2-3 minutes and then you can set up your iOS device by following the on-screens setps. Last, you can use the all the features by log into your new Apple ID.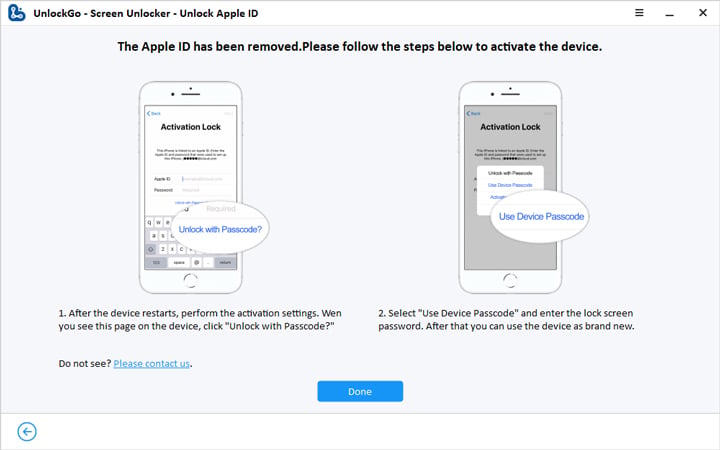 Stop Worrying about Apple ID Verification
If can't verify Apple id on iPad then don't worry, this blog will help you do that. We've discussed several official methods to help you verify Apple ID on your iPhone. You can implement all methods in sequence, might be possible that any of them can work in your case. Further, we've helped you to remove the Apple ID from your iPhone/iPad using the professional iOS unlocker tool. The tool can be used to unlock any type of activation lock on your iOS device. Hope this article can really help you solve the problem!