Apple's iCloud Activation Lock serves as a crucial security feature, designed to protect iOS devices from unauthorized access and theft. It ensures that only the rightful owner can access and use the device, making it a powerful preventive against theft and data breaches.
But if it's you who is locked out of your own devices due to forgotten passwords or unknowingly purchased an iCloud-locked device online.
A solution is sought-after, and one tool that has gained attention in the iOS community is DarkRa1n, so we have decided to research this tool to confirm if it's really worth trying or not. So, if you want to know the results, then read this article till the end.
Part 1: What Is DarkRa1n?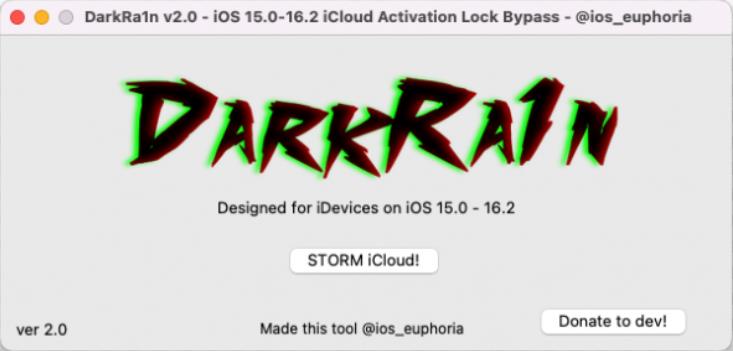 DarkRa1n (BlackRa1n successor) is an innovative solution for iCloud Activation Lock bypass on iOS 15 and iOS 16, with support for A9-A11 devices. It offers a tethered iCloud bypass method, allowing access to the system while the SIM card remains inactive.
Note:
SIM card functionality is not supported.
This is the first tool to remove iCloud lock on devices running iOS 16 – iOS 16.2, even allowing you to disable Find My iPhone and unlock Apple ID without requiring a password. It is compatible with all checkm8 devices on iOS 15.0 – 15.7.2, as well as A11 devices on iOS 16.
However, it's important to understand that DarkRa1n demands installation of the latest Palera1n Jailbreak on your iPhone or iPad. This means that each time your device is rebooted, you will need to use a computer to load the iOS system, as it may otherwise remain stuck on a black screen.
Part 2: What Devices Does DarkRa1n Support?
DarkRa1n offers comprehensive support for A9-A11 systems on a chip (SoC), covering a range of iPhones and iPads. Hence, the iCloud bypass has been rigorously tested and found to work seamlessly on the following devices running iOS 15 – iOS 16:
For iOS 15.0 – 15.7.2
A9: iPhone 6S, iPhone 6S Plus, iPhone SE, iPad (2017) 5th Generation
A9X: iPad Pro (12.9 in.) 1st generation, iPad Pro (9.7 in.)
A10: iPhone 7, iPhone 7 Plus, iPad (2018, 6th generation), iPad (2019, 7th gen)
A10X: iPad Pro 10.5″ (2017), iPad Pro 12.9″ 2nd Gen (2017)
A11: iPhone 8, iPhone 8 Plus, iPhone X
For iOS 16.0 – 16.2
A11: iPhone 8, iPhone 8 Plus, iPhone X
Part 3: How to Bypass iCloud with DarkRa1n?
Certainly, here are the steps to use DarkRa1n, an iCloud bypass tool, to remove iCloud Activation Lock on iPhones and iPads running iOS 15 – iOS 16.
1. Prepare Your System
Make sure you have Homebrew and Python installed on your macOS.
2. Jailbreak Your Device
Jailbreak your iOS 15 or iOS 16 device using Palera1n Jailbreak. Ensure that your device is on the supported list.
Deactivate the passcode on A10/A11 devices before continuing with the jailbreaking.
3. Connect Your Device
Connect your compatible iPhone or iPad to your macOS.
4. Access DarkRa1n Folder
Open the DarkRa1n folder and the Terminal on your Mac.
In the Terminal, navigate to the DarkRa1n folder by entering the command:
cd DRAG AND DROP DarkRa1n folder here
5. Install Required Components
Execute the following command in the Terminal to install the required components.
bash ./install_deps.sh
6. Configure Security and Privacy Settings
Navigate to System Settings > Security and Privacy on your computer.
Grant Terminal and ssh-wrapper full disk access.
7. Run DarkRa1n
In the Terminal, execute the following command to run DarkRa1n:
python3 darkra1n.py
8. Execute iCloud Bypass
Click on the "STORM iCloud" option in DarkRa1n and follow the on-screen guidelines.
9. Reboot without iCloud Activation Lock
Once completed, your device will reboot without the iCloud Activation Lock.
10. Re-jailbreak Your Device
Re-jailbreak your iPhone or iPad using Palera1n Jailbreak.
By using the above steps you can successfully bypass iCloud activation lock with DarkRa1n.
Part 4: DarkRa1n Doesn't Support Your Device? Fix Here
Using DarkRa1n iCloud bypass can be a challenging endeavor for several reasons. Firstly, DarkRa1n has limitations when it comes to device compatibility, and it may not support most iPhone models. This can be frustrating for users who find that their device is not compatible with DarkRa1n.
Furthermore, the process of jailbreaking your device with Palera1n Jailbreak, as required by DarkRa1n, is a complex and technical task that can pose difficulties for non-technical users.
For those who are not well-versed in jailbreaking and find themselves facing compatibility issues with their iOS version, we recommend a more user-friendly and effective alternative, iToolab UnlockGo iCloud Bypass Tool.
UnlockGo offers a wide range of compatibility, supporting various iPhone/iPad/iPod touch models and iOS versions (iOS 16.6 for Mac and 16.3 for Windows users). It simplifies the iCloud Activation Lock removal process, making it accessible to users of all technical levels.
Instantly bypass iCloud activation lock on iPhone/iPad/iPod touch (iOS 16.6 Compatible).
It enables you to bypass iCloud lock within several simple steps.
UnlockGo will help you jailbreak the iOS device automatically.
The tool can work on Windows and Mac system.
Let's Bypass iCloud Activation in 5 Easy Steps
Now here comes an easier process and to avail of this utility, download UnlockGo iCloud Bypass Tool on your Mac or Windows PC and then follow these steps.
Step 1 To get started, select "Unlock iCloud Activation Lock" on the UnlockGo iCloud Bypass Tool home screen and click "Start". Connect your iOS device to your computer via a USB cable.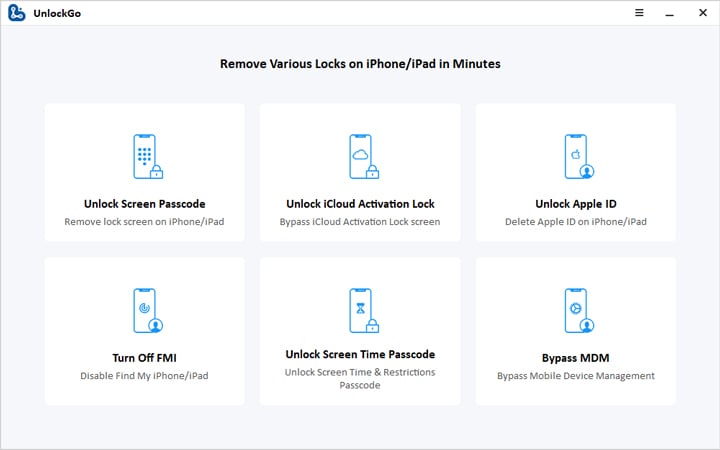 Step 2 The tool will now initiate the download of the necessary firmware package and let this download to complete.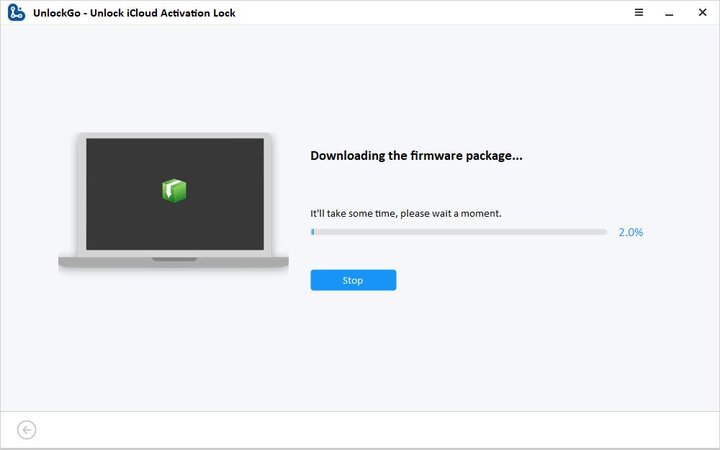 Step 3 Once the firmware package download is successful, click the "Remove Now" button. The tool will automatically place your device into Recovery mode, and from there, you'll need to enter DFU (Device Firmware Update) mode.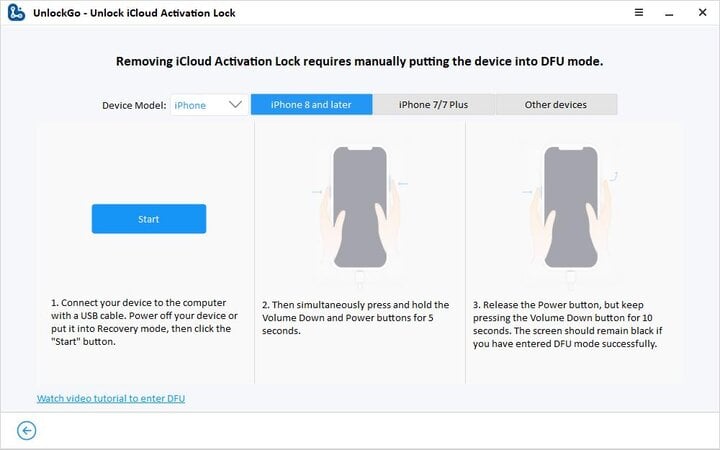 Step 4 Upon successful entry into DFU mode, the tool will begin the jailbreaking process.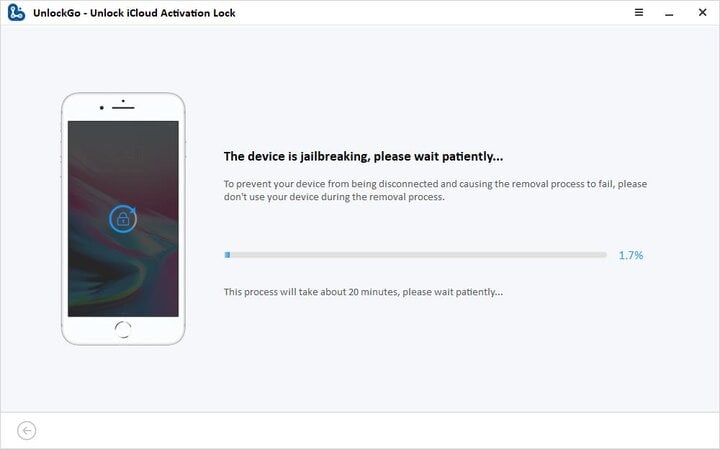 Step 5 Following the jailbreaking process, re-enter DFU mode as instructed. The tool will then commence the removal of the iCloud Activation Lock. This typically takes just 1-2 minutes.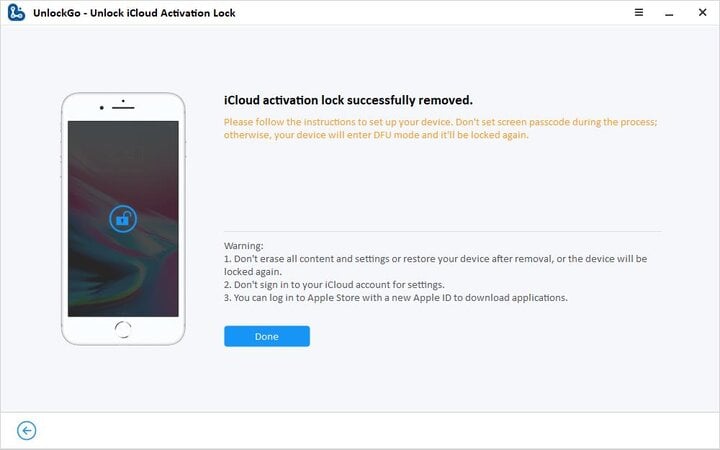 For A10 or A11 device users, once successfully bypassed, please do not set a screen passcode on your iPhone during the set up process. Doing so may lead to your iPhone being locked to iCloud again, requiring unlocking process repetition.
Bypass iCloud Now
In conclusion, DarkRa1n iCloud bypass is an ideal choice for tech savvies and for users who know coding and commands, while it's not for users who experience iOS compatibility issues or lack technical expertise.
So why go through typical procedures when you have a user-friendly tool iToolab UnlockGo iCloud Bypass Tool that bypasses iCloud activation locks in just a few clicks? Due to its broad compatibility, simplicity, and impressive success rate in removing iCloud Activation Lock, even beginners can easily and efficiently regain access to their iOS devices without sticking to any command prompts or complex technical procedures.
So what are you waiting for? Just click the link to try now!