Getting stuck with a locked iPhone can be the biggest nightmare for any user. It won't allow you to even make simple phone calls, let alone access the exclusive iOS features. Fortunately, there are tools like DirectUnlocks that can get you out of such situations.
DirectUnlocks is an online service that allows users to unlock their locked iDevices. It's a paid tool and that's why many users are concerned about its legitimacy. If you're one of them, continue reading; we are going to share a detailed DirectUnlocks review and help you decide if it's the right tool to unlock an iOS device or not.
Is Directunlocks com legit?
It's worth noting that DirectUnlocks is an online service and not a dedicated desktop application. It means that you pay in advance and wait for the service provider to unlock your device. Basically, you pay the amount and share your device's IMEI number and wait for the company's response.
While DirectUnlocks work in many cases, there are a few situations when users don't receive any updates from the company and don't even get the refunds. To explain this further, let's take a look at some of the customer reviews posted on different platforms like TrustPilot and Reviews.co.uk.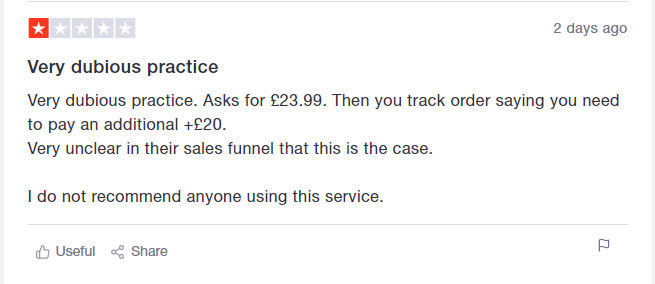 From the above DirectUnlocks review, it's pretty clear that many users either don't get their phone unlocked or don't receive a refund. Not to mention DirectUnlocks is an expensive service and when you pay the amount in advance, there's a huge probability that you may end up getting scammed.
In saying that, however, DirectUnlocks has also helped many users unlock their iDevices and get their money's worth. In general, the success rate of DirectUnlocks is around 60-70% and it'll mainly depend on your luck whether you get the device unlocked or not.
Directunlocks Alternative – iToolab UnlockGo
At this point, you already know that DirectUnlocks is not a reliable solution to unlock a locked iDevice. So, what's the next best alternative? The answer is iToolab UnlockGo. It's a professional iOS Unlocker that's designed to remove a wide variety of iOS locks. Whether you have forgotten your screen passcode or are stuck at the iCloud activation lock screen, UnlockGo will help you unlock your device instantly and access all its content easily. Unlike DirectUnlocks, UnlockGo doesn't require your phone's IMEI number to unlock it. Being a standalone desktop application, you don't need to share your IMEI number anywhere. Simply connect the device to your system and remove its lock using UnlockGo.
Here are some of the key features of iToolab UnlockGO that make it the most reliable iOS Unlocker right now.
Unlock screen passcode (both 4-digit and 6-digit)
Bypass iCloud activation lock, even if you don't remember the iCloud credentials
Bypass MDM locks and completely remove the MDM profile from your device
Delete Apple ID from an iPhone/iPad without the password
Remotely turn off "Find My iPhone" without the iCloud credentials
So, here's the detailed step-by-step process to remove the iCloud Lock from an iPhone using iToolab UnlockGo.
Step 1. First of all, install iToolab UnlockGo on your system. Once the installation process completes, launch the application and click "Unlock iCloud Activation Lock".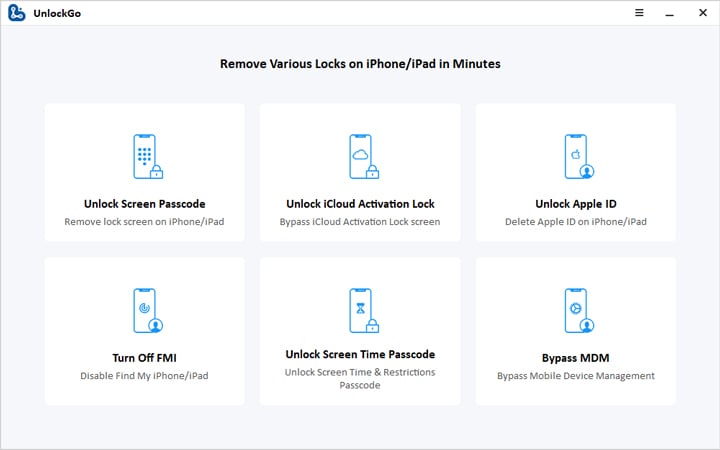 Step 2. Connect your locked iDevice to the system and click "Start" to proceed further.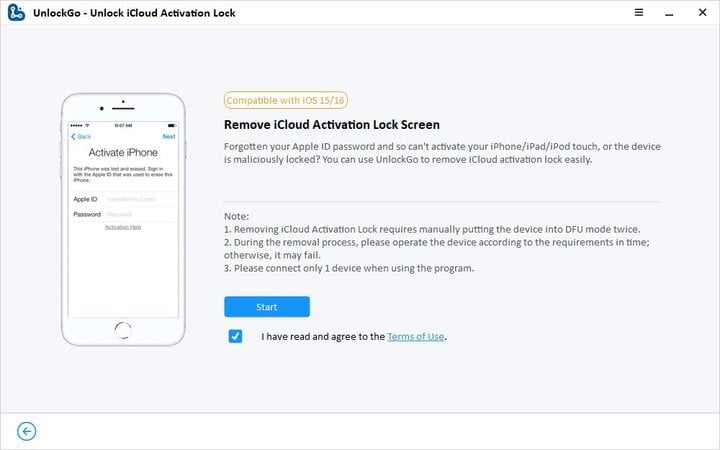 Step 3. Now, you'll have to jailbreak your device. UnlockGo will download the right Jailbreak tool for your device, once the downloading process completes, click "Jailbreak" on your screen.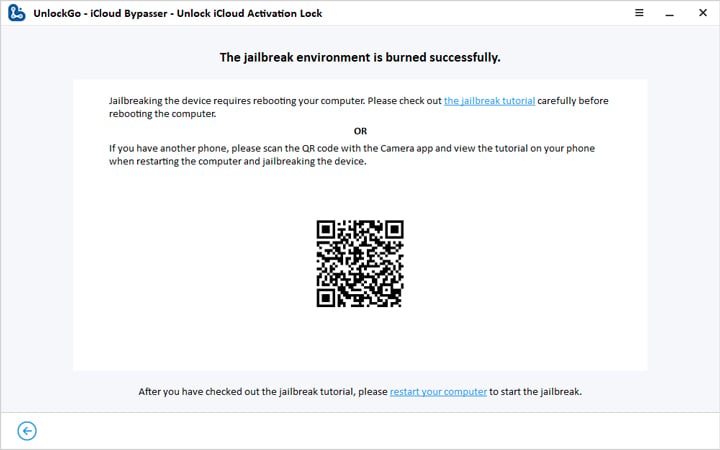 Step 4. After the jailbreaking process completes, click "Remove" to initiate the lock removal process. This will only take a few minutes to complete.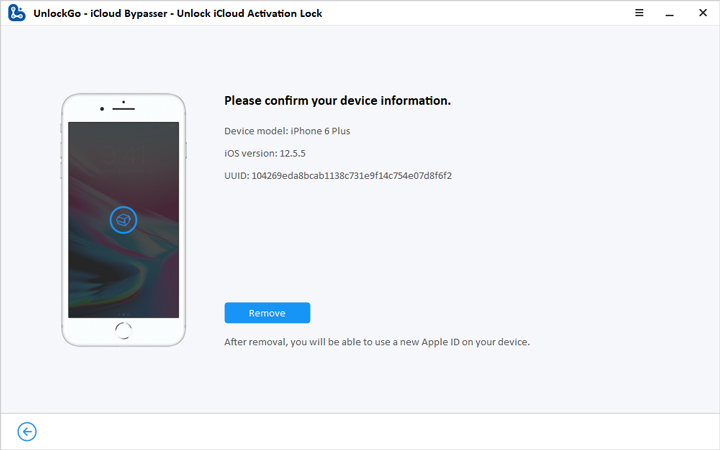 Step 5. As soon as your device gets unlocked, you'll see a confirmation message on your screen. From this point, you'll be able to use your iDevice without any hassle.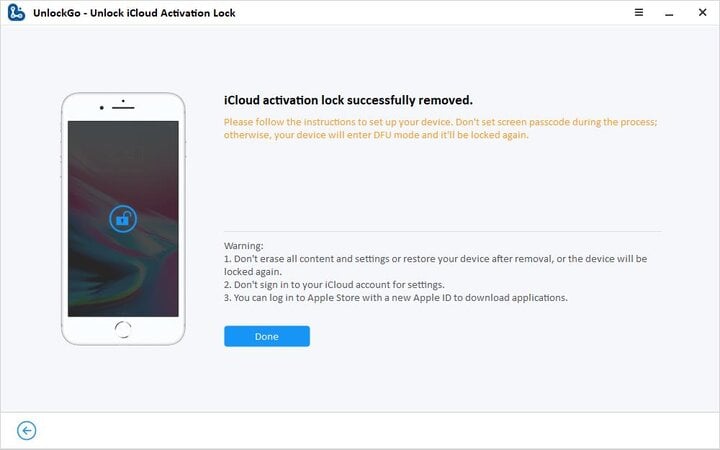 So, that's how quick and easy it is to remove an iCloud activation lock from an iPhone using iToolab UnlockGo. Apart from the iCloud lock, removing other types of iOS locks is also a hassle-free task with UnlockGo.
Other Trusted iCloud Unlock Services Than DirectUnlocks
iToolab UnlockGo is undoubtedly the most affordable and highly reliable iOS unlocker that you can use to unlock your iDevices. However, there are several other online services that are completely legit. Even though these platforms don't offer extensive services such as iToolab UnlockGo, they have a comparatively higher success rate than DirectUnlocks and will help you remove the iPhone's lock easily.
1. iPhone Approved Unlock
iPhone Approved Unlock is an online IMEI-based iOS unlocking service that uses the device's IMEI number to unlock it. You can use the tool to remove different types of locks including iPhone lock and iCloud activation lock. The tool supports the majority of network carriers including AT&T, Sprint, Tmobile, Verizon, etc.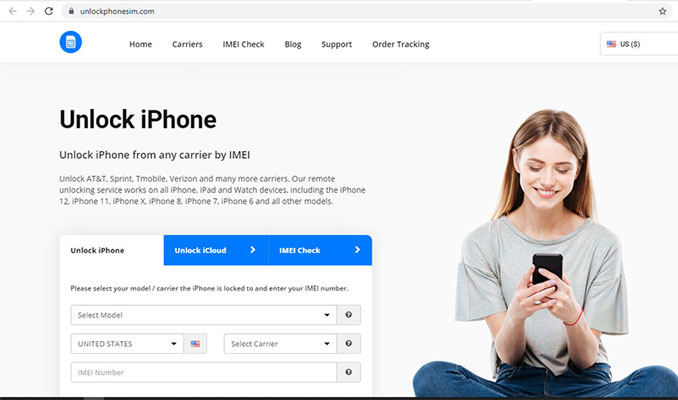 2. iRemover
iRemover is another online iOS unlocker that you can use to remove different types of locks from an iPhone/iPad. Like many online service providers, iRemover also uses the IMEI number to unlock an iDevice. However, it's a completely legit platform as the success rate is way higher than DirectUnlocks. So, if you are looking for a decent IMEI-based iOS Unlocker, you can also consider iRemover.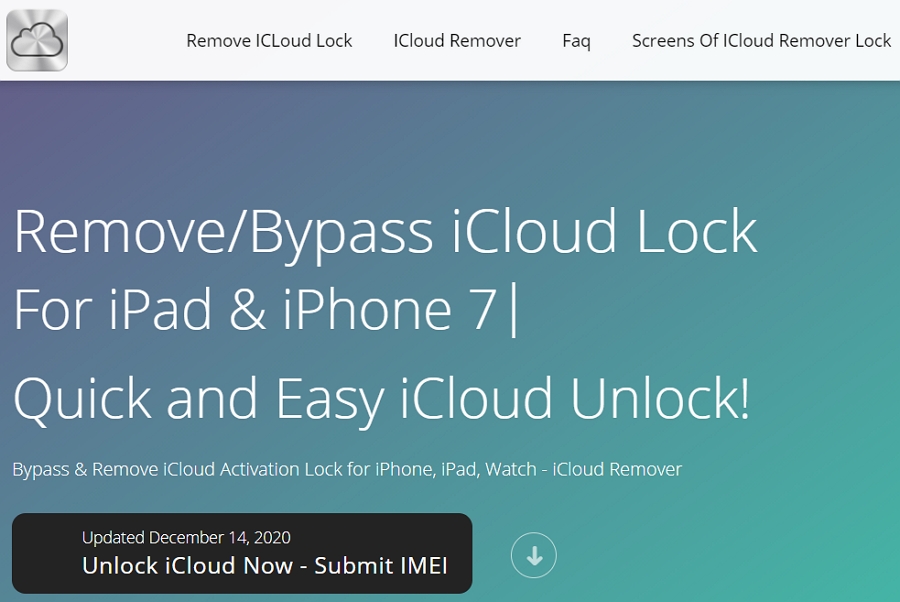 3. AppleiPhoneUnlock
AppleiPhoneUnlock is one of the most reliable online platforms that you can use to unlock your iPhone/iPad from a network carrier. It is one of the affordable solutions as its pricing starts from as low as $28 per month. The only downside of AppleiPhoneUnlock is that it doesn't support the latest iPhone models (iPhone X, iPhone 11, iPhone 12).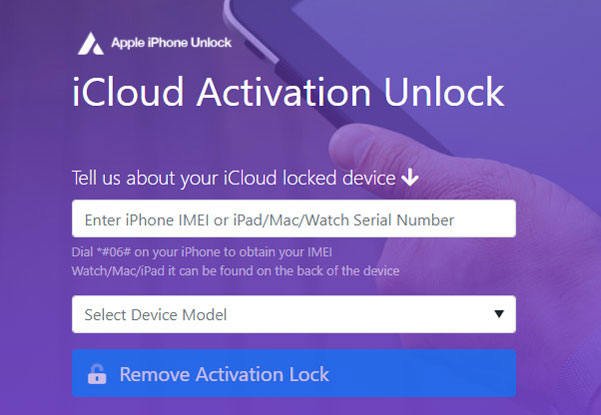 Conclusion
If you are stuck with a locked iPhone/iPad and have come across DirectUnlocks, we recommend exploring other options. The low success rate and too many negative DirectUnlocks reviews prove that DirectUnlocks is not a reliable service. Instead, you can use other reliable and safe options such as iToolab UnlockGo. It'll help you unlock the locked iDevice instantly and get your money's worth.