If you are using your Apple watch after a considerable amount of time then it is possible that you may have forgot passcode on apple watch or forgot passcode for apple watch and it isn't paired to my iphone. In either case there are ways you can retrieve your passcode with or without being paired to an iPhone, or resorting to a factory reset. In this article we will explain the steps of retrieving Apple Watch passcode in the easiest way possible.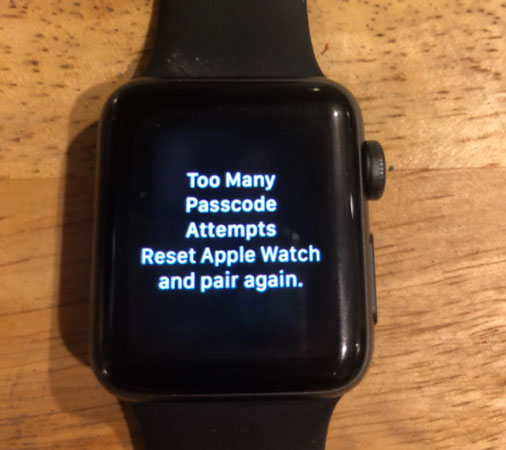 Can You Unlock a Locked Apple Watch
It depends on whether you want to unlock it or not, if it's your own apple watch then you can unlock it. If your apple watch is stolen, then you can use Find My to keep your apple watch from being unlocked by someone else. Below, we are going to talk about these two situations:
1. Unlock Apple Watch with Paired iPhone
As you can recall that your Apple Watch would be disabled if there has been 10 unsuccessful attempts at logging in. This circumstance usually arises from forgetting your passcode or if someone (perhaps a child or a stranger) has attempted to unlock your watch with the wrong passcode. If you however do know your passcode, you can easily unlock your Apple Watch from your paired iPhone.
Open the App to access Apple Watch on your iPhone.
Tap to enter Passcode.
Now, select the option "Unlock with iPhone".
Make sure your Apple Watch is on and within Bluetooth range of your iPhone.
Tap on the Digital Crown.
Type in your Passcode or simply use Touch ID, Face ID that unlocks iPhone to open your Apple Watch.
2. Secure Apple Watch with Lock Mode and Find My feature
Your lost or stolen Apple Watch can be retrieved by using the "Find My" feature on their paired iPhone. This tool is automatically enabled over your Apple Watch when it is paired via Family Setup.
Lost Mode lets you lock your iphone immediately and can be activated from iCoud.com or from your paired iPhone. You can also sent a customized message from your iPhone to your Apple Watch, containing your contact details so that anyone who finds your watch can get it back to you.
Forgot Apple Watch Passcode Paired iPhone
If you forgot your Apple Watch but don't know the password, the only way left to you is reset Apple Watch. Let's see how you can reset Apple Watch Series 5/4/3 with or without paired iPhone.
Way 1: Reset Apple Watch Directly
Here is how to factory reset apple watch series 3 forgot passcode.
First, ensure your watch is fully charged. If not, put it on charge and leave it there for some time.
Bring the "Power Off" menu on screen by pressing and holding the side button.
From this menu, press and hold the digital crown icon until you the option to erase all content and settings.
Tap on Reset option. Tap it a second time to confirm.
The reset process will start. Once done, you can set up your Apple Watch again.
Restore all lost data from backup once asked.
Way 2: Reset Apple Watch with Paired iPhone
Before you start the process, make sure your Apple Watch and iPhone are close to each other.
Open the Apple Watch app on your paired iPhone the tap the option of "My Watch".
Go to "General" Settings. Tap on "Reset".
Tap on the "Erase Apple Watch Content & Settings". Tap the bottom of the screen to confirm.
Here, you will require your Apple ID password.
In case of models with GPS+Cellular plans you can opt to remove or keep your plan;
To keep your iPhone paired, choose to keep your plan.
To un-pair iPhone, remove plan.
After the process is complete set up your Apple Watch again and restore data from backup.
Forgot Apple Watch Passcode Unpaired iPhone
Misplacing an Apple Watch which is not paired with an iPhone will require a Hard Reset. You can restore all erased data from backup. This is what to do when you forgot Apple watch passcode on unpaired iPhone.
Connect your Apple Watch to charger.
Hold down side button for the Power off Screen.
Press but do not slide the Power Off slider.
Tap on Erase all Content and Settings.
Your Apple Watch will be back to its default settings. Now you can set up a new passcode.
Useful Tips: 3 Steps to Unlock iPhone Without Passcode
What if you don't remember your iPhone screen passcode? Thankfully, we have a solution for that as well. iToolab UnlockGo is here to help you resolve all issues related to unlocking your iphone without passcode. Follow the steps to use this tool when you forgot Apple watch passcode.
Step 1. Connect your device to your computer and the program will have automatically detected it. Click on "Unlock Screen Passcode".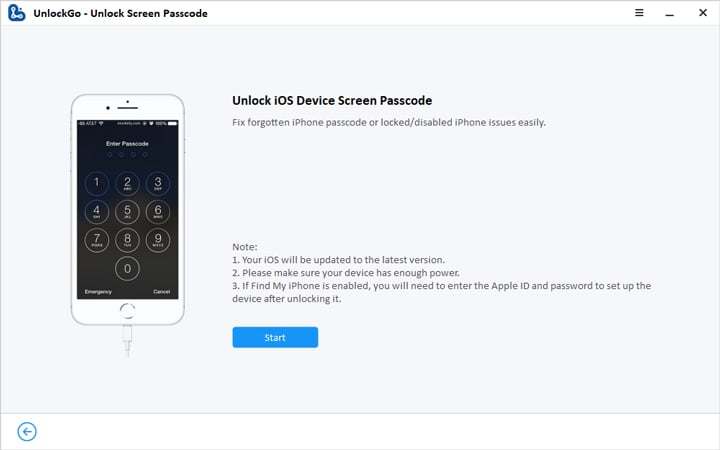 Step 2. Choose a trusted pathway and then download the latest Firmware package. The download process may take some time as it might be a large file. Select the package to import it into the program.
Step 3. Select "Unlock Now" to begin the process. Make sure your device remains connected until the process is compete.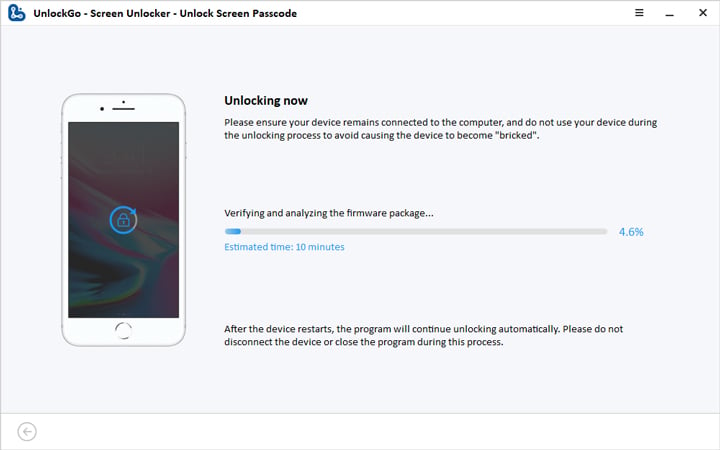 Step 4. Once process is complete, you can set up new Touch ID, Face ID or Password and re-install your data from iTunes or iCloud backup.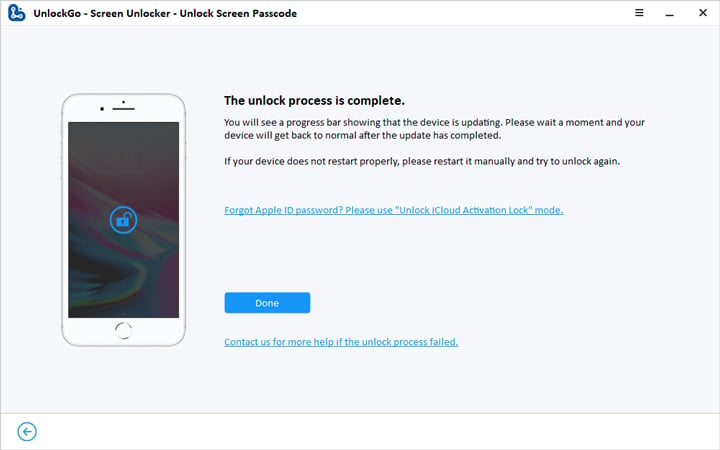 Conclusion
By checking the free ways in this post, now you know how to deal with the problem "forgot passcode for apple watch and it isn't paired to my iphone". More than this, with UnlockGo you can also unlock iPhone passcode without password. If this article helps you, do remember to leave the message below to let us know!