Apple MDM (Mobile Device Management) is an application that many organizations use to manage their corporate Apple devices. The tool allows the admin to remotely control different functions of the devices and even release security configurations. This makes it easier for the organization to manage thousands of iPhones and iPads given to the employees.
Suppose you want to bypass MDM on their iDevices for some reasons. But, since you don't have the MDM credentials, you'll need a free MDM bypass tool to remove MDM remote management on your device. Here, we are going to discuss the best tools you can use to bypass MDM remote management on iPhone and iPad.
Apple MDM Bypass Tool 1.0 Free Download
3uTools is a free MDM bypass tool that you can use to remove the MDM lock from your iPhone. It's a complete iOS management tool that offers all the iTunes features. Many people use 3uTools as the iOS alternative for their iDevices. The tool is compatible with different iOS versions including the latest iOS 14. Visit the following link to download 3uTools on your desktop.
How to Use Free MDM Bypass Tool
After you've downloaded and installed 3uTools on your computer, follow these steps to bypass MDM lock for free.
Step 1. Connect your MDM-locked iPhone/iPad to the computer using a USB cable. Launch 3uTools and wait for it to recognize your device.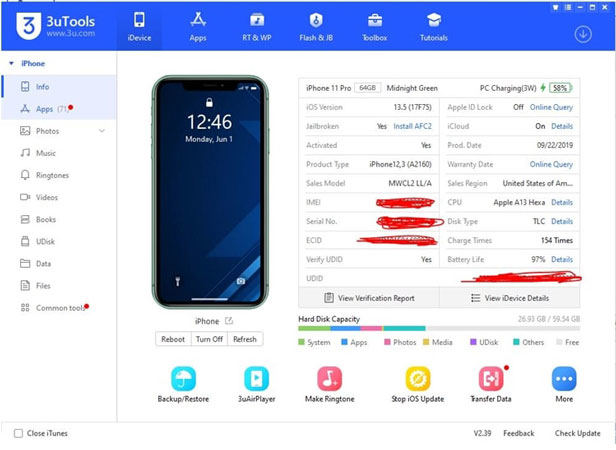 Step 2. Once the device is successfully recognized, you'll see its technical information on your screen. Now, switch to the "Toolbox" tab to proceed further.
Step 3. In the "Toolbox" window, click the "Skip Setup" button.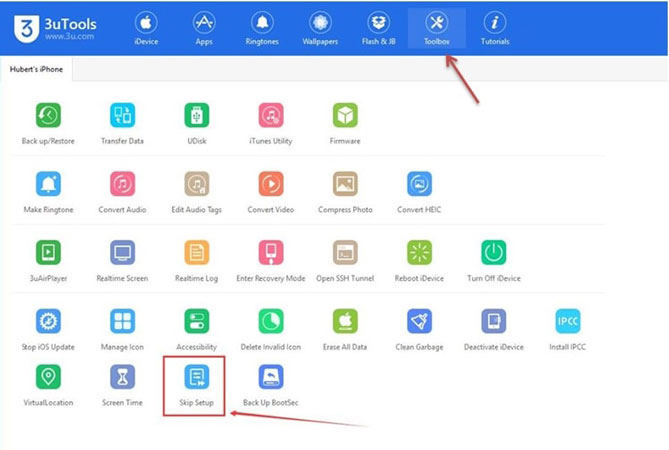 Step 4. Now, click "Skip Setup Assistant" in the pop-up box.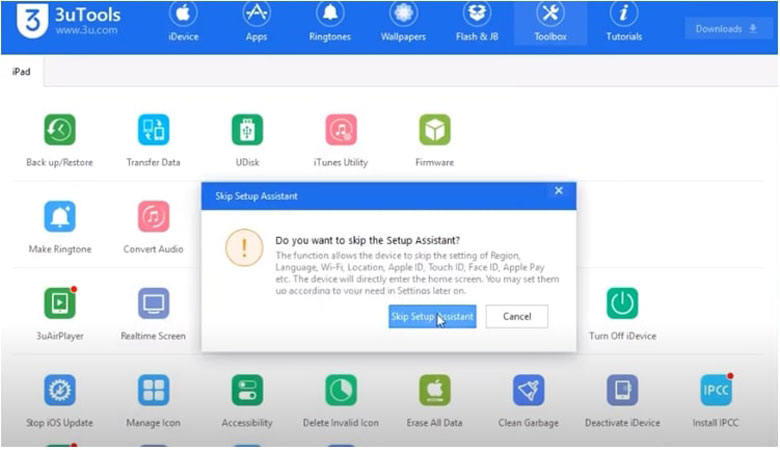 That's it, your iPhone/iPad will restart and you won't see the MDM lock screen anymore. Keep in mind that 3uTools won't remove MDM completely and your device will still have all the MDM settings. This means every time you reset your device, you'll have to deal with the MDM lock screen again.
Free MDM Bypass Tool Not Working? Try These Alternatives!
In case 3uTools doesn't work or you want to completely remove the MDM profile from your device, you'll have to look for other options. We've cherry-picked two applications that'll help you get the job done by erasing the MDM screen lock as well as the MDM profile on an iPhone/iPad.
Tool 1: iToolab UnlockGo
UnlockGo is a professional iOS Unlocker that users can use to remove different types of locks on their iDevices. In addition to bypassing MDM, iToolab Unlock Go can also be used to remove iCloud activation lock, bypass screen lock, and even remotely turn off the "Find My iPhone" feature without having to use the iCloud password.
One of the major benefits of using UnlockGo is that it won't delete your data while bypassing the MDM lock. The tool is compatible with multiple iOS versions (iOS 10 and later), which means you'll be able to remove the MDM lock on any iDevice you want.
Let's walk you through the detailed step-by-step process to bypass MDM lock on an iPhone/iPad using iToolab UnlockGo.
Step 1. Install and launch iToolab UnlockGo on your PC and connect your iDevice using a USB cable. On the home screen, click "Bypass MDM" to get started.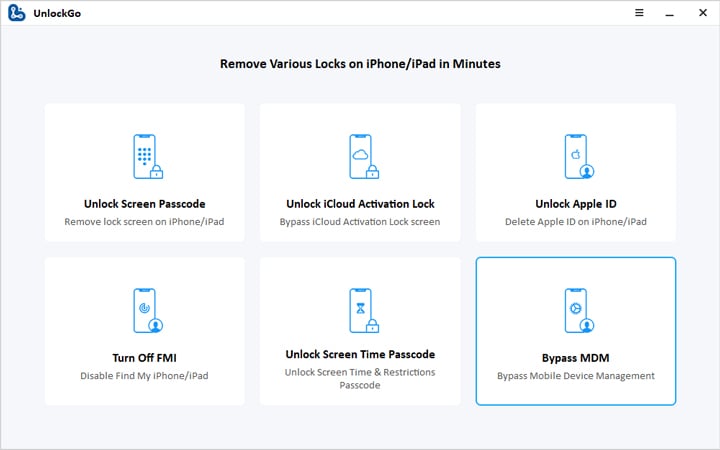 Step 2. Wait for the tool to recognize your device and then click "Start".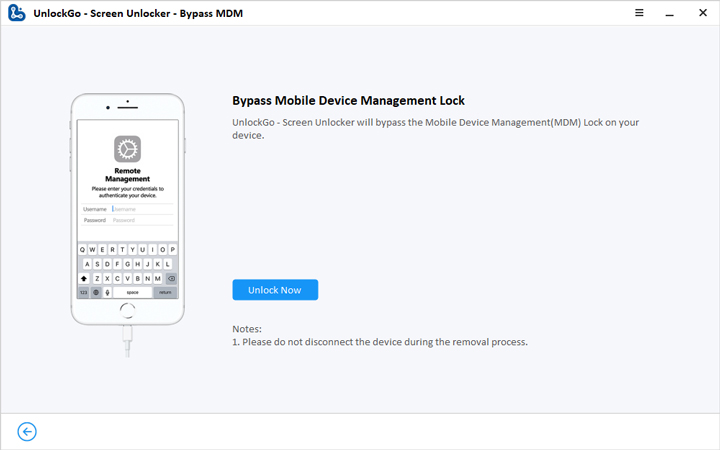 Step 3. At this point, you'll be asked to trust the computer or not. Make sure to tap "Trust" to establish a successful connection between the two devices.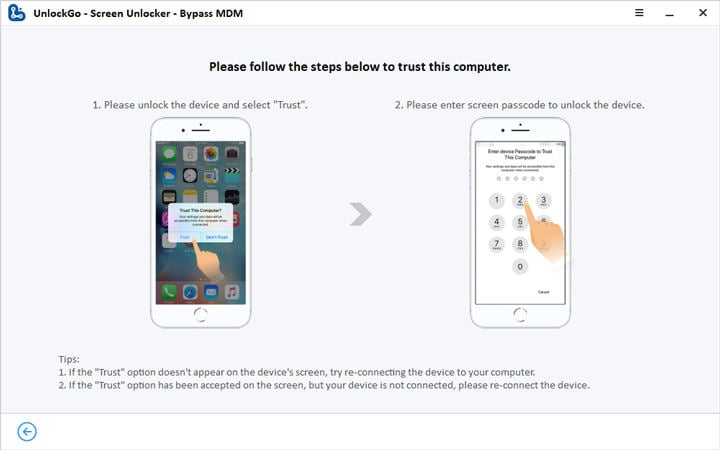 Step 4. UnlockGo will automatically start to bypass MDM on your device. This process will only take a few minutes to complete. Make sure to keep the device connected to the PC throughout the process.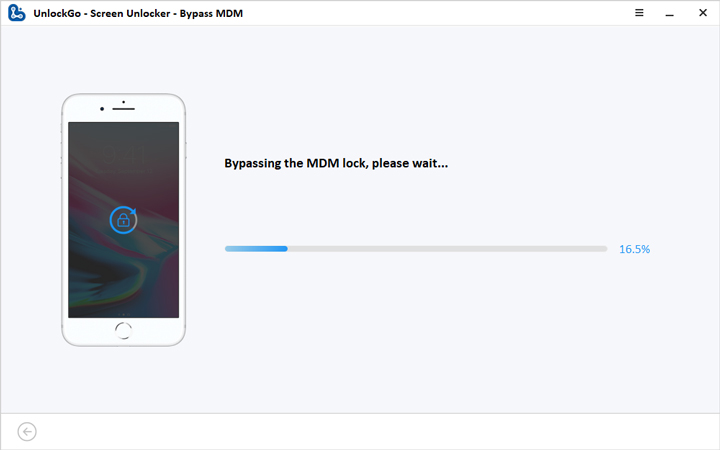 Step 5. Finally, UnlockGo will display a confirmation message notifying you about the status of the MDM bypass. Click "Done" and disconnect your device from the computer.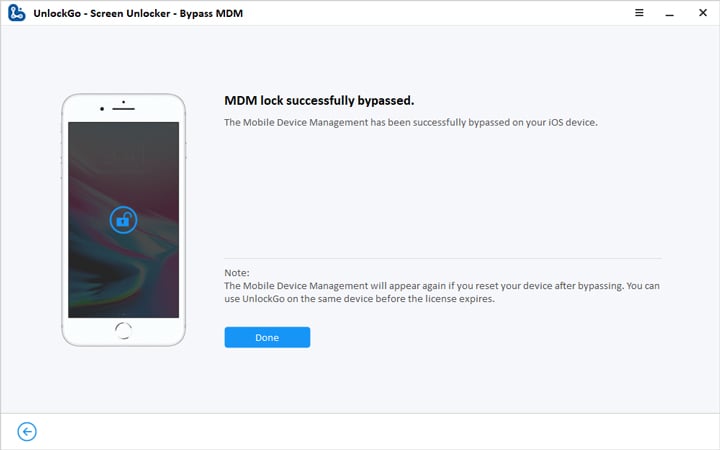 Once the MDM profile is removed, you'll be able to unlock the device without any hassle. Since UnlockGO completely removes the MDM profile, you'll also be able to change the device settings as per your requirements.
👍 Pros:
Remove MDM without losing your data
Compatible with all iPhone models and iOS versions
👎 Cons:
iToolab UnlockGo is not a free MDM bypass tool
Tool 2: iActivate
iActivate is another paid application that you can use to remove MDM lock on an iPhone or iPad. It offers a one-click solution to bypass MDM on any iDevice. This means you'll be able to remove the MDM lock within a few seconds. However, unlike iToolab UnlockGo, you won't be able to remove other locks on your iPhone/iPad using iActivate.
👍 Pros:
Remove MDM lock with one click
Available for both Windows and iOS
👎 Cons:
iActivate has a comparatively lower success rate
Useful tips: How to Remove MDM Profile on iPhone and iPad
Now, if you have the MDM passcode and you're authorized to remove the MDM profile, you won't need a dedicated MDM bypass tool to do the job. In this case, you can directly delete the MDM profile via the "Settings" menu.
Here's how you can remove an MDM profile from an iPhone/iPad using the MDM passcode.
On the iPhone/iPad, go to the "Settings" menu and click "General".
Tap "Device Management" and you'll see the active MDM profile on your screen.
Here, simply click the "Remove Profile" button and enter your MDM passcode to remove the MDM profile.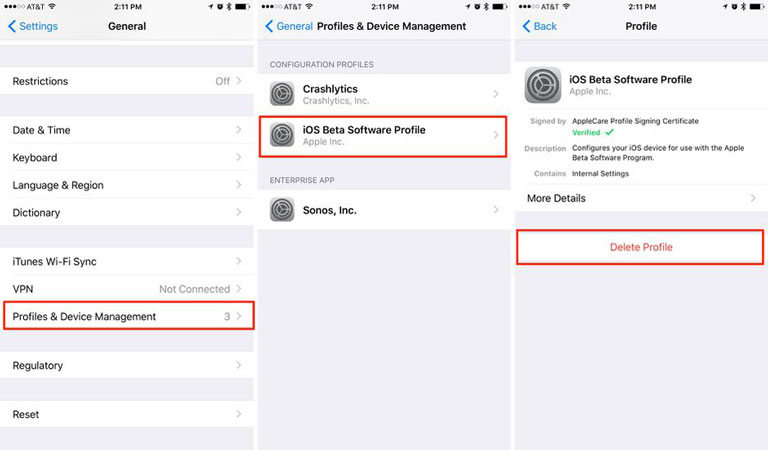 Conclusion
Getting stuck with an MDM-locked iDevice can get pretty annoying, especially when you don't know the MDM passcode. But, thanks to a free MDM bypass tool, you can easily remove the MDM lock and access your device without any hassle.