Hello admin, i want to sing out my Apple ID in iCloud in my iphone 6G but I can't do this because my phone said this Apple ID is not active that's my Apple ID

— From Apple Community
When you enter Apple ID password to sign out of the account or turn off Find My, you may see a message like "Verification Failed. This Apple ID is not active."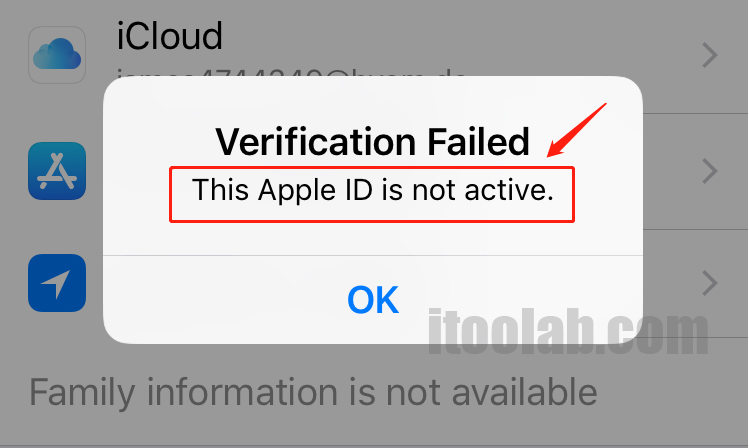 What does it mean "This Apple ID is not active"?
If you accidentally run into this problem "Apple your account has been disabled", there are some errors with your Apple ID account. You may not even be able to sign in to the App Store or iTunes Store at this time. Most likely, you've recently changed your email address. If you haven't changed anything, please read on. We'll help you step by step.
Why Does My Apple ID Say It is not Active?
There are several reasons why Apple ID may not be active; here are a few of the most common causes on why this can happen.
Account has been disabled: One of the most common reasons behind Apple ID not being active is because of the account getting disabled. There are many reasons why Apple may consider disabling your account, but problems with payment methods or misrepresentation of your identity can be the most recurring reasons.
Apple ID is locked: If you or someone else enters your password, security questions, or other account information incorrectly too many times, your Apple ID will be locked, and you won't be able to check in to any Apple services. This will mean that you are greeted with the infamous "verification failed this Apple ID is not active' error.
If you bought the device second-hand: You'll most likely need to ask the previous owner for the password or have them sign out of iCloud, wipe the device, and remove it from their device list. Otherwise, you will be getting the error.
The Direct Way is to Ask Apple on Twitter for Help
Apple ID not active is a recurring issue that is somewhat difficult to solve all by yourself. You can, of course, reach out to Apple support to seek their help, but it is usually a lengthy process requiring you to create a ticket and wait for a response.
Thankfully, a dedicated customer service account has been opened by Apple on Twitter, and they will try to assist you directly in solving your problem. They will also offer various other tips and tricks to help you with any issue you may face in using apple products in day-to-day life. You can reach out to Apple directly via Twitter by typing @AppleSupport.
Try 3 Methods Below to Fix This Apple ID is not Active
While you are waiting for Apple support to address your Apple not working on iPhone issue, you can try some standard techniques and see if you can fix it yourself. Below is a list of common workarounds that worked for some users.
Way 1. Check iCloud System Status
Apple-like any other tech company, is susceptible to bugs and system failures. So, if you find your Apple ID is not active or not working the way you expect it to, it may be a good idea to check the iCloud system status. Here you can check whether all systems are working correctly and see if your problem is only a temporary one.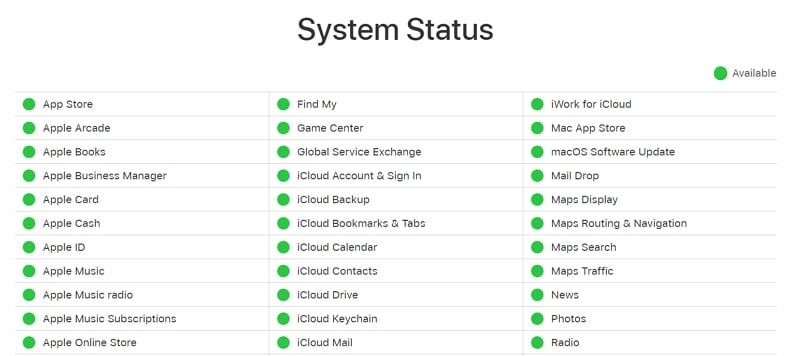 To check Apple system status, visit Apple System Status Page by clicking here. Locate iCloud Mail in the list and see its status; if the circle next to it is green, then Apple is reporting that iCloud Mail is running normally from their end, and any issue you are having needs to be addressed personally. But a blue sign means the system may not be working perfectly at Apple's end, and like you, others are facing similar issues, and you don't need to take any action personally.
Way 2. Reset Apple ID Password and Sign in Again
When the system status is working perfectly, and you are still having trouble activating Apple ID consider resetting your password and signing in again. Sometimes this eliminates any chance for you to be using the wrong password and ensures everything is running smoothly.
To reset your Apple ID password, follow the steps below.
Step 1: On your iPhone/iPad or Apple watch, go to settings.
Step 2: Tap [your name] > Password & Security > Change Password.
Step 3: You may be required to put in your device passcode to continue.
Step 4: Follow the on-screen steps to reset your password.
Way 3. Using a Web Browser on a Computer Try Logging in
If the earlier methods did not activate your Apple ID, you might consider logging in from a computer to see if it works. Sometimes when using a mobile device, the cache memory can conflict with the login credentials, resulting in your Apple ID not being activated. So an easy and quick fix is to sign in from a pc.
To sign in using a computer, follow the steps below.
Step 1: Choose Apple menu > System Preferences.
Step 2: Click Sign In.
Step 3: Enter your Apple ID and password; you may be required to put in the passcode of your computer.
How to Sign out of an Inactive Apple ID?
If all the above workarounds do not work for you, your best chance to fix the "This Apple ID is not Active" issue is with a third-party application. Now, we all know how frustrating the Apple ID not working issue can be, but sometimes the best solution is to simply force yourself to remove an Apple ID associated with your account and start fresh.
But signing out of an Apple ID without a password can be difficult but not when you have iToolab UnlockGo – Apple ID Remover. This swiss army knife for your Apple device can remove any Apple ID as well as remove any passwords from your devices. You can use itoolab to completely log out your Apple ID, then log in again with a new Apple ID.
Using iToolab UnlockGo is extremely simple; you can get started using the application without any prior knowledge. Here is a detailed breakdown of the process so you can follow along:
Did you enjoy this tip? Subscribe to iToolab YouTube Channel
Step 1: Download and install iToolab – UnlockGo application on your computer.
Step 2: On your computer, open the iToolab UnlockGo app and select "Unlock Apple ID".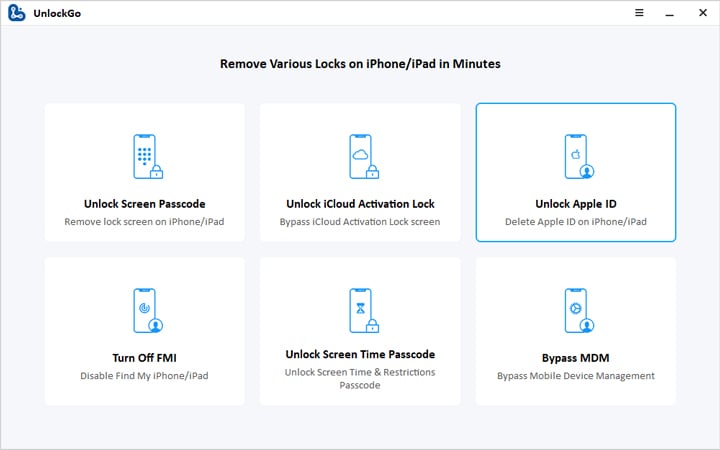 Step 3: Connect your device to the computer, and when prompted, select "Trust" from your iPhone/iPad screen.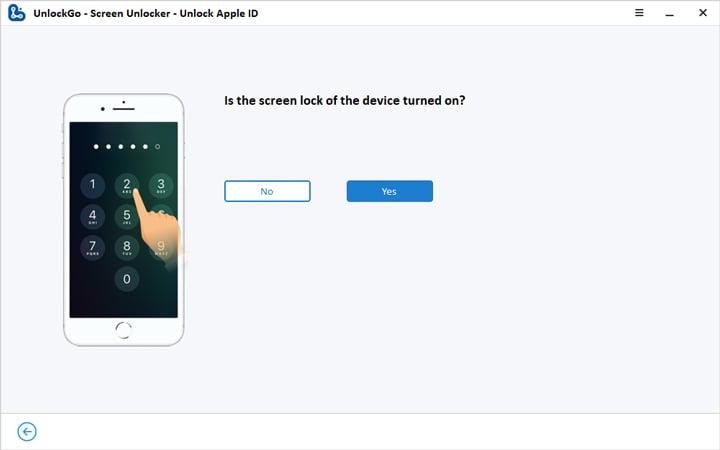 Step 4: You can now download the appropriate firmware. The model of your device will automatically be detected by UnlockGo. Select the latest firmware version and press "Download" to start.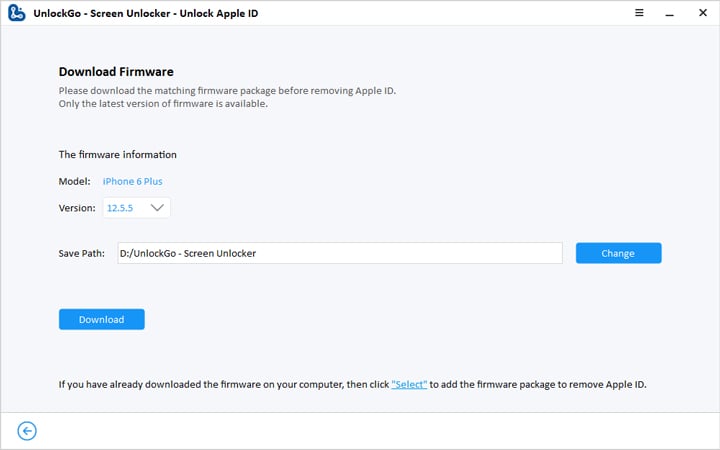 Step 5: Once the firmware is downloaded, click "Unlock Now" to start unlocking the Apple ID.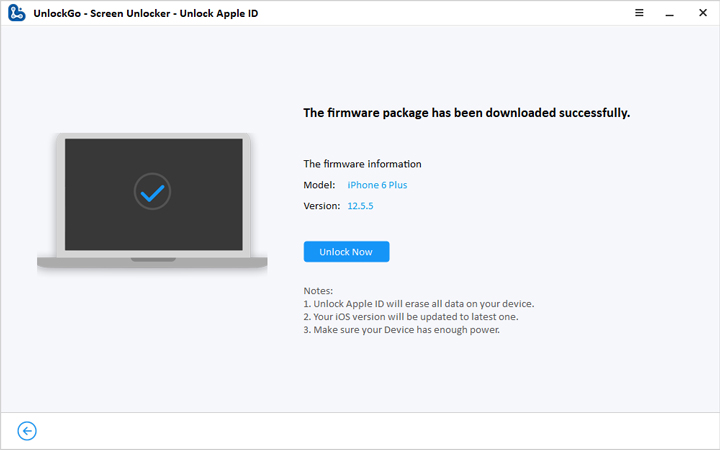 Step 6: Depending on your internet connection, the whole process may take a few minutes. Do not disconnect the device from your computer before the process is completed.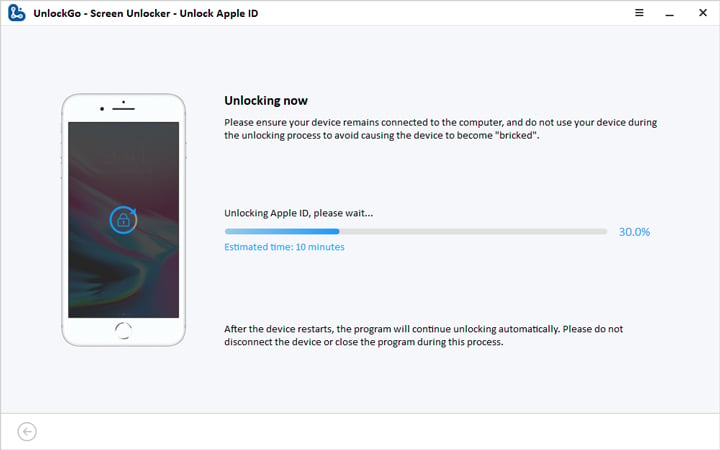 You can now create a new Apple ID and try signing in, and your Apple ID will be Activated Again!
Final words
Speaking from my own experience, when my Apple ID was not active, I was really worried about what to do and how to remove the ID from my account. Spending hours looking through Apple's website, I was obviously not alone, and many people face similar problems. Your best chance is to contact Apple support and wait, which can really test your patience and get to your nerves. A better and long-term solution is to use a third-party solution like iToolab UnlockGo software, with which you can remove any Apple ID from your device. Furthermore, it can also be used to remove face unlock, fingerprint unlocks, passwords, and much more. So for an Apple user, having iToolab UnlockGo software is a no-brainer as it will save you from many inconveniences.