Even if your iPhone falls into the wrong hands, Activation Lock can help you keep it safe and increase your chances of reclaiming it. Activation Lock can prevent anyone from reactivating your device without your permission, even if you delete it remotely. All you have to do is remember your Apple ID and password and keep the Find My [device] set. But things get complicated when you forget the password or get a second-hand iPhone. In this article, we will show you how to remove Find My iPhone Actovation lock without previous owner.
When Will Find My iPhone Activation Lock Activated
When your iPhone is stolen or lost, you can use Activation Lock to protect your data. If you reset your device remotely then other people can't not access your device unless they know your Apple ID and password. The iPhone will be stuck on the screen of Activation Lock if they cannot enter the login information.
Let us discuss the two situations that any person came across.
1. When You get a second-hand iPhone
Because many customers are unaware of Activation Lock or how it works. You can access your device it doesn't mean it haven't Activation Lock, once you reset your device or update your device, on the activation screen you will need to enter Activation password.
2. In case you forgot the Apple ID or Password
When you enable Find My iPhone on your iPhone, Activation Lock is enabled by default, protecting your device from being reactivated and accessed without your permission. If you forget your password then you can reset the password using your regsitered phone number.
Now, let's discuess how to remove Find My iPhone activation lock without previous owner without Apple ID.
Top Way to Remove Find My iPhone Activation Lock without Previous Owner
There is a secret to how to bypass the Find My iPhone activation lock screen without previous owners' password. iToolab UnlockGo is a iPhone unlocking tool with features like unlocking screen passwords, removing iCloud activation locks, etc. You can remove Find My iPhone Actgivation Lock without Apple ID by using this powerful tool.
The way to effortlessly remove the iCloud activation lock on your iPhone:
Step 1: Connect your device to the personal computer
From the home screen, select "Remove iCloud Activation Lock", then "Start" to continue. Using a USB cord, connect your phone to the computer.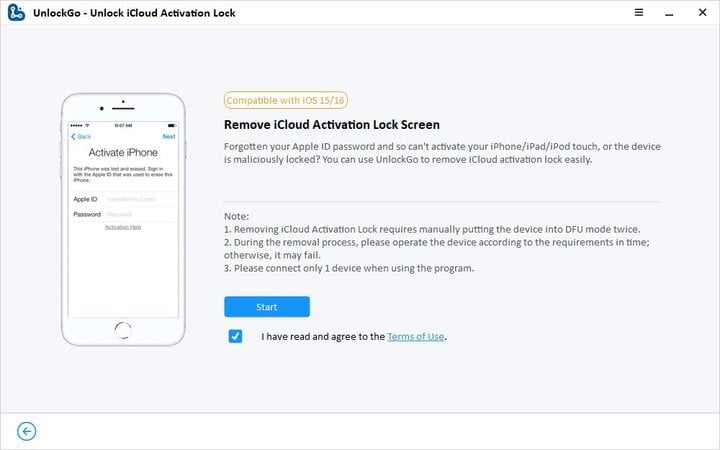 Step 2: Jailbreak your device
You'll need to jailbreak your iOS device to bypass iCloud activation. UnlockGo will begin searching for the appropriate jailbreak package for your device.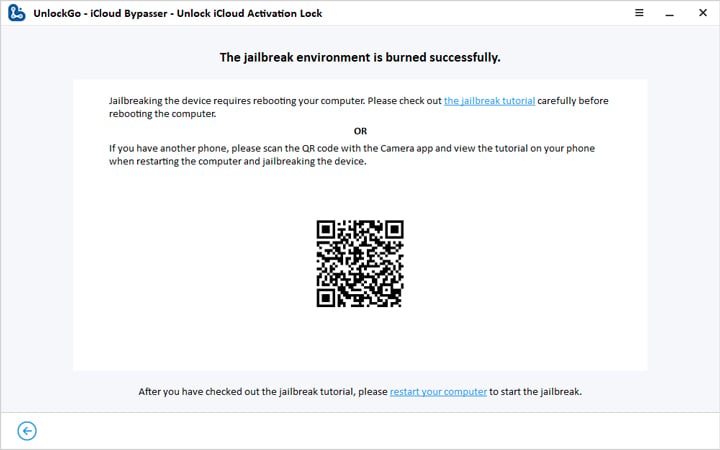 Click "Jailbreak" after the jailbreak package has been downloaded. Then, to put the device in DFU Mode, follow the on-screen directions and wait for the application to finish the jailbreaking process.
Step 3: Remove iCloud Activation lock
After you've completed the jailbreaking process, double-check that you've connected the correct device before removing the Apple activation lock. Next, check the information on your device on the screen, then click "Remove" to proceed. UnlockGo will begin to unlock your device's iCloud activation lock.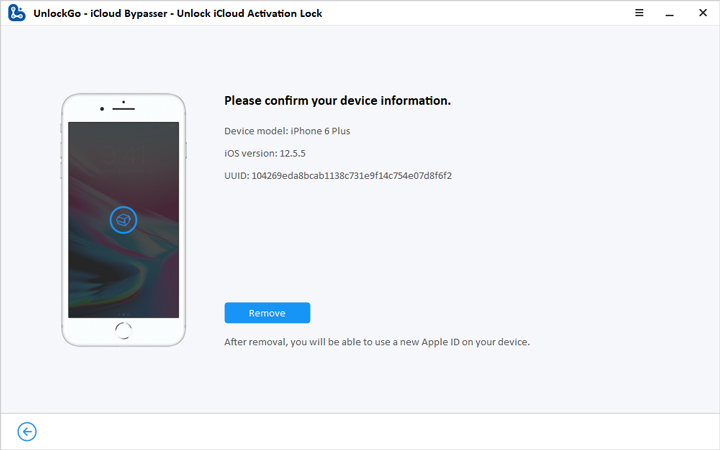 The procedure will take only a few seconds to finish. After it is complete, you can create a new Apple ID and use it to download apps and change the phone's settings through the App Store.
Remove Find My iPhone Activation Lock without Previous Owner via DNS bypass
If you are lucky and your device runs on the older versions of IOS, this method would most probably work for you. You can use a DNS approach to overcome the activation lock on your device. This technique uses a loophole in your device's Wi-Fi DNS settings to deceive your iPhone into believing it has been unlocked.
The steps given down will tell you how to remove find My iPhone activation lock without assistance of the previous owner.
Step 1 – Set up your phone as a new device and wait until you reach the Wi-Fi setting.
Step 2 – Connect to a good Wi-Fi and then tap on the "i" icon next to your network name.
Step 3 – On the following screen, tap on the Configure DNS option.
Step 4 – Manually choose the top option and then use one of the following DNS values.
Asia – 104.155.220.58
South America – 35.199.88.219
North America – 104.154.51.7
Europe – 104.155.28.90
Australia and Oceania – 35.189.47.23
Useful Tips: How to Turn Off Find My iPhone without Apple ID
When selling your iPhone, giving it away for recycling, or passing it down to a friend or family member, there are three reasons to turn off Find My iPhone (FMI):
Without removing FMI, you won't be able to restore your iPhone or iPad to factory settings.
Through the iCloud Find My app, anyone with your Apple ID and password can monitor you.
When you enable Find My, Activation Lock activates, locking your device and preventing the buyer from using it.
You can disable "Find My iPhone" and completely delete the Apple ID from the device without entering a password using UNLOCKGO's "Close FMI" option. Simply follow the steps below:
Step 1. Choose the "Close FMI" option
Start Unlockgo, then go to the software's home screen and click "Turn off FMI."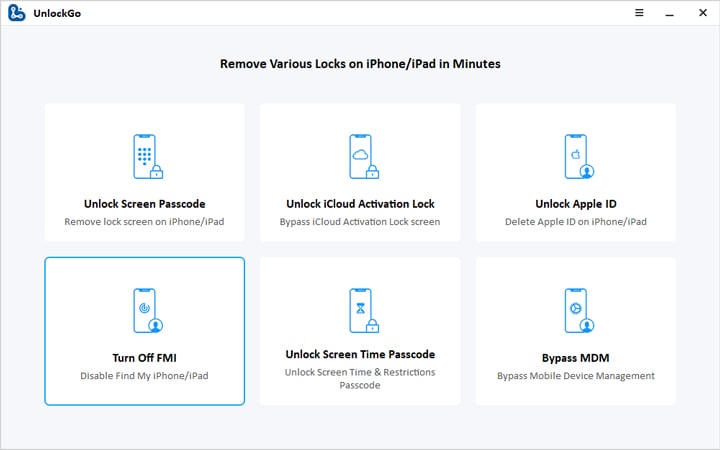 Connect the gadget to your computer and turn it on. If your phone asks if you want to trust your computer, choose "Trust". Select Start" to continue" to turn off "Find My iPhone".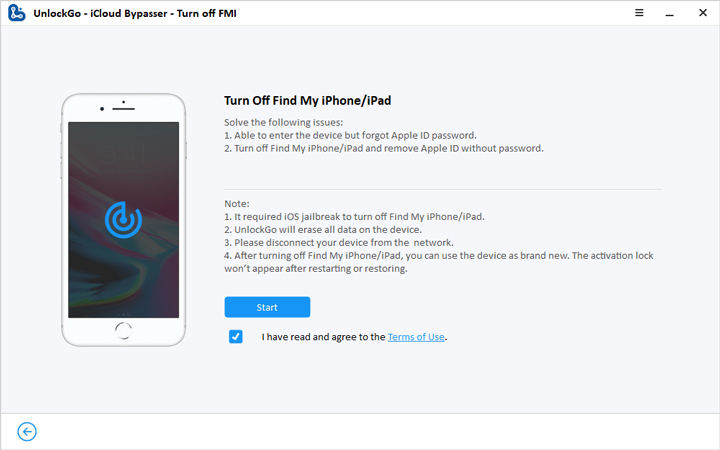 Step 2. Tools for Jailbreak
After that, you'll need to jailbreak your device. The in-app instructions will assist you in jailbreaking your iPhone 6 to iPhone X.
To jailbreak devices, follow the on-screen instructions, then click "Next" to proceed.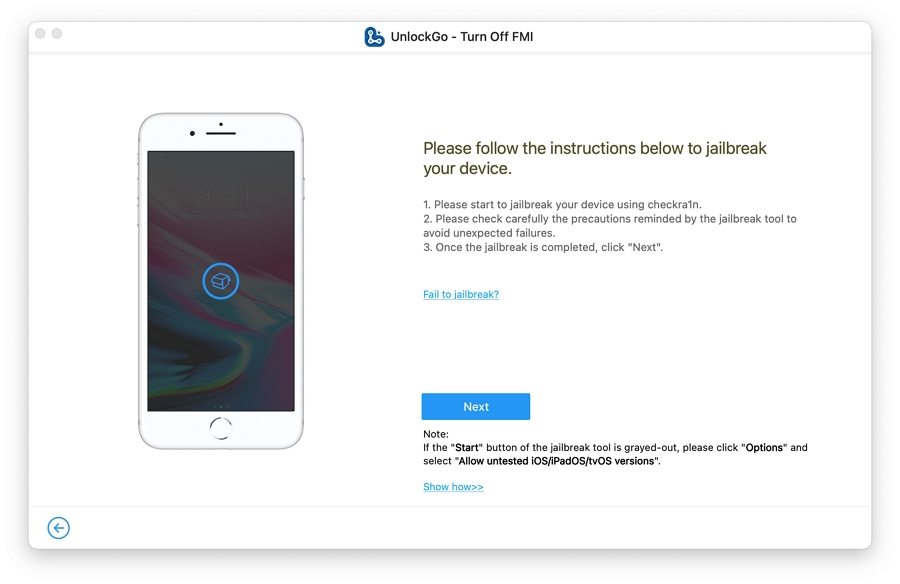 Step 3. Take a close look at My iPhone
UnlockGo will start disabling "Find My iPhone" after the jailbreak is finished. Throughout the process, make sure your device remains connected to your computer. After you've double-checked your device details, click "Remove" to proceed.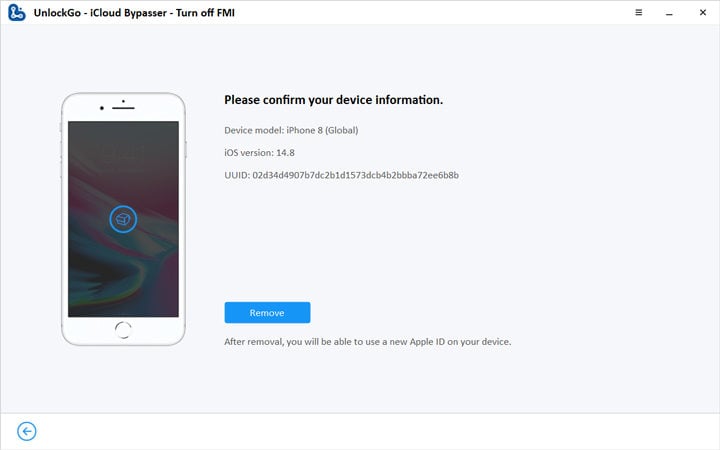 UnlockGo will then start turning off the FMI, after that check your FMI status as described on the screen after the process is completed. Follow the on-screen steps to move on.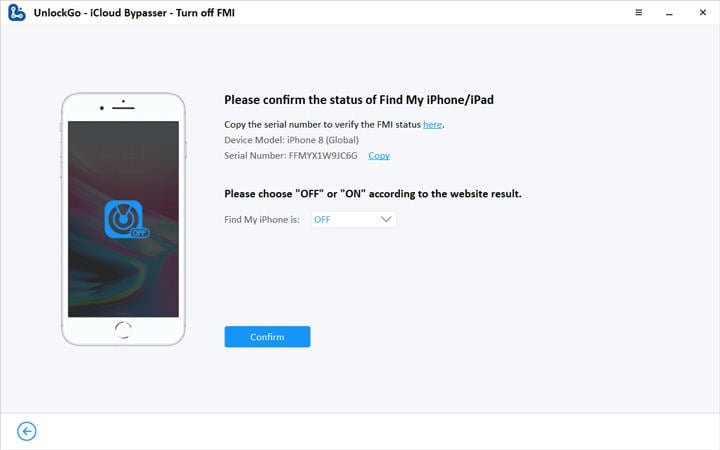 When the procedure is finished, you can now use the device as you choose!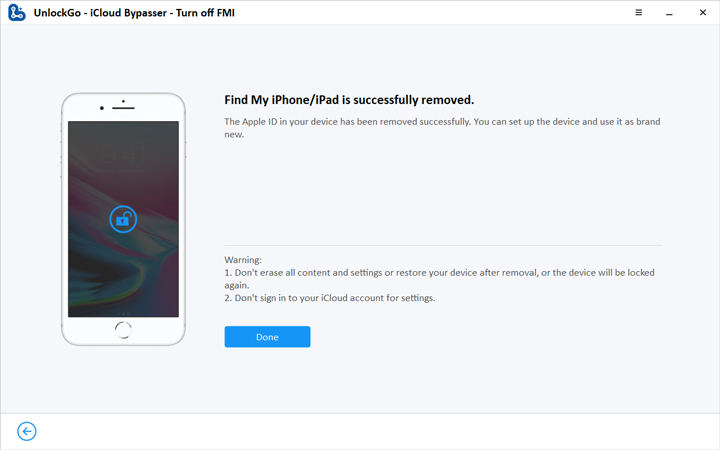 Conclusion
If you have bought an old or refurbished iPhone or iPad from someone, the device likely includes an activation lock. This activation lock prohibits users from using the phone unless the prior owner logs in to their iCloud account and removes the lock. If you cannot contact the previous owner, your best option is to use iToolab UnlockGo, and it will assist you in 'how to remove find my iPhone activation lock without the previous owner.