When you buy a second-hand iPhone, chances are you will get stuck with the iCloud Activation Lock.
But there are ways to unlock such a device and one of them is iCloudin. In this review, we take an in-depth look at iCloudin. Let's begin with exactly what iCloudin is.
What Is iCloudin?
In the simplest terms, iCloudin is a program that allows you to unlock an iCloud locked device. Other than the fact that you may have some difficulty locating the program's download button, this tool is actually very easy to use.
It is free to download and install on your computer and it can be useful to some extent in helping you remove an old iCloud account from the second-hand device.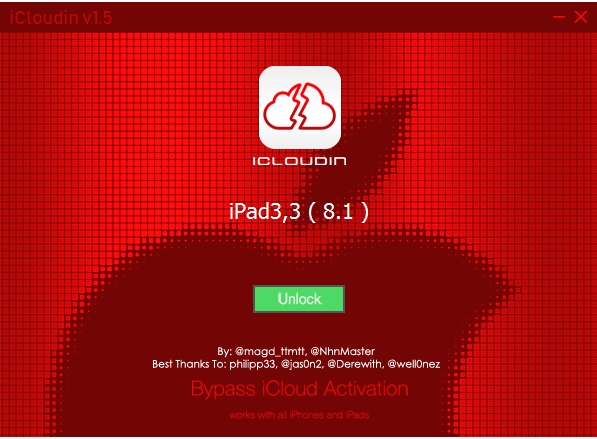 Key Features
The following are some of the features you can expect when you install iCloudin on to your computer;
It can be used to disable an iPhone iCloud Activation Lock.
The interface is simple enough to make it one of the easiest tools to use.
It is completely free; you don't have to pay to use this program.
The features point to a program that is very basic in functionality. Its main advantage however is the fact that it is completely free to download and you will never be asked to pay for a premium upgrade.
Cons
But it does have some shortcomings. These include the following;
iCloudin will only work with devices that run iOS 9 or earlier.
Finding the iCloud download link can be very difficult.
Since it is very difficult to find the iCloudin download link, there are a lot of fakes that can contain viruses.
Sometimes, it may fail to work on various iPhone models.
You need to have iTunes installed on your computer, along with the iCloudin software.
Online Reviews of iCloudin
It is a good long-term solution for the removal of iCloud ID.
It is not very easy to download since it is not very easy to find the download link to download the program.
It is a good tool that can make it easy for you to remove the Apple ID from an iOS device quickly.
Does iCloudin Actually Work?
Even though iCloudin is known as a successful iCloud Activation Lock removal tool, in our experience, it is not very effective.
We tested it using the iPhone 7 Plus, iPhone 8, and iPhone X to have variations in results. Each of the devices we used was running the latest version of iOS and was not damaged in any way that could affect the function of the program.
None of the tests were successful. Using iCloudin 2019 and iCloudin 2020 (v2.0), we were unable to remove any of the activation locks despite trying multiple times. While we may not be able to stop you from trying to use this program, we suggest trying to find alternative solutions instead.
How to Use iCloudin Tool 2020?
Step 1: Download iCloudin and then extract the program files from the ZIP files.
Step 2: Make sure that iTunes is installed on your computer and ensure that it is the latest version of iTunes. If iTunes is not up to date, take a moment to update it.
Step 3: Now, connect the iPhone to the computer using a lightning cable.
Step 4: Once the device is connected, open iCloudin and click on "Host's file IMEI"
Step 5: Locate the iCloudin folder in the new window that opens and then select "Hosts_Activation_IMEI.java"
The program will immediately begin removing the iCloud Lock from the device and you should be able to track the progress using the progress bar on the screen.
Is iCloudin Fake or Real?
This program is not fake. But most versions of iCloudin available online are obsolete. Many of them don't work with the latest version of iOS. So, if you have a more recent iPhone Model, iCloudin may not be a great solution to remove Activation Lock on your device.
The Best iCloudin Alternative to Use
If your device is running the latest version of iOS or is a newer iPhone model, iCloudin may not be the best solution for you. But we have a tool that is. UnlockGo is one of the best ways to unlock the device in minutes. The following are some its key features;
It is one of the best ways to remove iCloud activation lock on any device.
You can log into your iPhone with a new Apple ID after bypassing the iCloud lock.
Get rid of being tracked by the previous owner.
It can also remove all types of passcode including the 4-digit/6-digit passcode, Touch ID and Face ID from the iOS device in minutes.
It has a simple straightforward process, allowing you to unlock the device very quickly.
To use UnlockGo to unlock the device, download and install the program on to your computer and then follow these simple steps;
Step 1: Run the program and then select "Remove iCloud Activation Lock" in the main window.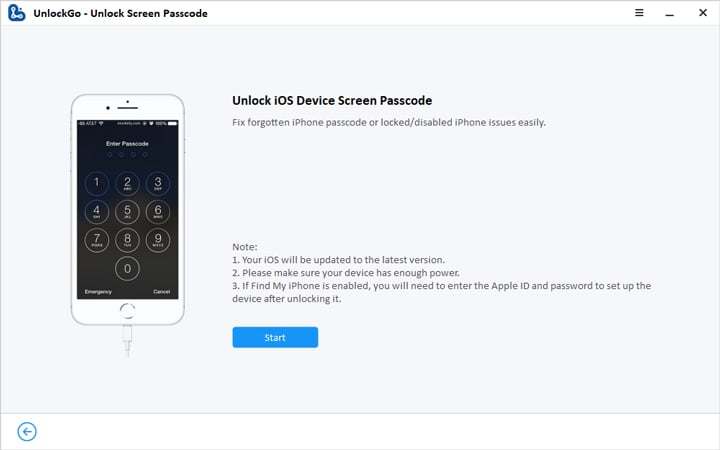 Step 2: Click "Start" to begin the process and then connect the device to the computer.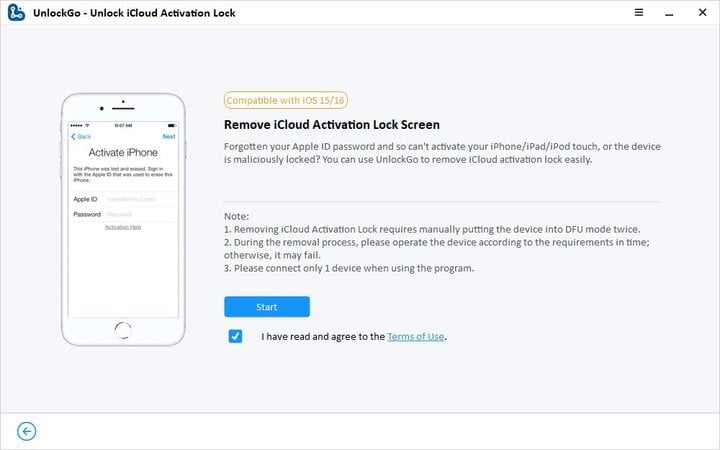 Step 3: UnlockGo will need to jailbreak the device in order to unlock it. There is nothing that you need to do here, the program will begin downloading the jailbreak package that you need.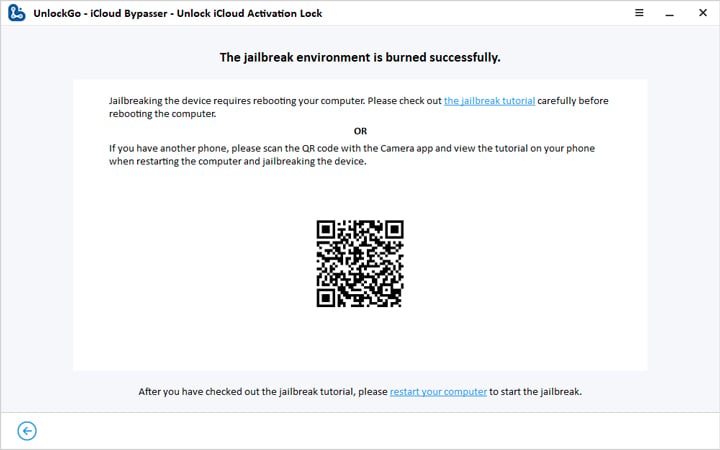 Step 4: When the jailbreak is complete, click "Remove" and UnlockGo will begin removing the iCloud Activation Lock.