Have you ever encountered the Activation Lock screen on your iPhone or iPad? Generally, it happens on many second-hand iOS devices. The Activation Lock will prevent you from accessing the device unless you enter the previous owner's Apple ID and password. This is very irritating! However, we will cover you what is activation lock on iPhone and how to use it, even how to bypass it without Apple ID and password. Without any delay, let's get started!
What is Activation Lock on iPhone/iPad/Apple Watch?
The "Find My" feature on your iPhone includes Activation Lock, a security feature that is designed to prevent unauthorized individuals from using an iPhone or iPad. This feature turns on automatically when "Find My [Device]" is enabled.
Other than keeping the data on the device secure, the Activation Lock feature can also improve your chances of recovering the device if it is stolen. Even when the device is erased remotely, the Activation lock will continue to protect the device, protecting anyone without your Apple ID and password from accessing the device.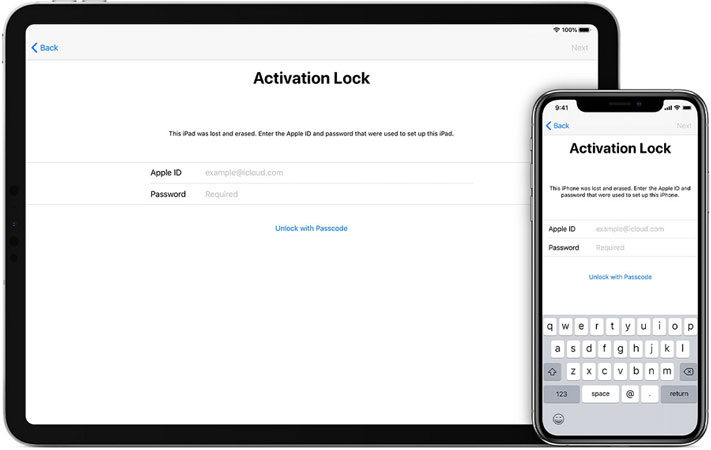 How Activation Lock Works on iPhone/iPad/Apple Watch
When Find My [Device] is enabled on your iOS device, Apple registers your device. Part of the process of registering the device is linking the Apple ID with the device ID on Apple's Activation Servers. It means Activation Lock will be enabled automatically.
Check Activation Lock Status on iPhone/iPad
Go Settings > Tap your name > Find My > Turn on Find My iPhone.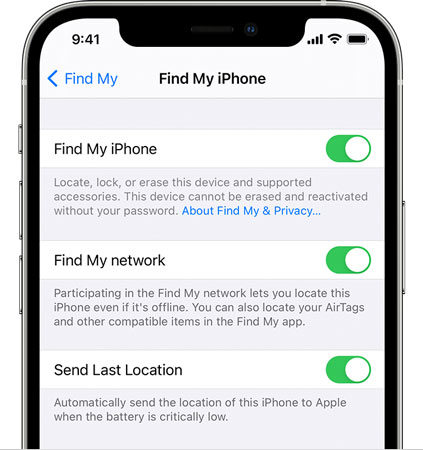 Apple Activation Lock Check
Open Apple Watch on iPhone.
Choose My Watch > All Watches at the top of the screen.
Tap the info button netx to the Apple Watch.
Check if Find My Apple Watch is appear.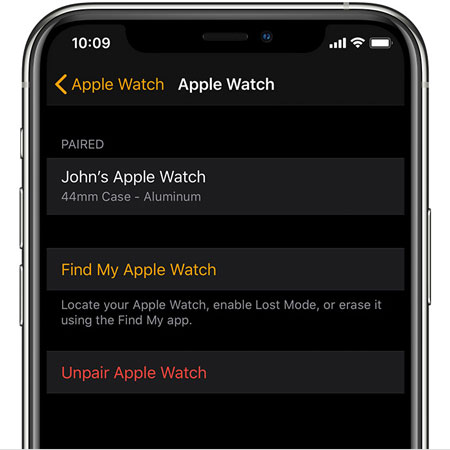 Remove iCloud Activation Lock without Password on iPhone/iPad
If the three options above are not an option for you, we recommend using iToolab UnlockGo. This is one of the only third-party iOS unlock tools that can allow you to get past Activation Lock without the Apple ID and password. It 100% working and totally safe.
To use this program to remove iCloud Activation Lock without the Apple ID or passcode, follow these simple steps:
Step 1: Download and install the program onto your computer, run it and on the main window, you should see two options. Click on "Remove iCloud Activation" and then click "Start" to begin. Connect the iPhone to the computer.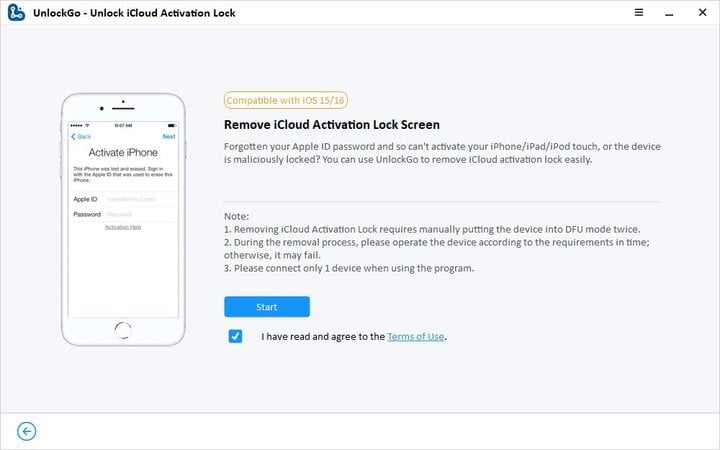 Step 2: Jailbreaking the device is the next step in the process. The program will automatically begin downloading the jailbreaking package you need. When the download is complete, click on "Jailbreak" and put the device in DFU mode using the steps outlined on the screen.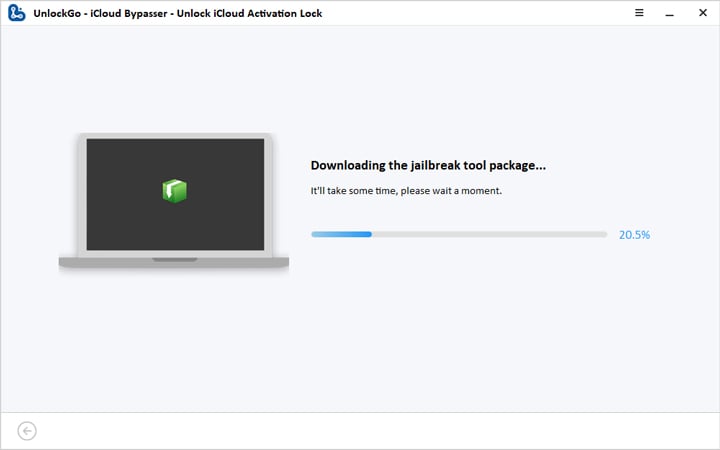 Step 3: UnlockGo will jailbreak the device and when the process is complete, click "Remove" and UnlockGo will remove the iCloud Activation Lock.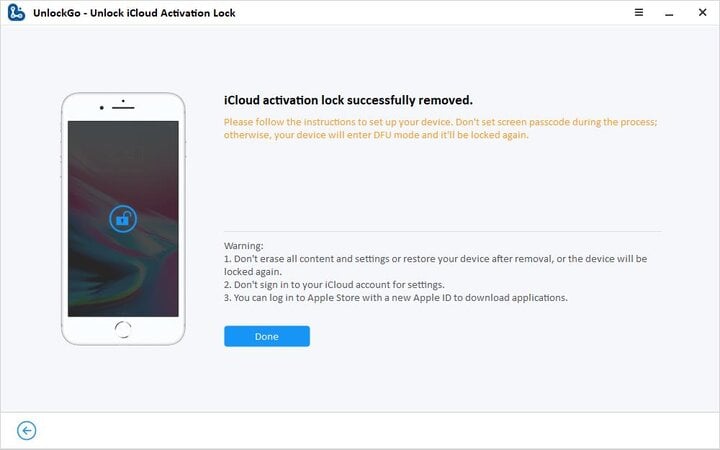 Relasted Questions about iCloud Activation Lock
Is Activation Lock and iCloud Lock the Same?
Activation Lock and iCloud Lock are terms that are often used interchangeably because they mean the same thing. When a device is referred to as Activation Locked or iCloud locked, it means that it requires an Apple ID password to be unlocked.
How to Remotely lock Your Device
One of the main reasons for iCloud Lock iOS devices is to discourage theft. An Activation Locked device cannot be used without reactivating the device and entering the Apple ID and password. This diminishes the value of stolen devices, which in turn discourages theft.
You can activate your device's Lost mode remotely if the device has been stolen. You will need your Apple ID and Password. Follow these simple steps to do it:
Step 1: Go to https://www.icloud.com/#find and sign in with your Apple ID and password,
Step 2: In the list of devices, click on the device that you want to activate "Lost Mode"
Step 3: Click on "Actions" and then select "Lost Mode" or "Erase iPhone" if you would like to erase all the data on the device remotely.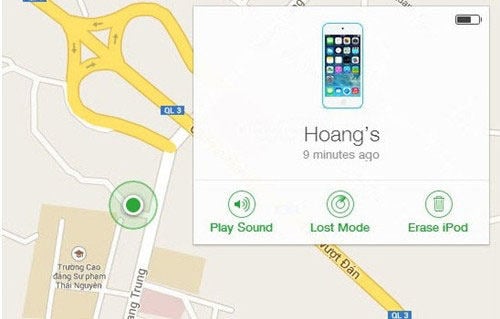 How to Bypass Activation Lock with the Previous Owner
You may see some third parties claim that they can break the Activation lock, but it is worth pointing out that these solutions are ineffective and to some extent illegal. If you happened to purchase a second-hand iPhone that is still Activation Locked, you should know that there are only three Apple-connected ways to unlock the device. These include the following:
Ask the previous owner of the device enters their Apple ID password directly onto their device during the setup process.
If the previous owner is not close to you, ask them to log in to https://www.icloud.com/#find and remove the device from their iCloud account. When they do that, Activation Lock will be disabled.
The original owner of the device can also contact Apple Support, the Apple Store, or an Apple-authorized third-party service center and ask them to remove Activation Lock on the device. But to do that, they would have to provide a receipt that shows their name, the device, date of purchase, and the device's serial number.
Conclusion
By reading this article, now you know what is activation lock for iphone. As a powerful inside feature, it can help you protect your iOS devices in the best way when you lost your iPhone. The suggestion is that you should not turn off Activation Lock, so you'd better turn on Find My iPhone. However, if you've bought an Activation Lock iPhone then iToolab UnlockGo is the best choice for you. Hope this article helps you.