iPhone is disabled for wrong attempts and need to try again in 15 minutes, 30 minutes, or even 50 years? That would be caused by forgotten iPhone passcode. You might ask if there is a way to unlock iPhone passcode easily and quickly.

Yep, you come to the right place. What to do if you forgot your iPhone password? Just take a look at this blog. We'll teach you to unlock iPhone with 4 possible ways.
Way 1. If You Don't Want Wait Until 50 Years Later, Try UnlockGo
If you are unable to unlock iPhone forgot password, we recommend using iToolab UnlockGo.
Why Would I Like to Try UnlockGo?
This third-party iOS unlocking tool will help you easily remove the passcode from your iPhone even if it is 4-digit/6-digit passcode, Face ID, or Touch ID. This tool is designed to help you unlock your iPhone if you have forgotten the passcode, entered the wrong passcode too many times, or are unable to unlock a second-hand device.
A Video Guide Here before You Go to the Text Guide
The following simple steps will show you how to use UnlockGo to unlock your iPhone when you forgot Apple passcode:
Step 1: Install UnlockGo on to your computer and then run the program.
Step 2: Connect the locked iPhone to the computer using USB cables and as soon as the program detects your iPhone, click Unlock Screen Passcode and then Start.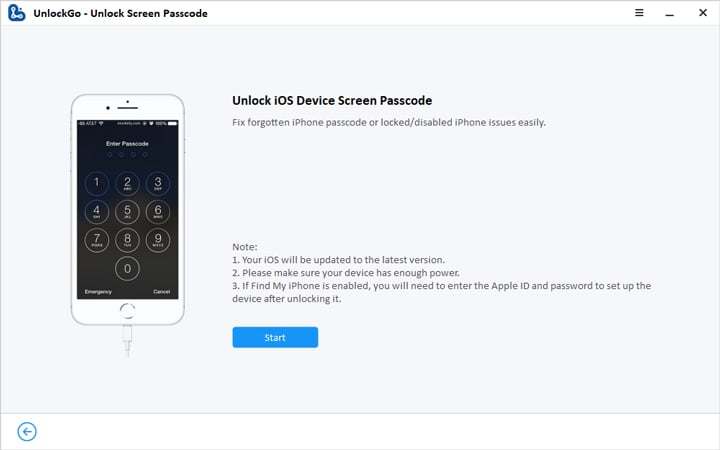 Step 3: You will need to download the latest firmware for your iPhone before unlocking it. Click on "Download" to download the necessary firmware.
Step 4: Once the firmware download is complete, click on Unlock Now and UnlockGo will immediately begin unlocking your iPhone. Keep your iPhone connected to the computer until the process is complete.
Your iPhone passcode is unlocked easily, the easiest and safe way is here and we also offer other solutions to help you. This is a way to reset iPhone forgot passcode.
Way 2. Forgotten iPhone Passcode? Use iTunes to Get Your iPhone Unlocked
You might wonder if I can fix forgot iPhone passcode without restore, the answer is no. All the methods you can find are teaching you to wipe all data on your iPhone. iTunes is definitely a good way to solve the problem. But before you get it started, there are some requirements:
① Download iTunes on your Windows. If you have a Mac instead, you can go to Finder(Catalina macOS 12 and above only) or you can download iTunes on Mac, too.
② Put your iPhone into recovery mode.
On iPhone 8 or Higher:

Press and quickly release the Volume Up Button. Press and quickly release the Volume Down button. Then press and hold the Side button until the recovery mode screen appears.

On iPhone 7 and iPhone 7 Plus:

Press and hold both the Side and Volume Down buttons at the same time. Continue to hold both buttons until you see the recovery mode screen.

On iPhone 6s and earlier:

Press and hold the Home and the Power buttons at the same time. Continue to hold both buttons until you see the recovery mode screen.
Detailed info: How to Put Your iPhone into Recovery Mode
Or you can put iPhone into recovery mode with 1-click with iToolab UnlockGo – Free to Enter Recovery Mode.
Step 1: Once you successfully enter recovery mode, connect your iPhone to the computer and then open iTunes or Finder.
Step 2: For iTunes: iTunes will ask you to either "Update" or "Restore" your iPhone. Click on "Restore" and iTunes will begin downloading the software for your iPhone. If the process takes more than 15 minutes, your iPhone may exit recovery mode and you will need to repeat the steps above.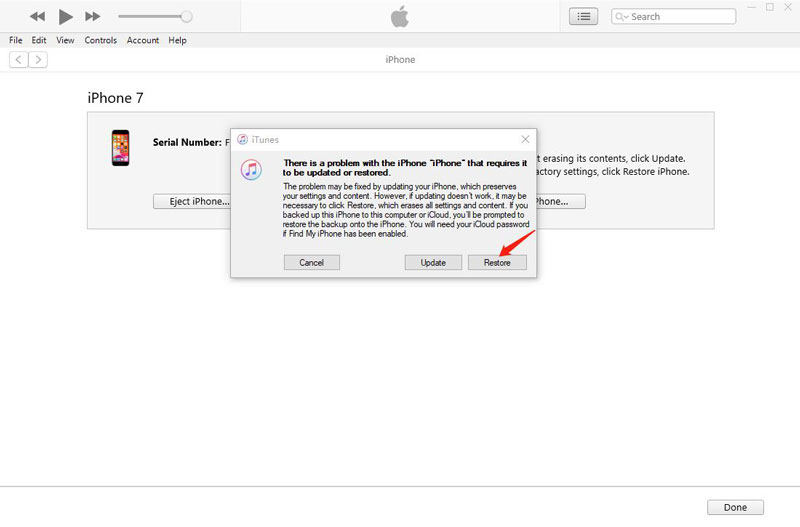 Step 3: For Finder on Mac: You might see the message like "There is the problem with the iPhone xxx that requires it to be updated or restored". Click Restore, and your iPhone would be factory reset.
Obviously, this restore process would be much longer than you can imagine. If you failed, jump to the first way.
Way 3. If You've Signed into icloud.com, You Can Erase iPhone Remotely
In much the same way, you can remove the passcode from your iPhone using iCloud. In fact, this method allows you to remove the passcode even if you don't have physical access to your iPhone.
But for this method to work, you must have enabled Find my iPhone on your iPhone and your iPhone must be connected to Wi-Fi or cellular data. If it not, open the Control Center and turn on Wi-Fi or Cellular data. Then follow these simple steps to use iCloud to unlock your iPhone:
Step 1: On any browser, go to https://www.icloud.com/#find And then sign in with your Apple ID and password.
Step 2: Click on "All Devices" at the top and then choose the locked iPhone from the list of devices.
Step 3: Click on "Erase iPhone" and all the data and settings on your iPhone will be erased including the passcode.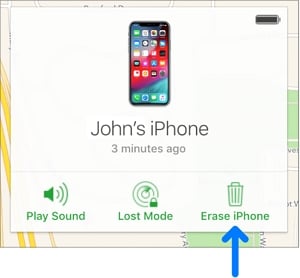 This will take you back to the setup screen where you can select "Restore from iCloud Backup" and then set up a new passcode when the restore process is complete.
Way 4. Try to Recall When Forgotten iPhone Passcode
I forgot my iPhone passcode, that would never sound ridiculous. If you don't want to bother anyone to help you recall your iPhone password, the solutions above are absolutely the best, but before we dive into more invasive solutions that may require more of your time and expertise, you should try to recall the passcode with the help of your family members and friends. Your passcode is probably something that holds some meaning to you and you may have used it before.
Most people seem to think that their iPhone passcode can only be a 4-digit code. This is far from the truth as you can have a custom-length numeric or an alpha-numeric password.
It is possible that you have set one of these up, so don't restrict yourself to 4-digits when trying to recall the passcode. But even as you try to recall the passcode, keep in mind that entering the wrong passcode 6 times in a row can disable the iPhone.
Extra Tip: What to Do if You Forgot Apple ID Password
If on the other hand, you have forgotten your Apple ID password, you can also consider iToolab UnlockGo, you can reference the steps above. And here's the video how to remove Apple ID without passcode.
Here's another way to get your forgotten Apple ID password back. Follow these steps to get it back:
Step 1: Go to https://appleid.apple.com/ and then click on "Forgot Apple ID or password".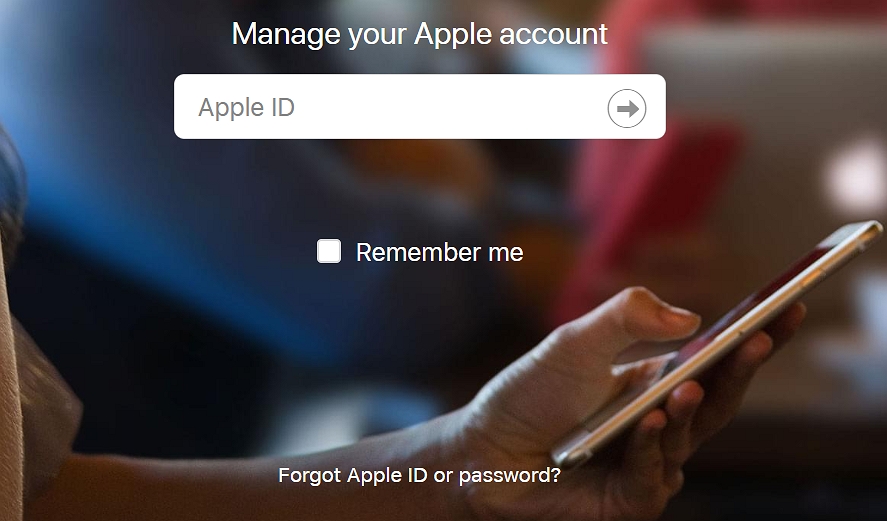 Step 2: Enter the email address that is associated with your Apple ID account and click "Continue".
Step 3: On the "select what information you want to reset" page, choose I need to reset my password.
Step 4: On the "select how you want to reset your password" page, choose "Get an email" or "Answer security questions". Follow the instructions to reset your password.
I Forgot My Password to My iPhone, that Would Never Happen Again!
iToolab UnlockGo can easily help you to unlock your iPhone's passcode or Apple ID password when forgot iphone screen password. Most of the methods to remove the passcode will restore your iPhone to it factory settings. Finally, don't forget to share this article with your friends if you think it's helpful.