Locked iCloud is one of the biggest issues that you can come across. In some cases, this makes your beloved iPhone or iPad useless since you can't get past the locked screen.
If you've been browsing for the solutions, you might've come across iFinder. But what is iFinder, how does it work, and is this tool efficient enough to solve your problem?
Is this something you're wondering? If yes, then you're in the right place!
Down below, we'll let you know everything about iFinder's latest version, but also how to use it to unlock your iCloud today!
What is iFinder?
iFinder is one of many tools that can help you unlock your iPhone's locked iCloud and help you get past the locked screen.
Also worth mentioning is that iFinder is a tool that will do everything for you so you won't have to do anything manually by yourself.
Instead, iFinder will provide you with a service where they do everything behind the scenes and yet you'll only have to pay attention to the monitoring code that will be assigned to your case.
iFinder is increasing in popularity for a couple of reasons. The three main reasons are the affordable pricing, no complications, and great success rate thanks to the regular updates their service gets.
So if you have accidentally locked yourself out of your iCloud or you have purchased an iPhone or iPad in which case the previous owner didn't log out of the iCloud – iFinder can help. All you will need is to provide a bit more information about your device and join the waiting list as the iFinder does its magic.
But will iFinder work on your device and what does the process look like? Keep on reading as that's exactly what you'll find out next!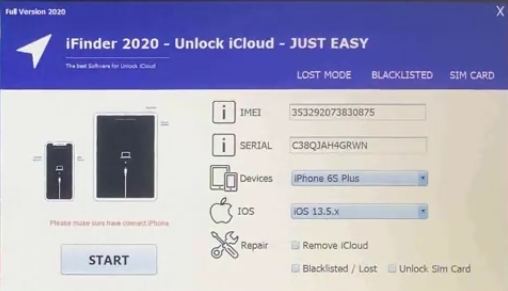 iFinder Supported Devices
As I have mentioned earlier, iFinder gets regular updates and the service is as efficient as possible.
We are all aware that some services and tools are struggling to provide effective service for the latest devices.
However, iFinder is really efficient, and here is the full list of the devices it can help unlock the iCloud:
iPhone – from iPhone 4 to iPhone Pro Max
iPad Pro – 9.7" and 12.9"
iPad Mini – Mini, Mini 2, Mini 3, Mini 4
iPad Air – 5th and 6th generation
iPad – 3 and 4 (3rd and 4th generations)
All iPod models
Apple Watch – Series 1,2,3,4,5
Even Mac OS X MacBook models
There is no doubt that iFinder can work with some of the latest iPhone models which is a great advantage over its competitors.
How to Use iFinder
In order to successfully remove your iCloud lock on your iPhone (or any other supported device), here's what you have to do.
Step 1. The first thing you should do is pay for the software, download it, and install it on your computer.
Step 2. Then connect your iPhone with the computer via the USB cable and login into the iFinder software using the provided customer credentials (which you receive after the payment).
Step 3. If your credentials are correct, iFinder will then log you into the main interface. In the main interface, you will have a couple of options. Choose iCloud unlock as that is exactly what you're trying to unlock.
Step 4. A new window will pop up with a couple of fields you have to fill. The information you need to provide is the following:
IMEI number
Serial number
Device model
iOS on the device
Under the Repair tab, you'll have a couple of options such as Remove iCloud, Blacklist/Lost, or Unlock Sim Card.
Step 5. Tick the Remove iCloud box as that's what you're trying to accomplish. This will give you a drop-down list to choose from where you have to choose "Remove iCloud". However, if you'd like to bypass the current iCloud on the phone, you can do that too.
Bypassing your iCloud is recommended when you are 100% sure that this is your iCloud account and yet you've lost the password or locked yourself out of the device.
Ensure that your device is safely connected via the USB as you don't want to fail the process due to the cable, so double-check the connection.
Step 6. When you are ready to unlock the iCloud, press the big "START" button and the process will begin.
The process will show you the progress with the bar, but also the check-list type of the accomplishment as the software works on unlocking the iCloud.
Step 7. When the software reaches 100%, it will pop up a new notification that will let you know whether or not the process was successful.
If the process was successful, you should see the "Successful!" tab pop up asking you whether or not you'd like to log into your iCloud to unlock the phone using your iCloud account.
Step 8. As you press the "Yes" button, your iPhone will reboot and you'll be able to set up your device and use it as if just came out of the box.
This will also allow you to set up your own iCloud account and hopefully never deal with the iCloud locked issues ever again!
Is There Any Effective Alternative?
If you're not satisfied with the iFinder Unlock iCloud tool or you'd just like to try another alternative – we got you covered.
Even though iFinder gets updated regularly, no iCloud unlocking software is guaranteed to work for everyone.
A great alternative to iFinder would be UnlockGo iPhone Unlocker.
UnlockGo Activation Unlocker is another similar tool to iFinder that allows you to remove the iCloud activation lock or even remove Apple ID, or turn off Find my iPhone service.
It is as efficient even though it's aimed only at people who can't get past the iCloud Activation Lock.
The following are the steps to remove the iCloud activation lock using UnlockGo.
Step 1. UnlockGo is software available for Windows and Mac computers to download and install. From there, you have to connect your iPhone with the USB cable and choose between four features:
Remove iCloud Activation Lock
Remove Screen Passcode
Remove Apple ID on iPhone without password
Turn Off Find my iPhone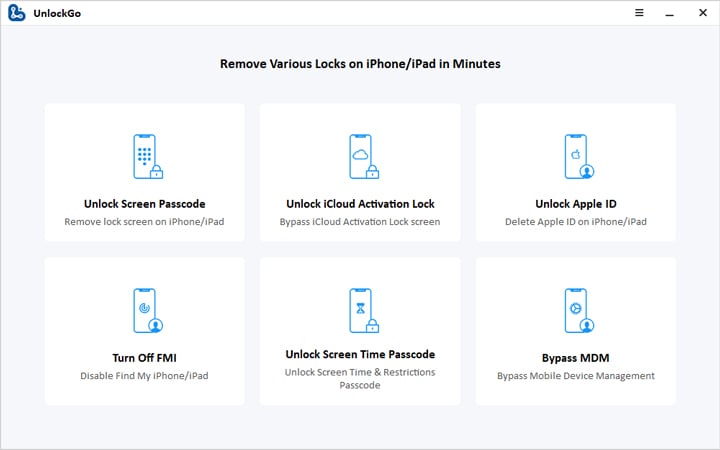 Step 2. As you choose Remove iCloud Activation Lock, a new window will show with the instructions. You have to ensure that you only connect one iOS device to your computer during the process and you have to be aware that the process will jailbreak your iPhone.
If you agree to this, you will have to click the Start button that will show up the agreement that you have to agree to before the process starts.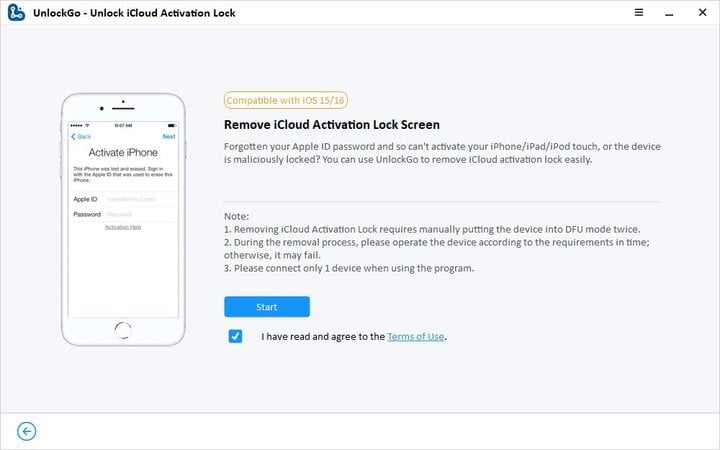 Step 2. When the process starts, UnlockGo will start downloading the jailbreak tool. When it is downloaded, you will need an empty USB flash drive to burn the tool to so you can use it to jailbreak your iPhone.
The great thing is that you won't have to do anything manually and yet UnlockGo will do everything in the background for you, as long as you follow the instructions correctly.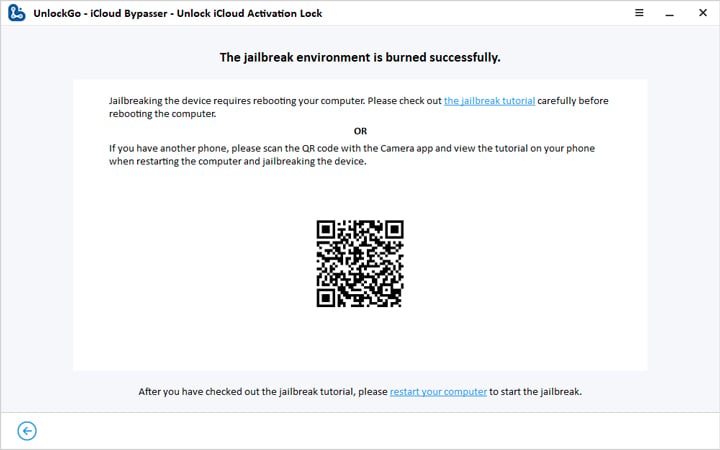 Step 3. When your iPhone gets jailbroken, a new window will open and it will display your iPhone's information and a new Start button. When you press the new Start button, the iCloud Activation Lock removal process will start.
Step 4. As soon as the process finishes, you will get the successful notification with additional instructions of what and what not to do with your device now that the iCloud is removed. Click the Done button and you can get access to your iPhone again.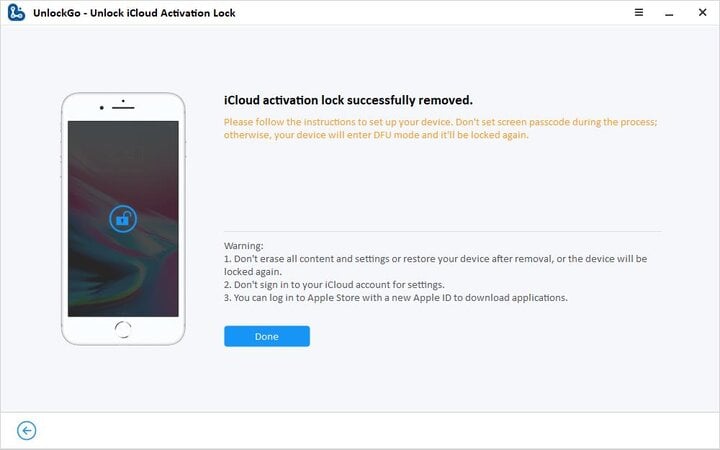 However, what you should not do is do factory set or flash firmware, and don't log into iCloud directly from the settings.
Instead, you should log into the iCloud from the starting screen during the setup. Therefore, it's really important that you don't skip that step as doing this later through the settings might jeopardize your iPhone.
Wrap Up
iCloud Activation Lock is one of the worst issues you can face with your device. Yet it's a very often issue that can very easily happen when you least expect it.
Even if you never purchase second-hand Apple devices, you can still lock yourself out of your own iCloud account. If you forgot your password, secret security answer, or you've failed to recover your password – you could easily lock your iCloud.
Luckily, with tools such as iFinder or UnlockGo, you can jailbreak your iPhone, unlock the iCloud, and still use it with your new iCloud account.
However, keep in mind that this will reset your iPhone so backup your photos, music, and any apps that you'd like to restore after your reset your iPhone.
The biggest benefit is that none of these tools requires any technical knowledge so all you have to do is follow the instructions carefully and you'll solve your problem for a very small investment!
How did you get your device to the iCloud Activation Locked situation? Did you try unlocking your Apple device using any other iCloud Unlocking software and how did it go?