WhatsApp users often send and receive a lot of official and unofficial messages through WhatsApp audio files. Most of the time, they would rather send an audio recording than type a page-long text message. General speaking, audio files are important because they contain sensitive information.
If you also accidentally lost audio files on WhatsApp, what should you do? Does the In this blog post, we'll talk about a few official, easy-to-use ways to get back deleted WhatsApp audio on your phone.
Can I Recover Deleted Audio Files from WhatsApp?
The majority of deleted items on Android are moved to a temporary folder called "Recently Deleted." In most cases, all data, including audio files, are removed from this folder after 30 days. Unfortunately, such a feature does not exist on iPhone devices.
As a result, when you delete a file or folder on iPhone, it is permanently deleted. We always have a solution for our readers, though. If you're wondering how to recover deleted audio from WhatsApp, you should know that you can do so by using a backup file or third-party software to recover lost audio files.
Top Way to Recover Deleted Audio Files from WhatsApp
Because WhatsApp backup has a time limit, it is important to note that deleted audio files may not be properly backed up. Furthermore, if you enable the backup feature, you may be unable to restore it. Whether you have a backup file or not, iToolab RecoverGo (WhatsApp) is a recommendation for you. The tool will assist you in recovering deleted audio files even if you do not have a backup.
RecoverGo (WhatsApp) is a powerful and dependable data recovery software that works on both Android and iPhone. This application enables phone users to recover audio, video, documents, photos, and other file types in a few simple steps.
The steps below will show you how to recover deleted audio files from WhatsApp:
Step 1 Install iToolab RecoverGo (WhatsApp) on your personal computer. On the main interface of the tool, click on the "Recover Deleted WhatsApp data from device" feature to continue.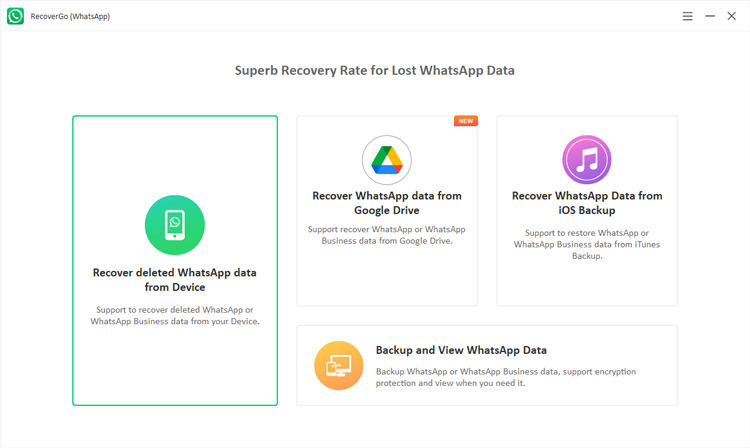 Step 2 You should now connect your device to your computer via the USB cable. Tap the "Trust" button on your phone and enter your device's passcode, if applicable.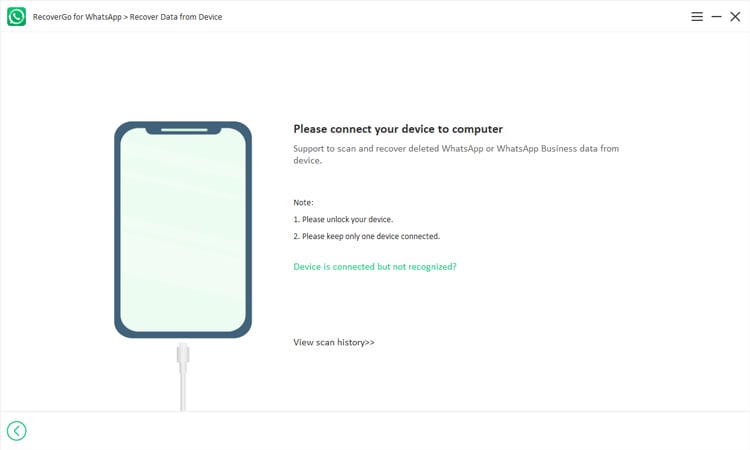 Step 3 The scanning process may take some time to complete. All the scanned data will be available on the screen, now tap on the "OK" button to check the data.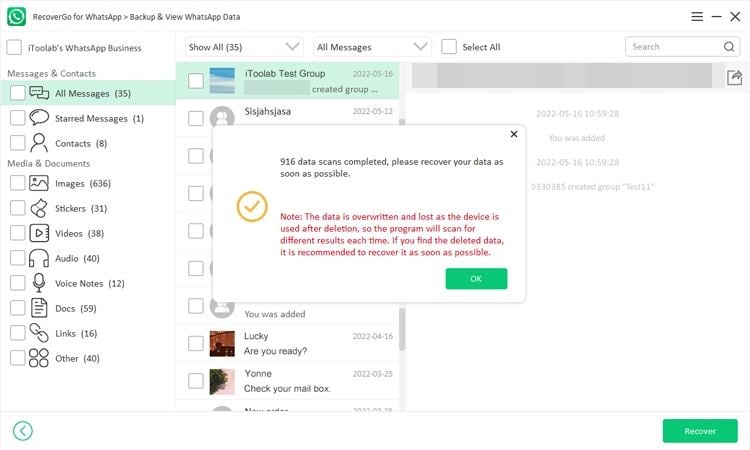 Step 4 Depending on your needs, the tool will now allow you to recover deleted data. The tool will display all data to preview and select before proceeding with the restore process. You can either select all files or manually select the preferred one.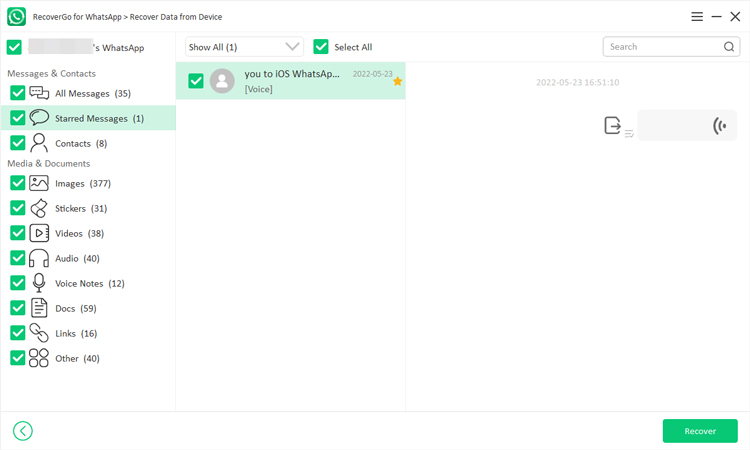 The advantages of this product are obvious, it is efficient and does not require backups. Generally speaking, this software can solve all your WhatsApp data loss problems. However, you can also use backups to restore deleted voice notes on WhatsApp if you have previously created.
How to Recover Deleted WhatsApp Audio Files from Android Backup
If you've got a proper backup file then the following sections will help you know how to recover deleted audio from WhatsApp:
Restore from local backup
These easy steps will help you restore your deleted WhatsApp audio files from local backup:
Step 1. Open the local storage on your device and check if audio files are maintained separately. If yes, copy and paste them to some other location.
Step 2. You can also the device to your computer and send all backup files to your local storage.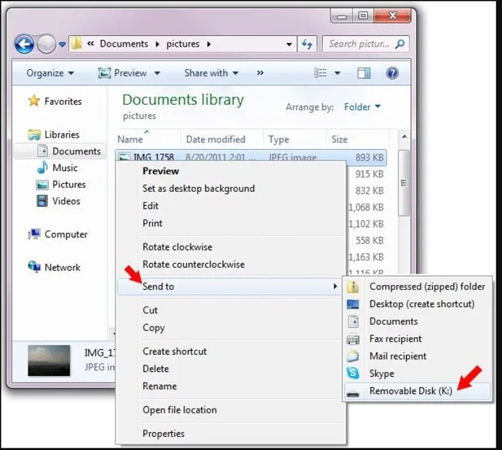 Step 3. Uninstall and install the WhatsApp application on your phone. You just need to ensure that all data is saved.
Step 4. Login to your account using the same number, and the application will automatically detect the backup.
Step 5. Tap on the "Restore" button and wait until all data is restored to your device.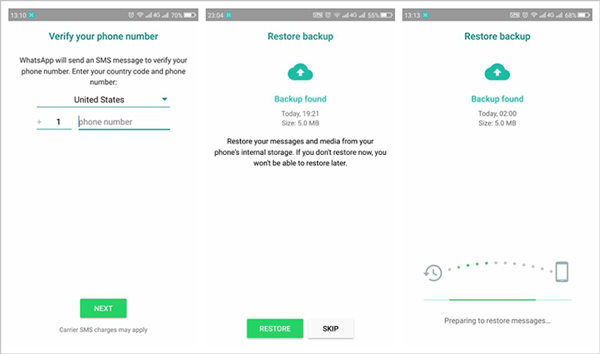 Restore from Google Drive
If you're taking regular backups to Google Drive, then the following steps will elaborate on how to retrieve deleted audio files from WhatsApp. Although WhatsApp automatically backs up your chats every day, there is no guarantee that the backup will include your audio files. To be sure, it's best to regularly backup your WhatsApp folder to Google Drive. If you have recently deleted an audio file from WhatsApp and want to retrieve it, follow these steps:
Go to the official Google Drive website and log in using your Google account.
In your Google Drive, open the folder where all audio files are backed up.
Select the desired audio file, right-click on it, and click on the "Download" button to save the file to your computer.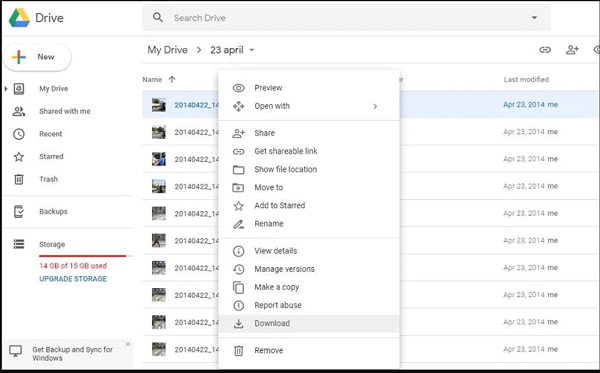 How to Recover Deleted WhatsApp Audio Files from iPhone Backup
If you've backed up all your iOS data including WhatsApp audio files to iCloud then the following steps will help your restore your WhatsApp audio:
Make sure to check that all your backup is stored on iCloud. Open WhatsApp and go to Settings > Chats > Chat Backup.
Uninstall and install the WhatsApp application from the App store.
Enter your number to log in to your registered number and tap on the "Restore" button to restore your chat history.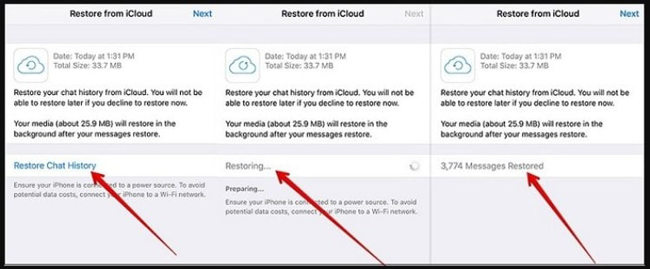 Summary
Certain users rely on WhatsApp audio files; the problem arises when they lose them. This blog has discussed several methods for restoring deleted WhatsApp data with or without backup, depending on your preference. We've also discussed a third-party software, iToolab RecoverGo (WhatsApp), which allows both Android and iOS users to easily restore deleted data.