WhatsApp data recovery software has always been in discussion. Mostly, third-party tools are dominant and effective while restoring WhatsApp data. There can be different scenarios where you lose your important data without knowing it. In this blog, we're going to discuss WhatsApp data recovery software for android free.
Best WhatsApp Data Recovery Software for Android Free
When nothing else works, WhatsApp recovery software for android free download is the best option. However, you may be wondering which is the best to use. In this section, we'll go over what makes good data recovery software for WhatsApp. Before you choose a tool to recover your lost data, make sure it has the following features:
Ultra-high recovery rate and security.
Support the latest Android systems and adapt to various Android devices.
Support previewing WhatsApp data before recovering.
Support all WhatsApp data (Messages, status, photos, videos, etc).
iToolab RecoverGo (WhatsApp) is a highly recommended tool for anyone looking for a reliable way to recover deleted WhatsApp data. This software fulfills all the above needs, and you don't need to root your Android device like most software does. Free download to preview deleted WhatsApp data now.
The steps below will show you how this free WhatsApp data recovery software for Android can help you keep things running smoothly:
Step 1. Install and open the iToolab RecoverGo (WhatsApp) on your computer, click on the "Recover Deleted WhatsApp data from device" feature.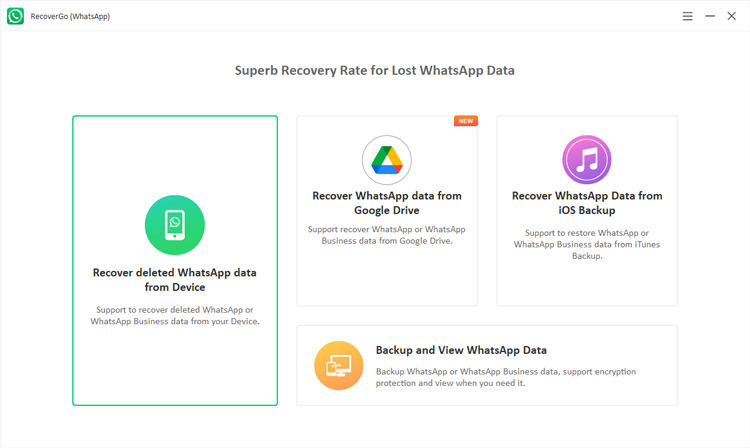 Step 2. Connect your device to the computer via the USB lightning cable. On your phone, press the "Trust" button.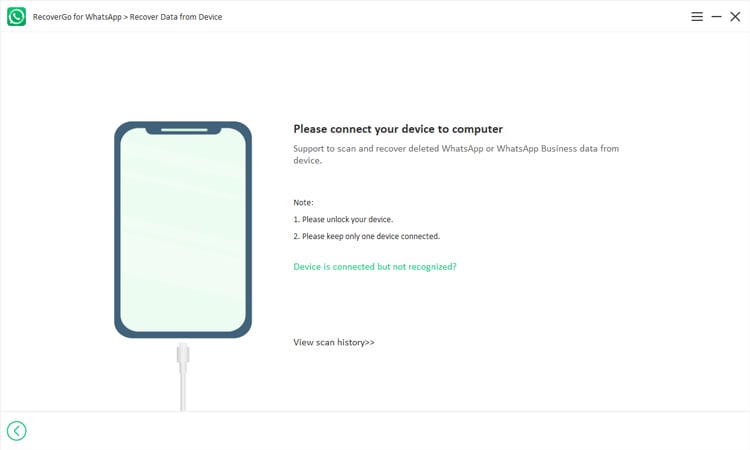 Step 3. After selecting your WhatsApp account, RecoverGo (WhatsApp) will scan your deleted WhatsApp data and it will take a few minutes.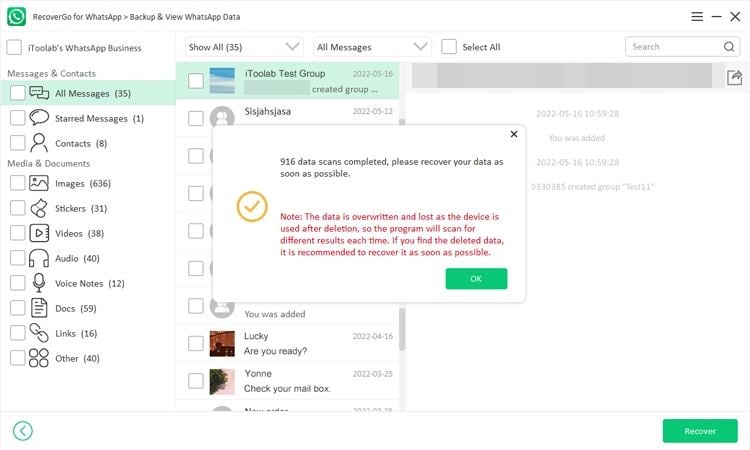 Step 4. Last, RecoverGo will allow you to recover deleted data as needed. Before restoring the scanned data, you can preview and select it. The tool allows you to select the files and folders all at once or individually by skimming through them all.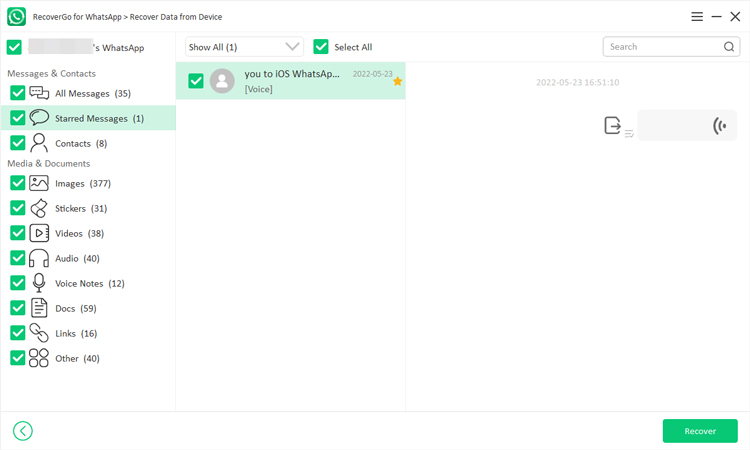 RecoverGo (WhatsApp) is one of the most professional WhatsApp data recovery software because it only works with WhatsApp and can find and browse backups from each backup, as well as recover data from the absence of backups.
Free Android WhatsApp Recovery Ways When Have A Backup
The above section works best if you don't have a proper backup file, but this section is quite different. You'll need a proper backup file to recover your lost data.
Way 1. Restore from Google Drive
Google Drive is a popular cloud storage service for storing backups of WhatsApp and other social media accounts. To begin saving backup files to Google Drive, you do not need to master the account setup process. Before using free software to recover deleted WhatsApp messages on Android, make sure the following steps are followed precisely.
Way 2. Restore from local backup
Rarely do WhatsApp users choose to save a backup of their WhatsApp data locally on their device rather than using the cloud. In order to successfully retrieve lost data from the local backup, you will need to ensure that the following steps are carried out correctly.
Open the local storage on your device and check if all data is maintained separately. If yes, copy and paste it to some other location.
You can also the device to your computer and send all backup files to your local storage.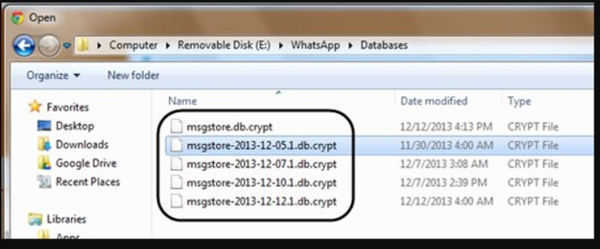 Uninstall and re-install the WhatsApp application on your phone again. You just need to ensure that all data is saved before implementing this step.
Enter your phone number, login and the application will automatically detect the recent backup.
Tap on the "Restore" button and wait until all data is restored to your device.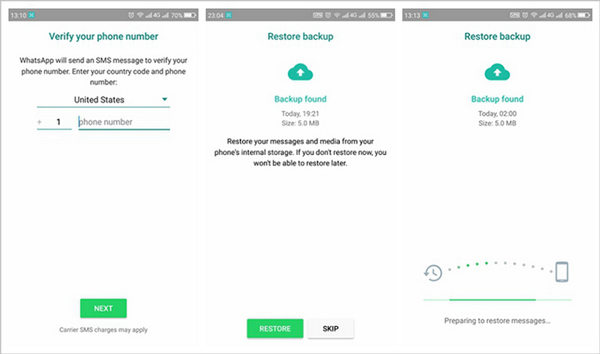 Summary
WhatsApp data recovery software is required to recover deleted WhatsApp data. The majority of people use third-party software for this purpose. In this blog, we discussed iToolab RecoverGo (WhatsApp), a third-party tool for recovering lost or deleted files. The tool is capable of restoring photos, videos, contacts, pictures, and other file types with ease. Furthermore, it is compatible with thousands of Android devices, including the most recent. We've also discussed recovery methods that will assist you in performing data recovery when you have a proper backup file.