WhatsApp is a standard messaging application that helps people stay in touch with their friends and family. It is an all-in-one platform with lots of amazing features, such as stories, group calls, and more. Many people use this application, but only a few know about WhatsApp's default privacy settings. If you are also interested in finding out about Privacy Settings on WhatsApp, then continue reading this article. In this post, we have shared some of the top privacy settings of WhatsApp.
What Privacy Settings on WhatsApp Should I Use?
WhatsApp offers lots of amazing features and options, but if you want to learn some of the top WhatsApp Privacy Mode, check the below section, as here we have discussed the things that you can enable on your WhatsApp for better privacy.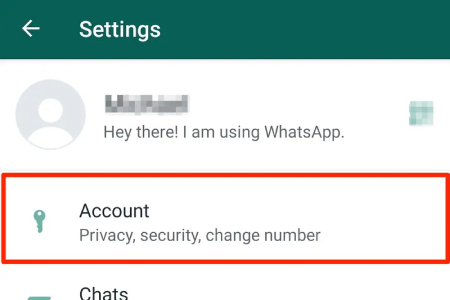 1. Last Seen Online
The first thing that you can do is adjust the last-seen WhatsApp settings. This option is important to hide your last seen and also your online status from specific contacts or everyone. Make sure your WhatsApp last seen is set to nobody so that no one can check if you have read their messages or not. To adjust the WhatsApp privacy settings to nobody, follow the steps below.
Open your WhatsApp Settings and go to Privacy.
Now choose the "Last Seen and Online" option.
Next, click "Nobody."
That's it!
2. Profile Photo
The next important WhatsApp privacy setting is your profile picture. Make sure to choose the correct settings for your profile picture. To adjust your profile photo, open your Privacy menu and choose the "Profile Photo" option. You can see the option under the "Who can see my personal info" and select your desired option, such as Everyone, Nobody, My Contacts, etc.
3. About
If you don't want people to see your About, then you can adjust its privacy from the Settings. About appears under your name and can be adjusted from WhatsApp Settings. So, open your Settings, go to Account, select Privacy, and click the "About" option. In the end, select whom you want to share your About.
4. Status
By default, your WhatsApp status is set to My Contacts, which means all your contacts can see your status. However, you can select the settings of your status and adjust it according to your requirements. To adjust the Status privacy on WhatsApp, go to WhatsApp Settings and choose the "Account" option. Next, choose "Privacy." Now, you will get the "Status" option, and from there, you can select the required settings.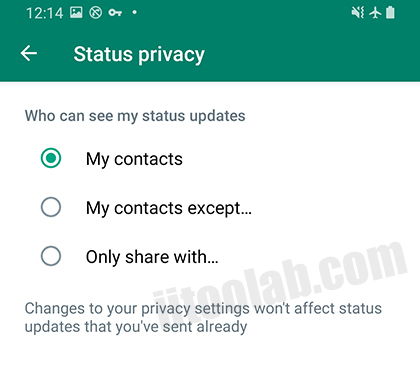 5. Read Receipts
Among different WhatsApp privacy settings, Read Receipts is also another option that you can adjust accordingly. Open WhatsApp Settings, click the "Account" option, and next, choose "Privacy." Now, turn off the Read Receipts if you don't want to show blue ticks.
6. Automatic Media Files Downloads
By default, WhatsApp downloads the media files automatically, which means anything you receive in your inbox will be downloaded. But the good news is that you can stop media files from downloading automatically. To do that,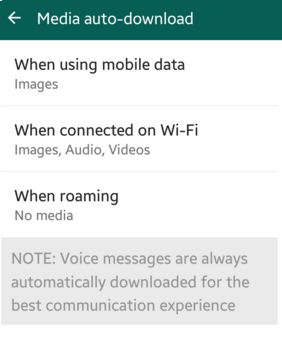 Go to your WhatsApp Settings and look for the "Chats" option.
Now, turn off the "Media Visibility" option.
7. Live Location
If you don't want people to see your live location, then you can turn it off easily. In this way, people won't be able to spy on you. To turn off your live location, open your WhatsApp app, then look for the "Account" option. Next, check the "Privacy" option and choose the "Live Location" option. You will see the list of chats where you are sharing your live location. Turn it off, and you are good to go.
My WhatsApp Privacy Settings is not Working! How to Solve?
"I am trying to adjust my WhatsApp settings, but I am not able to select the contacts option. Why are my WhatsApp privacy settings not working?" Is there something I can do to fix it? If you are facing this issue, then make sure you have updated your WhatsApp to the latest version. Also, you can visit the WhatsApp Help Center to get the solutions.
Other Tips to Protect Your WhatsApp Privacy
Here are some other tips that you can follow to protect your WhatsApp privacy.
1. Turn on the Screen or Fingerprint Lock
If you are concerned about your WhatsApp privacy and want to protect it, then turn on the screen and fingerprint lock option. You can visit Settings and look for the "Account and Privacy" option, and from there, you can enable the Fingerprint lock option.
2. Change Group Privacy Settings
The good news is that users can now control their group settings. If you don't want to join annoying groups, then go to your Privacy, choose "Groups," and select the "My Contacts Except" option.
How to Create WhatsApp Group without Adding Contacts?
3. Block or Report Spam Contacts
Blocking or reporting spam contacts can also be good for your WhatsApp privacy. If someone is bothering you, then you can block them easily by scrolling down.
4. Enable End-to-End Encrypted Backup
WhatsApp offers lots of privacy options, and one of them is enabling end-to-end encrypted backup. This option is important as turning it on will keep your backup secure, and even WhatsApp can't access it. You can enable it by visiting "Chats." Next, go to "Chats Backup," and from there, enable this option.
5. Turn on Two-Factor Authentication
Turning on Two-Factor authentication saves your WhatsApp from being hacked. It adds an extra layer to your account and protects the app from intruders. To turn on this feature, go to your WhatsApp Settings, click on "Account" and select the "Two-step Verification" option. Now, turn on this option, and you are good to go.
How to Transfer WhatsApp from Android to iPhone with Encryption?
After learning about the Privacy Settings on WhatsApp, it's time to get information about WhatsApp transferring. For that, you can use iToolab WatsGo, which allows you to create and transfer WhatsApp backup with encryption. With this app, you can move your WhatsApp data from Android to iPhone very quickly. Let's see how this app works.
Did you enjoy this tip? Subscribe to iToolab YouTube Channel
Step 1. Go to the iToolab website and download the app. Now, choose the "WhatsApp" option, and start the "WhatsApp Transfer" by clicking the "Start" option.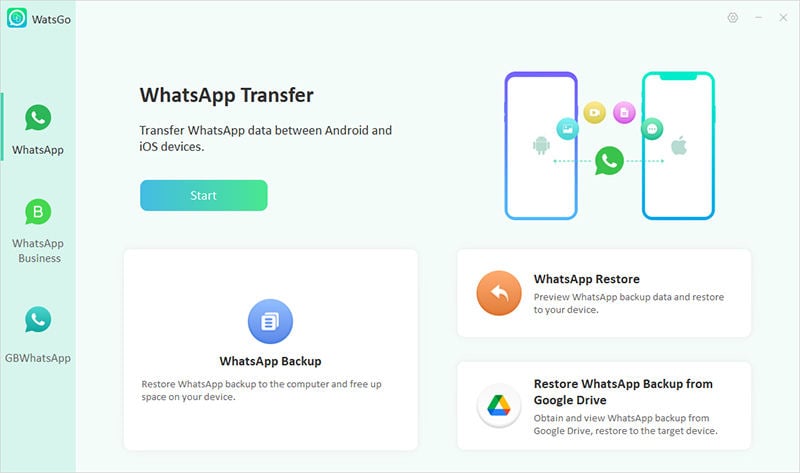 Step 2. Connect both your devices and choose the "Transfer" option. Also, choose your Android as the source device and your iPhone as the target.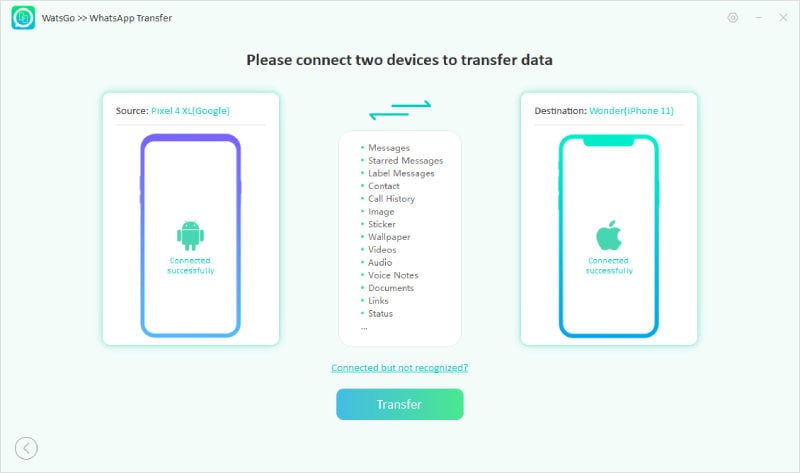 Step 3. From the dashboard, choose the data which you want to transfer. Next, click "Continue" if you see a pop-up message.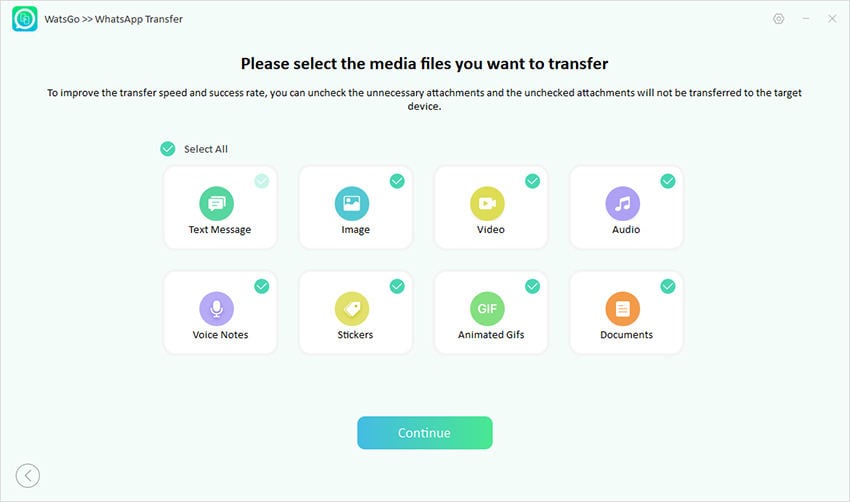 Step 4. In the next step, enable end-to-end encrypted WhatsApp backup and verify it using the password. You can easily follow the instructions on the screen to learn about it. Once you have enabled the end-to-end encryption, the phone will convert the data, which will be compatible with your iPhone.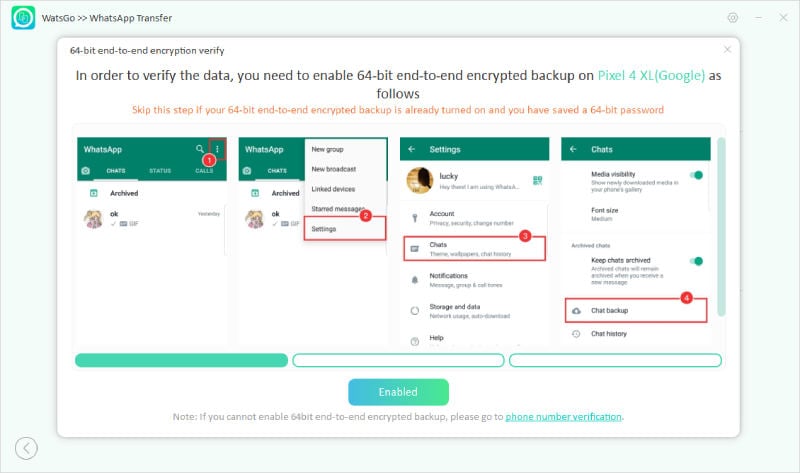 Step 5. Once done, you will get the "WhatsApp transfer Successfully" message on your screen.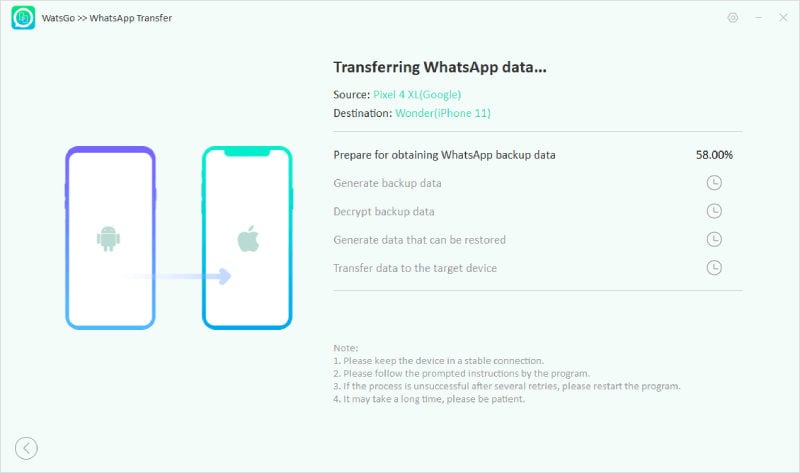 Conclusion
By following the above ways, you can easily adjust your privacy settings on WhatsApp, such as status, about, end-to-end backup encryption, and more. Apart from that, you can also download the iToolab WatsGo software, which allows you to migrate your WhatsApp data from one device to another.