Google Drive has been among popular backup storage options over the internet. Most people store their important data on Google Drive to restore when needed. If you've stored your data there and don't know how to restore Whatsapp backup from Google Drive, then this blog will help you restore the backup.
We'll discuss how you can restore the backup to both Android and iPhone. Moreover, we'll explain how you can use iToolab WatsGo to get this done in a simpler way.
Best Way to Restore WhatsApp Backup from Google Drive to iPhone and Android
iToolab WatsGo – WhatsApp Transfer, Backup and Restore is a robust tool that helps users to transfer their WhatsApp backup from Google Drive to another Android phone. The best thing about this tool is that it is compatible with a wide range of both iOS and Android devices. The tool is meant to make the job easy for you. Perform the following easy steps to transfer WhatsApp backup between different phones:
Step 1. Download and install WatsGo software on your PC. Open the software and click on WhatsApp Transfer.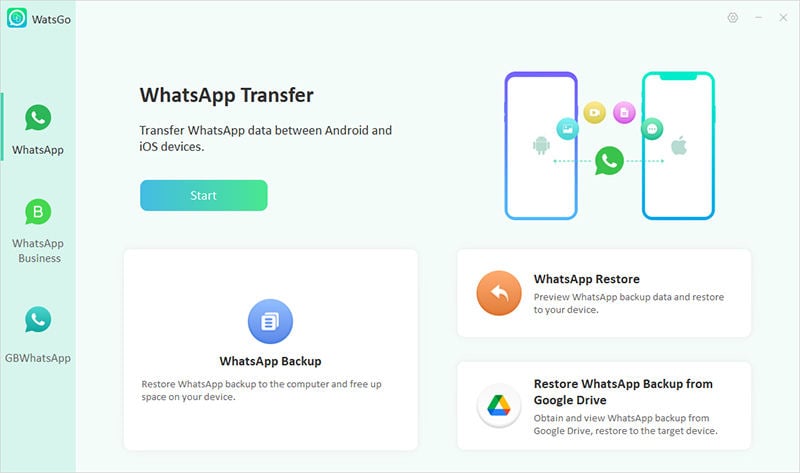 Step 2. Connect your Android phones to the PC using a lightning USB cable.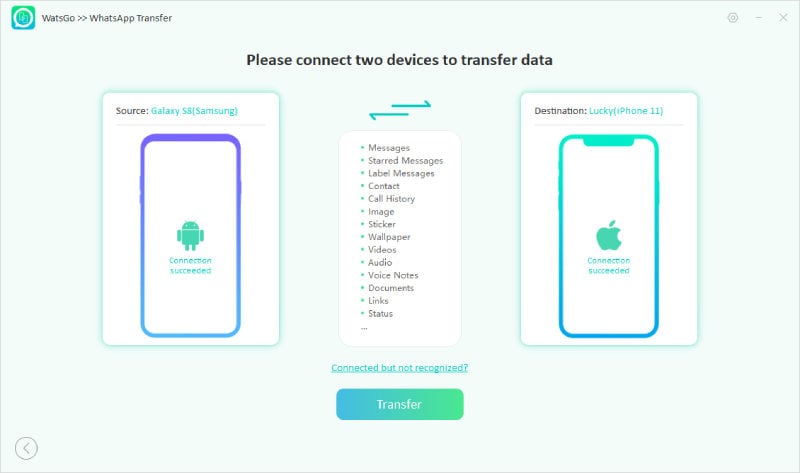 Step 3. Then the program will automatically start the transfer process. All of your WhatsApp media files and chats will be transferred from your older Android Phone to the New one. .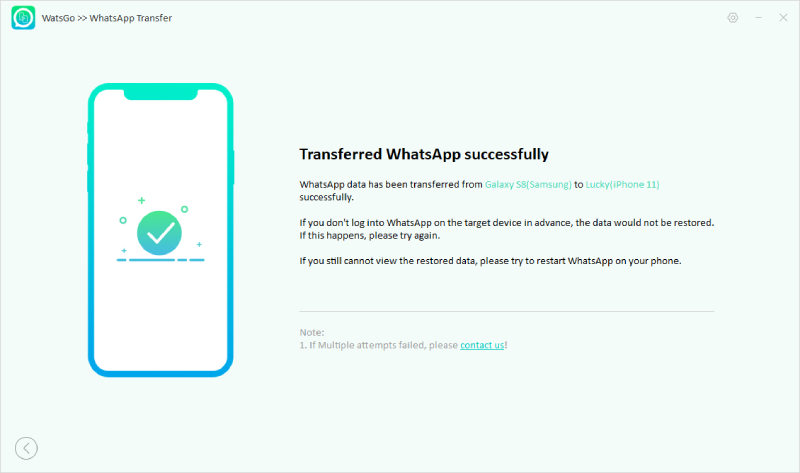 Note: Don't disconnect your Android device from your PC during the transfer process. You can disconnect your phone after process completion.
Also Read: Unable to Restore WhatsApp Backup from Google Drive? How to Fix Quickly!
How to Restore WhatsApp Backup from Google Drive to iPhone
If you're wondering how to restore WhatsApp Backup from Google Drive to iPhone then this section will surely help you. You just need to perform the following steps to get the most out of this effective method:
Step 1. Restore WhatsApp Chats From Google Drive to Android First
Open Google Drive on your Android using the same account that you used to take WhatsApp backup.
Install WhatsApp on your Android Phone. Setup your WhatsApp account using the same number.
After verification, WhatsApp will require you to restore the old WhatsApp backup. A pop window will ask you to restore data, just click on the Restore button to continue.
Note: The restoration process will take some time to complete, so, be patient.
Step 2. Transfer WhatsApp Backup From Android to iPhone
You can use any third-party software or tool to copy/move data from one phone to another. In this case, you need to use WatsGo WhatsApp transfer
to transfer WhatsApp media files from Android to iPhone. With this tool, you can easily transfer media files and chats from Android to iPhone or other iOS devices with ease.
How to Restore WhatsApp Backup from Google Drive to Android
In this section, we'll elaborate on how to restore Whatsapp messages on the new phone. To restore your older Whatsapp backup, you just need to use the same phone number. Once you're all set, perform the following steps to restore your important backup:
Uninstall and install WhatsApp on your android phone.
Now, follow the on-screen installation instruction and verify whether you entered the correct number.
WhatsApp will ask you whether you want to restore your older WhatsApp messages and media files. Click on the Restore button to confirm it.

After successful completion of the restoration, you just need to click on the Next button to continue.
Also Know about Restore Whatsapp Backup from Google Drive
Q1: Why can't I restore my WhatsApp messages from Google Drive?
There can be a lot of reasons why you aren't able to restore WhatsApp messages from Google Drive. The primary problem may be that you're not using the same Google account to restore the backup. Or, you may be using a different Google account to restore WhatsApp messages from Google Drive. Other than this, you might be using the different phone number to create Whatsapp on your new phone.
Q2: Where can I find WhatsApp backup in Google Drive?
Go to Google Drive by writing drive.google.com in the web browser. At the bottom left corner, look for the Storage option. Under Storage, click the number option. Then at the top right corner, click on the Backups button to continue. Now, you need to right-click on the "View Details about a backup" option and click on the Preview button to see the store media files.
Summary
Google Drive is a feasible and reliable storage option to store WhatsApp backup. The WhatsApp backup can be stored automatically if the Backup and Restore option is turned on. Keeping this in view, you may want to know how to restore WhatsApp backup from Google Drive to your device. In this helpful resource, we've discussed official methods to restore your WhatsApp media files to your new phone. We've also reviewed the reliable iToolab WatsGo to transfer data from one device to another device.