WhatsApp is one of the most used messaging Apps on Android and iOS devices. This App is used by 2 Billion people worldwide. Therefore, WhatsApp keyboard problems can appear commonly.
What to do when WhatsApp Keyboard does not appear? Well, if your WhatsApp keyboard doesn't work properly, follow this guide until the end because, in this guide, we have mentioned the top 5 methods to solve this issue in no time.
Explore the Potential Causes of the WhatsApp Keyboard Problem
1. Why is WhatsApp not showing typing?
As we all know, the Keyboard covers half of the WhatsApp screen and also the areas where you are supposed to see what you are typing on WhatsApp. If you want to solve this issue, check the WhatsApp software version and restart the device.
2. Why is my keyboard not Popping Up?
If your keyboard is not popping up, it means there is an issue with the keyboard version or your WhatsApp application. So, it is suggested to restart your device or install the application again.
3. Why is the keyboard of WhatsApp flickering?
Many iPhone users complained that their WhatsApp keyboard flickers a lot. So, to fix this issue you can either try another iPhone device or follow the methods that we have discussed in this article.
How to Solve WhatsApp Keyboard Problem Android?
If you want to solve the WhatsApp Keyboard problem on Android, follow the methods mentioned below.
1. Restart Your Device
Restarting the Android device is the best solution to solve minor glitches and bugs in your Android device, such as the WhatsApp Keyboard problem. Here is how to do it:
Press the power button on your Android phone for 5 to 10 seconds.
A power menu will appear on your screen.
Select the Restart button to reboot the Android device.
2. Update WhatsApp Version
If you are using the previous version of WhatsApp on your Android device, then we will recommend you update your WhatsApp to the latest version. Follow the below steps to do it:
Open the Google Play Store App on your Android device.
Search for WhatsApp.
Choose the WhatsApp App; if the Update button appears, then it means that an Update is available.
Tap on the Update button to update WhatsApp to the latest version.
3. Install Another Keyboard
Fortunately, there are plenty of Keyboards available on Android devices. If your WhatsApp keyboard isn't working properly, you can instantly download or add a different keyboard to fix the problem.
Follow the below instructions to add a new keyboard on an Android device.
Go to Android Settings and Search for Keyboard.
Select the Add Keyboard option.
Choose the Keyboard you want to add and click on the Save option.
4. Troubleshoot the Default Gboard
Disabling and enabling the Gboard on your Android Phone can also help it work properly. This will remove all the glitches from your GBoard.
Open your Phone Settings and Go to System.
Now select the Language & Input and then tap on the On-screen keyboard.
Press on the Manage Keyboard option.
Turn off the Toggle Next to the Gboard, wait for 30 seconds, and then turn it back on.
How to Solve WhatsApp Keyboard Problems on an iPhone?
How do I reset my WhatsApp keyboard? If you are facing a WhatsApp keyboard problem on iPhone and don't know how to resolve this issue, then we suggest resting your keyboard. By doing that, you will be able to resolve all your iPhone keyboard issues. Here is how you can reset your keyboard on iPhone devices.
Open your Settings application on your iPhone device.
Click the "General" option and hit the "Reset" button.
Now, choose the "Reset Keyboard Dictionary" option.
Soon, your keyboard will reset.
Which Keyboard is Best for WhatsApp?
A good keyboard can completely change your typing experience. We all know that hundreds of Keyboards are available online, but to make it easy for you, we have to find the top 8 Keyboards for WhatsApp. Here are the top 8 Keyboards for WhatsApp that you can use.
Google Gboard
Chrooma keyboard
Real Madrid Keyboard
Simple Keyboard
Memechat Keyboard
Grammarly Keyboard
Bobble Indic Keyboard
Microsoft SwiftKey
Useful Tip: How to Transfer WhatsApp Data from Android to iPhone?
If you want to transfer your WhatsApp data from Android to iPhone, we recommend using iToolab WatsGo WhatsApp Transfer. iToolab allows users to transfer their data from Android to iPhone quickly. With the help of this tool, users can transfer any type of WhatsApp data, such as Photos, Text, Videos, and more. Further, this tool supports the latest iOS and Android devices, such as iOS 17 or Android 14.
The interface of this program is easy to use, meaning that a newbie with no tech knowledge can easily transfer their WhatsApp data without professional help.
Follow the below steps to transfer WhatsApp data from Android to iPhone.
Step 1. Go to iToolab's official site and download the WatsGo on your PC. Select the WhatsApp transfer from the main menu.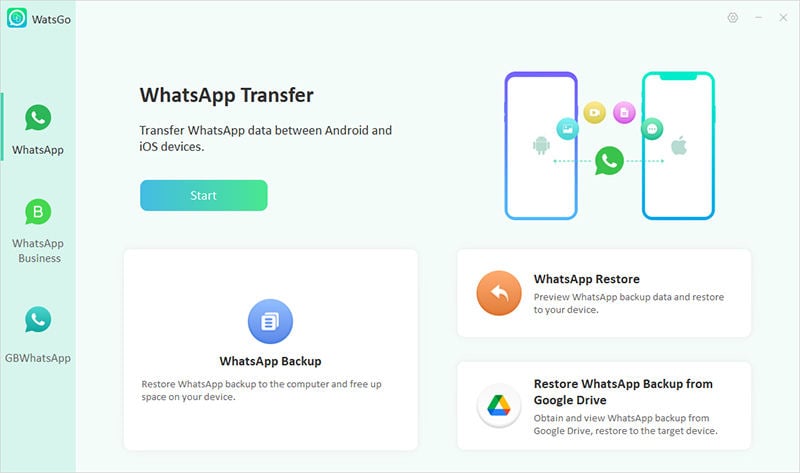 Step 2. Connect both Android and iOS devices to your PC via USB cable. Uses the arrow to flip the two devices and adjust the source and target device.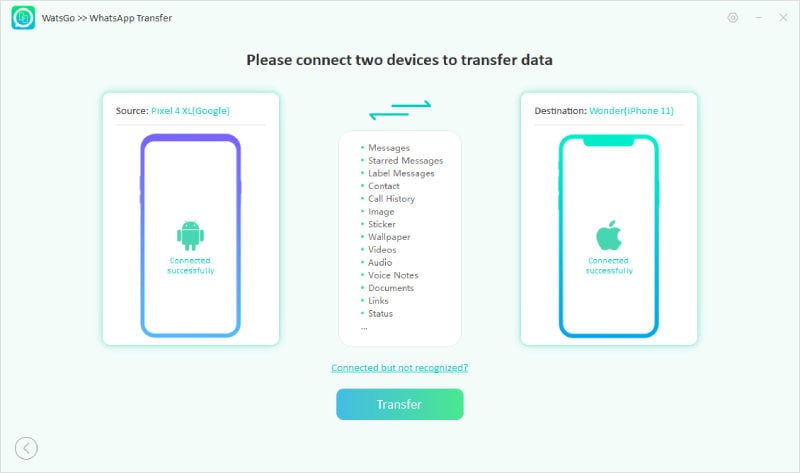 Step 3. Once you have successfully connected your device, the program will remind you that the target device will be overwritten. Click on Continue to move to the next step. Select the WhatsApp data you want to transfer on your iPhone.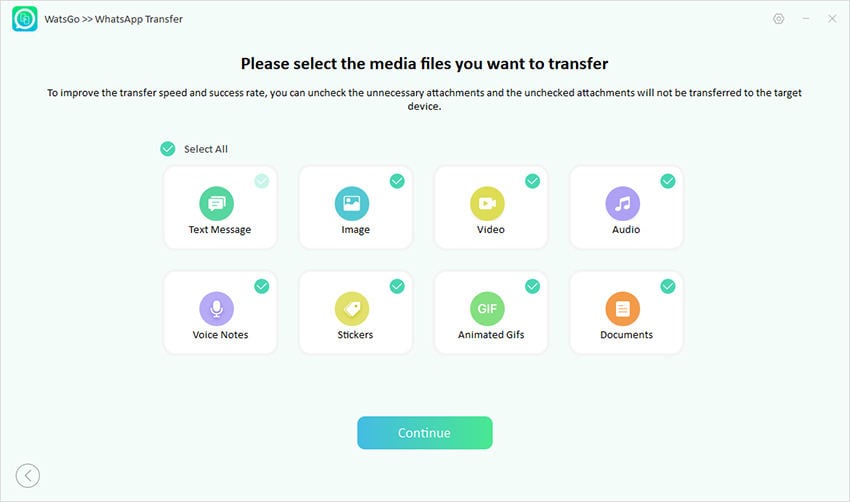 Step 4. Enable end-to-end encryption on your Android device. Follow the steps mentioned in the below image to do it.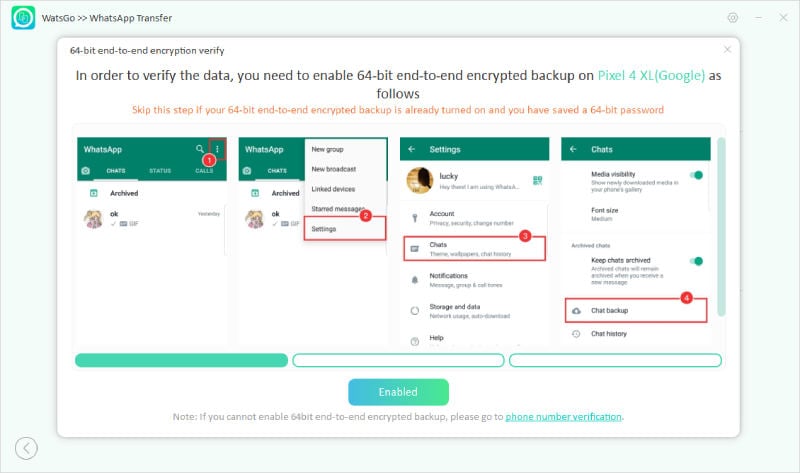 Step 5. Now verify the backup with a 64-bit password. Wait a while because the program will convert the Android backup to the iPhone format.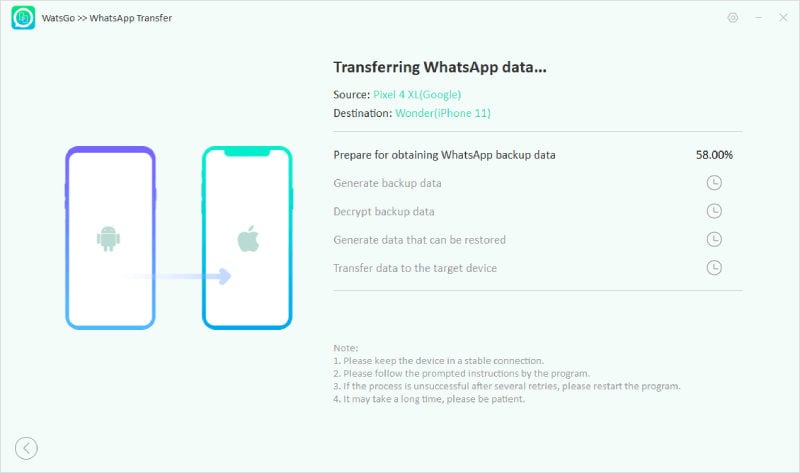 Step 6. Finally, you have successfully transferred your WhatsApp data to your iPhone.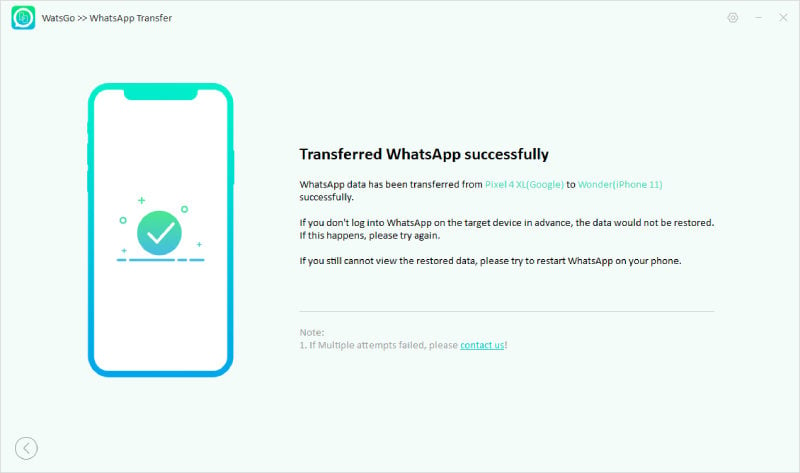 Conclusion
Why is WhatsApp not showing typing? This guide has mentioned the top 5 ways to fix the WhatsApp keyboard problem. Hopefully, after following this guide, you can solve this issue. Also, we have mentioned how you can easily transfer your WhatsApp data from one device to another using iToolab WatsGo software.