As we all know, more than 2 Billion people use this app daily, which makes it one of the most used messaging apps in the world. With the help of WhatsApp, people can send and receive Pic, Text, Voice Text, Documents, and more.
But since people use WhatsApp to share their personal information, Privacy has become a big deal. Recently WhatsApp has launched a new feature known as WhatsApp Chat lock, and in this blog, we will discuss all you need to know about this feature and how to lock chat on WhatsApp.
WhatsApp Chat Lock Official Feature Newly Released 2023!
Meta has found a new way to keep your messages private and secure. They recently announced a new feature on WhatsApp known as Chat Lock. With the help of this feature now users can protect their most intimate conversation.
If you want to know how to lock WhatsApp chat without any app, this new feature will let you lock your private conversation without the help of any third-party App. Here are the top features of WhatsApp Chat Lock.
1. Lock Individual Conversation in Folder
Since the release of this feature now, users don't have to lock their chats on Archived mode to protect it from others. This new feature will allow you to put your conversation in a new folder and lock it with a password or biometric.
2. Lock Chats From the Notification Panel
When you have locked a chat on WhatsApp with the help of these new features, all the notifications related to locked chats will automatically hide from the Notification Panel.
3. How to Turn on/Off Chat Lock
Follow the steps below to turn on/off Chat lock on WhatsApp.
To get this feature on your WhatsApp, first, you have to upgrade your WhatsApp to the latest version.
Then launch the App on your Smartphone and open the chat you want to lock.
Open the Chat info section and turn on the toggle button to turn on the Chat lock feature.
Now tap lock this chat with fingerprint or Face ID.
The Chat lock feature is now enabled on your WhatsApp; let's show you how to turn off the chat lock feature.
Go to the locked chat and then again open the Chat info section.
Toggle off the Chat lock and confirm the change by your Fingerprint or Face ID.
[Non-official]Locker for Whats Chat App for Android/iPhone
Before this Chat locks feature was released on WhatsApp, people used non-official lockers for WhatsApp. These lockers help them to lock their WhatsApp chats for free. Here are the Top 6 Locker Apps for Android/iPhone, which help users how to lock chat in WhatsApp.
App 1. Locker for Whats Chat App
This app was a gift for users who want to lock their private chats on WhatsApp. Locker for WhatsApp is completely ad-free. With the help of this app, you can easily lock your personal and group chats. We can say that it is the best Chat locker for WhatsApp.
App 2. Hide Chat For WA – Messages
Hide Chat for WA allows you to protect your WhatsApp Chats with fingerprint and pin. You can easily lock your Chats with a single click. If you don't know how to lock a particular chat in WhatsApp for Android, this app is for you.
Private App Lock is one of the best WhatsApp chat lockers for Android users; with the help of this App, users can lock their chats and group chats with a passcode or a pattern. Moreover, you can also lock archived chats in WhatsApp.
Not only WhatsApp with this Private App Lock, you can also lock other messaging apps on your Android Smartphone, such as Facebook Messenger, Line, and more.
App 4. Messenger and Chat Lock
Messenger and Chat Lock is an app that keeps apps safe on your device. This App lets you lock the apps on an Android device. If you want to ensure that all the Apps on your device are protected with security, this locker is the best choice.
App 5. Password for WhatsApp Messages
With the help of this App, you can easily import all your secret chats from WhatsApp to this locker via email and then secure them with a passcode. No one can access your locked chats without knowing your secret password. This App is only available for iOS users.
Chat Keeper allows you to back up your WhatsApp chat on this app and then secure them with a Passcode and Touch/Face ID. You can easily import your favorite chats into this locker and keep them secure with a passcode.
How to Read Encrypted WhatsApp Chats/Photos/ Videos?
If you want to read Encrypted WhatsApp Chats/Photos/Videos on your computer, then iToolab WatsGo – WhatsApp Transfer, Backup and Restore is the best third-party program to fulfill this job. This program allows you to back up your WhatsApp chats to your computer and then preview the backup chats on your WhatsApp. Moreover, you can easily restore backup chats to any device.
Here are the steps to back up WhatsApp chats from an Android device to a computer.
Step 1. Download the iToolab WatsGo on your computer and then launch it. Choose the WhatsApp Backup option from the main interface.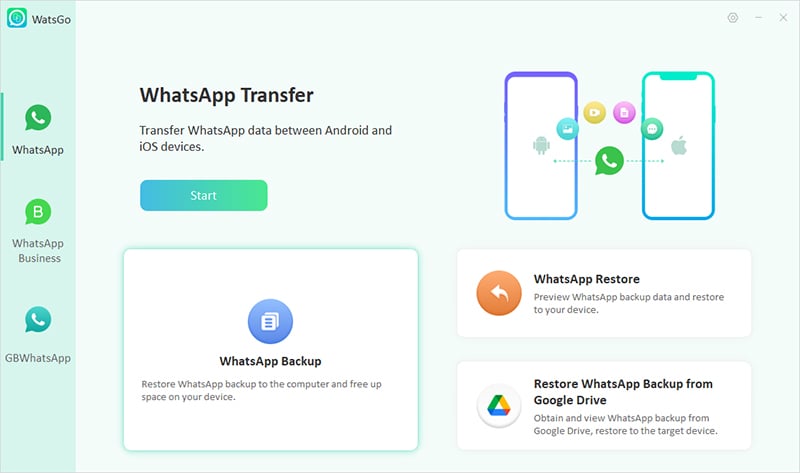 Step 2. Now connect your Android device to the PC and then select the Android device model from the drop-down menu.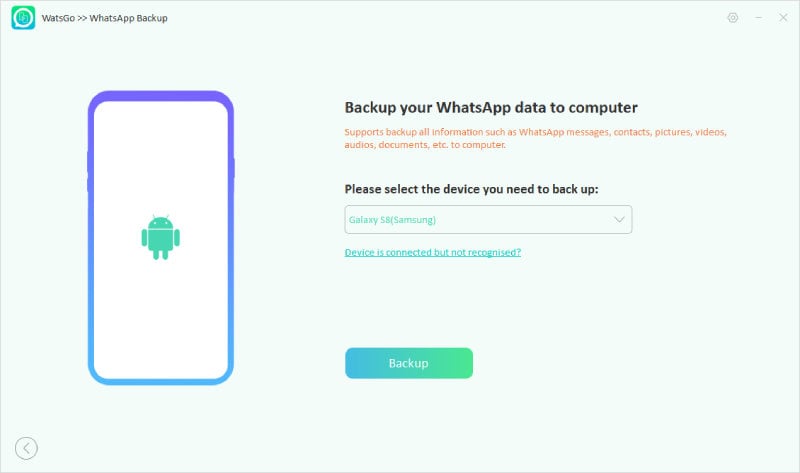 Step 3. Disable the end-to-end encrypted by following the guide below. Ensure to remember the 64-bit password.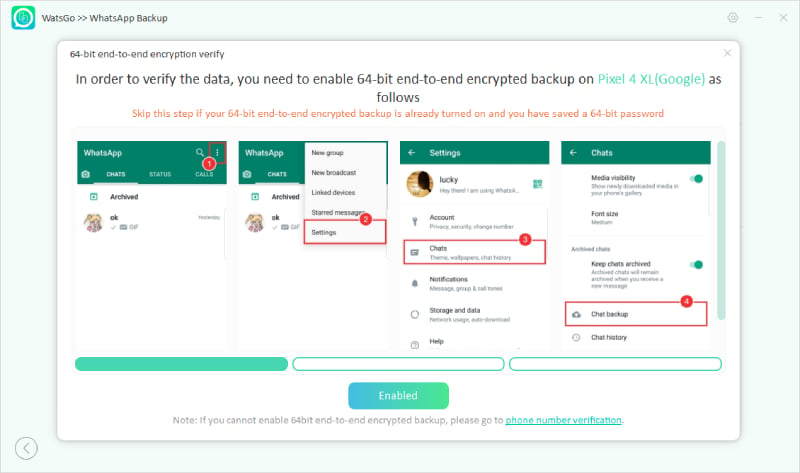 Step 4. Once the end-to-end encrypted is enabled, WatsGo will start obtaining and generating Backup data.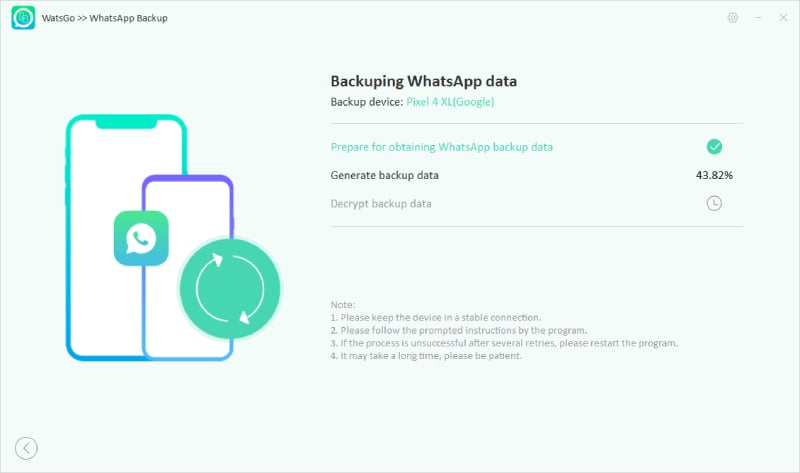 Step 5. Now verify the backup with a 64-bit password.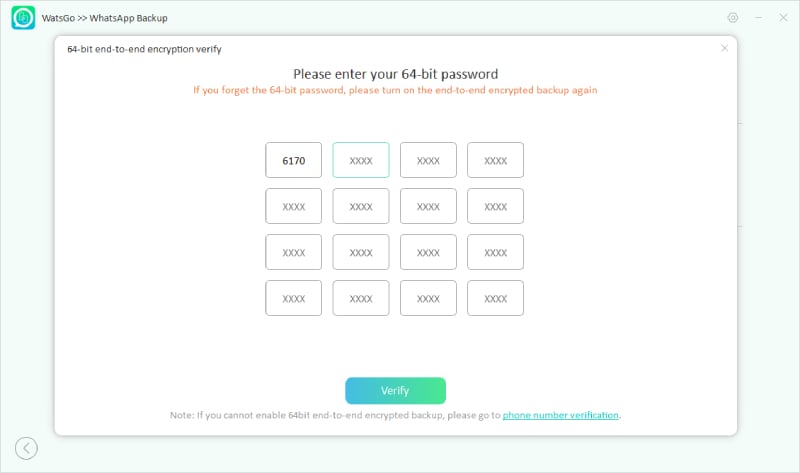 Step 6. Soon all your WhatsApp data will be successfully backed up. If you want to preview your WhatsApp backup, click on the View Backup list and select the recently backed-up file to view your encrypted chats on your device.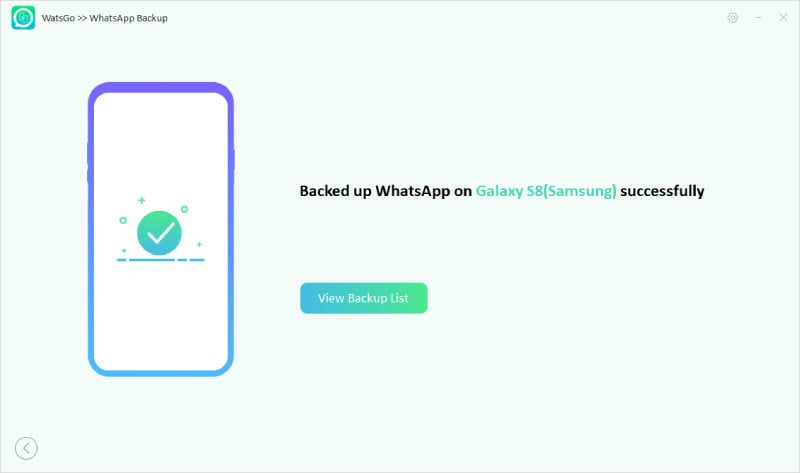 Now, you can check out the detailed WhatsApp backup information from the history backup list.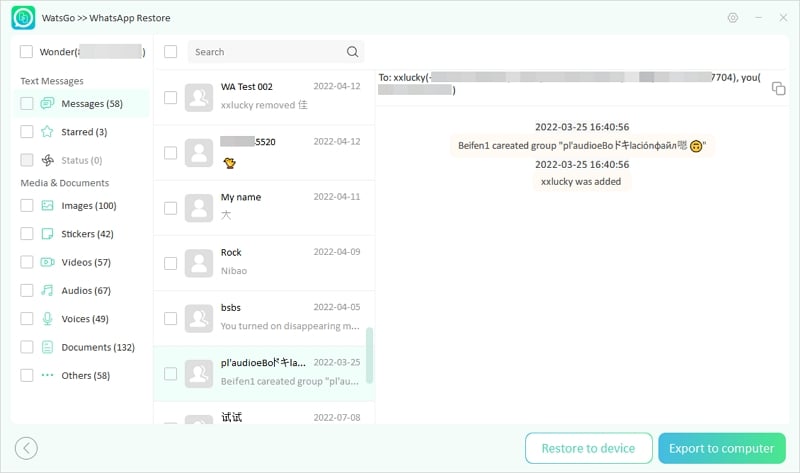 Conclusion
This is the end of this blog; in this article, we have given you great tips about WhatsApp's new feature known as WhatsApp Chat Lock. In this guide, you will also find what's new about this feature and how to enable and disable this feature.