[Round 97747] Oh no! I forgot my computer password! I'm sure that to help me unlock my computer I will need to find the coordinates of the Lock Screen image to 20 meters, since I am using Windows 10 (🤢🤢).

— From Reddit
Well, don't be worried, there are many effective methods that you can try to access your locked computer. We've got your back with our "how to unlock computer without password Windows 10" guide that will assist you in bringing back your important data from a locked computer without installing a new operating system.
Method 1. Unlock Computer without Logging In
To help you sign in to your computer without logging in and a password reset disk, you will need a powerful tool like UnlockGo for windows. It's one of the easiest ways to break the gateway of your computer and sign in without the passwords and it will help you create a new password reset disk with your own bootable USB/DVD/CD with one click in another accessible computer. All you need is to install the UnlockGo – Windows Password Recovery. This is one of the easiest methods for users having lack of technical knowledge and who don't know how to unlock computer without password. Here's the steps you need to know.
Step 1. First of all, install the UnlockGo for windows software on another accessible computer and launch it.
Step 2. You will need a USB/CD/DVD to make it bootable for the locked computer. Insert the USB/CD/DVD, choose the option and click 'Yes' to continue with the process.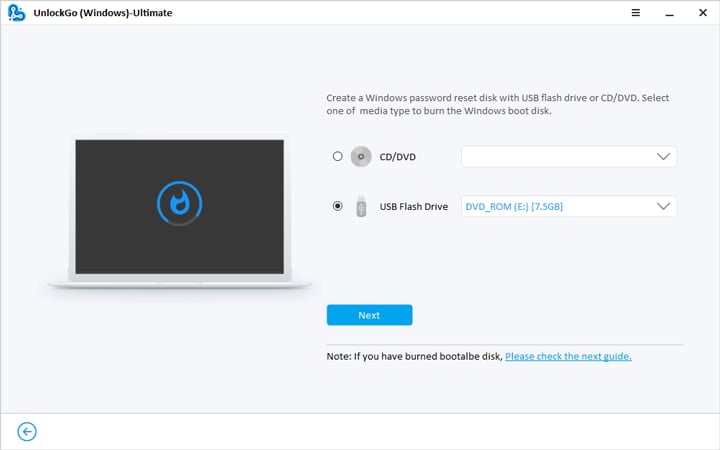 Note: During the burning process, your USB/CD/DVD will be formatted and all the stored data on it will be lost. So make sure you have backup it.
Step 3. After burning, insert the bootable device into the locked computer and keep pressing the key 'F12' while it's booting up. Next, select your bootable device in the list, and then you will see a UnlockGo interface on the screen after a reboot.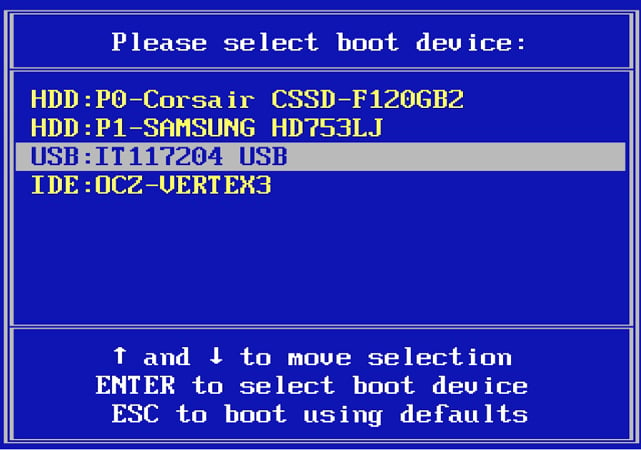 Step 4. On the first window of the UnlockGo (Windows) select your system windows and then select the locked account. In the last, select the option from the 'Select features' according to your requirement and let the software do the rest for you.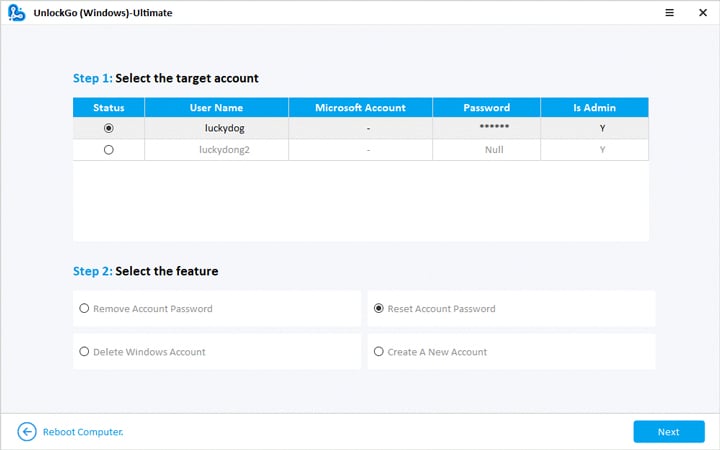 If you want to do it by yourselves then the following methods will help you a lot, it might take a long time and need technical knowledge and skill, but it worths trying in general.
Method 2. Unlock Computer with Command Prompt to Reset Password
First of all, you will need to reboot your computer into safe mode. Just follow the instructions to enter your computer into safe mode.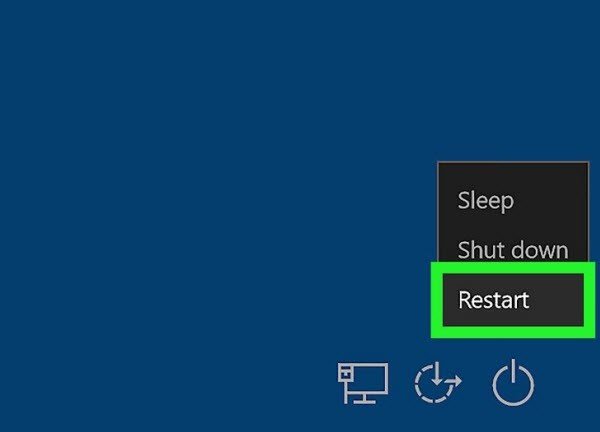 Step 1. On the windows login screen, press the shift and meanwhile and restart it from the shutdown menu. Your computer should reboot and show Advanced Boot Options. Now, select the Troubleshoot.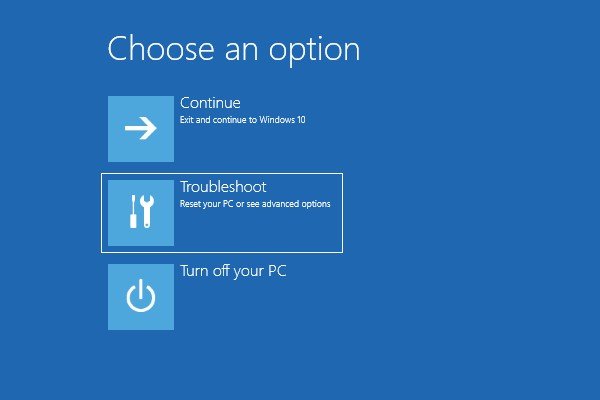 Step 2. Select the Advanced Options from the troubleshooting window. It should process several Advanced Options – select Startup Settings.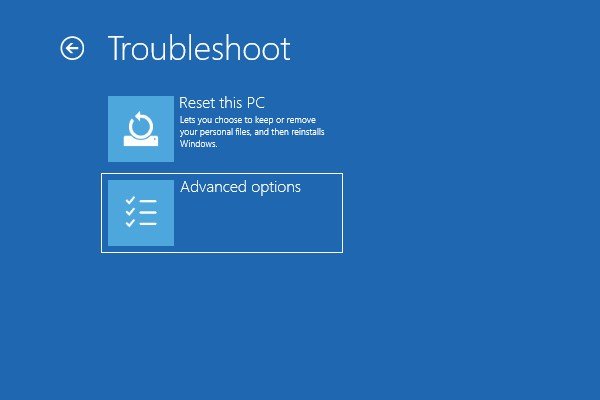 Step 3. A list of Startup Settings will be opened, click on Restart. After the restart, a boot options list will show up. Press 6 number or F6 to select the option 'Enable Safe Mode with Command Prompt' from the list. Now, your computer will boot up in a safe mode.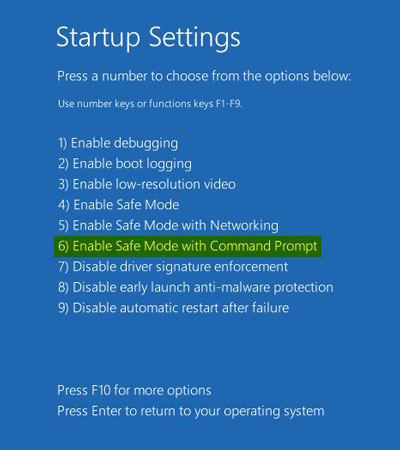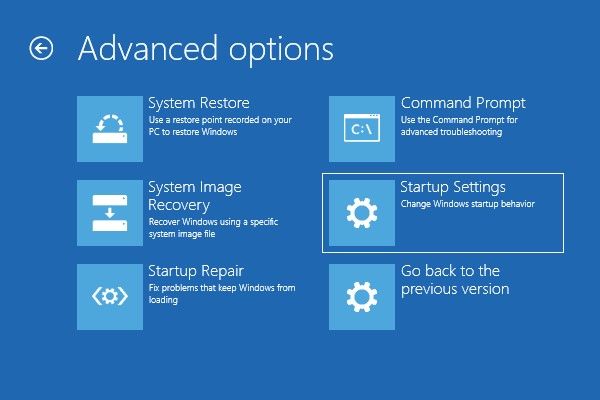 Step 4. Now it should show you the Command prompt window – type 'net user', hit Enter, and then it will show you the all available user account on the PC.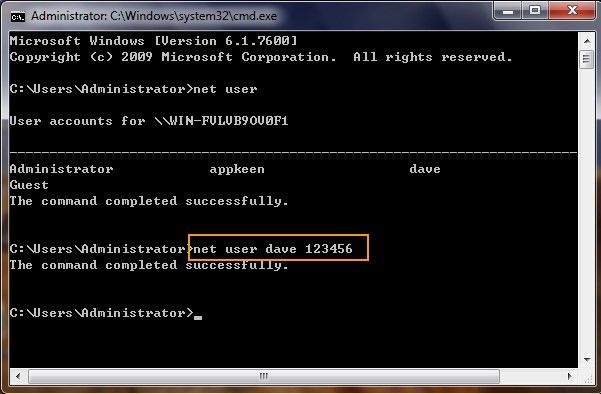 Step 5. Select the locked account and type New password, hit Enter, and then retype the new password – This is how to unlock computer without password windows 10 command prompt.
Method 3. Unlock Computer with Netplwiz to Remove Password
This is another effective method – how to unlock a locked computer without a password windows 10 without installing any software. Just follow the steps to apply the methods correctly.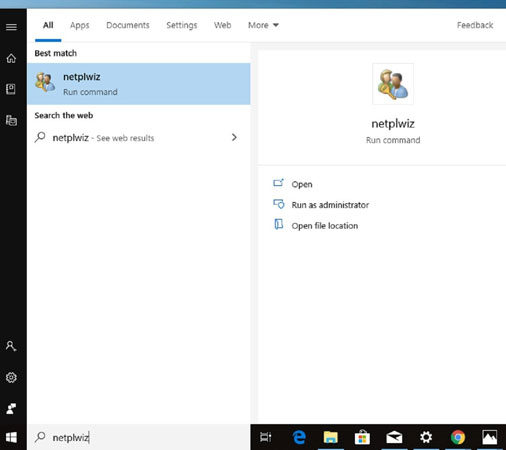 Step 1. First of all, search 'Netplwiz' in the Windows Start menu, and select 'netplwiz'. Once you have opened it, at the top of the window you have a checkmark saying ' Users must enter a username and password to use this computer'. Uncheck it.
Step 2. when you click on the apply, a new window will appear, asking for the current passwords. Enter the passwords twice and the next you try to log in to your computer it will no longer ask you for the password.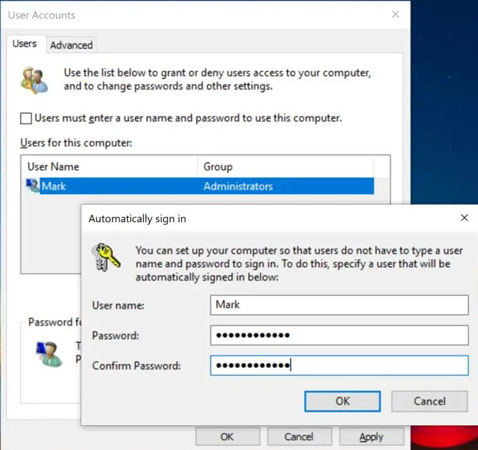 Note: If you like to keep your computer locked but always hate to type in passwords. enable face to unlock or fingerprint to kill the hassle of password typing.
Method 4. Unlock Computer with Installation Disc to Delete Account
Deleting the administrator account is a simple way to login into the computer without the computer. Here are some of the simple steps to delete the admin account on your Windows 10.
Step 1. Boot your computer into the installation disc and press Shift + F10  to replace the utilman.exe with cmd.exe using the command line interface.
Step 2. Now type wpeutil reboot and exit the installation from the disc to reboot your computer from the hard drive. When the login window shows up, click on the ease of access icon to run Command Prompt.
Step 3. Lastly, type 'net user username /delete' in the command prompt window to delete the administrator account from your windows 10.
Method 5.  Unlock Computer from Login Screen to Create A New Account
If any one of the methods isn't effective for you, don't fret about it and try this method to know how to unlock the computer screen windows 10. To unlock your computer screen, you will need to create a new account on your computer.
You don't need a password to create a new account, as you can do it directly from the login window from Windows 10. You just will need to use the Command prompt to type some commands and a new user will be created without the password. There are numerous tutorials available online that can be helpful to learn to unlock your computer screen without a password.
Wrapping Up
In the fast-paced world, forgetting computer passwords is a common thing we deal with. Even though Windows is flooded with the features that facilitate users to unlock it without a password, it requires having the technical knowledge and experience. Thanks to the UnlockGo – Windows Password Recovery smart software that makes it pretty easy for anyone to unlock and understand how to unlock computer without password windows 10 without losing your important data.
It can enter a locked computer by removing or resetting the local account password.
It can also create a password reset disk with one click.
It can be sure that the process of unlocking computer is 100% working and without data loss.