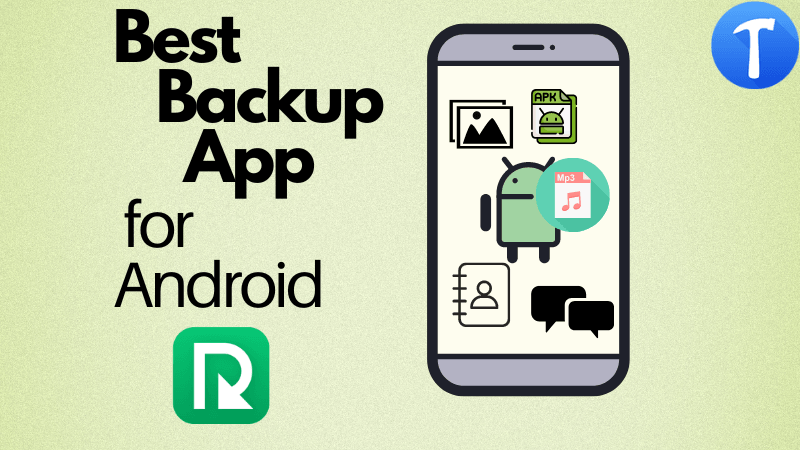 Backup apps are a life savior in case you lose your mobile data mysteriously or changed your Android phone. They save all your mobile data, including photos, videos, documents, SMS messages, apps, and even call logs. The real question arrives: What is the best backup app for Android?
Multiple apps can easily take care of mobile data, save them as a backup and recover them whenever you need. Many of them have different advantages and disadvantages when used. In this article, we will discuss them all so you can choose one as your requirement.
Is It Possible to Back up Everything on Android Phone?
Most people face the problem that many backup apps back up only a few data and leave the other without doing a proper backup. But the iToolab RecoverGo (Android) can back up and recover everything on your phone when you accidentally change or delete it.
RecoverGo is the best Android backup app 2022 that can perform backup and recovery functions of your mobile phone without creating any further issues. It can back up the whole data of your phone so that you never lose any of your essential data.
The Best Backup App for Android Data without Root
Multiple other options can backup app data Android without root in contrast with RecoverGo, which you can use for your data backup and recovery. These options are discussed below:
Autosync:
Autosync can quickly back up your data, including videos, PDFs, documents, eBooks, MP3, and photos. Moreover, this app can also sync your data between different devices. This app also provides the option of auto-sync, for which you can choose your preferred interval depending on your needs.
The disadvantage of having this app is that its free version only allows you to back up a file with a size of less than 10 MB. For its additional features, you will have to pay a premium.
Swift Backup:
Another Android app that can be used for backup is Swift Backup. It is a user-friendly app that allows you to back up files, SMS messages, wallpapers, folders, music, documents, and other apps.
The con of having Swift App is that its premium version needs to be purchased to unlock several additional features. Another disadvantage is that it needs your email account to log in, which can give this app access to your personal information.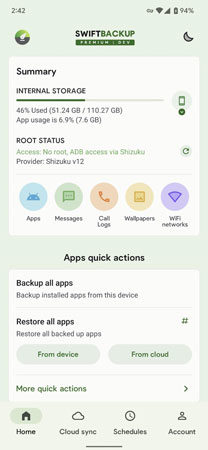 Solid Explorer:
Solid Explorer is a file manager that can back up your data easily to an SD card or any other online cloud backup service of your preference. This app allows you to explore the files on your phone using different filters. It allows you to manage and organize your data with your choice.
The drawback of having Solid Explorer is that its classic version needs to be purchased. Furthermore, it doesn't have a history feature that restricts accessing the recently opened files and folders. Also, browsing and backup system files will still need the option of rooting the device.
Super Backup and Restore:
Super Backup and Restore can let you automatically back up your apps' data, such as contacts, call logs, calendars, and SMS messages to an SD card. You can also back up the APK file of your device to the SD card.
The major downside of using this device is that this app can't be used to back up media such as photos, videos, or music.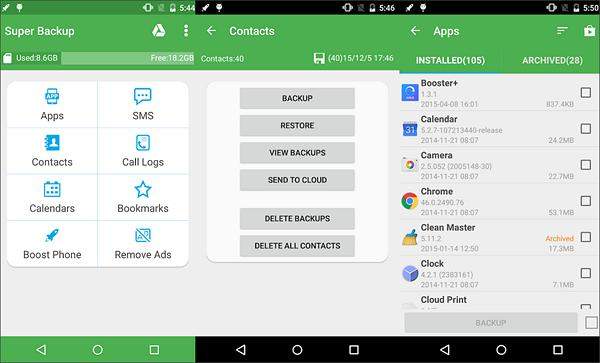 Alpha Backup:
Alpha Backup can back up, restore, and share app and app data of contacts, call logs, and messages. This app also has the feature of scheduling and automating the backup system.
This app do not allow to back up photos, videos, and other files and folders. Furthermore, your device must be rooted while backing up system files.
Resilio Sync:
Resilio Sync connects two devices peer to peer and can back up their data. Resilio allows you to back up any files and folders. It includes photos, videos, music, PDFs, and other documents. You can back up data as much as you want.
Some users complain of it being hanged up and using a lot of battery, resulting in its disadvantages.
Google Photos:
Google Photos is a decent application you can use to back up your photos automatically. The additional feature that this app offers are of editing your photos. Also, it creates short movies from your pictures and can search for any photo with different filters.
Google Photos is designed explicitly to backup photos, and video media only means it can't back up any other files and folders, which eventually adds to its demerits.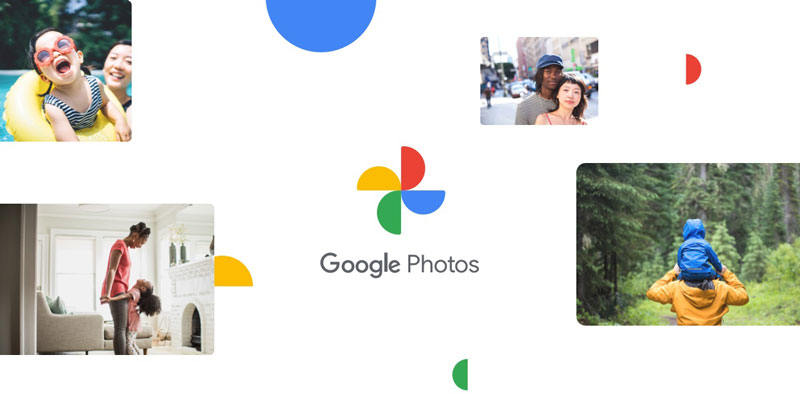 Apart from the above options, another option to back up your device is RecoverGo, which is safe from all the downsides you can face by using other apps. Let's see the best backup and restore app for Android data without root.
RecoverGo:
RecoverGo is one of the best photo backup apps for Android. In contrast, this tool contains various other features that place it at the top of the list compared to other backup apps. It can recover lost data from WhatsApp, WhatsApp Business, contacts, and SMS messages. Moreover, it can recover all the lost data of photos, videos, APK files, documents, eBooks, audio, and more.
Features and Functions:
Android Data Recovery has got these features and functions:
It can also recover photos, videos, call logs, and over 11+ other file types.
It can restore all your WhatsApp messages without the need for a backup.
It can recover all data of WhatsApp as well as WhatsApp Business.
Recover all lost files despite having broken screens, accidental deletion, water damage, system crash, forgotten password, Jailbreak or ROM flashing, and device damage.
It has the highest data recovery success and support rate.
It can also recover files from SD cards and internal memory.
RecoverGo allows you to preview and select only the specific data you want to restore.
It is suitable for 6000+ Android phones and tablets, including Android 13.
How to Use the Best Backup App for Android
No technical expertise is required to use the best Android backup app – RecoverGo. In just three simple steps, you can quickly recover all your deleted Android data without any need to root your device.
Step 1: Install RecoverGo on your PC. Now, connect your Android device with it.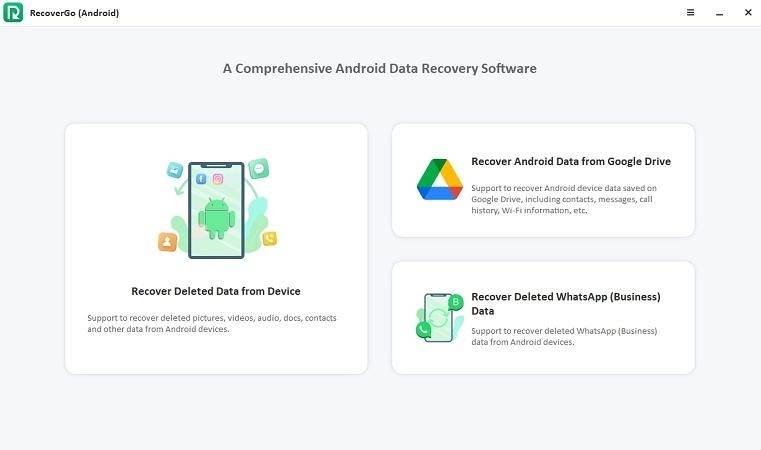 Step 2: In the next step, you have to select the "Type of Files" you want the software to scan, you can select images, videos, pdf, text documents etc. As shown below.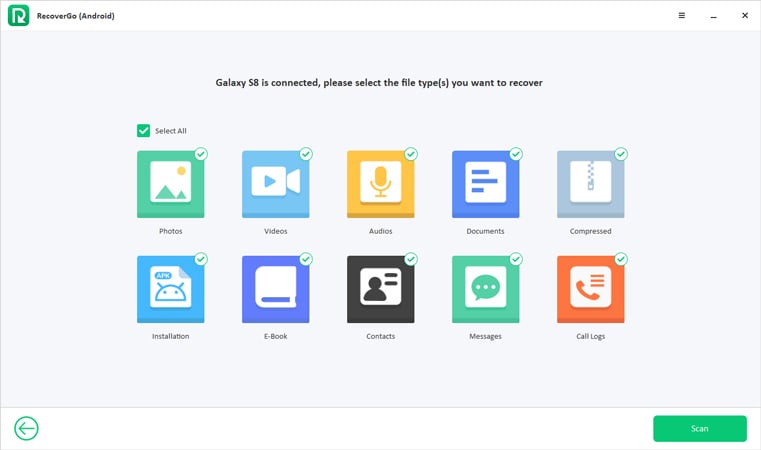 Step 3: Now, RecoverGo will then start scanning your lost data. But before doing this step you have to enable USB Debugging on your device. Below you will find the complete steps on how to enable USB Debugging on your device.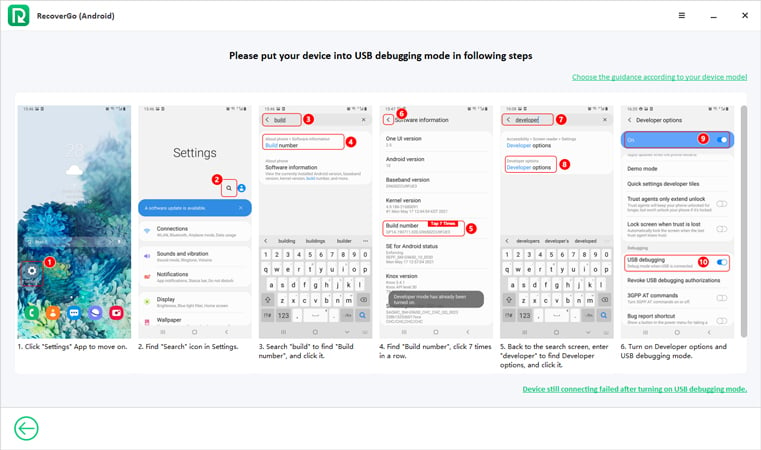 Step 4: Now the RecoverGo will start scanning your deleted files, it may take a while to complete and you have to put your phone in unlock state. The scan might take minutes depending upon the number of files and their size. After scanning, you can check the deleted files and select them for recovery.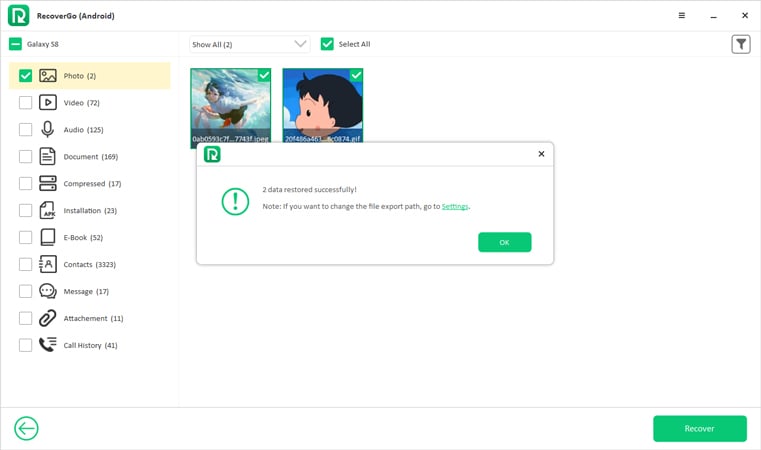 Frequent Asked Questions about Backup App for Android
What's the Best Free Backup App for Android?
There are numerous options to back up your device, such as Autosync, Alpha Backup, Super Backup and Restore, Swift Backup, Solid Explorer, Resilio Sync, and Google Photos. These apps have their advantages and disadvantages as they are free tools, and free tools can't be perfect.
Is Backup App for Android Safe to Use?
RecoverGo is the best Android app to back up text messages and other media. It is safe and legit to use.
In a Nutshell
Users always search for the best backup app for Android to back up all their important stuff. RecoverGo is the best backup tool you can always use to back up your data. This app is free from all the disadvantages and can execute all the actions flawlessly.