Have you ever deleted or lost contacts from your phone and felt the agony of collecting all the contacts again? Well, we know that the process of deleted contact recovery can be quite a nuisance. It is more difficult for someone who has never recovered deleted contacts. But through this article, you can learn how to recover deleted contacts on Android phone without backup in detail.
How to Recover Deleted Contacts on Android Phone
Our phones contain hundreds of different contacts and numbers of our loved ones. Usually, the phone numbers in our Android devices are saved in various ways, such as: Within the SIM Card/Phone book applications; On Google Contacts; On Gmail.
From now onwards, we will let you know about different ways of how to recover deleted contacts on Android using some of the commonest solutions and along with one of the best solutions to resolve this problem.
Way 1. Best Deleted Contact Recovery App for Android
If you are looking for the best deleted contact recovery app for Android, then RecoverGo is your answer. With iToolab RecoverGo (Android), you can easily get your deleted contacts back on your Android phone.
RecoverGo Android Data Recovery is one of the best deleted contact recovery app for Android. This application stands out against numerous other applications and software products, and with its help, you can easily recover your deleted contacts. RecoverGo (Android) can recover all the lost data of photos, videos, APK files, documents, eBooks, audio, and other critical data on your Android mobile phone.
How to Use RecoverGo Android Data Recovery for your Android Phone
Using RecoverGo Android Data Recovery is incredibly simple. You can begin recovering contacts for your Android phone with some simple steps. All of these steps are mentioned below:
Step 1: Install RecoverGo (Android) on your PC. Now, connect your Android device whose contacts you want to recover, select the "Type of Files" you want the software to scan. From here, you can select the Contact option, as shown below.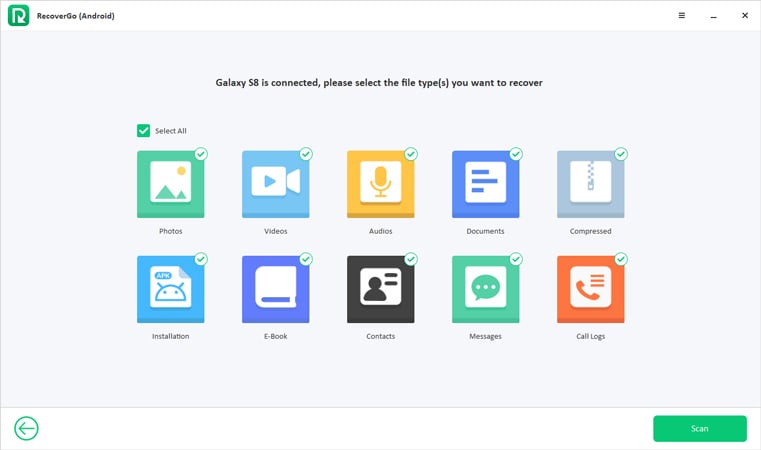 Step 2: Now, RecoverGo will then start scanning your lost data. But before doing this step, you must enable USB Debugging on your device. Below are the complete steps to enable USB Debugging on your device.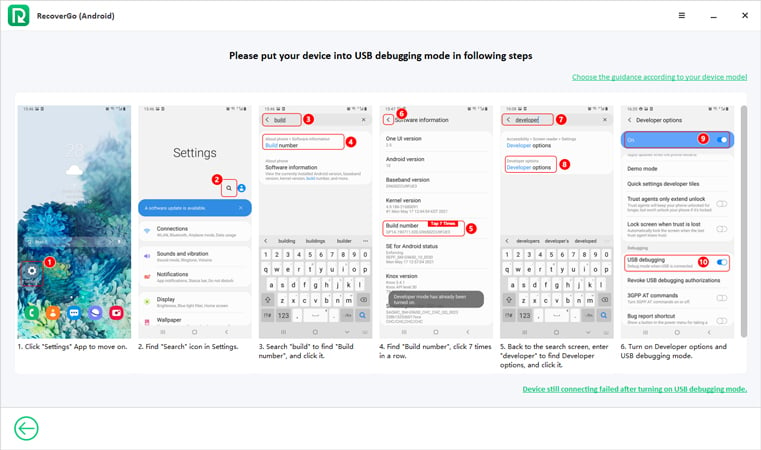 Step 3
: RecoverGo will start scanning your deleted files, it may take a while to complete and you have to put your phone in unlock state. After a while, the retrieved files will be shown to you. A message to recover your data will also be appear.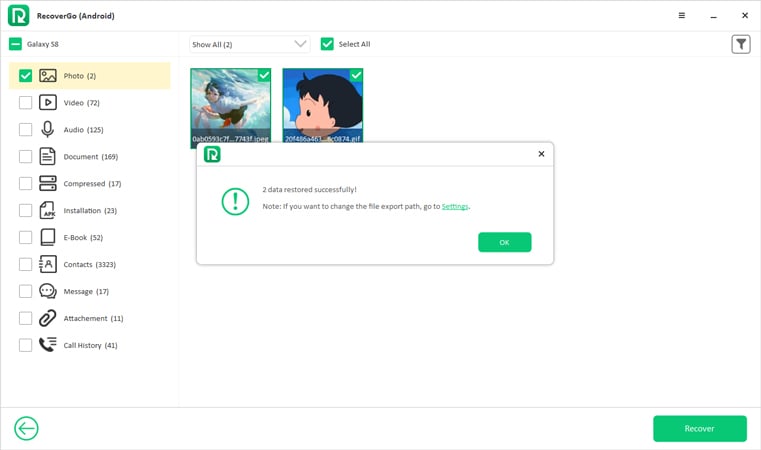 Way 2. Recover Deleted Contacts on Settings
Another way to restore deleted contacts Android recovery is to use Settings on your Android phone. While in the Settings app, you must use the steps given below:
Step 1: Open Settings > Google Services.
Step 2: Look for the Setup & Restore options. Touch and hold one of the contacts you recently deleted, and then choose the Restore Contacts option.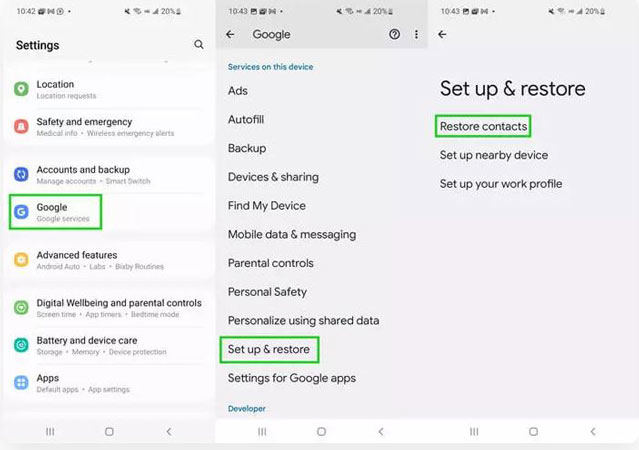 Here, you should know that if this option is not available on your phone, it implies that recovery of the deleted options is not possible.
Way 3. Recover Deleted Contacts on Cloud
Using your phone's cloud is also one of the ways with which you can perform the deleted contacts Android recovery operation. However, before performing this operation, you must ensure that you have already synchronized your contacts list with your cloud server. To recover your contacts using your cloud, you have to perform the following steps:
Step 1: Login to your phone's cloud service.
Step 2: Find the name of your phone, for example: Samsung Cloud (or any other similar options).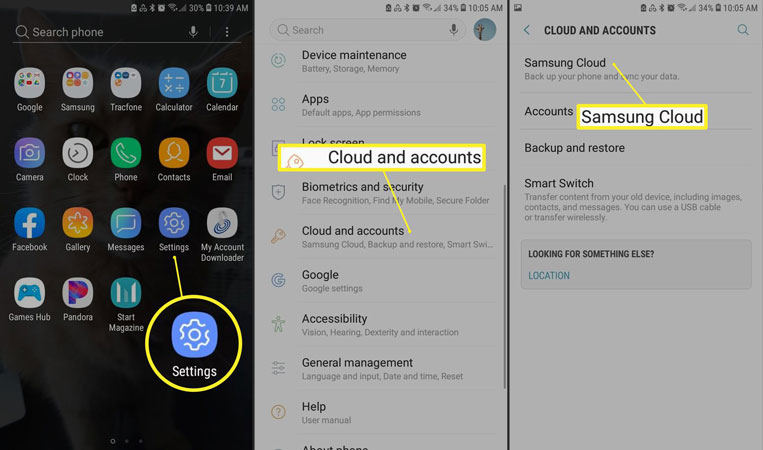 Step 3: Look for your recently deleted contacts and choose the restore data (Contacts on Phone) to get your deleted contacts back.
Way 4. Recover Deleted Contact on Google Account
If you are interested in learning more about regarding all deleted contacts number recovery for your Android phone, then you can take a look at this blogs.
Apart from this, we are also presenting you with another method through which you can restore your deleted Google contacts. To do so, you must proceed as follows:
Step 1: Log in to your Google browser by visiting the link using the Google account with which your Android phone was linked (from which you deleted your contacts accidentally).
Step 2: Now, on the left side of Google's page tab find "Trash" option in the name of "Bin".
Step 3: When you click on it, the name of associated accounts on the phone shown up. On the top right corner, of the account you want to retrieved, click on Recover Option. This way, the contact restoration process will commence.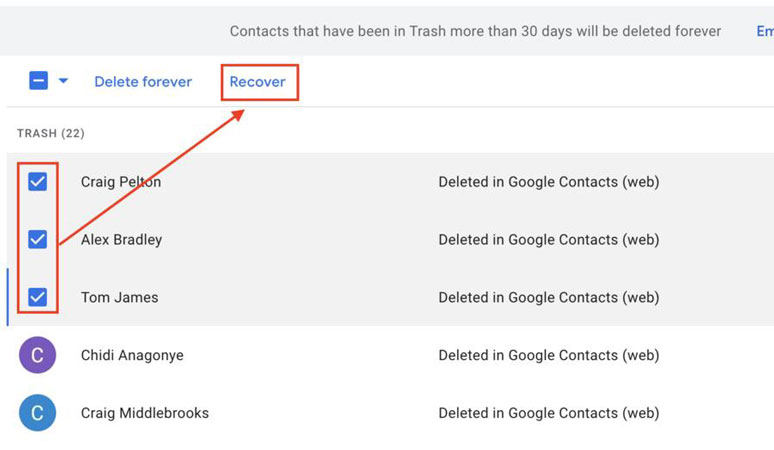 Step 4: Here, you will be asked to choose the time period for restoring the changes. This period can range from the last ten minutes to the last 30 days.
After selecting the period, all the changes you made will be duly reversed, and your deleted contacts will be restored.
Extra Warning: How to Avoid Losing Contact on Android Phone
Now, since we have covered all of the important points regarding deleted contact recovery app, we want to tell you the most crucial way in which you can avoid losing your contacts in the first place. You can create a backup using one of the best backup apps, i.e., RecoverGo (Android). We have detailed the process of creating a backup using this software.
Apart from this product, you can also use other solutions, such as Google Drive.
Final Words
This article discussed the problems you can face by accidentally deleting contacts from your phone. Although recovering these contacts might look troublesome initially, you can make this process easier by using iToolab RecoverGo (Android). Aside from using RecoverGo (Android), we have also mentioned other ways to get your deleted contacts back easily.  
RecoverGo Android: Recover Deleted Contacts Easily
It can recover files from SD cards and internal memory.
It allows you to preview and select the contacts you want to restore.
It is suitable for 6000+ Android phones and tablets, including Android 13.
It can also recover photos, videos, call logs, and over 11+ other file types.