Losing photos from your Samsung phone due to water damage can be a heartbreaking and frustrating experience, especially if those photos hold precious memories. If you encounter this trouble, don't worry, there are several methods on how to retrieve photos from water damaged Samsung phone, keep reading.
Is It Possible to Recover Photos from a Water Damaged Phone?
Yes, of course, but the success of the recovery depends on several factors. To recover photos from a water damaged phone, taking immediate action and following the correct steps are essential.
What Should We Do When Samsung Phones Get Water Damaged?
First, remove the phone from the water and turn it off immediately to prevent further damage. If you're unsure about the water damage, you should pay particular attention to the screen. Also, the liquid detection indication, which is situated immediately below the SIM card frame, will be activated.
Then, remove the battery, SIM card, and memory card, and dry the phone using various methods, such as placing it in a bowl of uncooked rice. Don't rush to blow it with a hair dryer, it may blow water into the motherboard.
After that, turn it on to check if it works fine and if all the data is secure. If it doesn't start, you can take it to a Samsung repair store and it can be fixed.
Below we'll talk about how to recover photos from water damaged Samsung with a backup and a fixed Samsung phone, choose the most suitable way to recover your data.
How to Retrieve Photos from Water Damaged Samsung Phone If You Backed up?
If you have backed up these photos, photos will be preserved even if your Samsung phone gets water damaged. You can easily retrieve your photos using below two methods.
❗ Limitation: Keep in mind that the availability of these two methods are depend on whether you have previously backed them up to the cloud. If you don't have any backup, you can try the method we wrote in part 3.
Method 1: Recover Lost Photos From Google Photos
If you had turned on backup Google Photos, then your photos and videos will be saved automatically. If you want to recover your data, you just need to follow these simple steps:
Step 1: Open the Google Photos app or go to photos.google.com on your computer.
Step 2: Log in to your account using your credentials.
Step 3: Select the photos you want to recover and download them from Google Photos.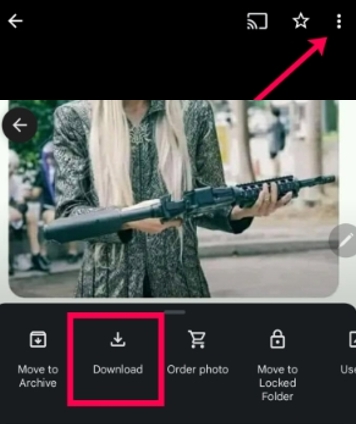 Step 4: If you didn't find the required photos, click on the Trash folder of your Google Photos account to see if the lost photos were moved there. Google Photos keeps deleted photos in the trash folder for up to 60 days before permanently deleting them.
Step 5: Once you select "Restore," the lost photo or video will be moved back to your Google Photos library and visible again in your albums.
Well, there is another method to retrieve your photos if you've backed up via One Drive. Let's check it out!
Method 2: Get Photos Back via One Drive
OneDrive is a cloud-based storage solution that allows you to store and access your files from anywhere with an internet connection. If you have enabled automatic backup of your photos to OneDrive, you can restore them easily.
Go to the OneDrive website, locate the folder where the photos were stored, select the photos you want to restore, and choose the "Restore" option.
If you have a backup, you must have retrieved photos by the above guide steps, if not, please keep reading.
How to Recover Data from Water Damaged Samsung Phone without Backup?
If you don't have any backups, the best way is to recover from your phone's internal memory. There are many data recovery software that can help you achieve this goal, iToolab RecoverGo Android – Android Data Recovery is always the first choice.
🌟 Limitation: This method requires you to repair your water damaged Samsung. Samsung Aftermarket also offers data recovery service, but it is always expensive, so we recommend another affordable way here, after your Samsung phone can be turned on, you can first try iToolab RecoverGo Android to retrieve your data, it has the highest recovery rate and you can get a 30% discount with the following code.
iToolab RecoverGo Android Coupon
30% OFF iToolab coupon code for RecoverGo Android
-30% 100%
RecoverGo Android is compatible with thousands of Android devices, including Samsung, Xiaomi, Huawei, etc. This tool has the fastest scanning speed and the highest data recovery rate. Moreover, you can use it without any technical.
Here are some steps on how you can retrieve photos from RecoverGo:
Step 1 Download and launch RecoverGo Android, select "Recover Deleted Data from Device" from the main interface.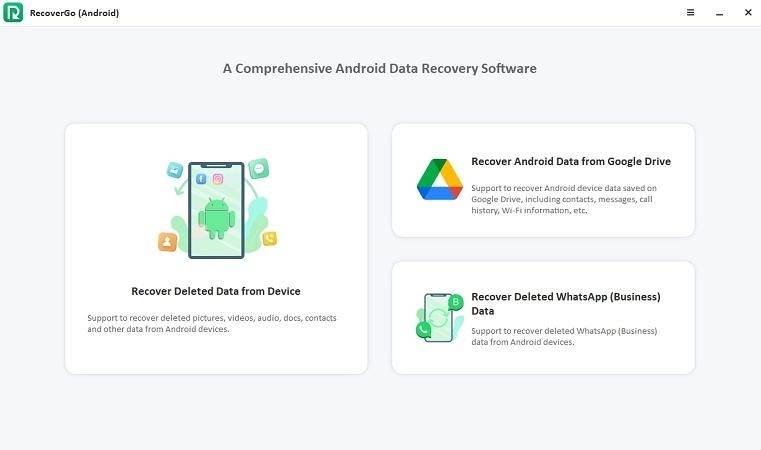 Step 2 Connect your Samsung phone to your computer with a USB cable. Follow the instructions to enable USB debugging.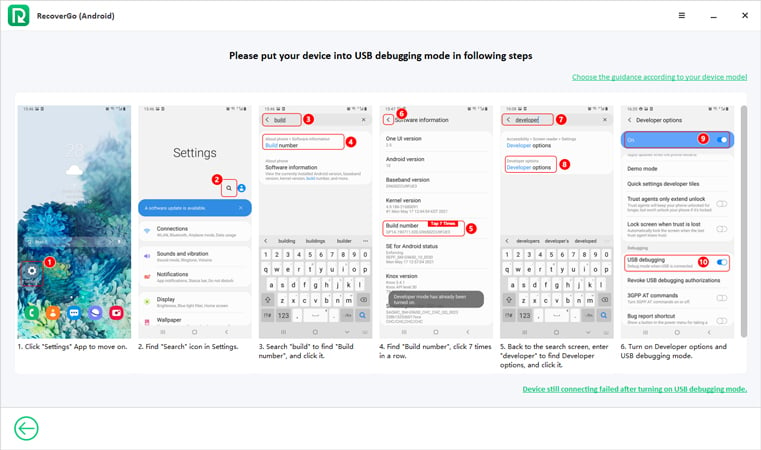 Step 3 Select the types of files you want to recover, such as photos or videos, and click "Scan". It will begin scanning your Samsung phone for the selected file types. Leave your phone in an unlocked state until the scan is complete.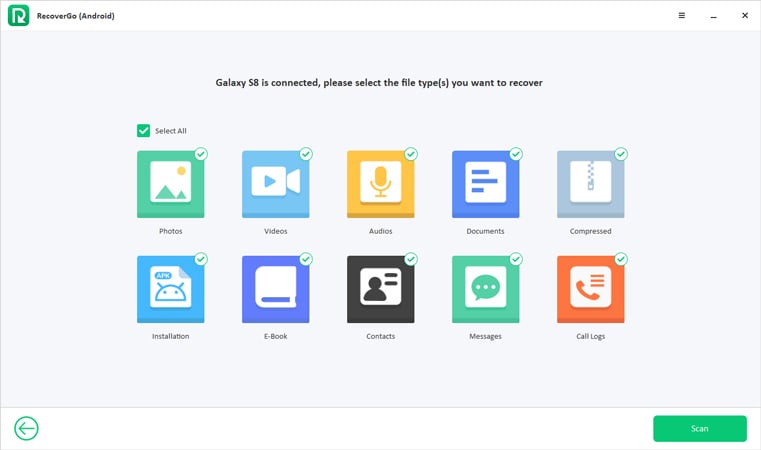 Step 4 Once the scanning process is complete, you'll be able to preview the recoverable photos. Select the photos you want to recover and click "Recover" to save them to your computer.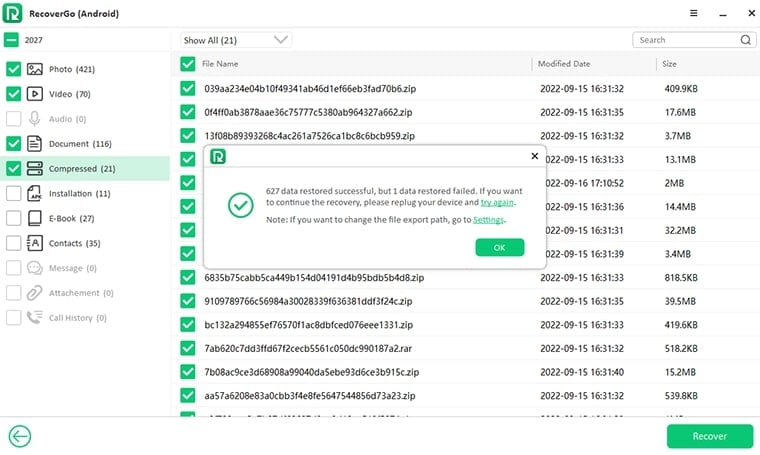 With the help of RecoverGo Android, recovering data from a water damaged phone is so easy, also RecoverGo offers a free version that you can try and preview the recoverable photos.
Bonus Tips to Avoid Data Losing from Water Damaged/Dead Samsung Phone
Well, we all can relate that losing data from a water damaged/dead Samsung phone can be a frustrating and stressful experience. Here are some tips to avoid data loss:
Purchase warranty service when you buy a new phone, in case you need any repairs.
Backing up data regularly is the best way to avoid data loss.
Protect phones by keeping it in a waterproof case or a tightly sealed plastic bag if you need to take it near water like pools, lakes, beaches.
If your phone has been flooded, check the damaged degree first, if it is physically damaged, you can try the above ways, if it is hardware damage that can't be turned off, seek professional assistance from after-sales service.
By following these tips, you may be able to salvage your data and avoid the frustration of losing photos and precious memories.
Final Words
Lastly, retrieving photos from a water damaged Samsung phone can be challenging, but following the methods above is possible. It's always recommend to back up your phone to avoid data loss. Also RecoverGo Android is a powerful Android recovery software for water damaged Samsung phones you can't miss.