Xiaomi users have a growing global footprint, and many users store data on their Xiaomi devices based on its large storage space. However, this is not a foolproof method to keep your data. Because you can lose data for various reasons, such as accidental deletion or system crash.
Things get easier when you use Xiaomi data recovery tool and you can even get your lost data back without any backup. And that's the real reason why users need this tool. After all, who seeks tools when they have backups? In this article, we will introduce a super useful tool to help you recover Xiaomi data.
Xiaomi Data Recovery Tool Free Download
Talking about Xiaomi data recovery, iToolab RecoverGo (Android) is a perfect solution for you all. This tool recovers deleted contacts, photos, videos, call logs, and 10+ file types. It can also recover your WhatsApp messages without any backup. Moreover, this tool has the highest success rate in data recovery and support rate in the market. You don't need to root your Xiaomi device or put it into safe mode. All in all, this Xiaomi data recovery software can help you to bring back your lost data.
Steps to Recover Xiaomi Data with RecoverGo (Android)
By performing the easy steps, all your lost data will be retrieved through RecoverGo – Android Data Recovery. The primary is you have to enable USB debugging, you can read this guide or follow the on-screen introductions to enable it. Let's get started!
Step 1: Connect your Android device
First, install and open RecoverGo for Android and make a connection of your device to your PC using a USB cable. Then, opt for the "Recover Deleted Data from Device" option.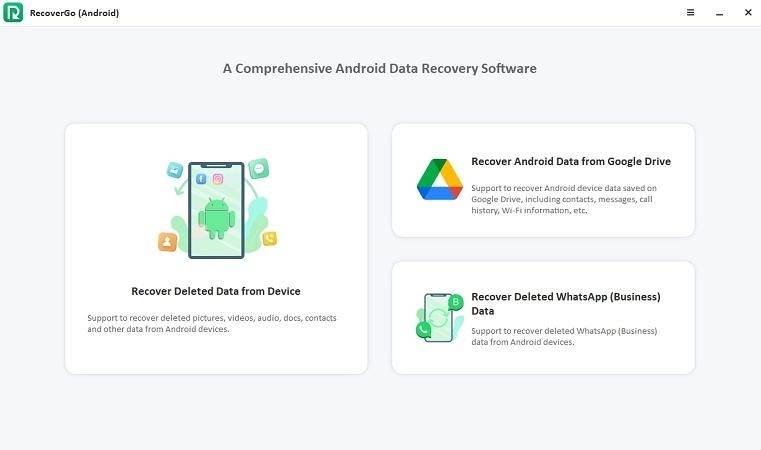 Step 2: Scanning of your Android device
When the files are displayed on the screen, you need to select the file to be recovered and hit the "Scan" button to start the scanning process.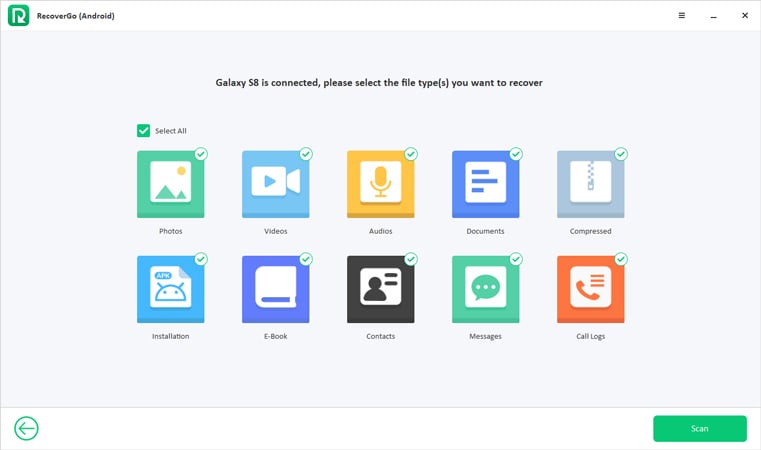 Step 3: USB debugging mode
Now, enable USB debugging on Xiaomi device with the on-screen steps. After that, RecoverGo (Android) will start scanning your data.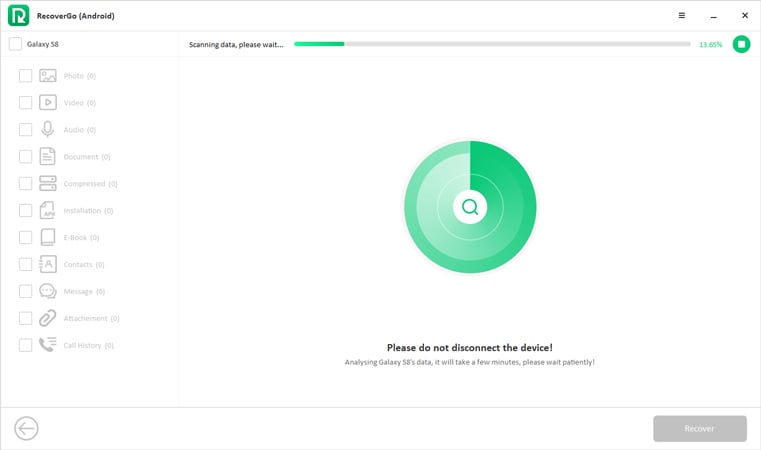 Step 4: Recover your lost Android data
After scanning, select the files you want to recover by clicking your device name and then select one or all files. At last, hit the "Recover" button.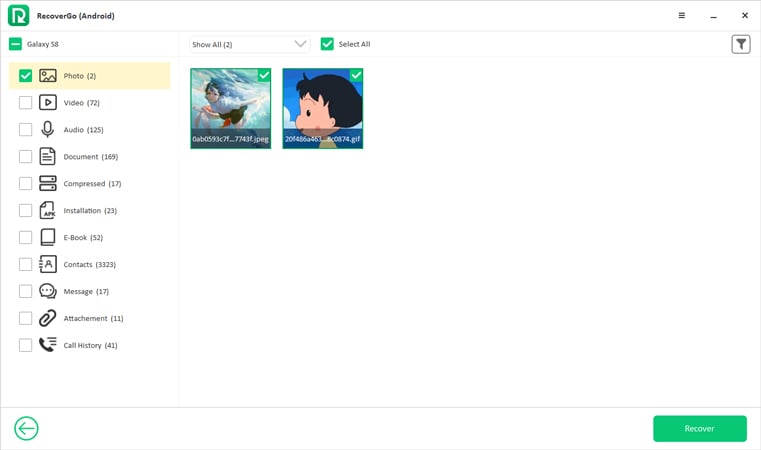 In addition to Xiaomi, other Android phones similar to the Redmi, Samsung and other such products are supported. Compares to other Samsung recovery software, it's cheaper and totally meets your recovery needs. There is no reason to not choose RecoverGo (Android). Use the free trial version to scan your Xiaomi data now.
Can you Recover Xiaomi Data without Software?
Yes, you can surely recover deleted Xiaomi data without any software. However, there is one thing you should notice. Make sure you have backed up your data with Mi Cloud or Google Drive before deleting it. Here, we are going to mention two ways to recover Xiaomi data. The first way to recover deleted Xiaomi data is doing it with Mi Cloud and the other is with Xiaomi Backup App. Let's discuss them one by one.
Recover Deleted Xiaomi Data from Mi Cloud
Mi Cloud service allows the Xiaomi user to store their data up to the storage space of 5 GB (which is free). You can follow the below-mentioned steps if you have backed up the data of your device to Mi Cloud.
Step 1: Go to "Settings". Then, jump to "Mi Account" and log in to your Mi Account.
Step 2: Now, tap on "Restore from Backup" which is under the heading "Back Up And Restore".
Step 3: Select the backup files and hit the "Restore using this backup" at the bottom of the screen.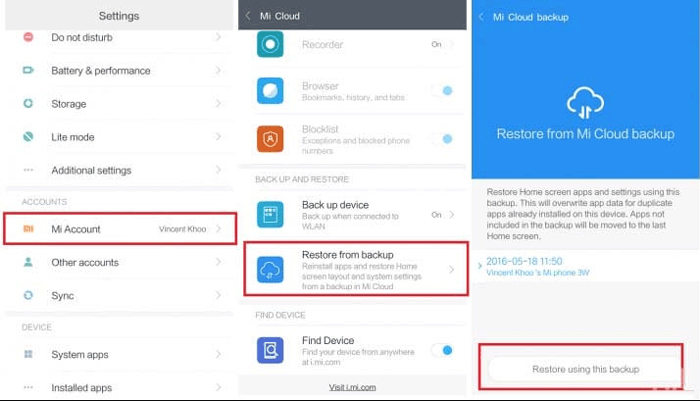 Recover Deleted Files from Xiaomi Backup App
Xiaomi has its own backup app that allows users to easily back up their device's data. Follow the two simple steps mentioned below to recover the data.
Step 1: Launch the Backup app on your Xiaomi device.
Step 2: When you see the backup files, then select those files you want them to recover and hit the "Restore" button at the bottom of the screen.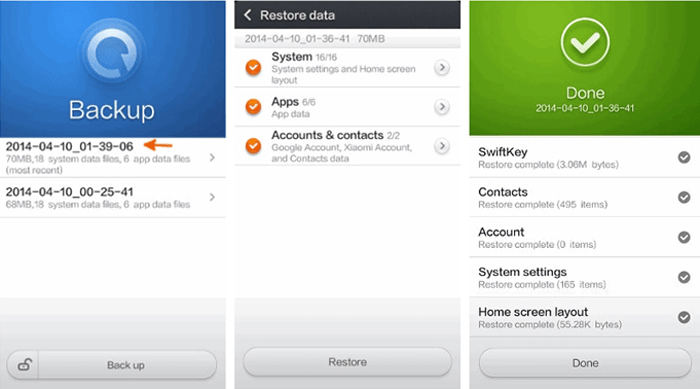 Other Xiaomi Data Recovery Software
There is some other Xiaomi data recovery software that you can use to recover deleted files on your Xiaomi device. Let's discuss them separately.
Coolmuster: This data recovery software is capable of full recovery of any document type, emails, photos, videos, etc. from your Xiaomi device. Coolmuster tool is risk-free and cost-effective. It is completely easy to use and you don't need any technical knowledge to use this software.
Care Data Recovery: This free Xiaomi data recovery tool is capable of recovering permanently deleting files. It can recover the data from your Xiaomi phone in less time. They also claimed to recover the erased data when other software failed to do that.
Samsung Data Recovery: This one comes under the list of the best Android Data Recovery tools. And can also work as a Xiaomi data recovery software tool. Helps to restore all of your deleted data from your phone. You can also able to preview the details of the lost file and recovered file details before retrieving them.
Summary
Whether you lost your phone data intentionally or accidentally on your Xiaomi device, you might want to bring that file, photo, video back into your phone. With the help of Xiaomi data recovery software, it becomes possible to retrieve them. In this article, we have discussed different data recovery software that could help you to solve the issue of data loss.