If you can't sign into apple id, it can get annoying and frustrating, no doubt. It limits how much you can do with the device, including the features you get to use. With the interdependence of iPhone features and the Apple account, you have to find the solution sooner than later. Is it even possible to fix the problem if unable to sign into apple id to begin with? The answer is a resounding yes. Equally important, this article discusses them and explains why they could be in such a situation. So, without further ado, let's dive into the problem and how to fix it.
Why iPhone Not Letting Me Sign into Apple ID
If you cannot log into apple id, here are some of the reasons that may have landed you into that.
You've entered the wrong password
Like any other type of authentication, you need to key in the correct Apple ID coupled with its corresponding password. If that's not the case, the system won't grant you access.
Has a weak Internet connection
You will be accessing the registered login credentials from Apple's iCloud for verification. Without a robust and reliable internet connection, that's impossible.
Sometimes, you are not the one at fault, and the phone could also be acceptable. On the contrary, the Apple servers may be down, making your verification impossible.
Enabling VPN can also make signing into your iPhone impossible.
You shouldn't enable blockers as well since it can hinder the sign-in into your Apple account.
Account settings problems in iMessage or FaceTime app
Sometimes, FaceTime, iMessage or both may be affecting the way your device functions depending on their settings.
Useful 6 Ways to Fix Can't Sign into Apple ID Issue
Having identified the trouble makers, let's dive into the solutions you could use to fix cannot log into apple id issue.
Way 1: Re-sign in Apple ID
It would be wise to log out of your Apple ID and then try signing in again. To do so, open "Settings" and locate your name, usually on top of the screen. Tap on it before clicking on the "Sign Out" button at the bottom of the new screen.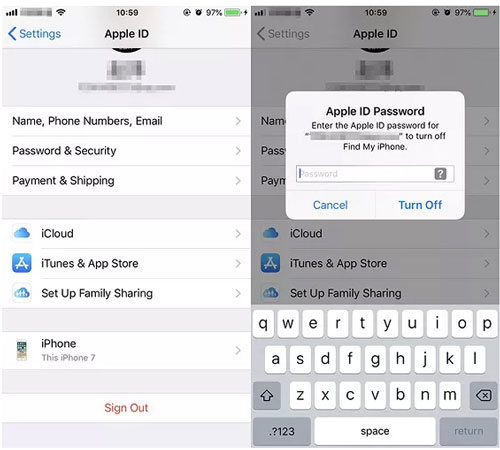 Way 2: Turn on cellular data and turn off Wi-Fi
Sometimes you assume that the Wi-Fi or cellular data is on when that's far from the truth. If that's the issue, the solution is as simple as turning either of them on. Otherwise, verification will be impossible.
Way 3: Force Reboot iPhone
This method has proven to fix many problems, including can't sign into apple id. iPhones have different ways of rebooting them, depending on the model. For instance, press and hold down the Power and Home buttons at the same time until rebooting takes place if you have iPhone SE, 6S, or 6S Plus.
On the other hand, iPhone 7 or 7 Plus demands that you press and hold down the Power and Volume Down buttons simultaneously. The appearance of the Apple logo should tell you to stop pushing.
For iPhone users using version 8 and above, rebooting is also different. Press the Volume Up button and release it quickly. Do the same with the Volume Down button. After that, press then holds down the Side or Power button. Do so until you see the Apple logo on its screen.
Way 4: Disable iMessage and FaceTime
Since the issue may have to do with iMessage or FaceTime settings, these steps could do the trick.
For iMessage
Go to "Settings" > "Messages"
Disable iMessage by toggling its button off
For FaceTime
Go to "Settings" > "Facetime"
Turn it off by toggling the FaceTime button off
Way 5: Reset Apple ID password
You are probably entering the wrong password because you have forgotten yours. Under such circumstances, the best cause of action is resetting the Apple ID password.
It requires you to visit the Apple ID official website.
Tap on "Forgot Apple ID or password".
Key in your user name and Apple ID.
Do as the captcha code directs.
Press on "Continue".
Set your new password guided by the onscreen prompts which follow the previous click.
Way 6: Reset All Settings
This option works best if the issue has to do with the configuration settings. To reset all settings, follow these steps:
Go to "Settings".
Tap on "General".
Go ahead and select "Reset".
Finally, click on "Reset All Settings".
Effective Way to Fix Can't Sign into Apple ID Issue – iToolab FixGo
iToolab FixGo is a tool that has proven to fix many iOS issues. It is a go-to product for various problems, including suspended or brick restart loops. Other issues the tool can solve are the Apple logo, white or blue screen. Its features include:
Repairs more than 200 iOS issues
Entering or exiting recovery mode with a single click
Downgrading iOS without data loss or using iTunes
Fixes more than 200 iTunes problems
Fixes problems associated with Apple TV
Compatible with the latest iPhone, iOS, and iPadOS versions
Follow these steps to fix the iPhone not letting me sign into Apple iID issue
Step 1: Establish a connection between your iPhone and computer. Click on "Fix Now".
Step 2: Download the latest Firmware of your package by clicking on "Download" or manually importing it if already downloaded on your computer by clicking on "Select".
Step 3: Once downloaded, click on "Repair Now". The whole process will takle 3-5 minutes. Then your iPhone will auto reboot.
Also Know: Not Able to Sign out of Apple ID on iPhone
You can as well restore the factory settings or hard reset them if necessary. The solutions should follow this order and proceed only; if the previous one doesn't work. Restart the device, force restart the device, reset it, hard reset, or restore its factory settings.
Conclusion
You no longer have to worry once you can't sign into Apple ID. That's because you not only know what causes the problems but also how to fix them. As annoying as the problem is, knowing how to fix it makes the situation better, no doubt. All in all, choose a right way can help you save a lot of time. You can always rely on iToolab FixGo, as a professional iOS system repair tool it can solve all your iPhone stuck issues. Is this article helpful? Share it with your friends!