A bricked iPad means the device is unresponsive. Nowadays, it is a common issue that your iPad brick after iPadOS 16 update. When the iPad brick after update, you won't be able to turn on your device, the Apple logo won't disappear on the iPad or your iPad will show a black screen with a spinning wheel. However, the iPad brick after-update issue can be fixed by following some methods or by using third-party software. In this article, we are introducing 5 ways to get through the iPad bricked after the iPadOS 16 update issue.
Possible Reasons for Getting a "Bricked" iPad after Update
You must be wondering how come your iPad device got bricked during the iPadOS 16 updates. Here are some possible reasons why an iPadOS 16 update is causing this glitch to happen:
1. Software Update Issue Recognized by Apple Inc.
Apple Inc. has been alerted about the brief issue on the iPadOS 16 software update that happened after the release. It is affecting a few users who got their hands first on the latest iPadOS version during that time. The best thing you should do is to get the latest update of iPadOS 16 if you have obtained that iOS version.
2. Apple Device is Not Compatible with the iPadOS 16 Upgrade
Getting the latest iPadOS 16 version gets you some new and exciting features to add or improve in your iPadOS device. However, with this latest version, not all devices from Apple Inc. are listed as compatible. It could be one solid reason why your phone got bricked if you haven't checked your device's compatibility with the iPadOS 16 version before doing the update. Read through the items below to know which devices and models are compatible with the iPadOS 16 version:
Apple devices compatible with iPadOS 16:
iPad Pro (all models)
iPad Air (3rd generation and later)
iPad (5th generation and later)
iPad mini (5th generation and later)
3. Software Update via OTA has been Interrupted
You were trying to download and install the latest version via over-the-air (OTA) software update while connected to a very unstable Internet connection is another reason why your iPadOS device got bricked during the iPadOS update. Connectivity issues sometimes can bring disruptions to the downloading and updating procedures being done during the upgrade and make your iPad more prone to getting bricked.
100% Working Way to Fix Bricked iPad During/After Update to iPadOS 16
iToolab FixGo is one of the most effective tools that can be used to repair any kind of issue on your iPad. If you are looking for a way to fix your bricked iPad quickly and efficiently, FixGo is the best solution. You can also use FixGo to repair iPhone bricked after update easily. You can recover up to 200+ iOS/iPadOS/tvOS system issues by using this tool with just three simple steps. It saves your Apple device with no data loss.
3 Steps to Repair 200+ iPad/iPhone Issues
One Click to fix iPad iOS 16 issues.
Free to enter/exit the recovery mode.
Update or downgrade iOS/iPadOS without jailbreak.
All iOS/iPadOS devices and versions are supported.
Steps to fix bricked iPad during/after the update to iPadOS 16:
Step 1 On your computer, download and install iToolab FixGo. After that, run the program. From the main window, choose "Standard Mode" and after that, connect the bricked iPad after update to the computer using USB cables.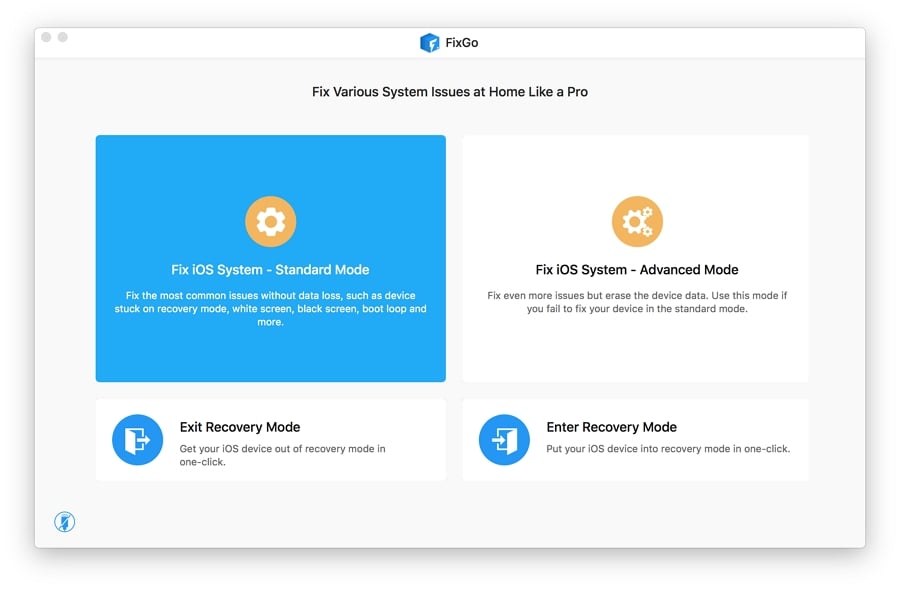 Step 2 Click on "Fix Now" once the program detects your iPad. To repair your brick iPad, you will need to download the latest firmware. To begin the firmware download, just click "Download" in the next window.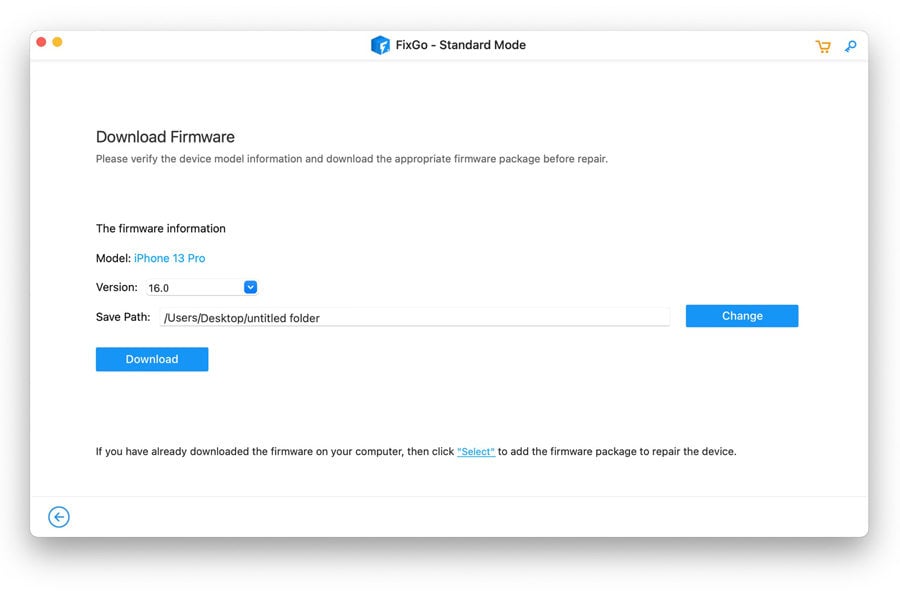 Step 3 You have to wait for the firmware package to be downloaded. Click "Repair Now" to allow the program to begin fixing your device when the download is complete. When the process is complete, FixGo will notify you.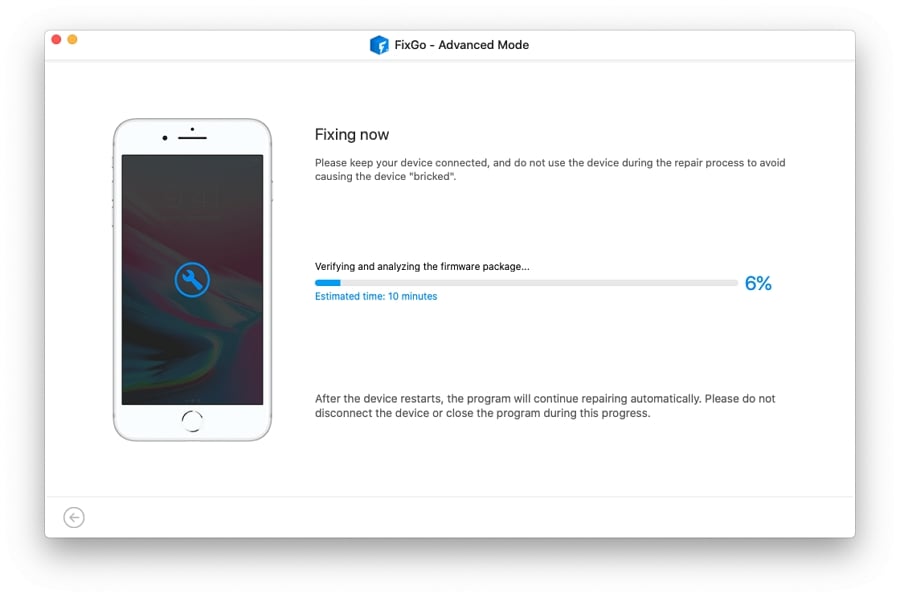 Other Potential Ways to Fix iPadOS 16 Update Bricked iPad
There are other potential ways as well that you can try out to fix your bricked iPad after update although the above-mentioned method will surely fix your bricked iPad in a jiffy. Some of the ways are given below:
1. Force Restart iPad
A simple method like force restarting your iPad can fix any issue easily sometimes. Here are the steps to fix the iPad brick after update issue by force restarting it:
iPad without Home button
For a moment, press the Volume Up and Volume Down button one after the other and release.
Until the Apple logo appears on the screen, press the Power button and hold it.
iPad with Home button
Press the Home button and for a while, hold it.
Press the Power button and hold it while holding the Home button.
Until you see the Apple logo on the screen, hold these buttons.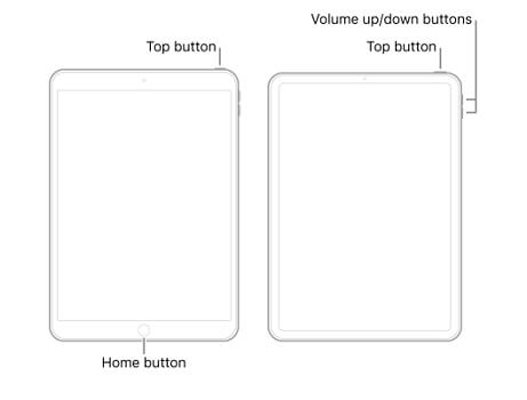 2. Charge Your iPad
Your iPad might not be switching on and the screen might have turned black. Necessarily, it doesn't mean that iPadOS 16 bricked iPad after update. It is also possible that the battery on your iPad has been drained out due to which the iPad is not switching on. Try charging it using the original charger of the iPad if you feel that this may be the reason behind your iPad's screen turning black. Try switching on your iPad after waiting for a few minutes.
3. Restoring iPad with iTunes
Restoring the device with iTunes is another way that several people would turn in case their iPad gets bricked. It might wipe off a significant amount of data from your iPad which is a major problem associated with this process. Follow the given steps mentioned below if you still wish to continue:
Launch iTunes after connecting your iPad to your computer.
Click on "Summary" from the options available on the left after selecting your iPad.
Tap on "Restore iPad". The iPad will be restored once you confirm the command again.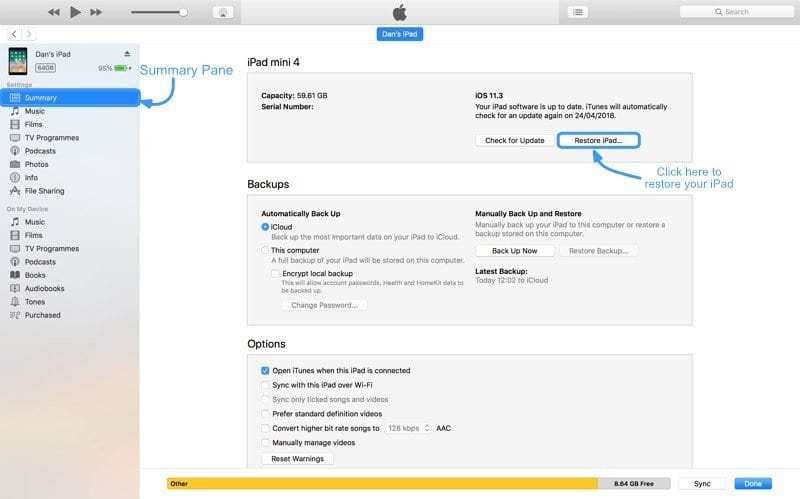 4. Try DFU Mode to Restore Bricked iPad
Using DFU mode is another way of restoring your bricked iPad. The last possible solution you could try to troubleshoot some of the problems is DFU or Device Firmware Update. You can follow the below-given steps and learn how to DFU mode restore your bricked iPad if the problem persists.
Open iTunes on your PC and connect your iPad to it.
Press and hold the Power button and after a few seconds, release it.
Press and hold the Power and Home button for a while. After that, keep holding the Home button for a few seconds while releasing the Power button.
You can be sure that your device is in DFU mode if the screen of your iPad stays black. Launch iTunes on your Mac or PC then. On the iTunes Window, a pop-up will appear stating that there is an issue with the iPad.
Tap on "Restore" and then, restore the device to confirm the command.
Conclusion
In this article, we have introduced 5 ways to get through the iPad bricked after the iPadOS 16 update issue. You can use any of the methods above if your iPad brick after update while it is rare that iPad faces software issues or bricked screen troubles. But we would recommend you to use iToolab FixGo because it is the most certain way to fix bricked iPad after update. Give this iPad recovery tool a try by free downloading it.