Do you want to catch more pokemon, access geo-restricted content, or just explore new places? To do so on your Huawei device, you must be able to fake your location. People are in continuous need to fake GPS Huawei due to various reasons. Hence, they keep on searching for ways to fake GPS for huawei and other devices?
Fortunately, this is a simple task when you know the right steps. This guide will provide you with all the information you need to successfully fake GPS location on huawei and other devices. So grab your Huawei phone and get ready to explore the world of location spoofing – the possibilities are endless. Read on to learn everything about faking GPS on a Huawei phone.
Part 1: Use Mock Location Feature to Fake GPS on Huawei
Most Android phones along with Huawei come with a mock location feature. Whenever you want to fake GPS Huawei, you can conveniently use this feature. The mock location provides the ability to simulate your location, allowing you to customize and enhance your Android experience.
This feature was originally created for Android developers enabling them to test games and apps in a virtual environment. But now it could be used by every other Android user for their convenience. It can be helpful if you need to change the location of your Android device for different purposes.
Certain advantages of faking GPS to the users are: Stay secure and ensure that your privacy isn't compromised while playing popular online AR games such as Pokemon Go. Meet more people in different localities, cities, or countries with the help of social platforms like Tinder. There are a very few people who know about this feature.
This feature can surely be helpful but it also has its own fair share of disadvantage. Normal user can only make use of this feature in collaboration with a location spoofing app. Now, these apps can be dangerous at times as you do not know what information they might be collecting from your device. Moreover, this function is for tech savvy people, in case any of your actions in making use of this feature goes south, you may end up malfunctioning your device or even bricking your device too.
Part 2: Use Location Spoofer to Fake GPS on Huawei
The first approach to fake GPS on Huawei devices is to make use of a location spoofing app for your device. You can do so by installing the Fake GPS app and allowing mock locations on your device. Here are the steps to follow:
Step 1: Navigate through the Google play store and search for fake GPS apps. Pick and download the one which has high ratings and positive feedbacks from several users.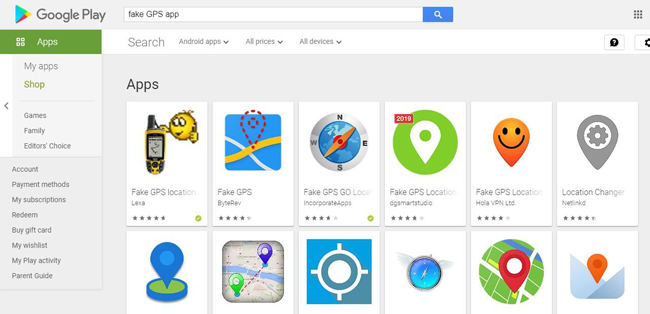 Step 2: Enable mock locations now. For this, find "Settings" > "Developer Options" > "Select Mock Location App". Now, choose the "Fake GPS" app that you have downloaded as per the above step.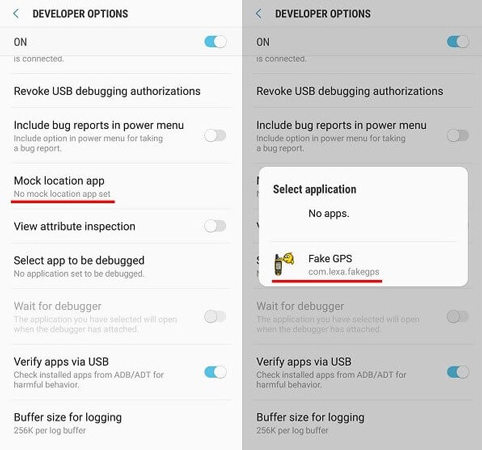 Step 3: Open the app. Using the search bar, find the location that you want to fake. Now, just hit on the "Go" / "Play" button and you are done.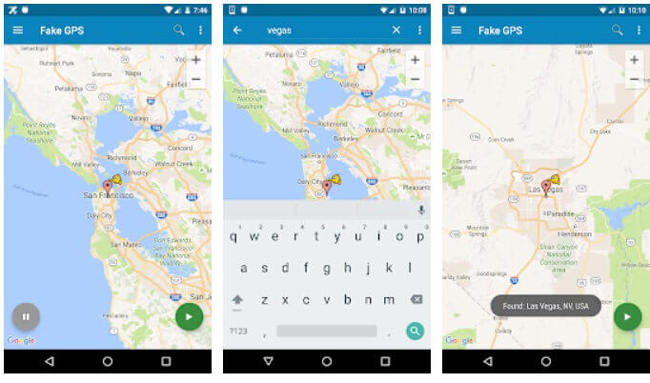 Part 3: Can You Use VPN to Fake GPS on Huawei
The simple answer to the question is, Yes! You can use VPN to fake GPS on Huawei.
At numerous times we get to face a issue that says "This content is not available for your country". Now those can be some TV shows, streaming services, Movies etc that are unavailable in your country or region. To get access to that content, a VPN can be a great solution. When it comes to Huawei devices, there are a bunch of VPN apps available. Some of them include NordVPN, CyberGhost, etc. Let's understand how to use the NordVPN app to fake gps for Huawei Y6p.
Step 1: Type nordvpn.com on the address bar of your web browser. Create your account on it.
Step 2: Install the app on your Huawei device. Sign in using the required information.
Step 3: Pick up the server you wish to connect to and click on "Connect".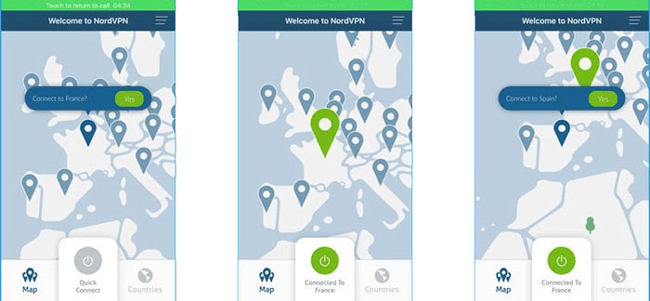 After a successful connection, your Huawei phone's IP will change automatically and you can then access content that is resctricted in your country. Though, it does work by changing IP address of your region. However, when it comes to GPS location spoofing on your terms, it lacks several important functionalties.
Also Know: Can You Fake GPS without Google Play Services
The answer to this question is yes. Faking your GPS location without using Google Play services is possible using a powerful third-party tool. One such highly trusted and proficient tool is iToolab AnyGo. It not only enables you to fake GPS on Huawei devices but also on almost any other Android or iOS device. These apps allow you to spoof your phone's location in order to make it appear as if you are somewhere else. It is a one stop solution to fake GPS on both Android and iOS devices with absolute no jaibreaking or rooting. It is extremely easy to use and requires no complicated steps or additional setup. Here's what you need to do.
Conclusion
Faking GPS on Huawei devices does not have to be a hassle now. With the help of iToolab AnyGo, VPNs and fake GPS apps as well, you can easily trick your location-based apps into thinking you are somewhere else. Now, it becomes really easy to play Pokemon Go and use social media from all over the world, without ever having to leave home! So why not give it a try, and start spoofing your location like an expert today!
Spoof GPS Location on iOS/Android
Works well with LBS games and apps such as Pokémon GO.
Multiple modes to fake GPS movement.
Simulate walking, cycling or driving at a variable speed.
Spoof location of multiple iPhones simultaneously.