Geo spoofing is the process of changing a user's location. Furthermore, users can change their country online to another country of their choosing. This is very popular among users and is frequently done with the VPN. Geo-spoofing has numerous advantages. For example, it enables users to access geo-restricted content. It also provides its users with complete privacy.
Part 1. Best VPN for Geo-Spoofing
Using the best VPN for geo spoofing is the most dependable way to change your geolocation. The reason for this is that it helps to change your IP address, ensuring that your privacy is protected. Here is the best VPN for easily spoofing your location.
NordVPN
NordVPN is one of the best VPN tools on the internet, with tons of exciting features. The tool makes it easy for users to spoof their current location. This tool keeps users' privacy safe and secure. The best part about this tool is that it is fast and effective compared to other tools.
Moreover, you can easily spoof your location to access restricted content; for instance, Netflix is limited in certain countries. Therefore, you can use this tool to watch your favorite movies and dramas. Furthermore, NordVPN is suitable for popular games such as Pokemon Go. To do geo spoofing Pokemon go, perform the following easy steps:
Step 1. Download and install the NordVPN app on your android devices. Not to mention, the tool is compatible with almost all platforms.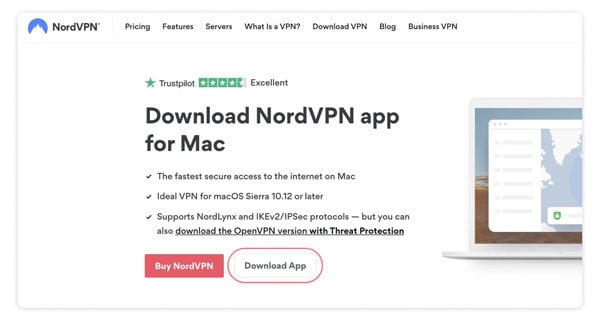 Step 2. Create an account on the platform. If you have already registered, log in using your username and password.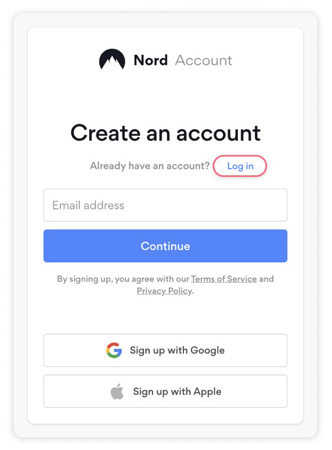 Step 3. Tap on the Quick Connect. The tool will automatically select the best server for you.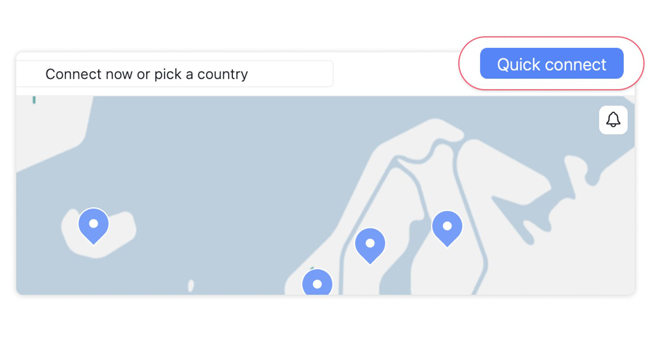 Part 2. Advantages And Disadvantages of Geo-Spoofing
The advantages of geo-spoofing are countless so does the advantages. This section will discuss the advantages and disadvantages of geo-location spoofer.
Advantages of Geo Spoofing:
Most of the time, we believe geo-spoofing app changes our IP address and allow us to access restricted content, but there is a lot more than that.
Changes your current location to another without tracking the exact spot.
You can access the country-restricted content.
It may improve your internet speed.
Disadvantages of Geo Spoofing:
The disadvantage of using a geolocation spoofer app vary. For instance, if you are using an application that doesn't secure users' data or track users' location, then privacy issues may arise. Other disadvantages include:
You may be redirected to a banned IP address that may cause security issues.
Internet speed slows down.
VPNs are banned in some countries.
It provides access to harmful websites.
Part 3. Does GEO Spoof Work on Pokemon Go?
Mostly, Pokemon Go users use VPNs to change their location, but they remain unsuccessful. This is because the VPN only allows them to run the game in countries where it is banned. Therefore, the VPN's real purpose is not very well served.
This section will discuss the geo-spoofing app or tool that can help you spoof Pokemon Go location. iToolab AnyGo is a reliable third-party tool that makes geo-spoofing easy and secure. The best part about this tool is that it can change your GPS location on iPhone and Android devices.
Moreover, you can stimulate your location along a specific path. You can also collect and import GPX route files of popular games. You can also mock GPS location on an unlimited number of devices simultaneously. Perform the following steps for easy geo spoofing:
Step 1 Install the iToolab AnyGo on your PC and connect your mobile phone to the computer. Once connection successful, you will see the map.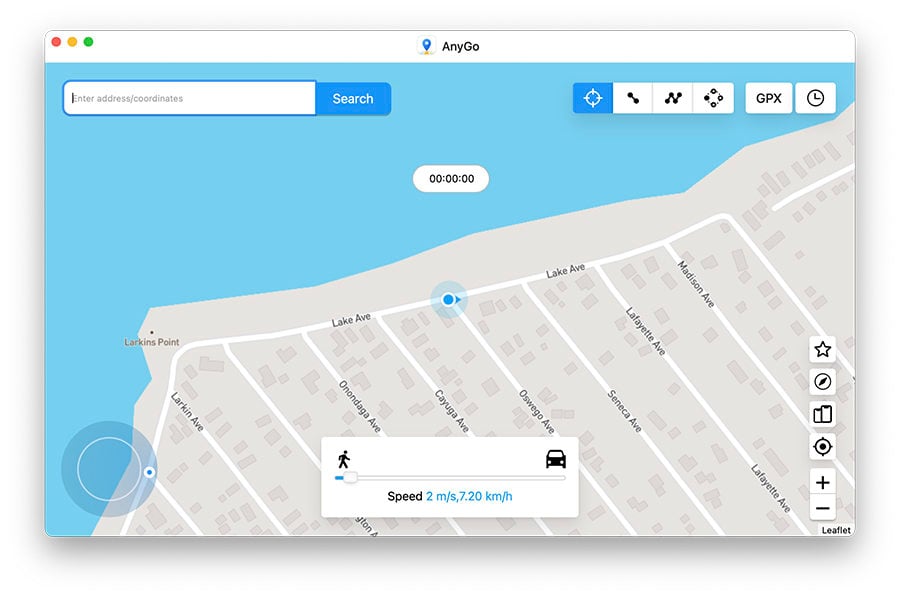 Step 2 Click on the Teleport icon in the screen's upper right corner. Now, enter the location you'd like to teleport to. Click on the "Search" button to continue.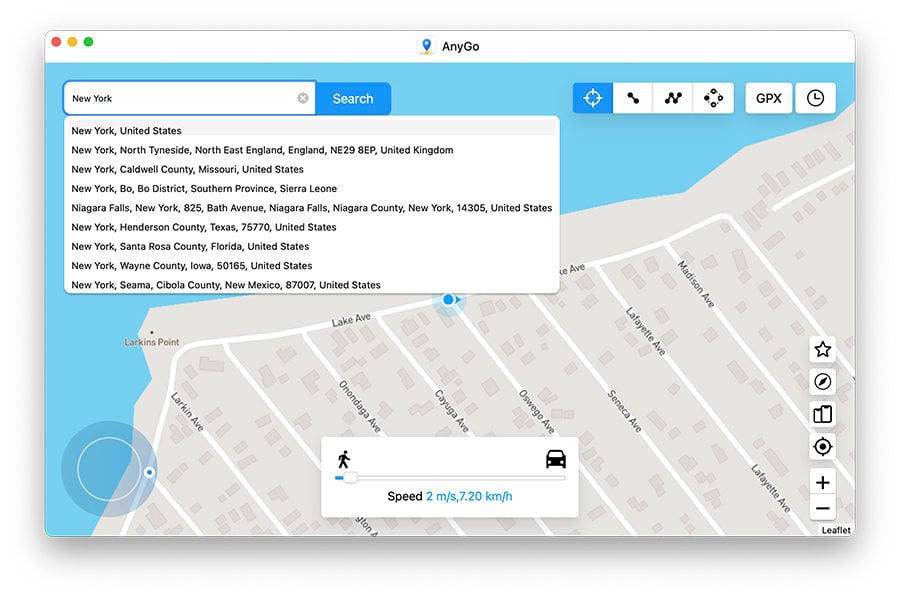 Step 3 The software will be able to record the new location. To confirm it, you need to click on the "Go" button to teleport to the new location.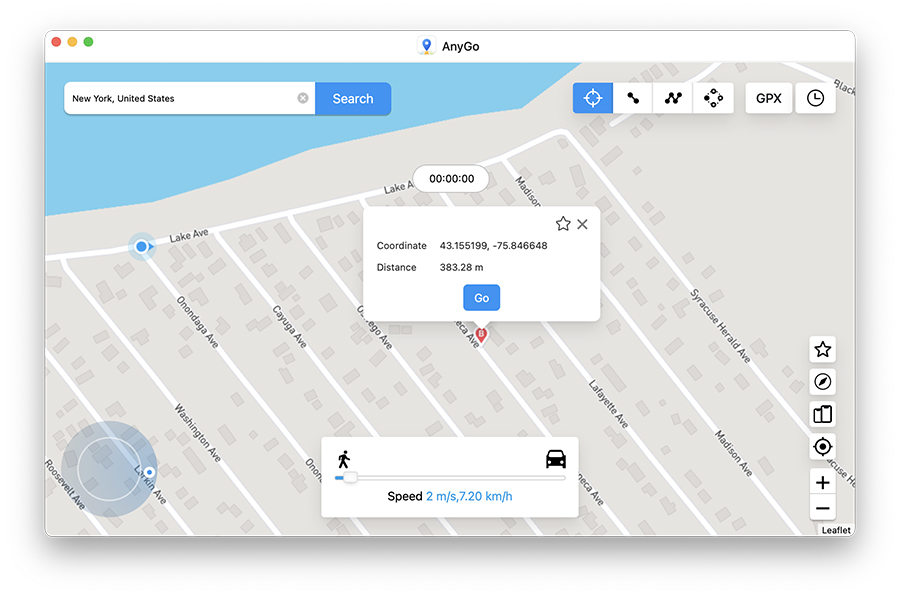 FAQs
Q1: How do I spoof my location without VPN?
You can change your location without VPN using different methods. For instance, you can use a proxy, Tor browser, and NAT Firewall to hide your IP address. You can connect to a different network or ask your Internet Service Provider to change your IP address. Other than this, unplug your modem to change your IP address.
Q2: What is the difference between a GPS emulator and a VPN?
GPS has been built into most smartphones these days. It determines your location using satellite signals. Therefore, it tracks your current location easily. On the other side, VPN performs very opposite to GPS emulators. The VPN does nothing but still changes your location to another location. It totally depends on the network.
Q3: Is changing your IP address illegal?
As most people are concerned about their privacy, it is not illegal to change your IP address. In most cases, people use VPN to change their IP address to access country-restricted content.
Summary
Geo spoofing has been standard among people who constantly require changing their location for educational or entertainment purposes. This guide is all about helping users to change their location. We have explained the details of some good VPN software to simplify things. We have also discussed the iToolab AnyGo – a premium tool to spoof location effectively.
Spoof GPS Location on Pokemon Go
Works well with LBS games and apps such as Pokémon GO.
Multiple modes to fake GPS movement.
Simulate walking, cycling or driving at a variable speed.
Spoof location of multiple iPhones simultaneously.