People need to spoof their location to enjoy GPS-based games and applications to the fullest, maintain their privacy, and access geo-restricted content. For that, they use GPS spoofers, and one of them is LuckLukcGo.
There are dozens of GPS spoofers available online, but not all of them are worth it. Therefore, we will give you a comprehensive and quick review of LuckLuckGo. We will discuss the features, pros, and cons in detail to make your choice easier.
Part 1. What Is LuckLuckGo
LuckLuckGo is a GPS spoofer that allows you to change your current location to the desired location in no time. It is available for Windows and macOS.
The software is suitable for LBS games and social applications. Even if you want to use geo-restricted applications and services, it becomes easier with LuckLuckGo. You can also protect your privacy by showing the wrong location to others without turning off Find My iPhone.
You get a range of modes and customized routes to move on the map as you like. Most importantly, it allows you to change the location of up to 5 phones at a time.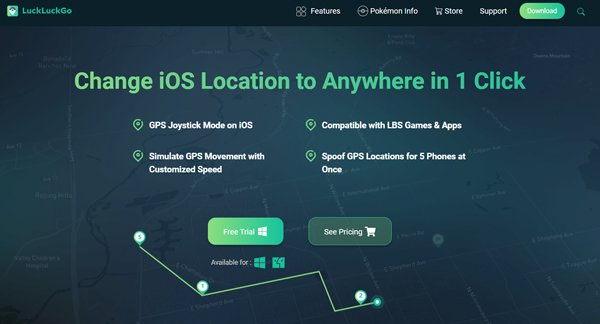 Part 2. Main Features of LuckLuckGo
Customize your roots as you like. You can use the joystick to move on the map. You can also select multiple spots on the map and move from one location to the other automatically.
It has a Teleport mode that changes your location from one position to another instantly.
Import GPX files for Pokemon Go and move on that route to get the rarest Pokemon.
It has a special feature of Pokemon information. You get to know about Pokemon, including its power, weaknesses, type, etc.
The speed of the movement can be adjusted to ensure natural movement.
There is a cooldown timer on the application to prevent you from changing your location excessively.
It keeps track of your history so that you can access past routes and address quickly.
Part 3. Is LuckLuckGo Worth Buying?
LuckLuckGo offers exceptional features and tools for changing locations. You can easily spoof your current location and use locations based games and apps without any hassle.
All these things work well, but you can get caught, and your account can be banned. Undoubtedly, LuckLuckGo has some advanced features to prevent you from getting caught, such as variable speed and cooldown timer, but it does not guarantee that you will not get caught.
If you excessively use the application for changing location on Pokemon Go and other applications, there are chances of getting caught, and if that happens, your account will get banned. Moreover, you can only buy it monthly, quarterly, or yearly; there is no lifetime plan.
Thus, it is better to get a reliable and suitable option. You can use iToolab AnyGo, which is a better alternative to LuckLuckGo.
Part 4. Best Alternative to LuckLuckGo
Best Location Changer for iPhone/Android
168,282 people have downloaded it.
iToolab AnyGo is a reliable GPS spoofer that can change your location to the desired one without leaving any trace and getting you caught. It is available for Windows and macOS and works on both Android and iOS devices, and you can change the location of 5 devices at a time. Without any changes jailbreaking and changes in the software, it works exceptionally well.
Features:
All movement modes, including two-spot, multi-spot, and teleport, are available. Just select the one you like and enjoy.
The realistic mode of the software is incredible. It offers natural and variable speed on the map to simulate reality. You will never get caught.
Spoof your location on Pokemon Go, social media, or any location-based application.
Access geo-restricted content without any traces.
Save your favorite routes and execute them whenever you want. The software also keeps a record of your history to check and access the routes and locations.
It prevents other apps from getting your real location, which is why it ensures safety and privacy. You can hide your location without anyone knowing.
Simulate your movement on a custom path or import GPX files for the best results.
How to Use AnyGo
Step 1 Download AnyGo from the official website. Install it on your Windows or Mac. Launch the software. Click on Start. Select Android or iOS.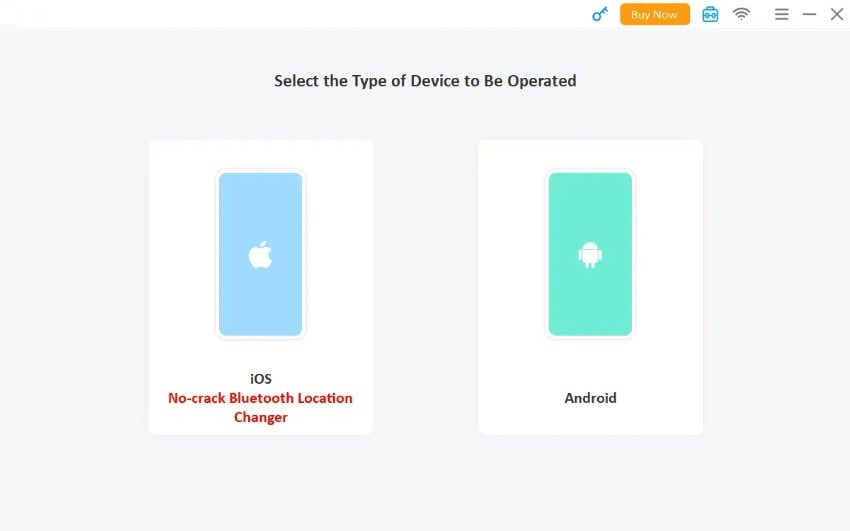 Step 2 Once your device is connected, you are ready to spoof your GPS. If you want to teleport, select the location and click on the teleport button. Your location will be changed instantly.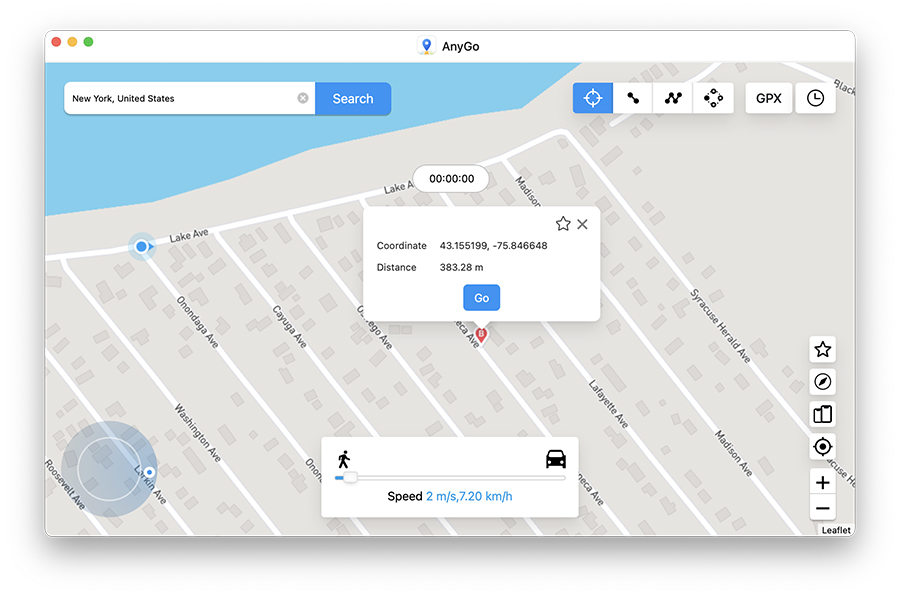 Step 3 You can also use other features such as two-spot and multi-spot. Enter the location and select the multi-spot option. Choose the posts and click Go. Your location will change automatically at the selected speed.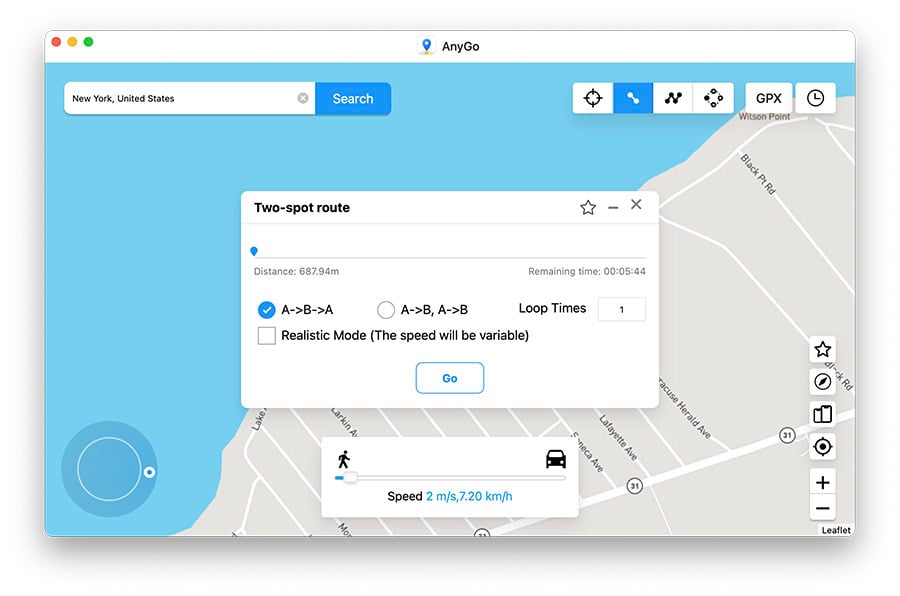 Step 4 For uploading GPX files, click on the GPX button. Select the file from your computer. Select the settings and click Go.
Using iToolab AnyGo is quite easy. You just need to follow a few simple steps, and you are done.
FAQs
Q1: Is LuckLuckGo Safe?
LuckLuckGo changes your location to the desired one, but it does not guarantee your safety. Even if you change your location through it, you can get caught by the application, and your account can get banned. So, make sure you do not use it excessively if you want to keep your accounts and privacy safe.
Q2: Does LuckLuckGo lead to account bans?
Yes, excessive use of LuckLuckGo can lead to account bans. You will also see a cooldown timer, which reminds you not to change your location excessively.
Final Words
LuckLuckGo is a GPS spoofer that offers some commendable features, but it is not reliable. You can get banned if you get caught using it, so it depends on your luck. For a reliable option, you can use iToolab AnyGo. It will spoof your location on Android or iOS without leaving any traces.