Now comes another popular location-based game, Monster Hunter Now. If you're a fan of the Pokémon GO, you should already be playing this game! MH now allows you to hunt monsters around in your city. However, LBS games all have the disadvantage that you can't experience better fun if you don't have enough time to explore more places.
Luckily, GPS Joystick is the best solution to play Monster Hunter Now without walking. You can level up faster and unlock all the weapons to have more fun in the game. We're going to show you the best Monster Hunter Now joystick in this article, don't miss it!
Does the GPS Joystick Really Apply to Monster Hunter Now?
Yes! GPS joystick works on Monster Hunter Now and it tested by many players. MH Now is similar to other location-based games that track GPS to detect if you're walking. Therefore, simulating GPS movement is a good way to disguise that you are walking.
GPS joystick works perfectly in this case. By using it, you can play Monster Hunter Now at home without moving. As we all know, playing games outdoors needs to take into account the weather factor as well as the distance and many other factors. Now, let's know the powerful joystick and how to use them.
The Best Monster Hunter Now GPS Joystick for iOS and Android
Whether you're using an iOS or Android device, iToolab AnyGo is the ultimate GPS spoofing and location changer tool for Monster Hunters. It is an essential tool that unlocks a world of adventure by smoothly modifying your device's GPS location, allowing you to virtually explore various terrains without leaving your home. iToolab AnyGo is a game-changer for enthusiasts of location-based games like Monster Hunter Now.
With its user-friendly interface, you can effortlessly navigate, capture, and interact with creatures in your virtual surroundings. Ultimately it decreases the limitations of physical location and embraces boundless hunting experiences. This Monster Hunter Now GPS joystick is the key to your successful monster-hunting journey, and it works flawlessly every time.
The Best Monster Hunter Now GPS Joystick
168,282 people have downloaded it.
Change location on iPhone/Android in clicks (No Jailbreak).
Simulate GPS movement along any custom path with joystick.
Collect and import popular GPX route files for next use.
Mock GPS location on up to 15 devices simultaneously.
Works well with location-based social apps and AR games.
Fully support the latest iOS 16/Android 13.
Step by Step Tutorial on Using iToolab AnyGo
Step 1 Download and install iToolab AnyGo on your computer. Launch the software, and then click on "Start" to connect your devices.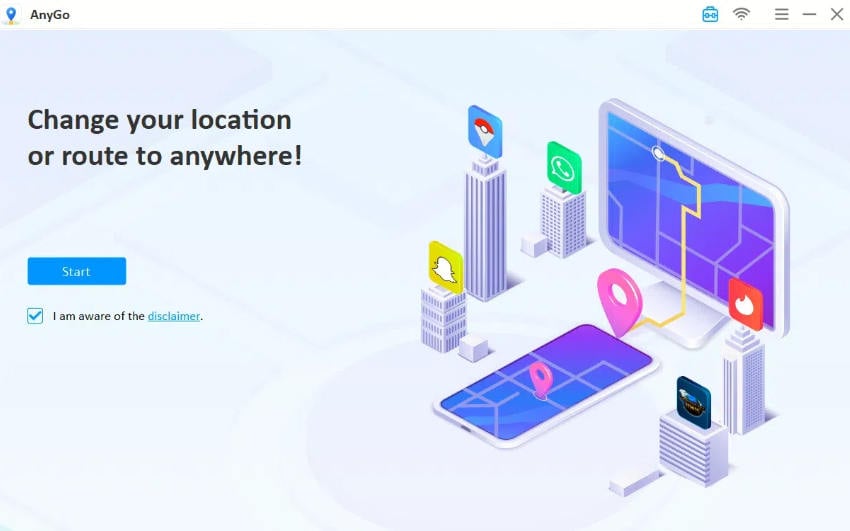 Step 2 Connect and select your iOS or Android mobile device to your computer by using a USB or Wi-Fi.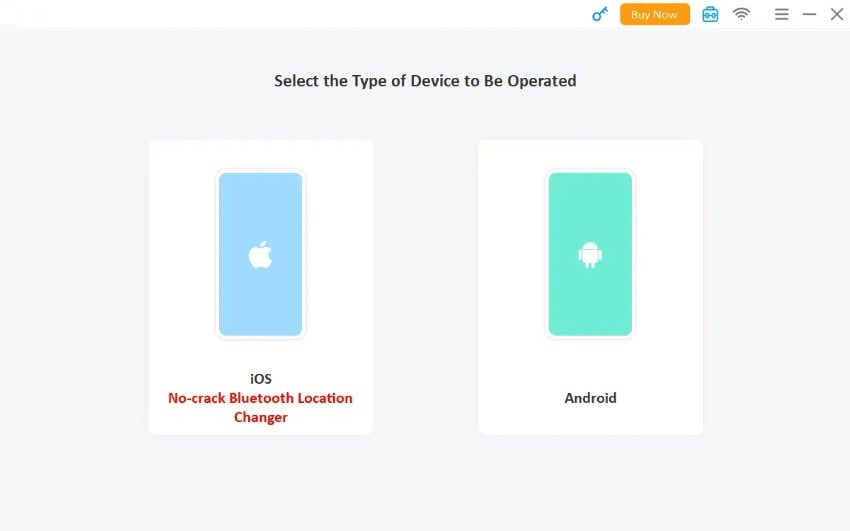 Step 3 Once the map loads and click on the "Teleport Mode" icon on the top right corner of the screen. Enter the location of the address that you need to teleport, and click "Search" to select it.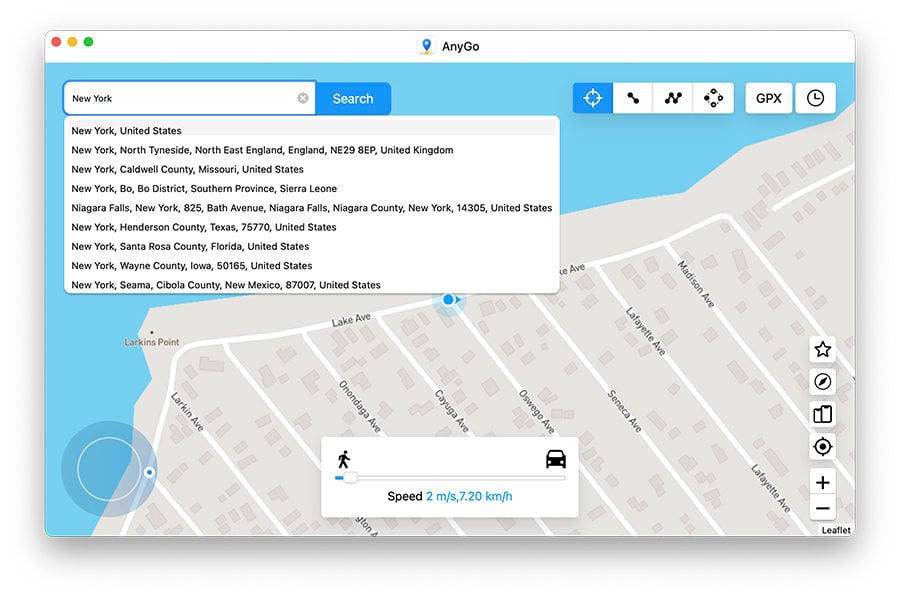 Step 4 Once you see the search location on the map, select the required speed and tap on "Go", you'll be teleported to the new location.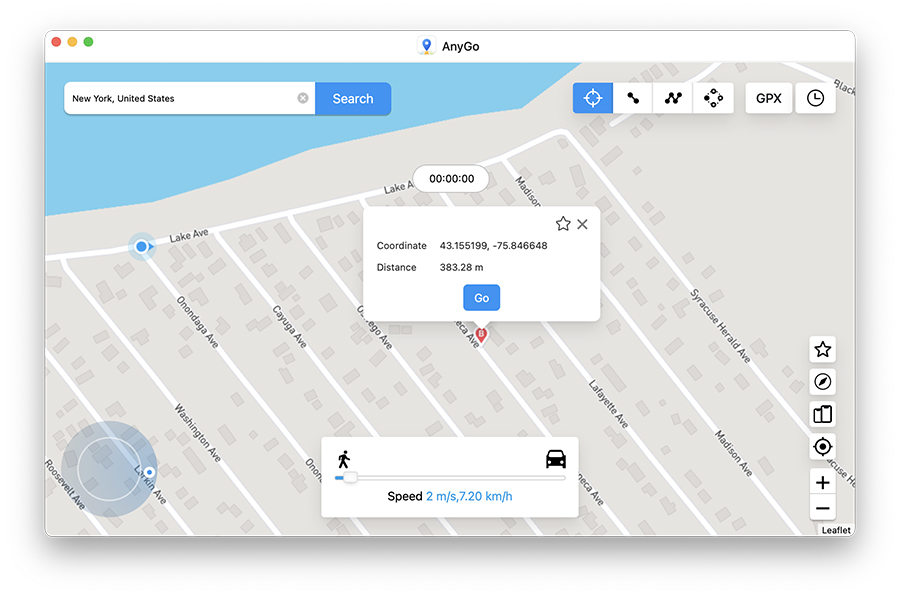 Step 5 Now, change to "Multi-spot" feature and hit a random location the map. Next, locate the joystick button on the bottom left corner of the screen. Click "Start" icon, you can do this by either tapping the left, right, up, or down arrows on the screen or pressing the A, D, W, or S keys.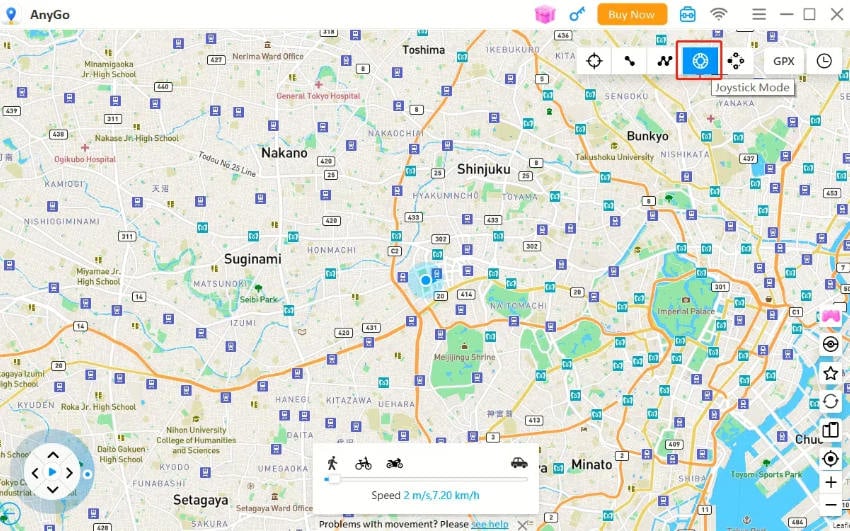 Pros and Cons When You Use GPS Joystick in Monster Hunter Now
When you using GPS joystick, you are more easier to control your character, it helps you find more monsters even in the corner. When you're on a street with heavy traffic, it can be a safety hazard. You can't concentrate on looking for monsters around you. Or, you can't capture monsters that are on campus or in someone's yard. However, these problems can be solved with the GPS joystick. You can go anywhere using the GPS joystick, it brings more possibilities and fun to you.
However, you may also get some trouble while using GPS joystick in Monster Hunter Now. As you know, location spoofing app can lead to the risk of account bans. And some apps may damage your computer and device. So, choose a safe and powerful spoofing app is an important thing.
Extra Tips While Using GPS Joystick in Monster Hunter Now
Here are some tips when using GPS Joystick in Monster Hunter Now:
1. Use different routes: When using GPS Joystick, try to take different routes in the game to avoid suspicion. Taking the same path repeatedly may raise suspicions and possibly result in a ban.
2. Stay low-profile: While using GPS Joystick, it's important to remain low-profile. Don't attract unnecessary attention to your character by performing unusual or suspicious actions.
3. Respect game mechanics: Remember to respect the game mechanics and rules. Don't exploit or cheat in any way that may ruin the experience for others.
4. Use sparingly: It's advisable to use GPS Joystick sparingly to minimize the risk of detection. Constantly relying on it may increase the chances of getting banned.
5. Keep up with updates: Stay updated with the latest versions of GPS Joystick and ensure compatibility with the game to avoid any issues or detection.
Final words
Monster Hunter has been transformed by the integration of Monster Hunter Now Joystick controllers, elevating the immersive experience. These controllers empower players with precise, real-world-like movements, enriching monster tracking and enhancing gameplay. iToolab AnyGo offers an exceptional gaming experience with its precision, sensitivity, and customizable buttons. It is an excellent companion for Monster Hunter Now, guaranteeing an interesting journey through the game's vast and challenging landscapes.