"How To spoof Pokemon Go on iOS? I wish to change location while playing Pokemon Go to interact with new trainers and participate in events that are not happening in my region. What is the best Pokemon Go spoofer iOS app?"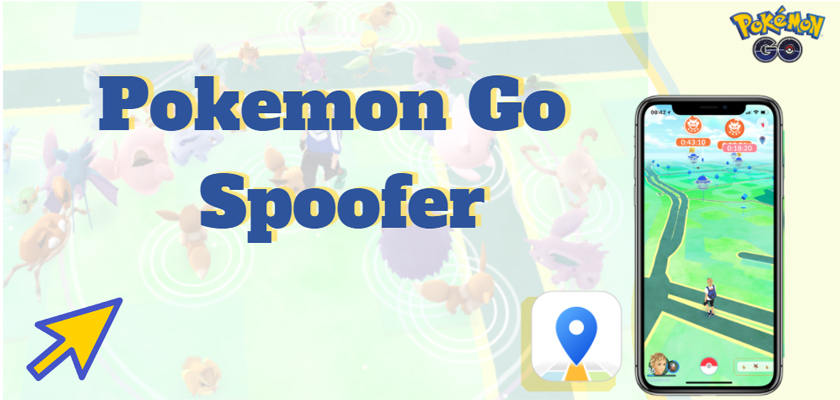 For trainers looking for new challenges or friends to play Pokemon Go, spoofing the location is the best way to go. For that, they need to use the Pokemon Go spoofing iOS application. Here, we will share which platform is the best for iOS devices to do GPS spoofing.
Everything about Pokemon Go Spoofer iOS Download
Pokemon Go is a game of strategy, but sometimes it can be challenging to know where you are meant to go next. With GPS spoofing apps for Pokemon Go, you can change the location inside the game and play with new trainers worldwide.
However, with every new update, Pokemon Go identifies that players are using spoofing software, leading to account getting banned. Nevertheless, you can put specific techniques in place while managing the spoofing tool whenever you play Pokemon Go to prevent getting banned.
The main point is using a reliable Pokemon Go spoofer iOS, we've tested many Pokemon Go iOS spoofers and we are here to introduce you a very powerful and safe software – iToolab AnyGo.
A Professional Pokemon Go Spoofer iOS Free Download
A dedicated Pokemon Go spoofer iOS app, such as iToolab AnyGo for iOS, is perhaps the best option to perform play the game in the region of your choice without getting detected. You can jump the iPhone to any part of the world and play with new and experienced players. Moreover, with AnyGo, they can easily take part in specific events and get unique rewards.
The handy program lets you jump the device to more than one location at one time. Not only that, but you can also simulate your GPS movement across a specific path. Also, the tool works on iOS 16, and you can access it on any modern version of Windows and macOS.
Check out the step-by-step guide to play Pokemon GO all across the world with iToolab AnyGo Pokemon Go spoofer iOS.
Step 1 Download iToolab AnyGo for iOS through the above download link. And follow the instruction on download page to install this app.
Step 2 After completing the installation, launch the App. A map will appear on the next page indicating the current location of the device.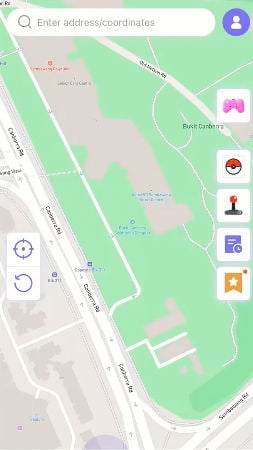 Step 3 Now, enter the fake location or coordinate on the search box and select that location from the list.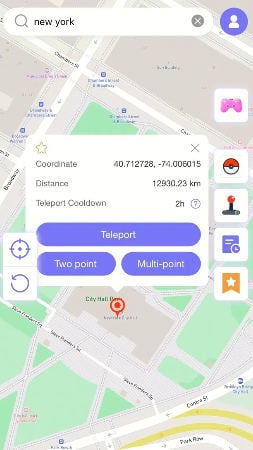 Step 4 In the popup that appears, click "Teleport" icon and your iPhone location will be located to the new location.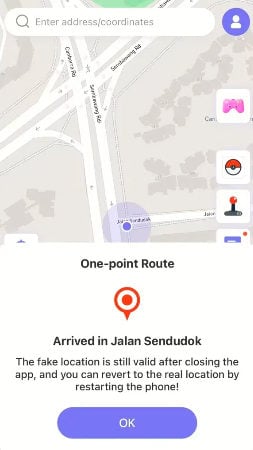 From there, you can play Pokemon Go with ease and unlock new features and rewards. In case you are worried about getting banned by Pokemon Go for using AnyGo for iOS, we advise you to reference the Pokemon Go Cooldown Chart, you should wait for the predefined time with Cooldown Timer on AnyGo for your next action.
Video Tutorial
Also Read: Pokémon Go Cooldown Time Chart
Why iToolab AnyGo Is the Best Pokemon Go Spoofer iOS?
Pokemon Go players should be careful not to change GPS location too frequently because Niantic might ban them. However, Niantic won't be able to detect you using spoofers. Still, if they are able to notice the usage of Spoofer, the studio may ban your account.
Nevertheless, iToolab AnyGo to do Pokemon Go spoofing on iOS will keep your playing activity safe and sound with their added cooldown timer. It is an extra security feature so that players don't change GPS locations too recurrently while playing Pokemon Go. That way, the players will get rest of 1-2 hours.
People Also Ask about Pokemon Go Spoofer iOS
If you still have queries about Pokemon Go spoofing on iOS, we hope that this FAQ section will clear all confusion.
Q1: Can you spoof Pokemon Go 2023 Android?
Yes, it is quite possible to spoof Pokemon Go on Android. iToolab AnyGo also supports Android devices. But in order to do that, you will need a GPS spoofing app and then mask your device's location. Before that, you are also required to enable Developer Mode on your Android phone.
Q2: Is it illegal to spoof Pokemon Go?
According to the official sources at Niantic, it is entirely illegal to use Pokemon Go spoofer for iOS. It is considered unethical towards regular players who use conventional techniques to play Pokemon Go and catch Pokemon while walking around outdoors. Moreover, Niantic doesn't take lightly this type of behavior, which could lead them to ban your account in most cases if you get caught doing it.
The Bottom Line
Now it's time to wrap up our discussion on how to fake your location in Pokemon Go. Though the game is fun to play, it could get boring real quick, especially if you don't have many players to interact with within your area. In that case, opting for Pokemon Go spoofer for iOS is recommended. We know that using an app such as iToolab AnyGo for iOS will work best for you. However, you can do your own research and find the perfect match in case of any confusion!
Best Location Changer for iOS/Android
168,282 people have downloaded it.
Change GPS location on iPhone/iPad in clicks (No Jailbreak).
Simulate GPS movement along any custom path with joystick.
Collect and import popular GPX route files for next use.
Mock GPS location on up to 15 devices simultaneously.
Works well with location-based social apps and AR games.
Fully support the latest iOS 16/Android 13.