One of the things that make Pokémon Go ever-exciting is the constant updates, not to mention the tension of trying to find and catch Pokémon.
But as exciting as it is, players still look for simpler ways to catch popular Pokémon and level-up because sometimes you just don't have time to figure it out yourself.
In this article, we will help you find the Pokémon Charmander.
What Is Charmander?
Charmander is a fire-type Pokémon with a maximum CO of 1108, an attack of 116, a Defense of 93, and 117 stamina in Pokémon Go.
Originally found in the Kanto region, Charmander is vulnerable to Ground, Rock and Water types. Charmander is boosted by sunny weather and its best moves are Scratch and Flamethrower.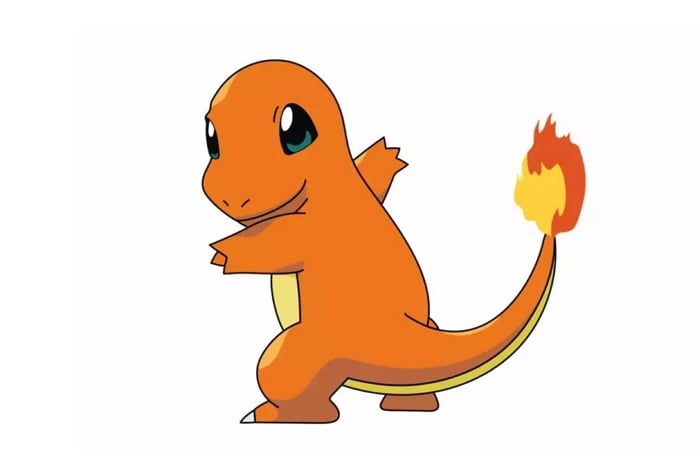 Where Do I Find Charmander Spawn Locations?
Charmander can be found in spawn locations like cities, neighborhood and dry/arid climate locations. It can be hatched from 2KM eggs.
Use Pokémon Go Location Maps
You can find a ton of free resources including Pokémon location maps that can help you find Charmander much faster. These live location maps allow you to know the spawning location of Pokémon in any area.
These maps are however global and it can be difficult to find one that is dedicated to a particular location. But the spawning locations are updated frequently to make sure the information is as accurate as possible.
The following are some of the most popular Pokémon Go location maps you can check out: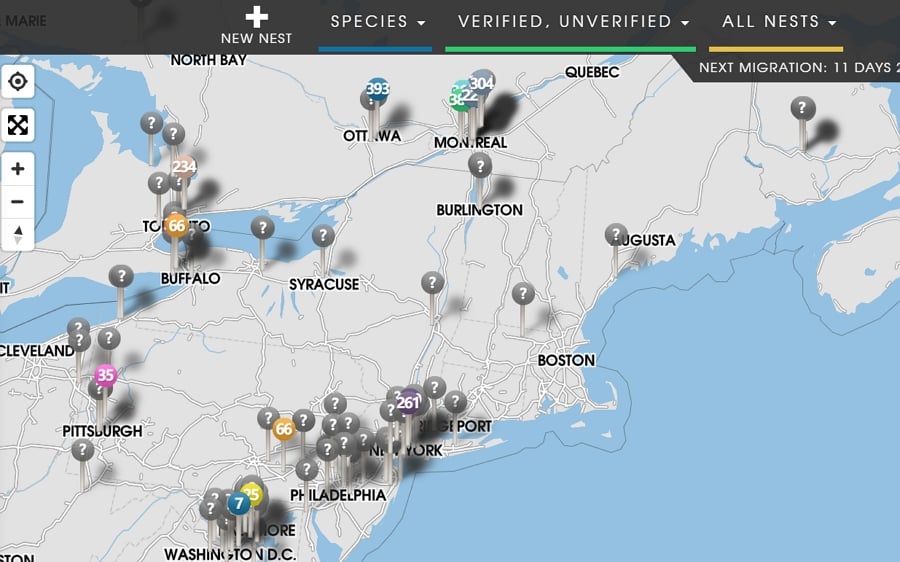 Find Charmander in Fire-Related Locations
Quora users suggest that you might be able to find Charmander and other fire types in fire-related locations such as locations with famous fires, fire information centers and fire stations. You can also use incense sticks.
Since all Pokémon nests are changed at random every two weeks, you may find that some of the locations suggested here and on other forums are outdated. One way around this problem is to wait for a Niantic event that often has 1st generation Pokémon like Charmander in abundance.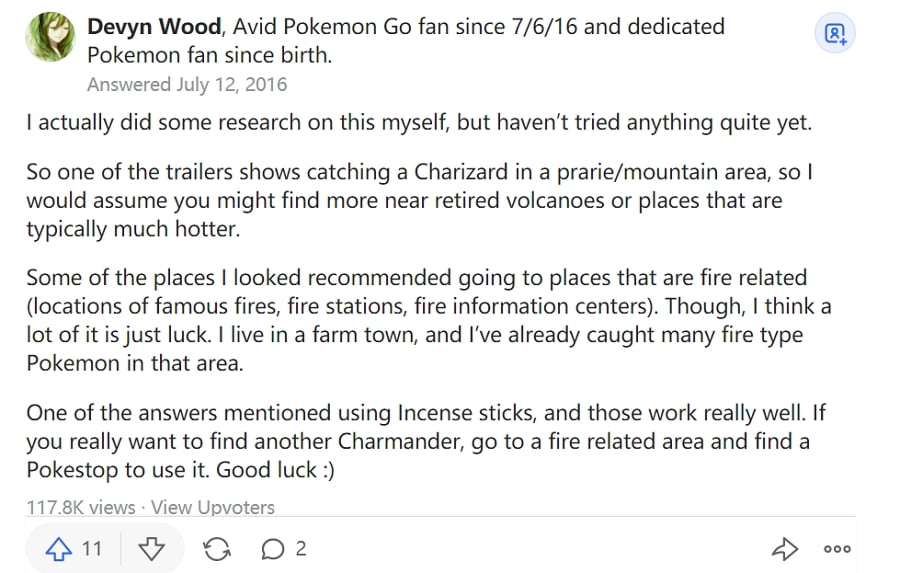 How to Get Charmander without Walking
If the Pokémon you want to catch is not in your area and you're not able to travel to the new location just to catch Pokémon. The best solution would be to spoof the location on your iPhone so that you can catch Charmander or any other Pokémon without walking.
To do that, you would need a location spoofer that is easy to use and highly effective. The best is iToolab AnyGo, a smart, user-friendly and quick location spoofing solution.
The following are its key features:
It allows you to teleport to any GPS location in the world without being tracked.
You can use the joystick feature to virtually move around on the map to various locations on the map as desired.
You can also use it to simulate movement on the map at various speeds such as walking or cycling.
It allows you to import an GPX file to follow the path on the file for your own usage.
It is compatible with common iOS devices and iOS versions.
Download and install AnyGo on to your computer. And learn how to use it to simulate movement along two spots and multiple spots on a map:
Simulate Movement along a 2-Spot Route
Step 1: Launch the program and then connect the iPhone to the computer. Click "Start" and you should see a map with the device's current location.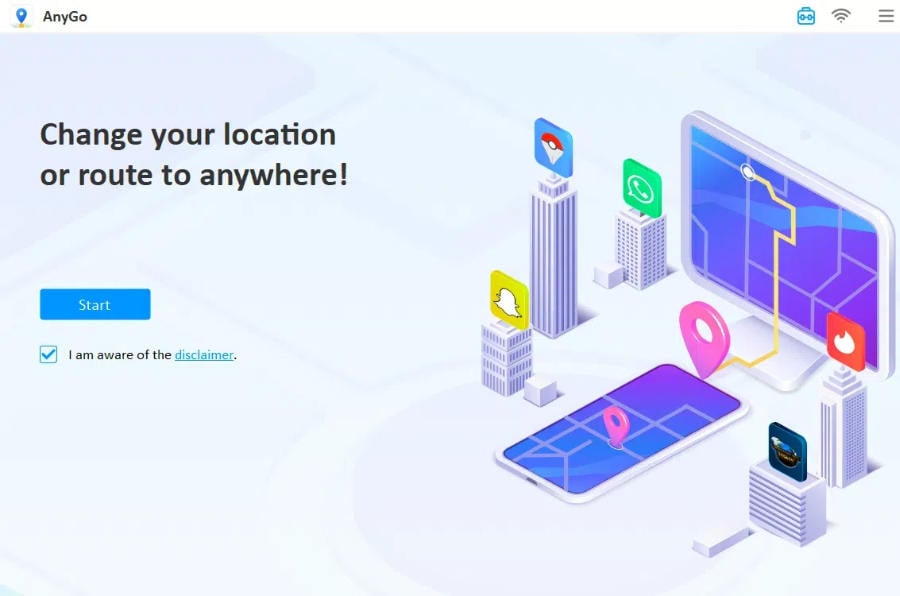 Step 2: Click on "Two-spot route" in the top-right corner of the window and then select the place you would like to go to on the map. A popup will appear to let you know the exact distance.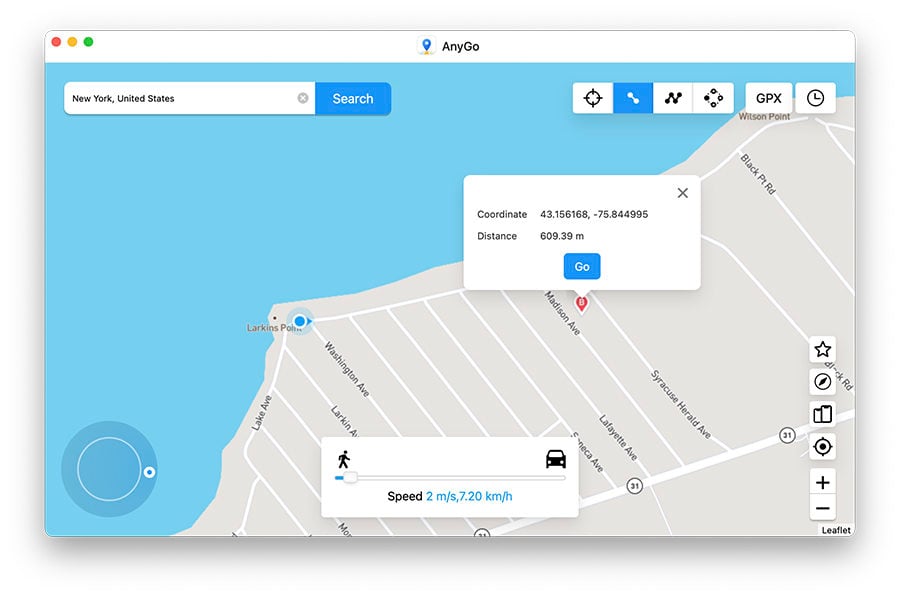 Step 3: Drag the "Speed" slider to determine how fast you'd like to go and in the popup that appears, select how many times you want to go back and forth between the two spots. Click "Go" to begin the simulated movement.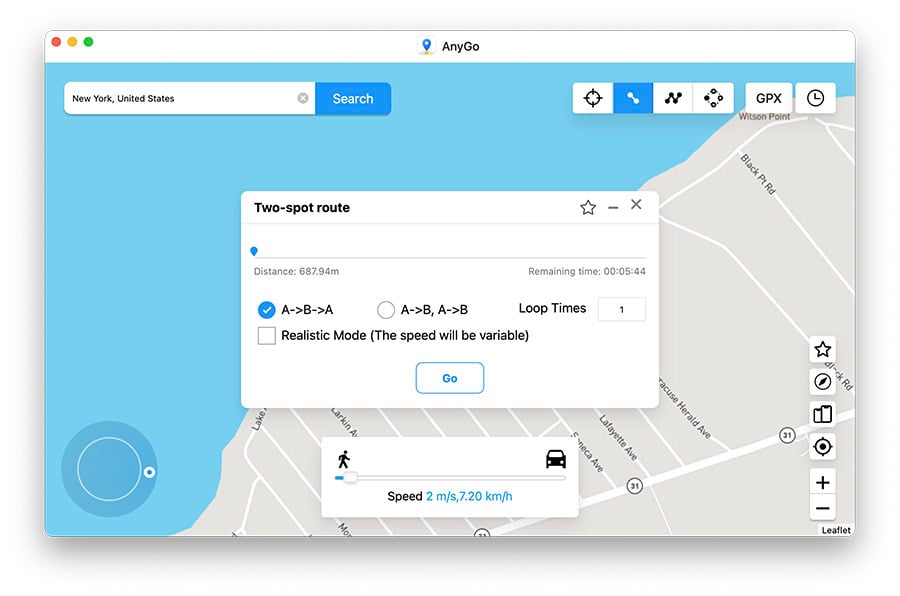 Set multiple spots on Map to Simulate Movement
Step 1: Select the multi-stop route in the upper right corner of the screen and then select all the spots you would like to pass through on the map.
Step 2: A popup will appear indicating the distance you will travel. Click on "Go".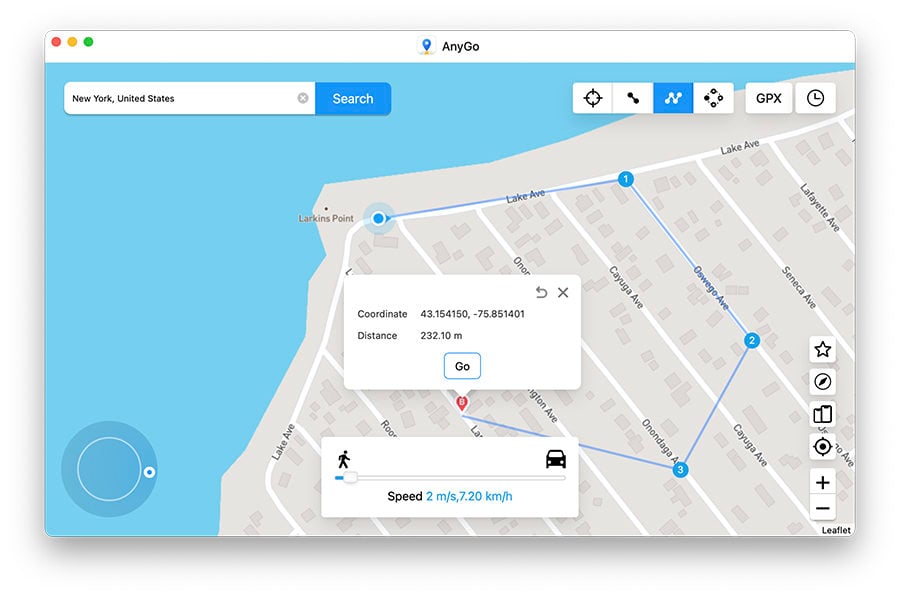 Step 3: You can then select how many times you would like to move along the selected path and then click "Go" again to begin the simulated movement.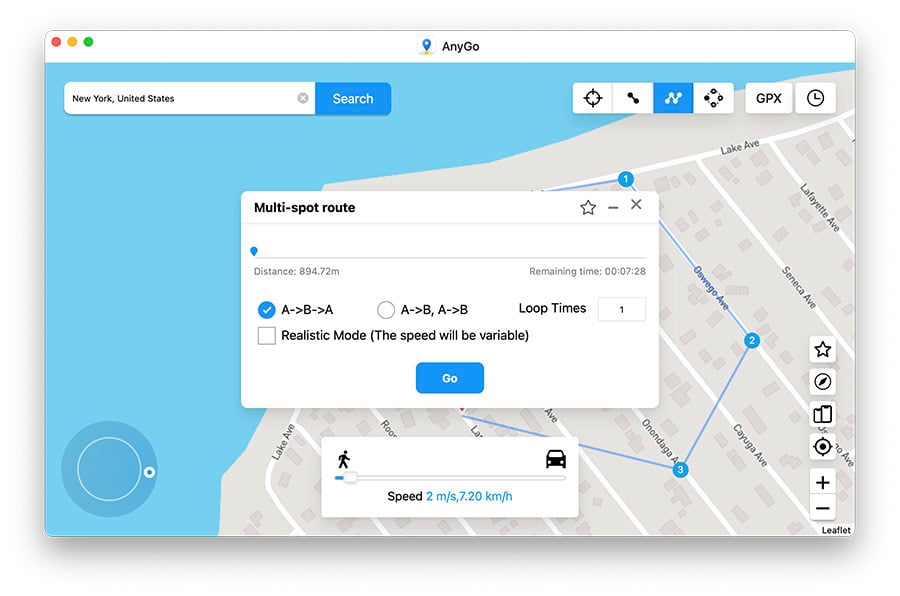 Using AnyGo, you can very easily move to any location in the world and catch rare Pokémon that may not be available in your location. Using it in moderation will prevent problems with Niantic.