Hi all! I have an Apple watch with OS 7.6 and recently, I am noticing that it's battery is draining too fast; like it goes 100 to 50 in about 3-4 hours. Can anybody help me to fix this?
When you think of Apple watches, Apple watch battery drain is what you must be thinking. None of the Apple users are unknown to the battery drain problems of Apple devices. Be it the Apple watch 6 series battery drain or the Apple watch 5 series battery drain, the problem remains constant. Well, if you're struggling with a similar problem, you've stumbled upon the right article. Today we shall see how to resolve the problem of Apple watch sudden battery drain in 2021.
Why Is My Apple Watch Battery Draining So Quickly?
Well, there can be several reasons as to why your Apple watch is acting up. Since the Apple watch is software powered, the operating system updates at a regular interval. As the software updates, the battery begins to drain at a quicker pace. With the device getting older, the battery power also reduces. The average battery life provided by Apple is about 18 hours 4initially. However, the Apple watch battery drains much quicker than that. Screen always being on, accessibility features such as Wi-Fi, Bluetooth, and LTE network are always turned on, too many notifications, damages to the battery, to name a few.
How to Fix Apple Watch Series 7/6/5 Battery Drain So Fast
Looking for a viable solution to fix the iWatch battery drain problem? Well, look no more; here's what you can do to ensure an increase in battery life of your iWatch!
Fix 1: Turn off always-on display
A considerable amount of battery gets drained when the Apple watch's display is on. To prevent battery drain, you can set your screen on time. Here's how you can configure your screen time on your Apple watch.
Open the Watch app on your Apple device.
Head to the "My Watch" tab to and then click on "General"
Then select "Wake Screen".
Click on "Wake for 15 seconds".
By doing so, the screen on time will last only for 15 seconds. The screens display will automatically turn off after 15 seconds hence saving a battery drain.
Fix 2: Reduce brightness
Reducing the brightness is no magic trick. Reducing brightness is highly recommended to all Apple Watch users. It'll reduce battery consumption and prevent Apple watch battery drain helping you to use your watch for longer!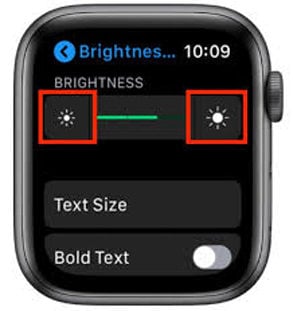 Fix 3: Turn on Power Reserve mode
Power saver mode is one of the most obvious solutions when trying to save on battery power. The Apple watch offers a power saver mode too. This can be enabled from the home screen and can be enabled within a matter of seconds. It is super simple to enable power saver mode and this solution although simple is highly effective to save battery life.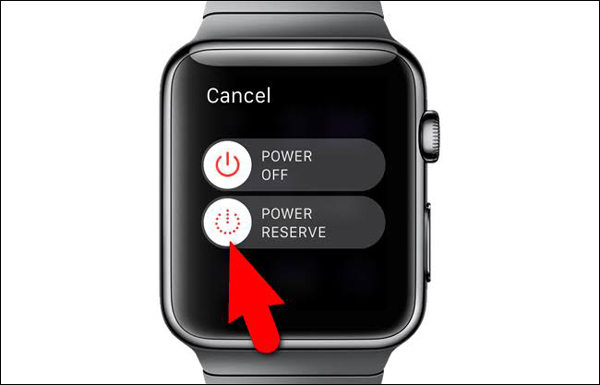 Fix 4: Force quit apps
Apps running in the background are heavy battery consumers. These apps although not in use, occupy space on the operating system of the device and are considered as running app. These apps are of no use when kept in the background and also eat up space and consume battery. Hence, we recommend you to force quit the apps which you aren't using currently. This way, the battery consumption can be reduced further and the Apple watch battery drain issue can be controlled.
Fix 5: Disable background app refresh
In Apple devices, apps such as Instagram, Facebook, WhatsApp keep auto-refreshing i.e. they keep reloading again and again. This reloading of apps consumes unnecessary battery. Well, there's a quick fix to this, head to the watch app on your iPhone and tap "General" > "Background App Refresh". Turn off the "Background App Refresh" for the apps.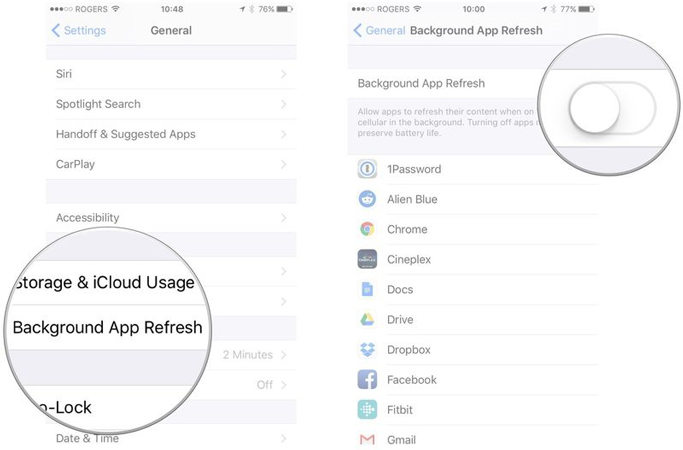 Fix 6: Turn off notifications you don't need
Receiving notifications is one of the features of the Apple watch. However, not all notifications are useful. With the uncountable number of apps we use on our mobile phones nowadays, unnecessary notifications are unavoidable. Hence, turn off notifications for apps that aren't important. Keep tab of messages, WhatsApp, social media, calls, calendar, and other apps which you consider necessary.
Fix 7: Unpair Apple watch
Unpairing and pairing your Apple watch is another solution you can implement to fix Apple watch draining battery issue. Try to unpair and then pair the watch once again. Unpairing the Apple watch causes a reboot of the inbuilt Bluetooth system. This in turn helps the watch to work seamlessly and extend its battery life. Simply open the watch app on iPhone and select your watch at the top. Now, tap "i" > "Unpair Apple Watch" and confirm.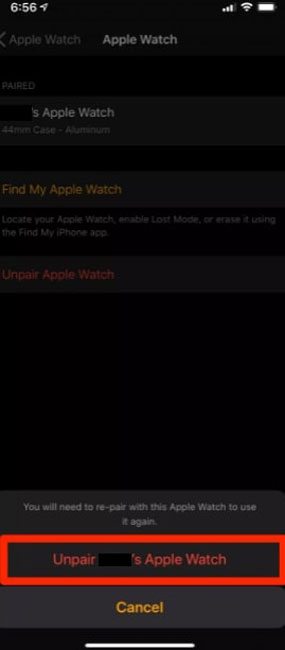 Fix 8: Reboot Apple watch
Rebooting seems like the magic solution to solving any technical problem. Although it seems like a solution from the 90s, it still works. Rebooting your device regularly is known to increase the battery life by an hour or so. And hence, we suggest you to do this if you still face apple watch sudden battery drain. To reboot your Apple Watch, do as follows
Press and hold the side button and the top button (digital crown) simultaneously.
Hold until the screen goes off and the Apple logo appears on the lock screen. Release the button once the Apple logo has appeared.
Fix 9: iToolab FixGo
Well, if you're here, you'd have tried everything listed above and still are struggling with the same issue. We've got you covered! There's nothing to worry about, iToolab FixGo can solve the problem within no time! iToolab FixGo is your one-stop shop for the solutions to all Apple-related devices. Here, you can find the fix for all iPhone problems immediately. Here's how you can do it with utmost ease!
Step 1: First connect your device to your PC or laptop using a lightning cable. Once done, click on "Fix Now" given on the main interface.
Step 2: If the faulty device has to be fixed, the newest version of firmware is required. Click on "browse" and select a path to download firmware. Then click on "download". The firmware file is a large one and hence may take time to download.
Step 3: Now that you've downloaded firmware, we're ready to go! All you need to do is click on "Repair now". On doing so, iToolab FixGo will do the required and fix your Apple device.
Conclusion
We looked at several solutions to the Apple watch battery drain problem and also took a look at why the quick battery drain happens. Apple watch battery drains while sleeping is a common problem faced by Apple watch users. In fact, most Apple users reported that there was constant battery loss even with minimal usage. Well, now you know the reason and the fix to the problem. You must try the above-mentioned methods and if none of them help, iToolab FixGo has got you covered!