If you are a power user and want to flash custom ROMs, kernels, and builds, you might once boot your device in Recovery mode. In case, if you bought a new Xiaomi phone, you need a guide to access the hidden functionalities through Recovery mode.
Here, I gathered new insights for Xiaomi users to enter Xiaomi Recovery mode with simple techniques.
What is Xiaomi Recovery Mode?
Android devices come with a built-in feature known as Android Recovery mode. Technically, it is a special bootable partition that has a recovery application. Recovery mode aids Android users to troubleshoot issues of their Android devices and tablets.
Recovery mode in Xiaomi phones allows you to perform a factory reset, find and install new software, discover new modes, etc. Recovery mode is built-in with multiple useful functions that depend on the OS version.
Hence, it allows you to take a fresh start free from malware or other glitches that create trouble for your Xiaomi phone.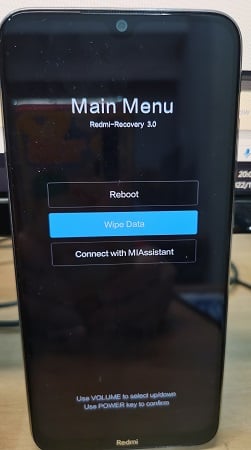 How to Boot into Xiaomi/Redmi Recovery Mode?
You need to use some button combinations to enter Xiaomi/Redmi Recovery mode. To perform this action, follow these steps wisely.
Take a start by long-pressing the Power key to switch off the Xiaomi/Redmi phone.
Next, press the Volume Up and Power button together.
Release the keys when you see the Main Menu of Recovery mode.
Use Volume buttons to navigate up and down while Power key to confirm your selection.
How to Exit Recovery Mode in Mi Phone?
As you finished your tasks with Recovery mode, you might want your Xiaomi/Redmi back to normal. So to exit the Mi Recovery mode, you just need to use the Reboot option. Choosing this option will switch your device back to its normal state.
What is Xiaomi/Redmi Recovery Mode Used for?
Xiaomi Recovery mode assist you to access hidden features in your Xiaomi/Redmi device by performing core functioning in your device. It allows you to erase data or wipe cache from your Xiaomi/Redmi phone. You can enable Fastboot or Bootloader option (if available) from its menu. It will be your Android's helping hand when it runs abnormally due to software issues.
Xiaomi/Redmi Recovery mode is used to perform multiple functions which are:
Reboot System: It reboots or restarts your device to normal.
Wipe Data from Factory Reset: This option will reset your Xiaomi phone back to a factory reset state by erasing data and cache partition. Hence, this feature is found most helpful when you want to sell your phone.
Wipe Cache Partition: The cache partition is the partition stored in Android's hard drive that temporarily store data as memory. This option will wipe off data from the cache partition.
Connects with MI Assistant: It redirects to the Fastboot mode in the Recovery mode.
Warning:
Performing a hard reset or Recovery mode will erase all important data from your device. Make sure to backup your data in Google Drive, Dropbox, SD card, etc.
Closely check the software before uploading it to your device via Recovery mode.
If your Xiaomi device is protected by a Google account, the FRP lock will be enabled once you hard reset your device in this way.
Extra Tip: Remove Google FRP Lock after Factory Reset
Factory Reset Protection (FRP) is a security feature on Android devices. Once you add a Google account to your Android device, the FRP lock will be activated. This feature can protect your personal data in case you lose your phone or your phone has been stolen. The FRP lock will be enabled when your device is reset in an untrusted way, for example, factory reset the device via Recovery mode. However, we inevitably need to factory reset our phones through Recovery mode sometimes, even though we are the owners of the phones. It's troublesome that Google account verification shows up and we forget the username or password.
In this part, we'll tell you how to remove Google FRP lock after resetting your Xiaomi/Redmi device via Recovery mode.
Xiaomi FRP Unlock Tool
Remove Google FRP lock in 3 minutes.
Unlock Google FRP in several clicks with 99% success rate.
Supports all models of Xiaomi, Redmi, Poco.
Remove all Android screen locks, PIN, password, pattern, fingerprints, face lock.
Download and install UnlockGo for Android on your Windows or Mac computer. Then launch it.
Step 1: Click "Bypass Xiaomi FRP" on the main screen. Connect your device to the computer and click "Start".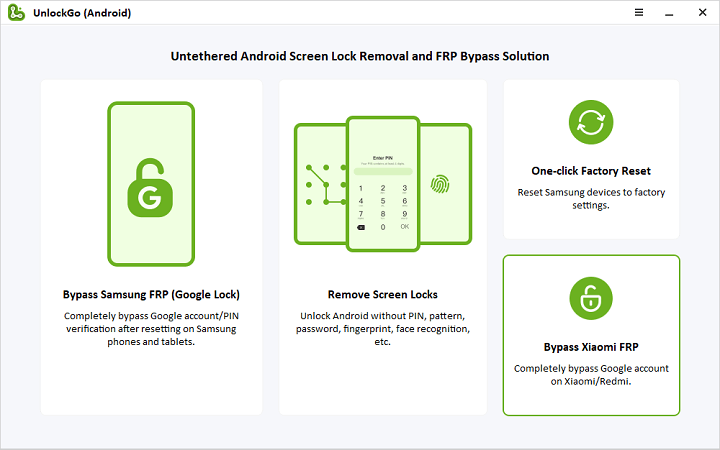 Step 2: Follow the on-screen steps to boot it into Mi Fastboot mode.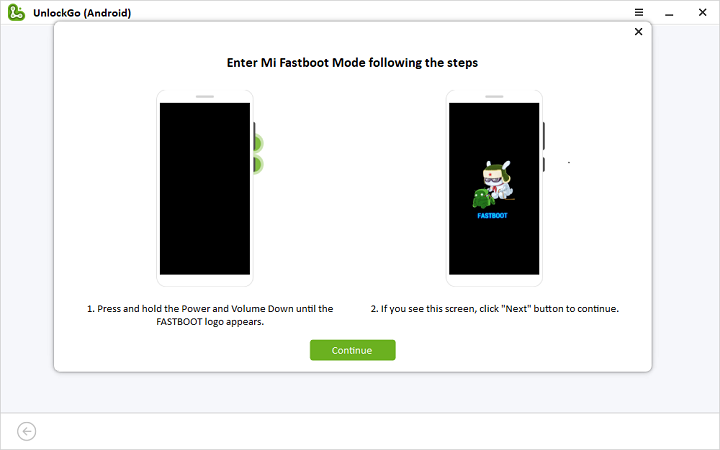 Step 3: Select the "Connect with MIAssistant" option with volume button and confirm it with POWER key.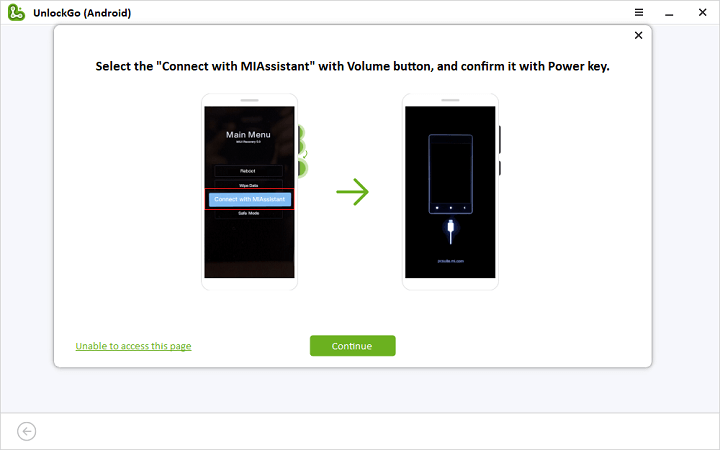 Step 4: After that, you just need to wait for reboot in a few seconds. Finally, the Google account verification will be removed.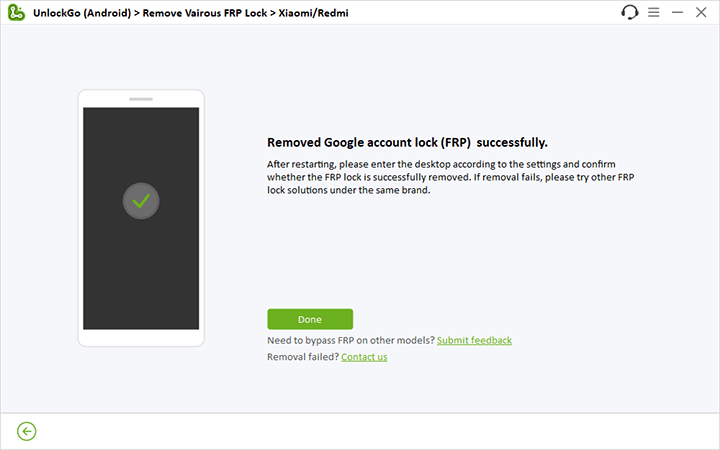 Don't hesitate. Just download UnlockGo Android and have a try.