My Watch is set to deliver Mail and Messages notifications, but it's not doing it. My texts and emails are appearing on my Watch, but I am not getting notifications. Any Thoughts?
Is Apple Watch not getting notifications? No problem. This blog will help you solve your problems using iToolab FixGo – a premium tool known for resolving all iPhone system issues. Furthermore, we'll discuss the main issues behind this problem and how to get rid of them.
Why Am I Not Getting Notifications on My Apple Watch
There can be several reasons why you're not getting text notifications on the apple watch. Skip this section if you know the cause and are looking for an ultimate solution. However, we'd recommend you to go through this section, and maybe it can help you resolve an issue with ease.
1. Setting Reasons
Before proceeding further, you must know the following two things about receiving notifications on the Apple watch.
Notifications alert only appear when you're wearing your Apple Watch, and it's unlocked.
You won't get notifications on your Apple Watch if you're using your phone continuously.
In the Watch app on your iPhone, you can find both of these notes in the Notifications menu. Check them if they're toggled off.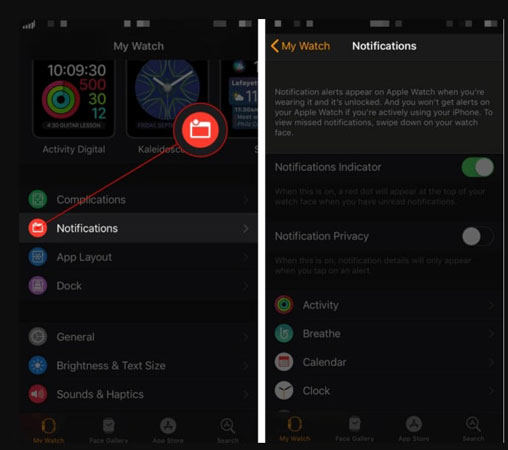 2. iOS Updated
Apple releases periodic updates to fix bugs and issues that prevent users from doing normal tasks. Therefore, if you've recently updated your iOS device, then there might be a sync problem due to incompatible software versions. You must ensure that your Apple Watch is also up to date.
3. Enabled Disturb Mode
When you've enabled the Do Not Disturb mode, you won't be able to receive alerts for email and text notifications. You'll receive notifications, but you won't receive any alerts.
To turn off this feature on your Apple Watch, you need to open the Settings app on your Apple Watch and tap on the "Do Not Disturb" option. Make sure that the Do Not Disturb toggle button is turned off.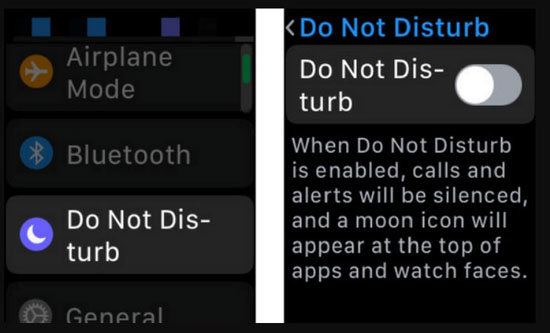 4. Wrist Detection Issue
You won't be able to receive notifications if you're not wearing Apple Watch. If you're wearing your watch, but it's unable to receive alerts, there might be a problem with sensors. Turn off Wrist Detection completely, open the Watch app in your iPhone, and tap on the passcode. Toggle on the Wrist Detection option again.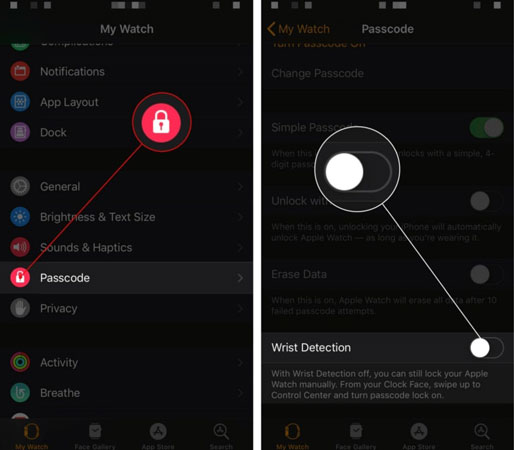 If this doesn't resolve your problem, you can contact the nearest AppleCare and repair your Apple Watch.
5. Unknown Issues
Anything from a small bug to a complex issue can make your Apple Watch malfunctioned. You need to perform the following steps to get rid of unknown issues:
Reboot your Apple Watch: like several other technologies in the world, you can fix your Apple Watch by restarting your Apple Watch.
If you're unable to fix this issue by restarting your Apple Watch, then you need to send your watch to the nearest AppleCare outlet to get your Apple Watch repaired.
Helpful Tips: How to Solve iOS 15 Update Issues on iPhone
Are you still wondering Apple Watch not getting notifications? Then we've got a solution for you. iToolab FixGo is the ultimate and premium solution that can help you eliminate all types of system issues. This tool can also help you resolve iOS 15 Update issues if your Apple Watch fails to provide you with text and email notification alerts. Here is how you can use this tool to get rid of Apple watch not getting notifications after the iOS 14 update:
Step 1. Connect Your Device to the Computer
Connect your malfunctioned device to your PC via USB cable and click on the "Fix Now" button to begin. The iToolab FixGo will recommend you put your device into recovery mode if the program fails to detect your device.
Step 2. Download The Firmware Package
To repair the device, the tool will automatically download a suitable firmware package on your device. Click on the "Browse" button to set the location for firmware and then click on download.
Step 3. Fix All System Issues
After successful downloading of the firmware package, you're all ready to fix your device's issues. Click on the "Repair Now" button to start repairing.
People Also Asked about Apple Watch Not Getting Notifications
Q1: Apple Watch Not Receiving Notifications For A Specific App?
If you're unable to receive notifications for a specific app, you might have turned off the alerts for that app. You need to find that app and open settings to check whether notification permissions are turned off.
Q2: How do I get notifications back on Apple Watch?
To turn on Apple Watch notifications, you need to open the Apple Watch app on your iPhone. Tap on the Watch, then Notifications, and tap on the app. Now, tap Custom and choose to Allow Notifications option to continue.
Q3: How do I get my Apple watch to vibrate when I get a text?
Go to Settings in the Apple Watch and tap on the Sounds & HHaptics. Now, you need to scroll down to the Haptic Strength and slide the slider to adjust it.
Summary
Is your Apple Watch Not Getting Notifications? This can happen for a couple of reasons. In this blog, we've addressed the best possible issues along with practical solutions. We've also discussed a premium tool iToolab FixGo, which helps iOS users get rid of all complex iOS system issues. iToolab FixGo is a paid tool and can help you get rid of update issues if there are any.