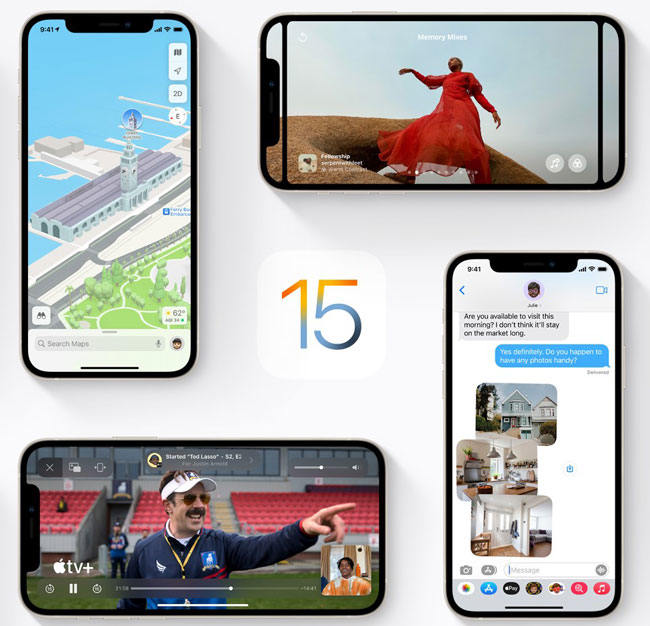 With iPhone 13 out, everyone is now looking forward to the official release of iOS 15 (will be released on September 20). If you are wondering, is it worth buying iPhone 13 the first thing you should consider is do you have enough money. But when talk about should you upgrade to iOS 15, the things you should know are whether there are new features that appeal to you, whether the new version supports your iPhone, and what bugs may be present. Now, keep reading to know more about iOS 15 and how to deal with iOS 15 bugs!
Top 5 Useful Features on iOS 15
Here, we will list all the useful features of iOS 15. These features really surprise and bring convenience to our life. Let's see.
1. SharePlay on FaceTime
Have to say that this feature is very useful, you can have conversations with your friends or family while watching movies and TV shows. And more than this, you can also do:
Listening music together: Others can also add songs.
Spatical audio: When you have a multiplayer video on facetime, each person's voice will come out from the corresponding position on the screen.
FaceTime Links: You can now create a FaceTime link to invite your family, friends or clients to connect on FaceTime. The link also can be opened on Windows and Android.
2. iOS 15 Maps
In iOS 15, Maps adds some amazing features. You are allowed to see 3D buildings such as Golden Gate. More than this, the new maps are of great help to new drivers in the following areas:
Displaying the road details such as bike lanes, crosswalks, etc.
when there is bad traffic condition, it will show you the street-level perspectives.
Offer a dedicated driving map to help you choose the best route.
3. iOS 15 Live Text
When you travel to other countries, you have to face the language problem. With Live Text, you can solve most language problems. By scanning billboard, menu, or anything that printed words with a camera, Live Text will auto Identify the text in the picture, and then you can do:
Copy the text in the picture and make a call, send an email or find a route.
Support for translation into seven languages (English, Chinese, French, Italian, German, Portuguese, and Spanish).
4. iOS 15 Visual Look Up
It helps you understand things that you want to know or don't know in the Photos app. Visual Look Up can identify various objects such as books, landmarks, plants, etc.
How to use this feature:
Go to Photos app and choose the picture that must have a clearly defined subject, it can be buildings, pets, flowers.
Now, check the "i" icon at the bottom screen if it is shown below, it means you can check the info.
Confirm this picture can be identified, then click the little logo in the middle of the image and it will show you the detailed information.
5. iOS 15 Privacy
We are now using many apps on our devices, some of them may access your data. To protect your privacy, iOS 15 allows you:
App Privacy: See which apps have accessed your data in the last seven days and which third-party domain the app has contacted.
Mail Privacy: It allows you to hide your IP address to prevent the sender seeing your IP address, so they don't know if you've checked their emails.
iCloud Privacy: When you using Safari, no one allowed to use your IP address, location or browsing activity to create your profile.
And the features more this, the updates such as Child Sexual Abuse Material (CSAM), Built-in authenticator also worth mentioning. You can check more iOS 15 info on Apple.com.
How to Fix iOS 15 Update and Install Problems
Talking about update and install iOS version, many iOS users have encountered a problem, which is stuck on preparing update screen or installing screen. It's really an annoying thing. But, with iToolab FixGo you can solve this problem easily. Furthermore, this powerful tool also allows you to fix iOS system issues such as stuck on Apple logo suddenly or App crash. Let's see how it helps you fix the iOS 15 problems in a few minutes.
Step 1: Download and install FixGo on your PC or Mac, launch it and select "Fix iOS System – Standard Mode".
Step 2: Connect your device to the computer with a USB cable and follow the on-screen instructions to enter recovery mode or DFU mode. Once done, FixGo will detect your device. Now, click "Fix Now".
Step 3: Next, you will need to download a firmware package, select the version and click the "Download" button.
Step 4: After downloading firmware, FixGo will stating fixing your iPhone. The whole process will take 5 minutes.
These are all the steps to fix iPhone stuck on preparing install screen. No complicated operations and totally safe. If your encounter any iOS 15 bugs you can always rely on this professional iOS system repair tool.
Conclusion
By knowing these amazing iOS 15 features, do you want to upgrade to iOS 15 now? As far as I'm concerned, I would like to update to iOS 15 both in terms of convenience and safety. No matter what problem you may face during the update process, FixGo will always be by your side to save you from the mess.