A VPN masks your IP address to protect you from cyber attackers and hackers. Therefore, people usually use it to ensure security and privacy. It also bypasses the geo-restrictions preventing you from accessing blocked content in your region. Numerous VPNs are available, but we are concerned with the real and accurate ones.
In this article, we will guide you with free and paid VPNs. For location-based apps, a VPN will not work the way we want. To spoof the GPS location, you need an accurate GPS spoofer because it can help you select the desired location.
Best Free VPN To Change Location on the Internet
Usually, a free VPN does not cost you a penny, but you may find it disturbing because of unnecessary ads every instant. The free VPNs are unreliable regarding data safety because your data might be in danger and shared with third-party apps. They usually have a speed limit which is relatively slow for various purposes, but a professional VPN like Proton never disappoints you.
Proton VPN is one of the leading free VPNs because of its multiple features and quality. You have room for data because it has no data limits. It offers you a 500-10GB of data limit, and privacy concerns can also be solved using this. The top speed of this VPN is measured as 380Mbps, which is high compared to some paid VPNs.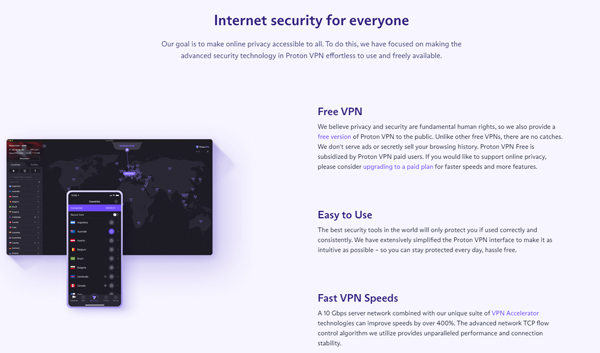 It has a 4.4/5 review rating, which is pretty good for a free VPN. The users like this VPN because of the user-friendly interface with few taps of connectivity in an instant. They have named it a top-notch virtual network because it blocks malware and viruses from corrupted websites.
Proton VPN does not provide P2P support and streaming services which is quite disturbing for a user because they are necessary. You only have one device support, while others have multiple. It has a limited connection to only a few countries, mainly the USA, the Netherlands, and Japan. The ads will sometimes appear between the content, which is annoying for a user.
Best Paid VPN To Change Location on the Internet
The paid VPN is one of the safest compared to a free VPN because it cares about the consumer's privacy. They have a military-grade security system that is unable to break. It has no log policies that never save or share your private information with third-party apps.
The remarkable thing is that it keeps high-level anonymity on public and home networks, which is undetectable to snoopers. It isn't always restricted to a few countries, but it has multiple countries so that you can select your desired one where the ping is low. Let's know which paid VPN is the best.
NordVPN is one of the most popular because of its pricing. It is a low-priced VPN that gives users three months of free access. The top-notch feature is that it keeps notifying when it senses threats from an infected website or viruses. It assigns you a dedicated IP, which is only restricted to you. Moreover, it changes your IP twice and covers the web traffic with extra security.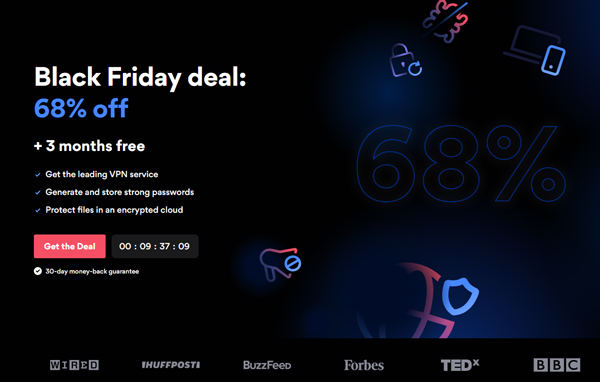 You can use streaming services without facing any buffering. It has a dark web monitor which notifies you when someone tries to leak your credentials. You can run six devices on one account without a split of pings.
Also Know: Best Location Spoofer To Change Location
A VPN is not enough for the apps that run on GPS locations, so only the location spoofer will work. Spoofing completely changes your location to a specific place you want, while the VPN only changes the country or server.
Numerous location spoofers are available, but it is pretty challenging to find the most flexible and appropriate one. We will make this challenge easier for you by introducing an extraordinary tool which is iToolab AnyGo.
iToolab AnyGo is the most powerful software for spoofing your location to the safest place where the chance of detection is negligible. It has a joystick from which you can simulate the accurate place. It is the giant predator of social apps and games that uses GPS location. It changes the location simultaneously on different phones.
You can use the speed-varying feature in this software. It has a pause and resume feature for location, making it more prominent. iToolab AnyGo runs from the lowest to the top Apple devices because it supports iOS 16. You will never face any buffering issues because it does not affect your internet connection.
Let's learn how this software works and spoofs the location.
Step 1 Download iToolab AnyGo, launch the software and tick the alert just below the start button. Hit "Start" to begin.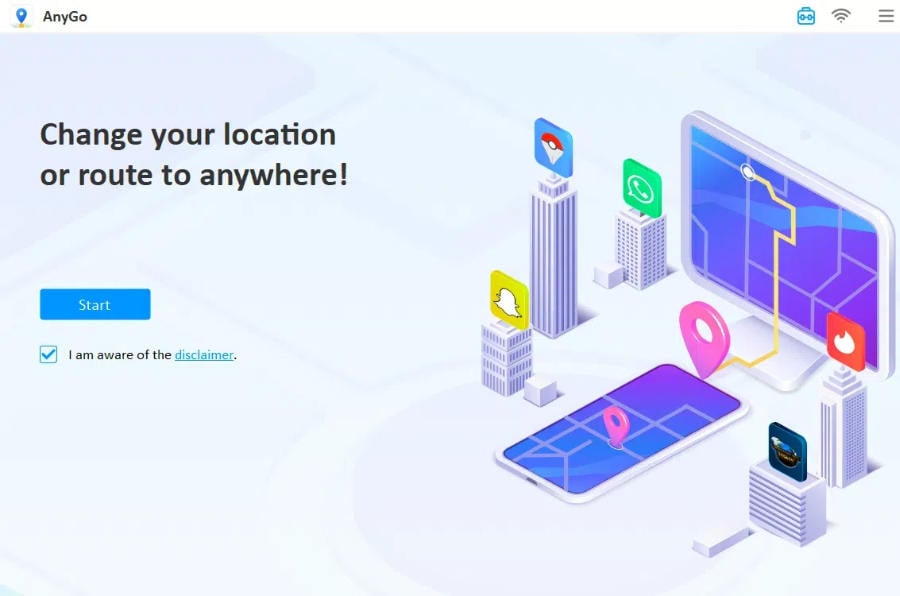 Step 2 Connect your iOS device via a lightning cable to your PC, and you will go to the next screen. Click on "Center on" icon to locate your current location.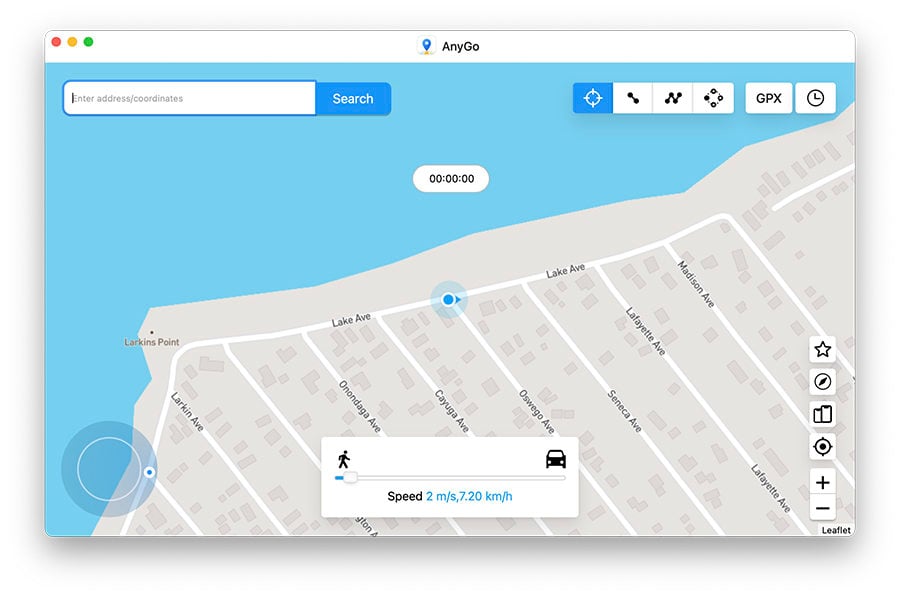 Step 3 Search for the desired location and hit the "Search" button. Set your location to any street and hit "Go" to confirm the location.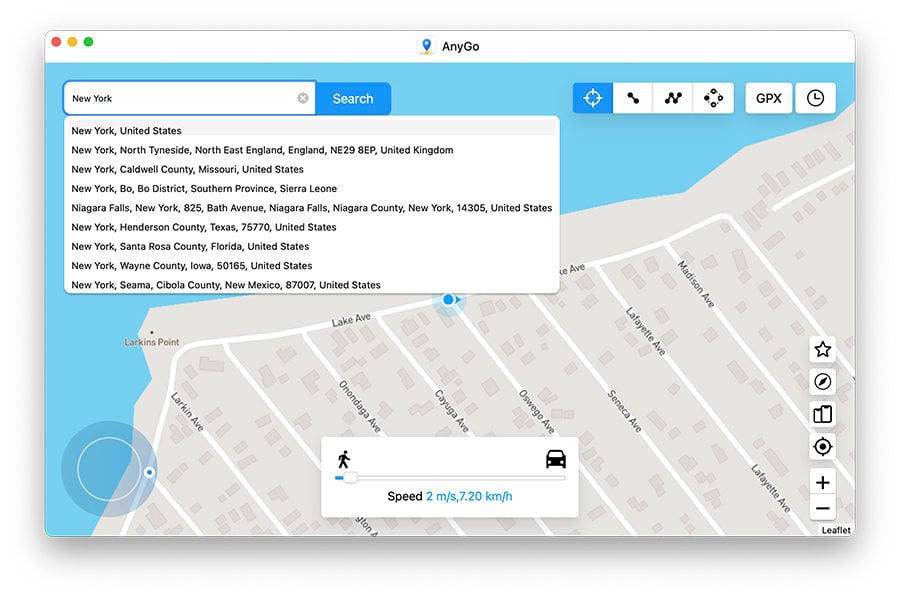 FAQs
Q1: Can my IP address be traced if I use a VPN?
It cannot be traced if you are using the right VPN, which masks your IP in the most manageable manner.
Q2: When shouldn't you use a VPN?
Using a VPN at home or on a password-protected network is exemplary, but you should avoid using it over public Wi-Fi.
Q3: How does Google know my location using a VPN?
A VPN masks your IP address while your actual location is still detectable to Google. The Google account credentials will easily remind Google about your current location.
Conclusion
Using a VPN in some places can be preferable. Still, it is better to use location spoofing software. You can use iToolab AnyGo on location-associated applications so that it will change your location to the desired one in no time. The best part is that it does not leave a trace of location spoofing.