Your device's IMEI (International Mobile Equipment Identity) number is like its DNA that identifies legitimate equipment by 3GPP standards (such as GSM, UMTS, and LTE), iDEN mobile devices, and specific satellite phones. It's a unique 15-digit code assigned to every mobile device. This code is akin to a digital fingerprint, determining which networks your phone can connect to.
In this article, we'll explore the top 4 free online IMEI unlock code generators that will empower you to take control of your smartphone, enhancing your overall mobile experience. But before diving into the topic, let's explore their benefits.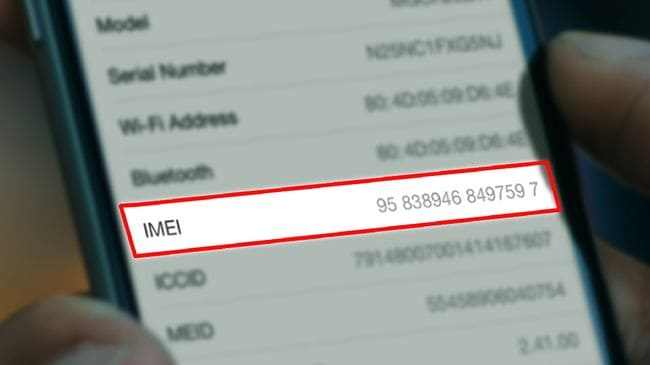 Part 1: Benefits of Using A Free Online IMEI Unlock Code Generator
Is your beloved phone locked to a single network, limiting your options and freedom? That's where free online IMEI unlock code generators come to the rescue by offering you the following perks.
1. Carrier Freedom
When your phone is carrier-locked, it confines you to use only the specific carrier it's locked to. However, by unlocking your phone's SIM card, you gain the ability to use any carrier's SIM card.
2. Budget – Savings
Traveling abroad? No problem. IMEI unlock codes enable you to use local SIM cards, saving you from roaming charges.
3. Increased Resale Value
Unlocked phones are in high demand in the resale market as compared to carrier-locked phones. When you decide to upgrade or switch devices, your unlocked phone fetches a better price.
4. Save from Buying a New Phone
Don't need to purchase a new phone when switching carriers by unlocking your phone's SIM card because IMEI code generators allow you to use it with any carrier's SIM card.
Part 2: Top 4 Free Online IMEI Unlock Code Generators
The IMEI unlock generators will exclusively provide IMEI numbers intended to unlock your iPhone. So to assess the results, you can choose and employ the finest IMEI unlock code generators that are highlighted below.
Top 1. Unlocky
Unlocky is a free online IMEI unlock code generator tool that declares its ability to assist iOS device users in rescuing their devices from carrier network SIM locks.
Unlocky claims to achieve this feat by generating unlocking codes linked to your device's unique IMEI number, and tapping into network carrier databases to provide this service. However, before using this tool, I want you to carefully review its pros and cons.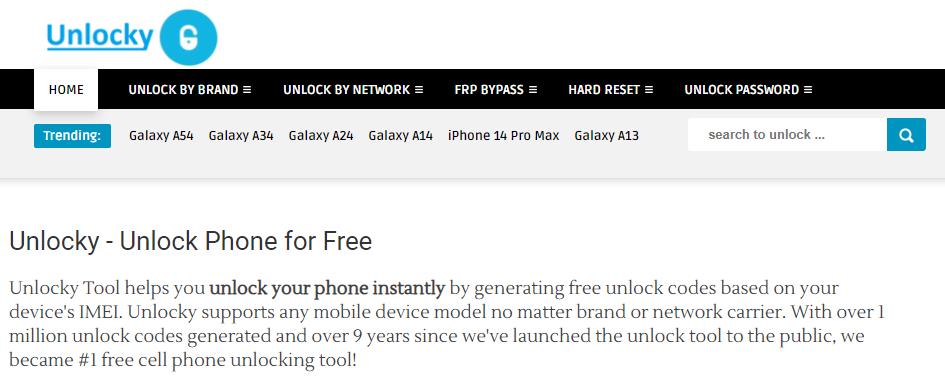 Pros
Obtain carrier network SIM unlocking codes at no cost.
Unlock Android or iOS devices in just 3 minutes.
Unlock carrier network locks on Android and iOS devices with ease.
Cons
Despite claims, Unlocky reportedly fails to unlock devices, especially iPhone and Samsung smartphones.
Numerous online reviews universally rate Unlocky negatively, with only a 1-star rating.
Top 2. FreeUnlocks
Unlocking your smartphone from carrier restrictions is a critical process. So to make it easier, I have come up with another free IMEI unlock code generator FreeUnlocks. This tool claims that it can unlock your smartphone for free by receiving a remotely generated code to unlock your phone. Let's have a look at its pros and cons to check if it works for you.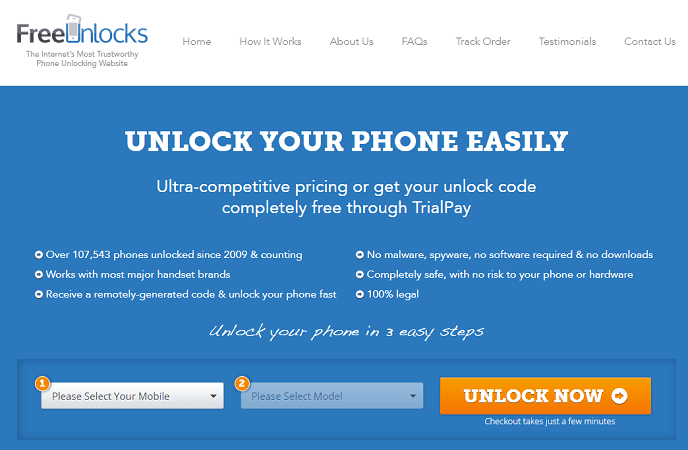 Pros
Activate usage of local SIM cards while traveling to avoid expensive international calls, text, and data charges.
Offers users the flexibility to choose between ultra-competitive pricing or obtaining their unlock code free.
Boost the resale value of your phone.
Compatible with major brands including iPhones, and Android devices.
Cons
Reports suggest that FreeUnlocks may not consistently deliver on its promises, with some users encountering difficulties or unsuccessful unlock attempts.
Like many unlocking tools, FreeUnlocks relies on the IMEI number, which may not always be accessible or accurate for all users.
Top 3. Instant Unlock Service
Now, let's talk about the Instant Unlock service, which is another free online IMEI unlock code generator. This tool will provide you with permanent IMEI unlock codes that can work on any network.
It specializes in speedy IMEI-based unlocks for Samsung, iPhone, and more. Once unlocked, you have the freedom to choose your GSM network provider right from your phone. Aside from all these features it is recommended to consider its pros and cons too.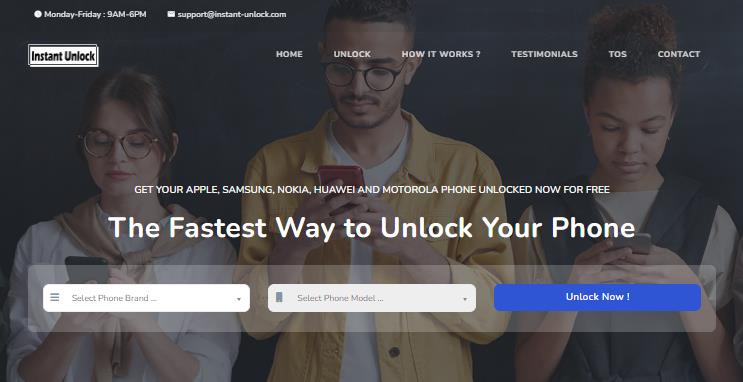 Pros
Unlock your mobile phone by IMEI online for free.
The IMEI method is permanent and does not void the warranty of your phone.
You can use your phone with any network provider around the world.
Cons
It relies on your device's IMEI number. If you can't access this information, you won't be able to use Instant Unlock.
May not support all phone models, particularly newer or less common devices.
Success rates for IMEI unlocking can vary based on several factors, including your device, carrier, and region, you can find Instant Unlock tool reviews online.
Top 4. DeblokGsm Online Unlock Calculator
DeblokGsm Online Unlock Calculator is an online IMEI unlock code generator that claims to provide unlimited unlocking capabilities and unlock codes instantly. So, let's discover its pros and cons too.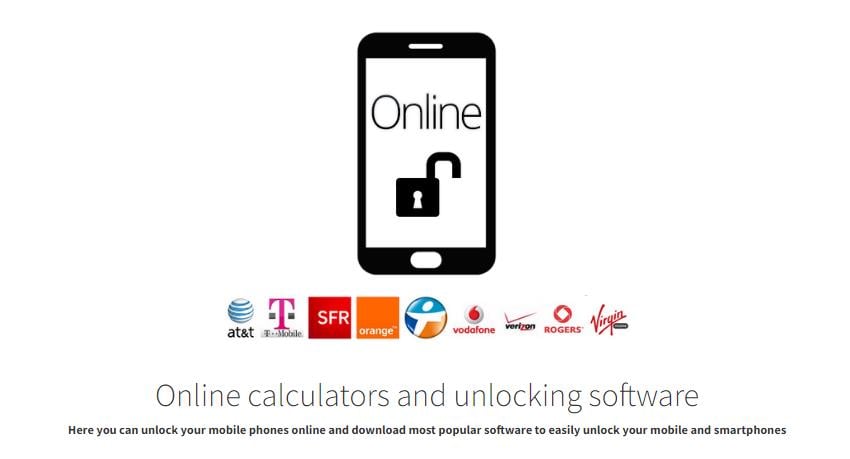 Pros
It also provides you with a unlocking software.
Its compatibility covers hundreds of phone models.
Continuously add new models to their list. From the older to the newest device.
Cons
DeblokGsm services rely on your phone's IMEI number.
Even if you successfully unlock your device, it doesn't guarantee full compatibility with all network providers.
Some carriers may still have restrictions or require additional configuration.
Bonus Tip: Can You Bypass iCloud Activation Lock with IMEI Unlock Code?
In the search to unlock the iCloud Activation Lock on your iPhone, you may have come across claims of using a IMEI unlock code. However, it's essential to drive out this myth that IMEI unlock codes cannot bypass iCloud Activation Lock.
These suspicious services often lead to nothing more than a frustrating journey filled with endless surveys and personal information collection, leaving you right where you started.
So if you are locked out of your device due to iCloud Activation lock, get ready to explore the secure and reliable alternative that truly works i.e. iToolab UnlockGo – a powerful iCloud removal tool, that gives you the authority to remove iCloud Activation Lock yourself without a password or the previous owner.
iToolab UnlockGo iCloud Removal Tool
Bypass iCloud Activation lock on iPad/iPod/iPhone with high success rate (iOS 15/16 Compatible).
It doesn't require the IMEI number.
The tool works perfectly on Windows and Mac computer. And it's safe to download and install the tool.
After removal, you can log into App store with a new Apple ID.
How-To Steps
Step 1 Select "Unlock iCloud Activation Lock" from the main screen. Click "Start" to proceed and connect your device to your computer using a USB cable.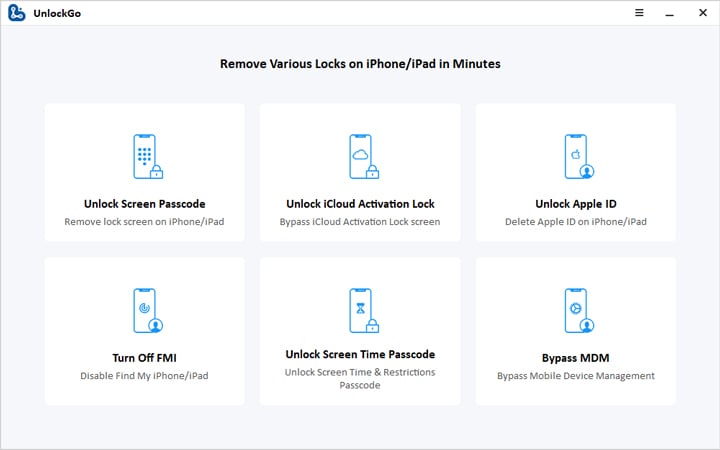 Step 2 The tool will start downloading the necessary firmware package. Please wait as the process may take a few minutes.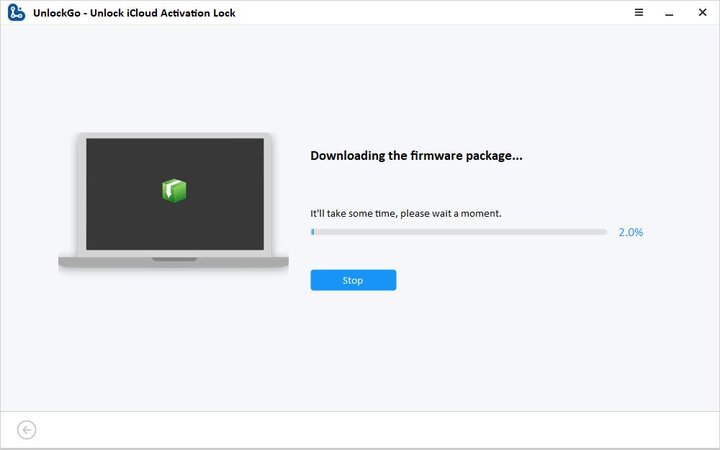 Step 3 Once the firmware package download is complete, click the "Remove Now" button. UnlockGo will automatically place your device into Recovery mode. After that, go through the on-screen instructions to put your device into DFU mode.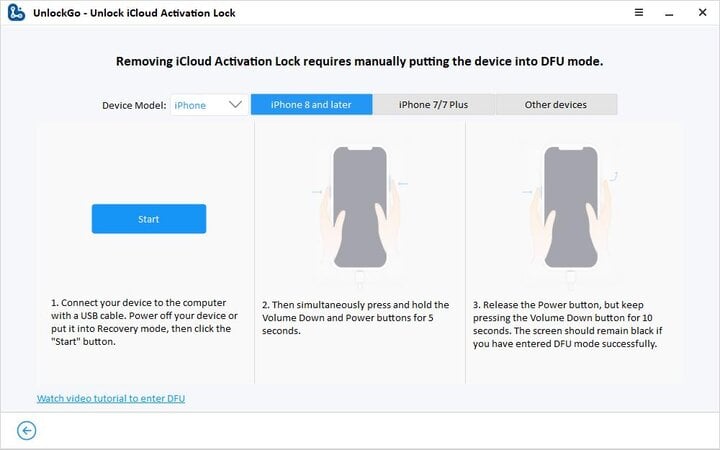 Step 4 The jailbreaking process will commence when your device successfully enters DFU mode.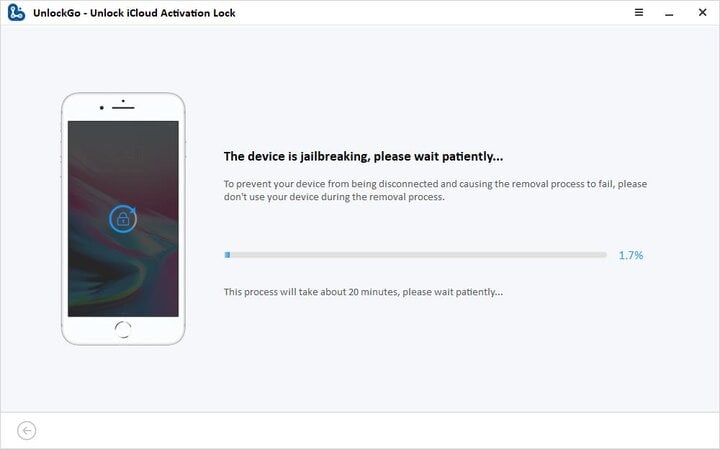 Step 5 After the jailbreaking process is completed, repeat the steps to put your device into DFU mode again. Once done, the tool will initiate the removal of the iCloud Activation Lock. This removal process typically takes only 1-2 minutes.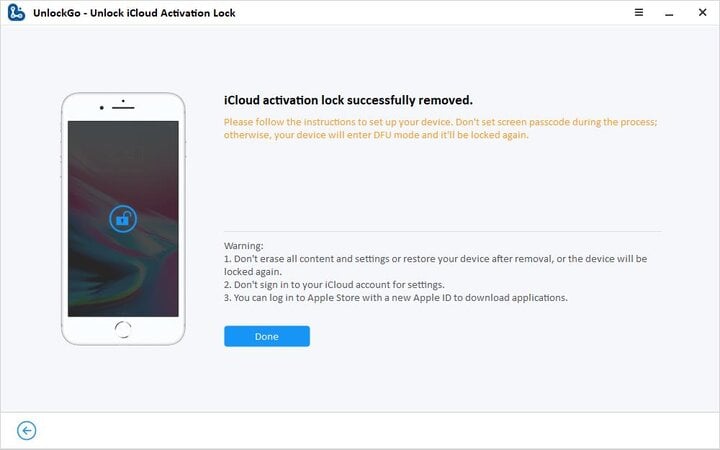 Closing Thoughts
After reading this piece or writing, you have 4 free online IMEI unlock code generators to unlock your phones. When it comes to bypassing iCloud Activation Lock, steer clear of the false promises and doubtful methods offered by IMEI unlock code generators. Instead, choose the secure and reliable solution provided by iToolab UnlockGo.
With its impressive success rate, user-friendliness, and commitment to data security, UnlockGo is the best tool to help you regain access to your locked iOS device. Get it now!