Blocking a certain contact is not a new thing. We often do it according to our preferences. However, it doesn't stop a blocked contact calling you. The difference is, their call will straightly go to your voicemail. As a result, they can send you a recorded message. In this guide, we will show you how to check voicemails from blocked numbers on Android devices quickly and easily.
Part 1: Can I Listen to a Voicemail from A Blocked Number?
The answer is yes! You can listen to a voicemail from blocked number. They will not display with the regular messages though. With a few simple steps, you would be able to listen to voicemails from any blocked numbers. Or else you can also use a third-party application to view or listen to any blocked messages on your Android phone.
To know the steps to check voicemails from any blocked numbers, scroll down.
Part 2: How to Check Voicemails from Blocked Numbers on Android?
As mentioned above, the voicemails won't show up with the messages. So you will have to take help of "Phone" menu from your device's settings. Follow the steps below and check your voicemails from blocked numbers.
Step 1: To start, open the "Phone" app on your Android. This can be done by navigating through the phone's menu.
Step 2: Next step is to find and select the "Voicemail" option.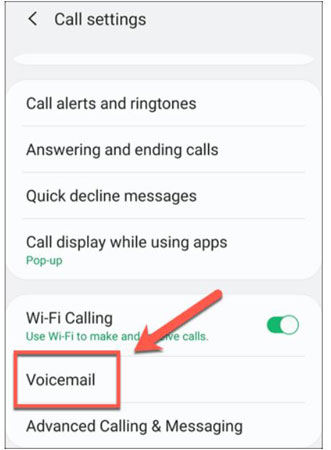 Step 3: The screen that appears next will display a list of all the voicemails. This list also includes voicemails received from blocked numbers.
Step 4: You can listen to any desired voicemail by simply selecting and playing it.
You might have understood the steps to check the voicemail of blocked numbers on Android phones. If you are in need to unblock that number's voicemail, read the blog paragraph. We are going to discuss the steps for the purpose.
Part 3: How Do I Unblock Voicemail on Android?
Blocking your voicemail on your Android device is a quick and easy way to protect your privacy. But sometimes you may need to unblock it. Fortunately, the process is simple and straightforward. It only takes a few steps.
Step 1: Open the "Phone" app in your Android device. Click on menu icon on the top right followed by selecting the "Settings" option.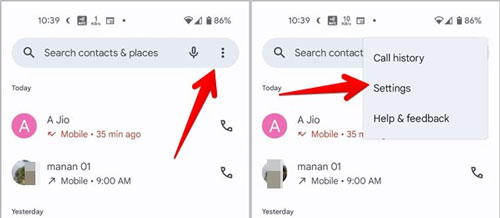 Step 2: From there, scroll down and click on the "Voicemail" option.
Step 3: Next, navigate through the list of voicemails and tap & hold on the blocked contact's voicemail that you wish to unblock.
Step 4: After that, tap on the "More" option and click "Unblock".
So, this was all about unblocking voicemails. Now, we will have a deeper understanding on this topic. Check out the following section.
FAQs about Voicemail on Android
Here are a few frequently asked questions and answers about how to use voicemail on Android devices. We have taken some of the most randomly asked questions by Android users.
Q1. What happens when you block a number on Android?
Blocking a contact number on your Android will prevent them from calling you, while still allowing you to call them. Regular phone calls are automatically declined and no Voicemail notifications will be issued. It is a great way to manage your incoming calls and maintain control of who speaks to you.
Q2. Why is my voicemail blocked?
If your voicemail is blocked on Android, it could be due to a few different factors. Some device settings may cause a block, or your service provider may be preventing access to your voicemail temporarily. Try resetting the settings, clearing the cache, or contacting your service provider for more help.
Q3. How to recover deleted voicemail on Android
If you have accidentally deleted a voicemail on your Android device, don't worry. There is still a chance to recover it. Having a third-party tool can help you recover deleted voicemails without any hassle. The best and the most reliable software for this purpose is iToolab RecoverGo Android. To know the steps for using this tool to recover deleted voicemail on Android, simply read this article.
Final Words
You should now have a better understanding of how to check voicemails from blocked numbers on android. Whether you are getting cold calls or just trying to keep a track of other messages coming in, being able to access blocked numbers allows you to stay on top of your communications.