While Google account verification is loved by everyone for security purposes and is really an amazing feature; however, it may be difficult to skip Google account verification on Samsung when you forget your password. There are many instances where you have to face such a situation, e.g. when you buy a used Samsung phone with a Samsung FRP lock on it.
If you are locked out of your Samsung phone and are wondering how to bypass Google lock on Samsung phone, then we have listed the top ways or methods you can try in 2023.
Bypass Google Lock on Samsung with Android Unlocker
If you are looking to bypass factory reset protection on Samsung, then the simplest option is to utilize a credible third-party software. For that, UnlockGo for Android is a dependable Samsung FRP bypass tool that can be helpful in removing Google account without password. The Android unlocker can unlock Android phones and tablets that have been locked with a PIN, pattern, password, fingerprint, or facial recognition.
One-click Google lock removal
Bypass Samsung FRP lock on Android 5-13
Unlock Android without any tech skill
Skip Google account verification without emergency call
Available for customized plans
How to Bypass Google Account on Samsung?
Here is a step-to-step guide to bypassing Google Account on Samsung devices using the iToolab UnlockGo for Android:
Step 1 Connect your Samsung device to your computer
First of all, UnlockGo for Android should be downloaded and installed on your computer, and then, connect your Samsung smartphone to your PC through a USB cable. Select the feature "Remove Google Lock (FRP)" next, and to proceed, click the "Start" button.
Step 2 Choose the new solution
In this section, choose "All Android versions" and click "Next."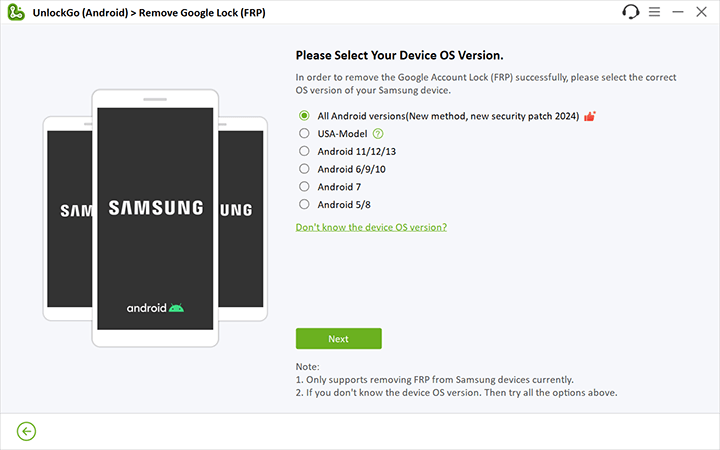 Step 3 FRP lock bypass
Now, wait a few seconds for a pop-up window with instructions to appear. Access the hidden Samsung diagnostics menu with the secret code. UnlockGo for Android should then assist you in enabling USB debugging on your Samsung smartphone.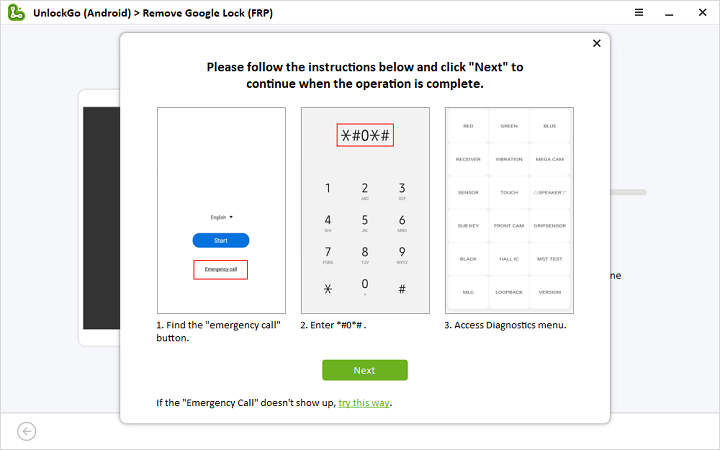 Note: If you can't find emergency call entrance on the welcome screen, click the link below Next button and try the new way to bypass Google lock.
Step 4 Remove the Google FRP Lock on Samsung
After you grant the permission, the Google account verification box should be skipped in a matter of seconds. And that's it; the Samsung smartphone will automatically reboot.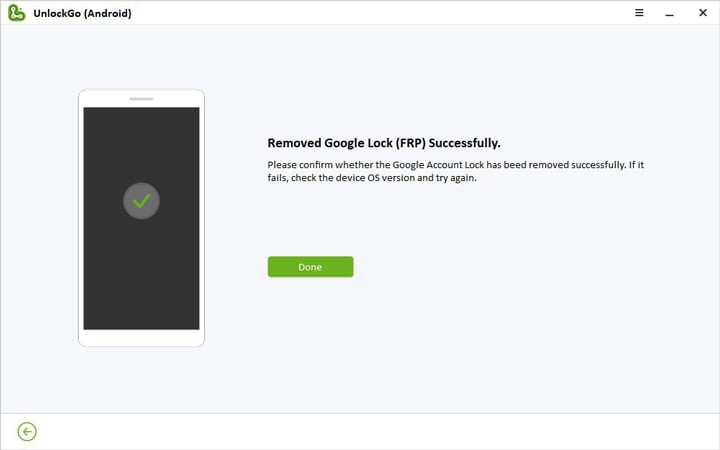 2 Ways Bypass Google Account on Samsung without a PC
We've demonstrated to you how to use one of the top FRP bypass tools to bypass Google account with a PC. Now, if you're wondering how to remove FRP lock Samsung without a computer, then there are two options available for this purpose. Let's go over them one by one.
Bypass Samsung Google lock with Talkback
You can bypass FRP using the Google TalkBack app. However, this is a highly intricate and lengthy technique, you should read everything thoroughly. Though this approach appears to be a bit difficult but does not require a computer and is compatible Samsung on Android 8 and 9. Please follow the instructions below to bypass Google lock on Samsung phones.
Step 1: Connect your Samsung device to an active Wi-Fi network.
Step 2: After that, move put the device screen to the Welcome screen.
Step 3: Long tap the screen with two fingers for 10-15 seconds till you reach the "Talkback Tutorial" screen.
Step 4: Draw an "L" shape to the right and double-tap on "Talkback Settings."
Step 5: Using two fingers, double-tap to disable the "Explore by touch" option. Then, in the popup dialog, hit the OK button.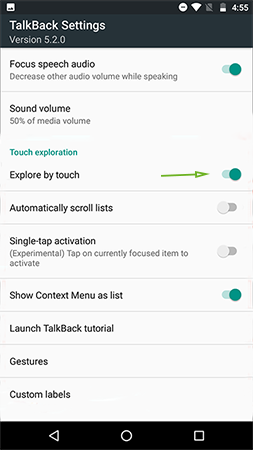 Step 6: Select the "Help & Feedback" option.
Step 7: Next, touch the "Search icon" and enter any random text, such as "iToolab."
Step 8: After that, press on the written text "iToolab" and select "ASSIST" from the three alternatives option.
Step 9: In the lower left corner of the Google screen, tap "No Thanks."
Step 10: To proceed, you must first download and install Google Account Manager 8 apk and the Account Login app on your phone.
Step 11: After downloading, open the app and navigate to Settings. Then turn on Unknown Sources.
Step 12: After installing the app, launch it and enter your Google account credentials by pressing the three dots in the upper right corner of the screen. Then click Browser Sign-in to enter your Gmail address and password. After completing all of the procedures, you should now have an FRP-unlocked Samsung cellphone.
Bypass FRP with Samsung Google Keyboard
If your Android smartphone is running Android 10/9/8 or earlier, you can unlock it through a process known as OEM unlocking. However, take in mind that this approach is no longer applicable on modern-day Samsung devices running Android 12/11 due to the lack of an OEM unlock option.
So, if you have an earlier generation smartphone, here's how you can FRP bypass Samsung without a PC by OEM unlocking.
Here's how you can do it:
Step 1: Turn on your smartphone and follow the on-screen steps to go to the Google Lock screen.
Step 2: Tap and hold the "@" key to access the keyboard and navigate to "Keyboard Settings."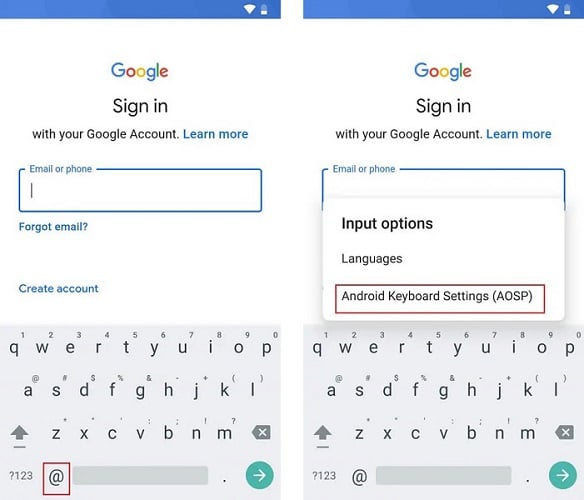 Step 3: Next tap on "Google Keyboard Settings" and select "Help & Feedback."
Step 4: Tap and long press any text on the screen before clicking the "search" option.
Step 5: When the search box opens, type "Settings" and hit enter. You will be sent to the Device settings window. Scroll down and choose "About Phone."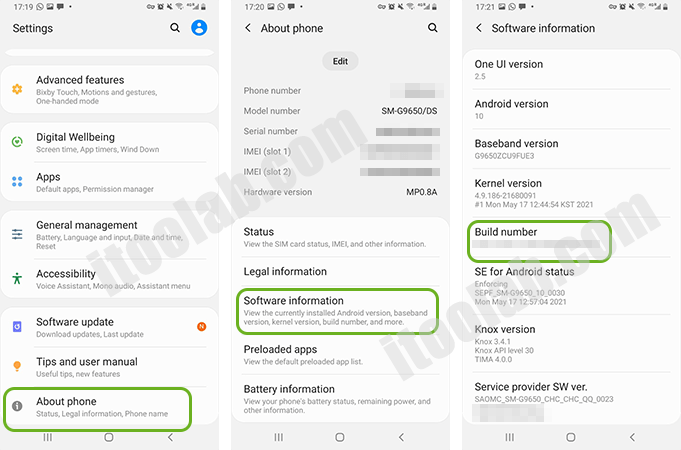 Step 6: Now, press on Software information – Build Number to see the "You are now a developer" message appear on your screen.
Step 7: Return to the main "Settings" menu and then select "Developer Options." Enable the "OEM Unlocking" option now.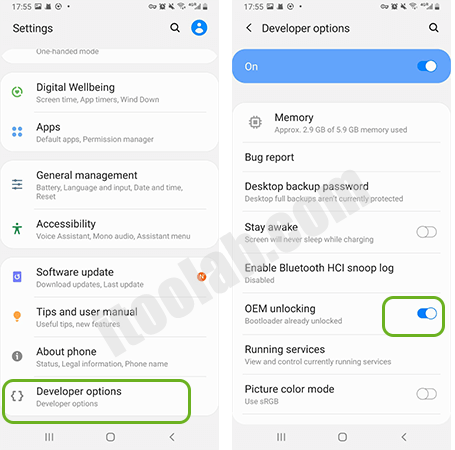 All you have to do now is restart the device, and now, you'll be able to create a new Google account from the scratch.
The Final Verdict
Every time you perform a factory reset on your device, or buy a used phone, you will be confronted with something like Galaxy Google account verification. If you're wondering how to bypass Google account Samsung without a PC or with a computer, the above-mentioned methods can greatly help you. UnlockGo (Android) is the recommended choice to get out of this conundrum. It is a professional Android unlocker software that cannot only easily bypass any form of password but also ensure that you don't experience any data loss.
Don't misss any update and news! Join our Telegram channel or add WhatsApp.