Android phones before OS version 5.1 (lollipop) can be easily unlocked by anyone through a factory reset. To fix security concerns, Google introduced Factory Reset Protection(FRP) feature. It secures the device's data and information and makes it harder to use in unauthorized means.
Today's topic will give you easy ways for Motorola FRP bypass without a computer. So, let's face it!
Part 1. Can I Bypass Google Lock on Motorola
Can I bypass FRP on Moto G Stylus phone? Will it harm my phone?
This is a frequent asked question on different technical forums.
People need to bypass FRP on Motorola when they forgot Google account or bought a second-hand phone locked out by Google verification. Hence, the situation becomes more crucial when company employees who left their job, return their office-used phones without removing Google Account. This develops a need for a user to bypass FRP on Motorola phones.
Once you bypass Google verification, that means you regain the whole access to you Moto phone. I invite you to grab the free tips and tactics for your Motorola bypass Google account without PC.
Part 2. How to Get Motorola FRP Bypass without Computer (30 Min & Free)
In this part, we are going to show you remove previous sync Google account on Motorola without any FRP bypass tool, apk, app or computer. It works for Android 11. The following steps require some patience and technological knowledge, so if you want to tackle this problem more easily, move on to Part 3.
Step 1: Get ready to bypass FRP on Motorola
To remove Google lock without Motorola FRP bypass tool downloading, connect to Wi-Fi first. Switch to the startup "HELLO" screen. Choose the option Emergency Call and tap Emergency Information twice.
On the new homepage (Emergency information), click the pencil icon > Name. Tap the profile icon and select Change an image.
In the left top corner of the screen, click on the MENU option > Photos and then select Permissions.
Tap Contacts and choose to See All apps with this permission.
Tap on the Search option located in the upper right corner of your screen. Here you need to search Settings in the search bar, after that choose the Settings App Info and click Open.
We have successfully dived in Settings. Go to Accessibility > Accessibility Menu and turn On this option.
Note: To confirm whether you turn it on seccessfully, swipe 2 fingers from the bottom to the top. If the MENU shortcut appear, here you go. It helps us to bypass Motorola FRP.
Step 2: Enable shortcut menu
Move back to Settings. Tap Apps & Notification > App info.
You will see App list here. To bypass FRP Account in Motorola you need to disable some apps from here. Tap the 3 dots > Show System Apps.
Tap on Android Setup > Force Stop > OK.
Wipe off Storage and Cache through Storage & Cache option.
Tap Disable > Disable App.
Tap Android Setup ( blue settings icon). After that click Force Stop.
Remove all Storage and cache data from Android Setup.
Click on Google Play Services > Disable > Disable App.
Note: Don't Force Stop from Google Play Services.
Step 3: End the Setup Wizard by Google Play Services
Click the Back Arrow multiple times until back to the main Hello homepage. Select the Start option and the screen starts loading.
When the screen start Checking for update, back to the page of Wi-Fi connection.
Swipe up with two fingers from bottom to top, it will pop up a Shortcut Menu.
Tap on Assistant > Settings > Enable Google Play Services.
Navigate back and choose Skip > Continue.
Tap More > Accept.
Complete the following actions from the Set Screen Lock. Tap Skip > Skip > Ok > Accept & Continue. Complete the remaining steps to get the home screen.
Navigate to Settings > System > Advanced > Reset Option, now choose Erase All Data option three times.
Congratulations on completing a long run. If you are willing to spend a little money for this, the challenge will be considerably less difficult.
Part 3. How to Get Motorola FRP Bypass with Computer (15 Min but Paid)
You must hear about the FRP removal service online, which help you bypass Moto Google account without downloading any FRP tool. Most of these services charge a fee to unlock Google FRP online.
Recently I come to know about another unlocking tool UnlockJunky. It provides remote FRP or Google lock removal services on Motorola. For Samsung , it is able to unlock carrier locks and bypass the Samsung account. It's easy to use and can unlock your phone within 15 minutes without PC skills. Find out how does it work.
Step 1: Enter device information in UnlockJunky website and then click Unlock now.

Step 2: Next, enter your name and Email for checkout. You will be directed to Paypal Payment page.
Step 3: Download the USB Redirector and client program on Windows/Mac PC. Enter the tech address sent with your order email and connect your device to computer.
Step 4: Click the live chat icon. Communicate with the technician and let them know you are ready to bypass FRP on Motorola.
Step 5: Delete the USB redirector as the process is finished by the technician (takes 5-10mins).
Note:
UnlockJunky team work on Mon-Sat 7:00 A.M – 4:00 P.M California Time (PST).
Part 4. How to Unlock Motorola PIN Code (5 Min)
Motorola is at its edge in flagship smartphones with unique features and nifty games. Methods above could help Motorola FRP bypass with/without computer, but what if you forgot the screen lock of your Motorola phone? It will lock out your phone. So, why not tell you a secret to unlock your phone at a cheap price?
Introducing the most trustworthy tool, iToolab UnlockGo (Android). It's a third-party tool to unlock screen locks and FRP locks with malware-free processing. The goal of UnlockGo (Android) is to provide complete and secure phone access to its users. Specialized tools unlock screen locks (PIN, pattern, password, face lock) and bypass FRP (Samsung only) with ease hardly in 5min.
Motorola Screen Locks Removal
0 technical skill needed
Supports all Moto device models
Remove 4 Android screen locks (PIN/pattern/fingerprints/face)
Hence, the tool doesn't require any particular PC or Android technical skills. See how this tool magically unlocks screen locks with easy steps.
Step 1: Download and install UnlockGo (Android) first. Choose the option Unlock Screen Lock, and then click the green Start button to continue.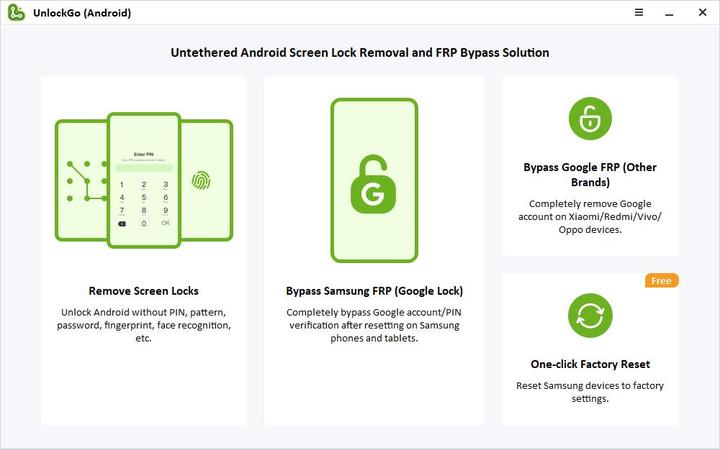 Step 2: Connect your Moto phone with PC. Choose your phone brand, Motorola, click Unlock button for further processing.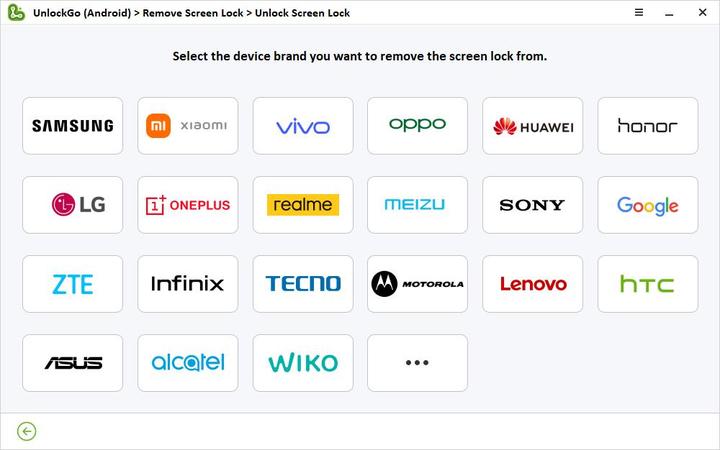 Step 3: Boot your Moto phone enter recovery mode. Firstly turn it off totally. Then press and hold on Volume Down button, next, press and hold Power button as well. Don't release them until it restart.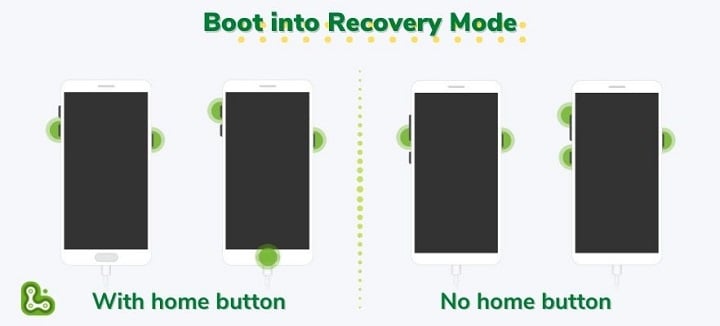 Step 4: As your device entered Recovery mode. Follow the on-screen steps, as shown in the image below.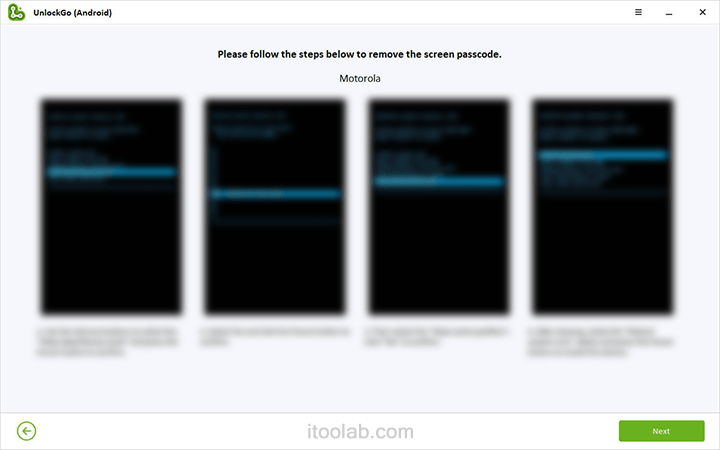 Step 5: Congrats, you successfully unlock the phone. Restart your phone and set up a new passcode.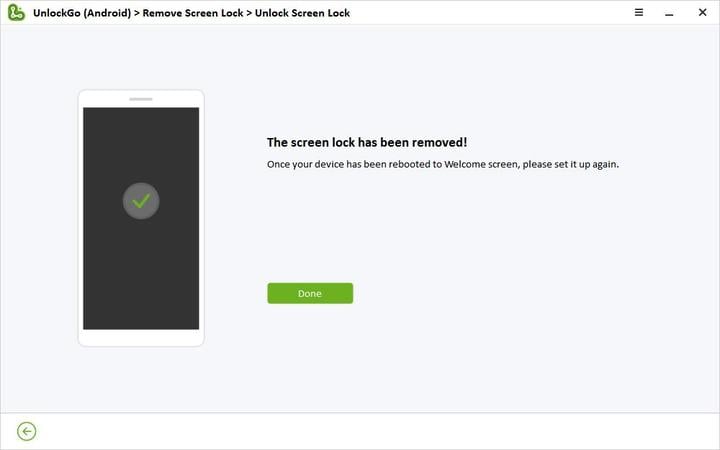 Conclusion
There are many ways to perform Motorola FRP bypass without computer. Online services sometimes take much time to deal with unlocking requests. But if you are locked out of screen locks the best option is to try UnlockGo (Android). Moreover, to avoid scams from untrusted apps, grab the most reliable unlocking services from the iToolab team.