What is FRP lock? Google FRP lock is an astonishing security feature that allows you to protect your confidential data from unauthorized use. If your phone accidentally gets an FRP lock then you need some special tool to unlock your phone. In this guide, we'll be discussing how to remove Google FRP lock on any phones in 2023 using an amazing tool iToolab UnlockGo for Android. We'll also be discussing several different methods to unlock the Google FRP lock on your phone.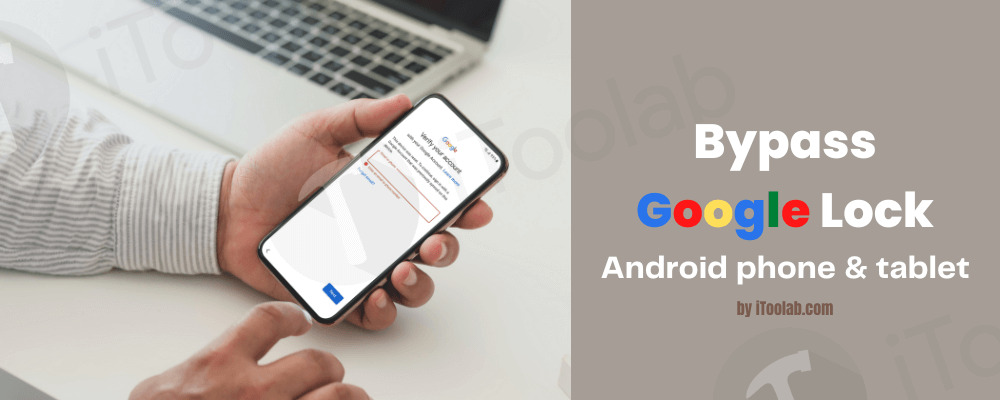 About Google FRP Lock on Android Phones
Before discussing the effective solutions for unlocking your phone, you need to know about the FRP lock. Here is what you should know about this security feature.
1. The usage of FRP
FRP is a Factory Reset Protection that helps you to protect your device's data and information. The built-in security feature is perfect for anybody who wants to protect confidential data such as screen locks and others.
2. How it protect Android
The feature automatically locks your phone if someone tries to reset your phone using a recovery mode, hard key reset, un-trusted reset, repair services, or Device Managers. It's a must've built-in security feature that can protect your vital data from others when you've lost your phone. A FRP-locked phone needs Google credential to unlock, then user could get the full permission to access.
How to Remove Google FRP Lock on Any Phones 2023?
Google FRP lock is a good security feature as long as you remember your device's password. This section will help you greatly if you don't know how to remove Google FRP lock on any Android phones or tablets. Here is what you need to do to unlock your FRP-locked Android device.
Way 1. Using UnlockGo for Android (for Any Samsung/Mi/vivo devices)
Are you looking for an effective solution to remove Google FRP lock? Do you want to know how to remove the Google FRP lock on any phones free? Don't worry, iToolab UnlockGo (Android) can help you, which should be your first pick to unlock your phone.
The tool will also help you unlock all types of screen locks, App & file encryption and other system locks.
UnlockGo (Android) – FRP Unlock in 3 Min
One-click bypass FRP lock on Samsung/Xiaomi/Redmi/vivo devices.
No complex steps for non-techies.
Based on the advanced algorithm, it guarantees a high success rate up to 99%.
Unlock Samsung screen lock without data loss.
Covers over 15 mainstream brands, 2000+ Android models.
To remove Google lock from Samsung/Xiaomi/Redmi/vivo phone and tablet, you need to perform the following steps:
Step 1. Open iToolab UnlockGo for Android
Download and install the iToolab UnlockGo for Android on your computer. After successfully downloading software, open the tool on your device. For Samsung users, click on the Bypass Samsung FRP option; for Xiaomi/Redmi/vivo users, click on the Bypass Google FRP option.
Step 2. Select the new method for FRP bypass
Connect your device with your computer using a lightning USB cable. Click on the Start button to select the first option works for all Android OS version.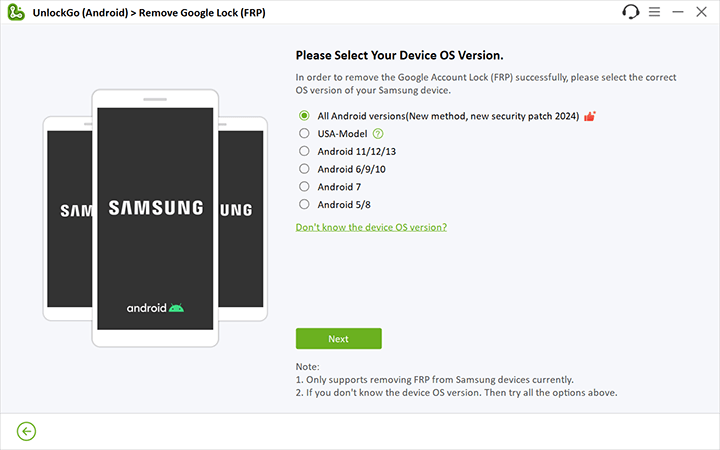 Step 3. Remove Google FRP lock on Samsung
Next, this Android Google FRP unlock tool will guide you to allow USB debugging on your locked phone. Then just leave the rest work to UnlockGo (Android).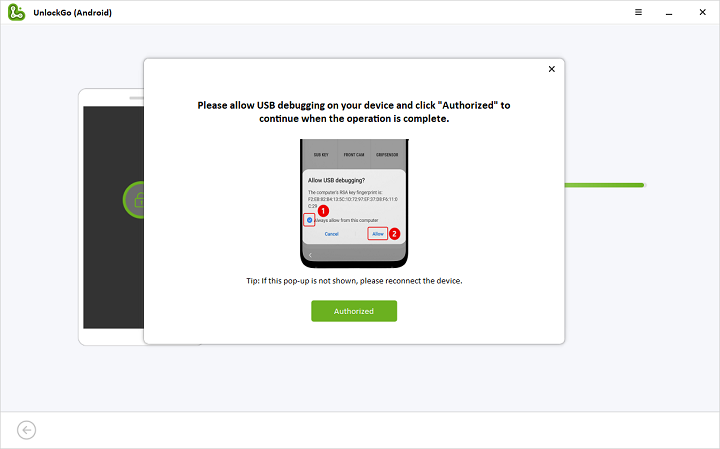 Once the unlocking process completes, you can access your device now.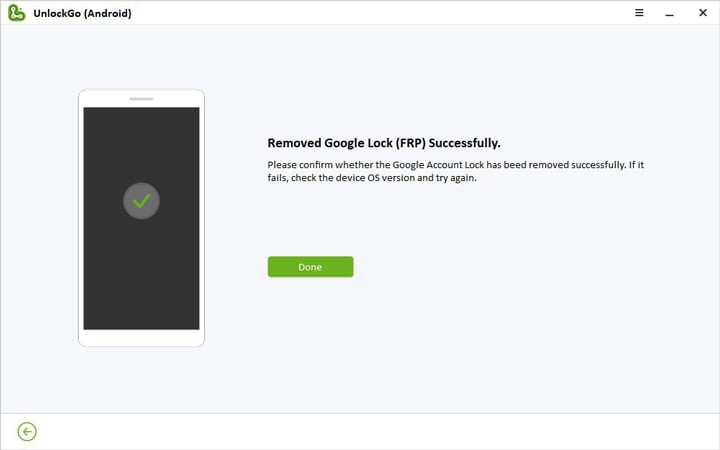 2023 new method for Google FRP lock removal on any Android OS
Way 2. Using Google Credentials to bypass FRP lock
Google account and password are the best answer to remove Google lock on any Android phones. You're all ready to unlock your phone if you know the email but forgot the password. Perform the following steps to unlock your phone throught recover your Google credentials. With this method, you can remove Google FRP lock without using a compute.:
Type google.com in the address field of the internet browser. Now, you need to click on the blue Sign In button located at the right corner of your web page.
Now, you need to enter your email or Google username that you remember. Hit "Enter" button, and you'll be redirected to a new page where you need to enter the password. Now, you need to click on the "Forgot Password" link to reset your password.
Google will offer you different methods to reset your lost account. Chose the one you prefer and continue with it.
Make sure to follow the easy password reset method. After resetting your password, Google will link the new password with your account.

It will take about 24 hours for Google to sync the new password.

Then, you can use the new password to log in your Google account.
Way 3. Using FRP bypass tool Odin
We have discussed top Android FRP removal tools, one of the outstanding candidates is Odin.
You need to follow the below-mentioned steps to unlock your Google FRP locked phone using Odin:
Download and install the Odin flash tool, Samsung USB driver, and FRP reset firmware file.
Now, you need to put your phone into Download mode. Power off your phone, now, press and hold the power button and volume down button till the phone vibrates.
Open the Odin tool and connect your device using the USB cable.
Now, check the AP/CP/CSC option, browse the windows, and tap on the firmware file that you downloaded.
After you've finished importing files, you need to check the download file boxes. Now, click on the "Start" button to continue.
The process will take some time to complete, so you need to be patient. Upon successful processing, you'll see a green pass notification at the top.
Let your device boot normally, and now, you're all set up to phone manually.
How to Remove Google FRP Lock from Android Phone or Tablet?
As we know, depending on the OS version, MIUI, and brands of devices, the methods of bypassing FRP lock will be totally different. So, if the above methods do not apply to your model, the following article may provide you with a solution.
Summary
Most of the time, people buy Google FRP locked phone while making an online purchase or purchasing a phone from the local market. Therefore, they keep on searching how to remove Google FRP lock on any phones. This guide is for everybody who wants a clean and clear solution to their Android problems. Moreover, we've discussed how UnlockGo for Android can solve all locking problems such as activation locks, screen locks, and others. Just try it today!