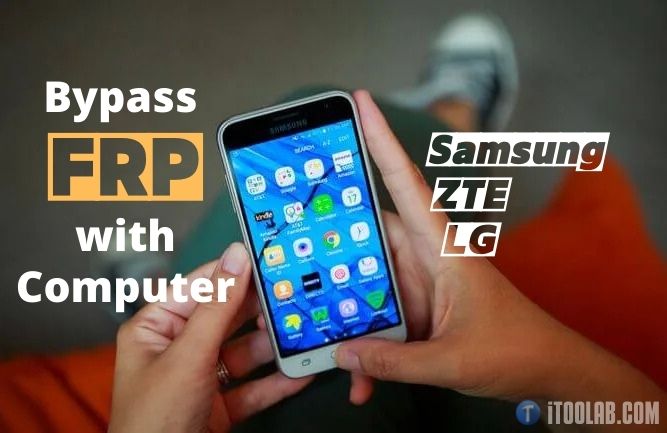 Google FRP lock is undoubtedly a great security feature as it helps you protect your device from authorizing use. Your device will get locked automatically if you accidentally remove your Google account from it. In this guide, we'll be discussing how to bypass Google lock with ease. We'll discuss whether it's possible to unlock your device. Moreover, we'll explain how you can use iToolab UnlockGo (Android) – an extra vigilant tool to remove all types of device locks.
Is It Possible to Bypass Google Lock on LG/ZTE/Samsung?
Yes, it's possible to bypass FRP with PC software. However, there is still no official method to do this job wisely. Fortunately, you can use different third-party FRP removal tools to perform Google lock bypass. The reason for not having an official method to bypass Google FRP lock is a security feature. However, you can use the phone by logging in via an email address initially used to set up the phone.
100% Bypass Google FRP Lock on Samsung with PC Software
Google FRP lock is a fantastic security program that locks your phone and prevents others from accessing your private information. To perform FRP bypass with PC, you can get help from specialized tools. We've tested some FRP removal tool for PC before, iToolab UnlockGo (Android) stands out from the crowd of competitors. Let's see how it helps Android users.
How to Remove Google account without any technical skill?
Without further ado, let's get started to bypass google account on samsung with PC.
Step 1 Open Google FRP bypasser on Windows
Download and Install the iToolab UnlockGo for Android on your computer. After that, open the tool on your computer, you will see an user-friendly screen without any javascript. Move your mouse to the Google FRP Lock block.
Step 2 Connect Your Device
Connect your device with your computer using a lightning USB cable. Click on the Start button to continue to the next step. Choose the first function on the screen.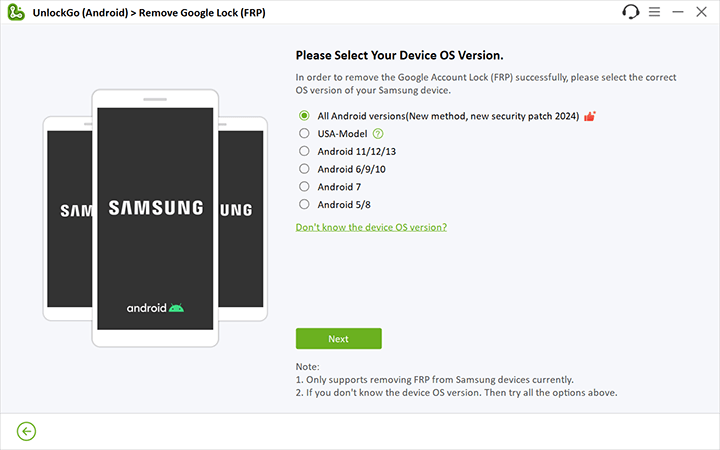 Step 3 Unlock Google FRP Lock
The program will guide you to enable USB debugging with secret codes. There isn't any FRP bypass APK needed, don't worry.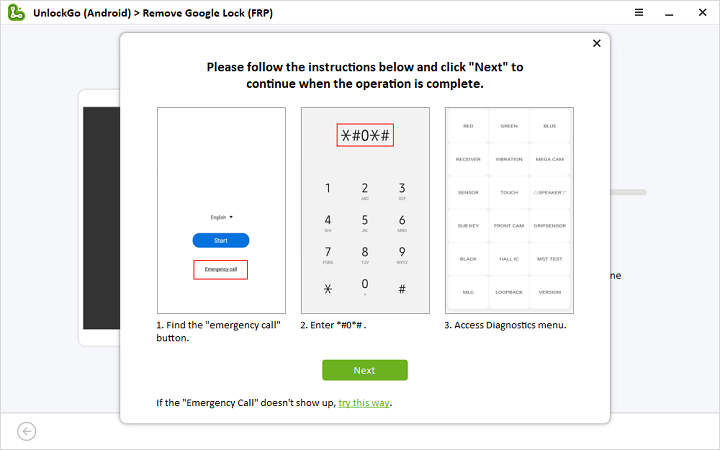 Once the unlocking process completes, that means you are allow to set up a new Google account on your Samsung device.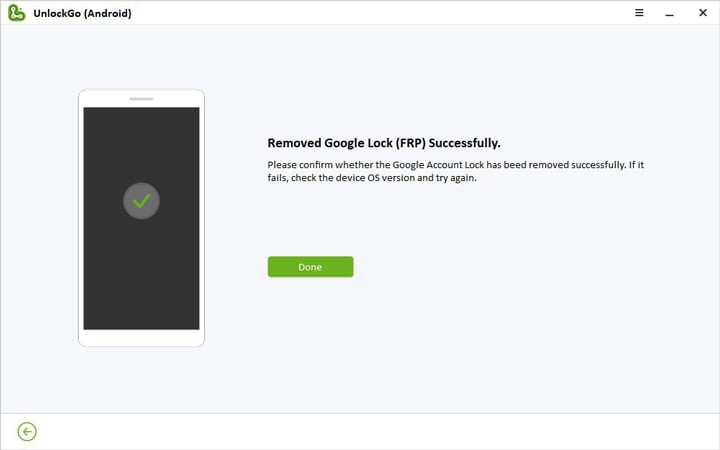 2 Low Success FRP Bypass Methods on ZTE/LG/Samsung with PC
In addition to the above FRP bypass new method, you can also try the following two methods, but the success rate is not too high, and I will explain why below.
Method 1. Using OTG If You Have
There are various unlocking apk's on the internet, you can install them on your Android device via OTG cable. Then, you can access to Settings or some menu directly. The difficulties with this approach are that
Find the FRP bypass apk files that really works for your model and is safe and virus-free;
Some download sites do not provide methods of use, and operating errors are easy to occur.
However, if you are a geek who knows some Android coding knowledge, you could remove Google lock with a FRP bypass USB drive. Here is how you can do this:
Download Samsung FRP settings.apk.
Now, you need to copy the downloaded APK file into a separate drive.
Connect your device using the OTG cable, free PC software, there, and you'll be able to see the popup file manager that prompts you to install the APK file.
You won't get easy access to your phone's settings. Now, navigate to Backup and Reset.
Tap on the Factory Data Reset and Reset Device. This step will erase your entire device's data. Allow your device to reboot.
Now, get your Samsung A12 Google account bypass without PC.
Also Read: 3 Methods for FRP Lock Bypass without OTG or PC
Method 2. Bypass FRP lock using SideSync
SideSync is a tool to transfer data and files between Android device and computer. Unfortunately, it has stopped updating. You can download different versions of sidsync online, which are compatible with Android 5 and Android 6.
Download and install the SideSync.apk file on your device.
Connect your device with your computer using a cable and run the downloaded program.
In a popup asking you to choose an app to open the downloaded program, select the Chrome option to continue.
After downloading the program, open the Google Play Store and install the SideSync on your device.
Open the ES File Explorer and install the APK file.
Open Settings and go to Backup and reset. Tap on the Factory Data Reset > Reset device. Your device will take some time to remove the FRP lock.
How to Get Rid of Google FRP Lock Before Factory Reset?
Well, to solve the problem from the root, you could try to disable Factory Reset Protection. But carefully, you will lose the protection from Google.
Step 1. Unlock your device and follow Settings > Cloud and Accounts > tap Accounts > Tap on your Google account.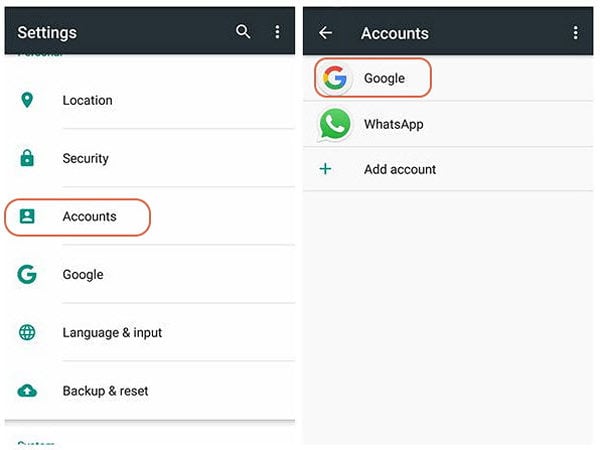 Step 2. Tap on the Remove Account. Tap on the Remove Account button again for confirmation. Click on the "Yes, I Agree" button to continue.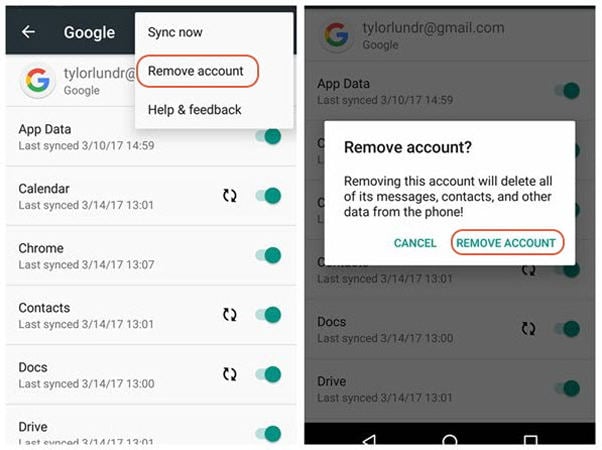 People Also Ask about Google Lock Bypass
Q1: How to bypass Google FRP lock on any android tablet?
It's pretty easy to bypass Google FRP lock with PC with a third-party tool called iToolab UnlockGo for Android. However, there is no official method to Remove the Google FRP lock.
Q2: Does Odin remove FRP Lock in 2023?
The Odin File is quite helpful in removing the FRP lock on your Samsung phone. If you've forgotten the Pincode, the Odin or combination file can help you bypass the FRP lock.
Q3: Is there any free FRP bypass tool for PC?
Android FRP is a great program so it's not easy to bypass or remove it. Therefore, if you are a developer, you also want some income to keep updating the software, like the always updated Android system.
Conclusion
Google FRP lock is a practical security feature that helps you protect your information if you lose your phone or pin. In this blog, we've discussed how you can use FRP removal tool to bypass Google account verification screen on Samsung/LG/ZTE Android devices. We've also discussed their strengths and limitations, so choose an option that best suits you.