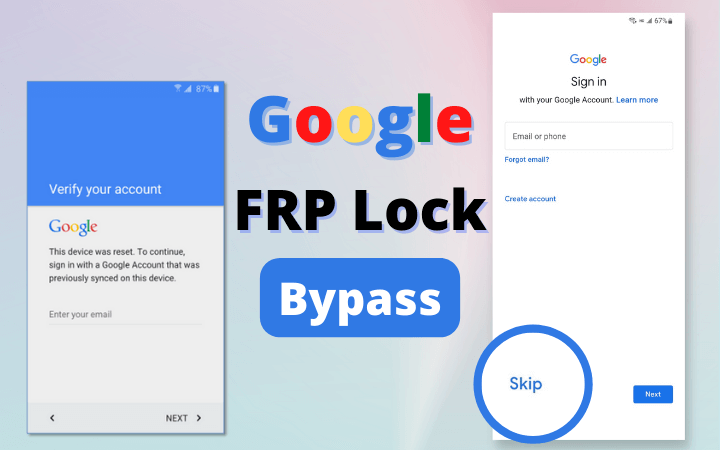 Users sometimes are stuck where they can't move forward without bypassing the Google account verification. There are many reasons that cause this situation, such as you forgot your PIN, pattern, or Google account. You may face this even if you have purchased a second-hand phone and don't know how to deal with fingerprint or face lock. In this article, you will learn about how to bypass Google account verification after resetting.
What Is Google Account Verification
Before the release of Android 5.1 OS Lollipop, each Android smartphone was vulnerable to security and privacy as anyone who got access to your phone was able to bypass the lock whether it was PIN or pattern just with a quick factory reset. To overcome this flaw, Google introduced Google account verification or Factory Reset Protection (FRP). Now only the owner of the device who knows the credential of Google account would be able to reset the device.
How to Bypass Google Verification After Reset on Samsung
If you are stuck on Google account verification and don't know how to bypass Google verification on Samsung, then you are on the right page. There is no internal tool or service built-in by the company that helps to unlock the phone and in such a situation.
iToolab UnlockGo for Android will remove bypass Google verification on your device. It's a professional Samsung FRP and Google verification bypass tool. By connecting your Samsung device to the computer, you can bypass Google verification after factory reset easily.
10 Min bypass Google Lock
Bypass Samsung FRP lock on Android 5~12
Works well on Samsung phones and tablet
Remove all Android screen locks (PIN/pattern/fingerprints/face)
Unlock Samsung screen lock without data loss
Covers over 15 mainstream brands, 2000+ Android models
Follow the step-by-step guide as below:
Step 1 Connect Your Samsung Device with PC
Download UnlockGo from the official website of iToolab, then install it as the instructions provided. Connect your Samsung device to PC by a USB cable and launch the UnlockGo for Android. Choose "Remove Google Lock (FRP)" option, then click "Start" to go on.
Step 2 Choose OS Version of Device
In order to complete the process successfully, you should always make sure that the version you selected is the correct one and the Wi-Fi shouldn't be turned off during this whole process.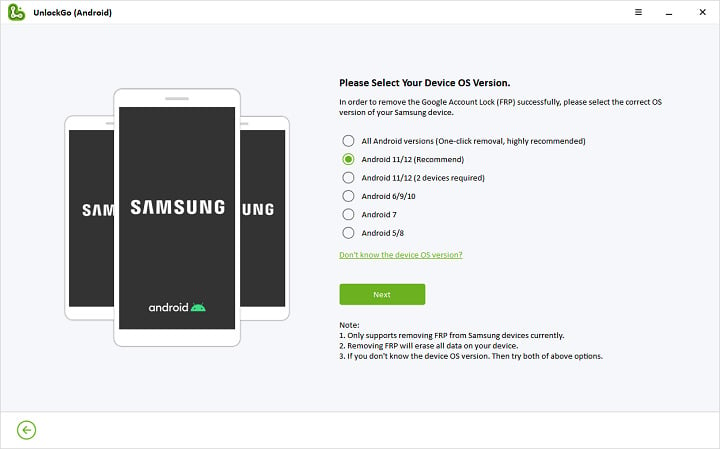 Step 3 Notify the Device Locked by Google Verification
In this process, you will receive a notification on your device. Please make sure that phone is properly connected during this time. Even if using the phone during the process, may interrupt the process.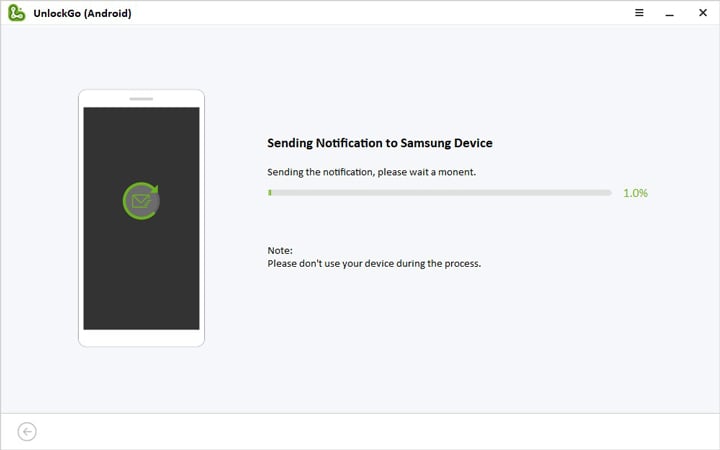 Step 4 Get Past Google FRP Lock After Factory Reset
You just need to follow the steps as UnlockGo guiding on the screen. In a few minutes, it helps you bypass Samsung FRP lock. Also, UnlockGo (Android) is also available for Samsung tablets.
Video Tutorial: Bypass FRP Android 12/11
How to Bypass Google Account Verification on Android
There are other methods that may help you bypass Google account verification on Android phones. Well, we have collected some methods that you can try to fix how to bypass Google account verification after reset on Android tablets and smartphones. Let's dive into the first method.
Method 1. Bypass Google account verification by Google keyboard
🔔 Limitation of bypassing FRP with Google keyboard
ONLY works on Android 6 or earlier OS version.
We are reported that is stuck with a Samsung keyboard but not Gboard sometimes.
How-to steps
Step 1. The First thing to do to initialize the process is to reset your phone, select a language and connect to a Wi-Fi network.
Step 2. Next, you will see the Google account verification interface and the keyboard will appear on the screen, here you need to tap the "@" key on the keyboard and hold it until the appearance of Settings and choose "Google Keyboard Settings".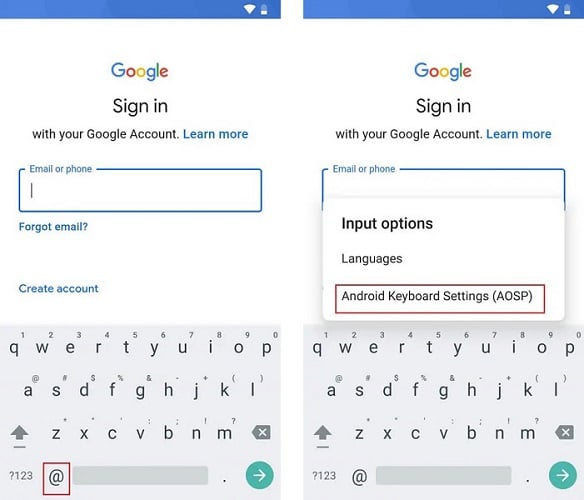 Step 3. Three dots will appear on the top-right corner tap on it and choose "Help & Feedback".
Step 4. Choose "Using Google Keyboard" in the help section, here you need to tap and hold any text on this page and later click "Web search".
Step 5. Type "Settings", once the search bar appears and goes down to the menu to look for "About Phone".
Step 6. You need to look here for "Build Number" and tap on it 7 times and this will enable the Developer options.
Step 7. You have to go back to the menu and go to Developer Option, click on OEM Unlocking here you need to tap on "back" two times.
Step 8. Finally, you have to now restart your device and connect with Wi-Fi. You just need to add a new Google account as you have successfully bypassed the Google account verification.
Method 2. Bypass Google verification without Internet access
Step 1. Insert a working SIM card into a locked phone and dial the number of that SIM from another phone.
Step 2. On locked phone answer the call and later save the contact by choosing Add new contact.
Step 3. In the opened contact form write any string of numbers, tap Save and choose Google further create a new account.
Step 4. Now, restart your device and your device will bypass the smartphone.
Can FRP Lock Be Removed
The answer is positive YES. Now, we have known a little about Factory Reset Protection. Only when the Google account has been sign into your locked phone before you performed factory reset, the FRP lock would be activated as a guardsman. To disble FRP lock before it works, you need to remove or delete the Google account from your Android device. Otherwise, you have to get past the FRP lock with the methods we mentioned above.
Video Tutorial: Remove Google account verification
Related Questions about How to Bypass Google Verification
1. What can I do if the keyboard menu does not show up?
This is a common issue among some smartphone models and brands that don't let the keyboard settings appear, or some users failed in Gboard usage. Here, you can use FRP bypass tool as it works well in all scenarios.
2. What do I do if the phone doesn't have the Google keyboard?
Some users have reported that the Google keyboard doesn't exist in their phone. In this situation, you could try other methods which do not need Google keyboard, such as bypassing Google lock with PC software. If you want an easy way to remove FRP on Android phone, UnlockGo for Android to remove Google account from the phone.
3. Does UnlockGo (Android) support Samsung A21?
Sure, UnlockGo for Android is designed for users who is asking how to bypass Google account verification on Samsung A21/J7/S8. To find out whole supported models, click here.
Conclusion
A lot of methods can be applied when you look for how to bypass Google account verification after reset on Android. But you can clearly notice after reading the complete article that the best method for bypassing FRP is using iToolab UnlockGo (Android) as compared to the other complex methods. So, why don't you give it a try and the step-by-step guide in this article will help you in this regard.