Factory reset, also called master reset or hard reset, is the final effective solution for troubleshooting your smartphone. It restores the device to its original factory settings and cleanses all your data in the process. You may keep a backup if you want before resetting the factory. There can be multiple reasons behind your hard reset of Samsung phone. It is not much of a tough job to do, even when you are in a hurry.
In this article, we shall talk about how to factory reset Samsung phone using different methods.
How to Hard Reset a Samsung Phone with Buttons?
Your Samsung phone is linked to a Google account or Samsung account most of the time. But in the case where you do not remember either of the accounts information linked with your phone and it is locked, what shall you do? Here we will discuss the steps on how to reset Samsung phone when locked without a Google or Samsung account.
Step 1: Boot to Recovery Mode
With Home Button
Start with holding down the Power button and Volume down button together for 7-10 seconds.
When you feel a slight vibration, hold down the Power, Volume Up and Home buttons together.
When you see the Samsung logo on the screen, release all the buttons and your phone will automatically get into Android Recovery screen.

Without Home Button
For devices without the Home button, hold down the Power; button and Volume down button together.
On slight vibration, hold down the Power, Bixby, and Volume Up buttons together.
As the Samsung logo appears on the screen, release all the keys. Now, the phone will enter to its Android Recovery screen.

Step 2: Factory reset Samsung device
While your Samsung phone locked up is in Android Recovery screen, you need to perform the following steps below to factory reset it.
Use the Volume Down or Volume Up button and select the "Wipe data/factory reset" option. To confirm, use the Power key.
As the next page appears, choose "Yes" option using the Volume button. This will make the Samsung phone restored to factory settings.
Tap on "reboot system now". This will make your phone restart normally. After your phone turns on, it will be exactly like a new device and you will have to re-set it up.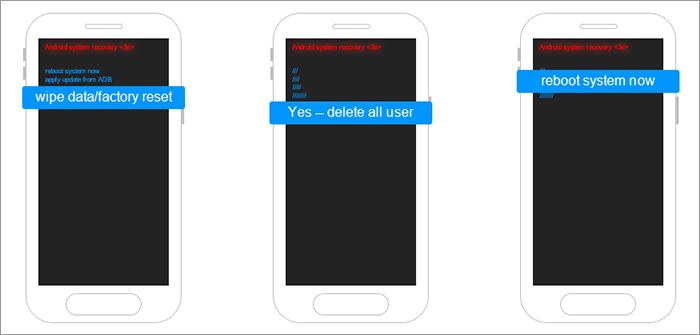 How to Reset a Locked Samsung Phone without Losing Data?
Now comes the important part. We all fear of losing our important data that our devices have. And resetting your device surely does that. So what if you haven't backed up your data and still need to factory reset your Samsung? You should go with iToolab UnlockGo (Android) tool. It will help you learn how to reset Samsung phone when locked without any data loss. The tool is for removing any screen locks and bypassing the FRP locks on your Samsung device. It is user-friendly and ensures complete security of your device. Here are some of the features of UnlockGo (Android) that you should know.
Unlock Samsung screen lock without data loss
Unlock Android without any tech skill
Remove all kinds of locks like PIN, password, pattern ,etc
Bypass Samsung FRP lock on Android 5-13
Steps to Unlock Screen Lock without Data Loss
Step 1: Connect Samsung Device
Launch the tool and connect your Samsung phone to PC. Now, pick the Click on "Unlock Screen Lock without Data Loss" option. Click "Start" then.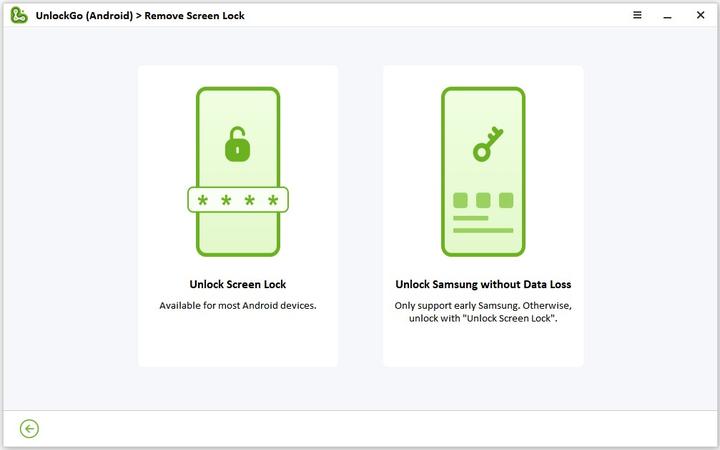 Step 2: Choose Device Information
Choose the device information now when the new screen will come. Click on "Next" after selecting the device name and model. Confirm the information and click on "OK" on the next screen.
Step 3: Download Data Package
Afterward, the program will download the data package for you. Once done, hit on "Next".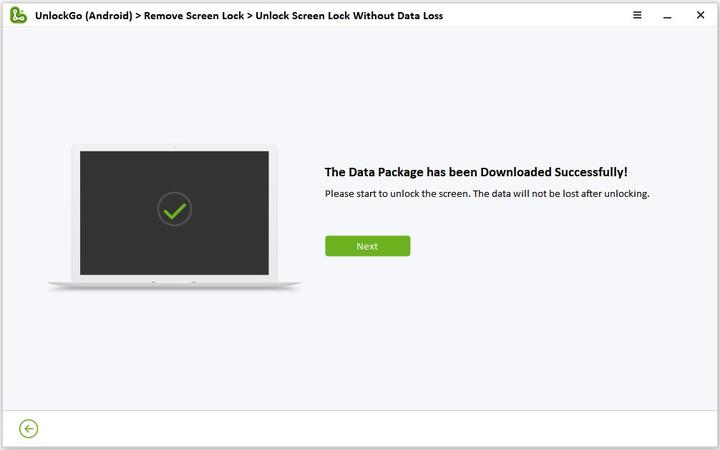 Step 4: Enter Download Mode
Now, carefully follow the on-screen instruction to enter Download Mode. Once you are done, click on the "Start" button to continue.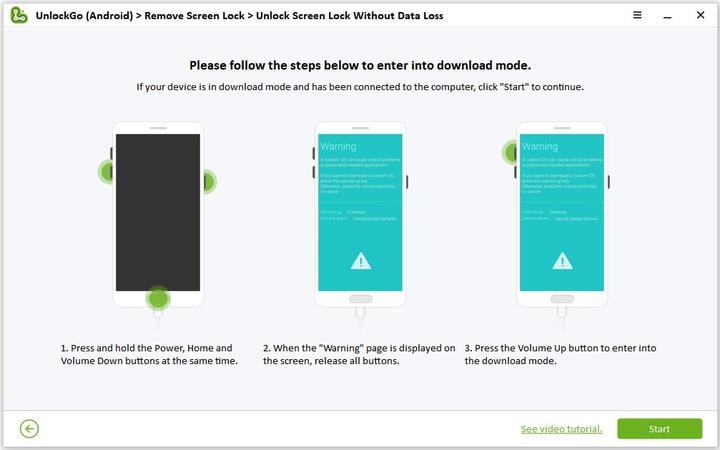 After rebooting your Samsung phone, the program will remove the password now.
Note:
If the Samsung device is S7 or earlier, choose "Unlock Screen Lock without Data Loss".
If your Samsung is newer, choose the option of "Unlock Screen Lock".
Finally, please notice that factory reset will trigger FRP lock.
Pro Tip: One-click Factory Reset Samsung Phones and Tablets
For some friends who are running phone store or buyback & reselling business, you must know how to reset Samsung phones to factory settings. What I would show you is reset and unlock Samsung faster.
When Do You Need to Reset Samsung Phone?
There are many reasons to factory reset Samsung phones. Given below are the common ones you may face in your day-to-day life.
Cleaning the device: You may want to clean your whole device and for this, you may go for factory resetting your Android phone to clean the Android system.
Before selling or giving away: In such cases, you must clear all your private data, information, and settings from the device. Hence, performing a factory reset would be the best solution.
Unwanted errors: You may install an app or software that causes some huge error or some wrong operations in your phone. You can factory reset and restore the settings to default.
Samsung phone locked up: You might have forgotten the password of the Samsung phone. Guessing the password doesn't work every time and hence resetting the device to remove the password can be your way out.
Phone has become unresponsive or is not performing as expected: When you find your Samsung phone crashing or hanging up while opening applications. Or when it is operating very slowly, you need to reset your device to clear and restore the settings to get the device back to normal.
People Also Ask about Resetting Samsung Phones
Q1. Before Samsung phone factory reset you should know
A when you decide to factory reset your device, you should know that it will erase all data from your phone except the Android operating system. Moreover, you will not be able to recover it.
Therefore, make sure to think twice before resetting Samsung phones or keep a backup of all the data. Also, Make sure you know the email address of your Google or Samsung account as it will be required during you reset the factory.
Q2. After resetting Samsung phone, I was asked to verify Google account
You may get stuck with Google account verification while you factory reset Samsung phone. To bypass the verification you can use UnlockGo Android. Read more about how to bypass the verification from How to Bypass Google Account Verification After Reset.
Q3. If my Samsung lost, how do I factory reset Samsung phone remotely?
Follow the steps to know how to reset Samsung phone when locked remotely.
1. Google Find My Device
Step 1: Visit your web browser and open Google find my device. Then log in with the same Google account currently logged in on your locked Samsung phone.
Step 2: When you are logging in, your Samsung Galaxy device will show on the page. Click on "ERASE DEVICE" option on the left panel.
Step 3: On moving to the next page, click "ERASE DEVICE" again, and then click on "Erase" to confirm.
Step 4: You shall find your locked Samsung phone restart. It will start restoring itself to factory settings. Give a few minutes for the reset to be completed. Your phone will turn back on.
2. Samsung Find My Mobile
Step 1: Open Samsung Find my Mobile on a web browser. Then login to this page with the same Samsung account currently logged in on your locked Samsung phone.
Step 2: Remember, if you have a Samsung account protected by two-step verification, you will need to verify before you can log in.
Step 3: Click on "Erase data" now under your device in the right panel.
Step 4: A dialog box will appear where you need to press on "Erase" to start resetting your locked Samsung Galaxy phone and return to its factory default settings.
Step 5: Wait for a few seconds for the erase to complete. As the webpage shows that your Galaxy phone has been reset to its factory settings, you have to continue to wait for a few minutes until your phone turns on.
Q4. How to factory reset Samsung phone when I have a password?
Follow the steps given below:
Open "Settings" in your Samsung, and tap on "Factory data reset".
Next, tap on the "Factory data reset" again.
Tap on "Reset".
Enter the credentials to unlock security lock.
Tap on "Delete all" for continuing with the reset. All information stored on your phone will be deleted. You have to enter your Samsung account's password of the Samsung account added to your phone.
Your phone will be reset. As it turns back on, it will begin from the initial setup screen.
Conclusion
So this was all about how to factory reset Samsung phone. Factory reset although helpful in many cases, but deleted everything from the device. If you wish to get your device reset without any data loss, UnlockGo (Android) is a wise choice to do it.