There's no arguing the fact that Android is a relatively flexible mobile OS. Users can customize everything they want and even install custom ROMs to get a personalized user experience. However, manufacturers like Samsung (and others as well) don't want users installing a random OS on their devices. That's why they usually ship their devices with a locked bootloader. When the bootloader is locked, the user cannot install a custom OS whatsoever.
The good news is that there are a few walkarounds that you can implement to unlock the bootloader on your Samsung device. Read this guide to understand how to use a Samsung bootloader unlock tool to unlock the bootloader on your Samsung device.
What Is Samsung Bootloader?
Now, if you are not a technical geek, you may not be familiar with the bootloader in a Samsung device. To put it in simple words, a bootloader is basically software that automatically loads as soon as you turn on your device. Every Android device (irrespective of the manufacturer) comes pre-installed with the bootloader. The primary objective of the bootloader is to load all the essential programs that are necessary to start the device. So, for instance, if you want to boot your device in recovery mode, the device will only load the selected programs required for the job.
So, why would you want to unlock the bootloader? The answer is pretty simple. A locked bootloader will restrict you from adding a custom OS to your device. So, if you are not happy with the current OS and want to install a custom ROM, you'll first have to unlock the bootloader.
Moreover, many people also wonder if it's safe to unlock the bootloader. The truth is unlocking the bootloader doesn't raise any safety issues. As long as you install a reliable third-party ROM, it won't affect your device whatsoever. The only downside of unlocking the bootloader is that it'll end your device's warranty.
When You Need A Samsung Bootloader Unlock Tool
It's worth noting that there's no direct way to unlock the bootloader. Since it's a security feature, none of the manufacturers provide a dedicated button to lock/unlock the bootloader. In every situation, you'll need a dedicated Samsung bootloader unlock tool to get the job done.
The Best Samsung Bootloader Unlock Tool
So, which unlocker you can use to unlock the bootloader. Even though the market is stacked with various options, we recommend using KingoRoot. It's an easy-to-use Samsung bootloader unlock tool that you can use without performing any difficult steps. Even if you're a beginner, you'll find it pretty convenient to unlock the bootloader using KingoRoot.
Follow these steps to unlock the Samsung bootloader using KingoRoot.
Note: Before proceeding any further, make sure to back up all your data because the process is quite lengthy. If you make one small blunder, you'll end up losing the entire data on your device. To avoid this scenario, it's always a good strategy to back up the data in the beginning.
Step 1: Go to https://www.kingoapp.com/android-root/download.htm to download Kingoroot on your device. Once the file is successfully downloaded, follow the on-screen instructions to install it.
Step 2: Connect your device to the system using a USB cable. Make sure that USB debugging is enabled on your device. To do this, go to "Settings>Developer Options" and toggle the switch next to "USB Debugging" to enable the feature.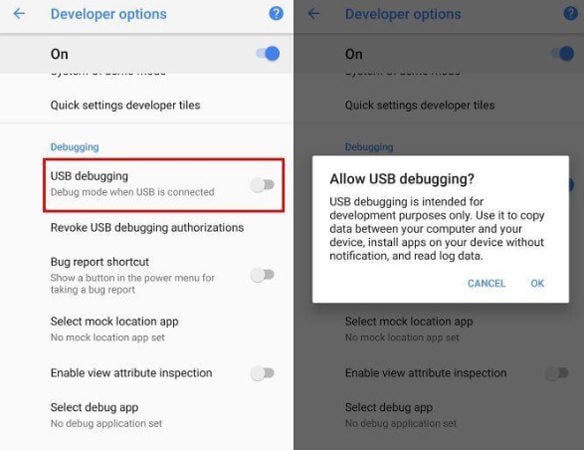 Step 3: Now, launch Kingoroot on your system and let it automatically download the right device drivers.
Step 4: Go to the location where you have installed KingoRoot. Open the KingoRoot folder and double-click "Tools". In the address bar, type "CMD".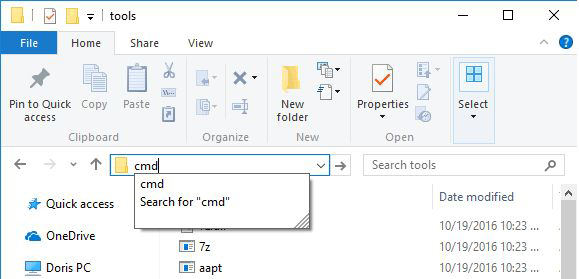 Step 5: This will open the Command Prompt window on your screen. Type "ADB devices" and press enter. You'll see a dedicated serial number for your device.
Step 6: Now, type "ADB reboot bootloader" to boot your device in fastboot mode. Make sure that the device stays connected to the system throughout the process.

Step 7: Select and copy the token number and go to your manufacturer's official website. Look for the bootloader unlocking form and enter your details to create a new account. Finally, paste the token number in the form to get a unique unlocking key for your device.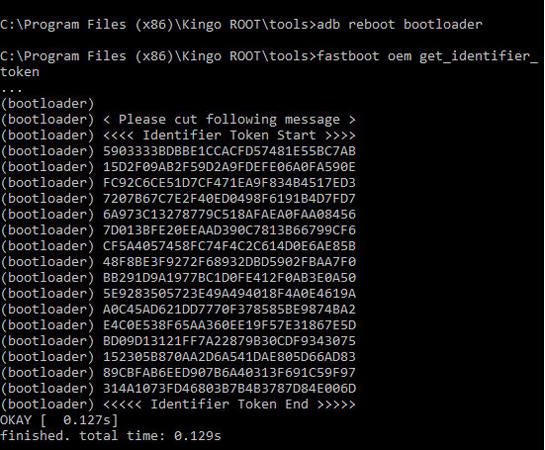 Step 8: You'll receive the key in the registered email address. Copy this key and execute the following command in the CMD window.
fastboot oem unlock UNIQUE_KEY (Replace UNIQUE_KEY with the key you have received)
Step 9: Finally, type fastboot reboot to restart the device.
That's it, the bootloader will be unlocked and you'll be able to install a custom ROM without any hassle.
Also Know: The Best Samsung FRP Unlock Tool
After you've unlocked the bootloader, you'll be tempted to install various custom ROMs and access new features on your device. While this is a great tactic to explore the hidden functionalities of Android, it's also worth noting that it can make you run into various technical errors. A locked FRP screen is one such error that many users come across while switching between different custom ROMs.
FRP stands for factory reset protection. It's a security feature that automatically locks the device after you reset it. The only way to unlock the device is to use your Google account credentials. But, in case you don't remember the Google account or password, you can use iToolab UnlockGo (Android) to bypass the FRP lock.
It's a feature-rich Android unlocker that's designed to remove different types of locks on an Android OS. Whether you've forgotten the lock screen password/pin/pattern or are stuck at the FRP lock screen, iToolab UnlockGo will help you unlock the device without any hassle. The key feature of iToolab UnlockGo is that it doesn't cause any data loss whatsoever. It means you'll be able to unlock the device while keeping all your important files safe.
Here's how to bypass the FRP lock screen using iToolab UnlockGo (Android).
Conclusion
Unlocking the bootloader gives you complete control over your Android smartphone. No doubt, it will void the warranty, but you'll be able to customize the device as per your preferences. So, if you are also a tech geek and enjoy exploring hidden features of a smartphone, make sure to use the above-mentioned Samsung bootloader unlock tool to unlock its bootloader.
One-click Google lock removal
Bypass Samsung FRP lock on Android 5-13
Unlock Android without any tech skill
Remove all Android screen locks
Allows for customized plans